Our 7 Favourite Options for Sinus Surgery in Singapore
Have you recently had a consultation about your sinus infection with a diagnosis that shows that you need to undergo sinus surgery? If you have, it's advisable to look for an ENT specialist who's experienced in performing sinus surgery in Singapore.
To make the search easy for you, we've already listed the ENT doctors who can perform sinus surgery in Singapore. These medical specialists use different techniques and technologies to provide sinus surgery in Singapore.
(Note: This list is in no particular order.)
Dr Dennis Chua – ENT Doctor Singapore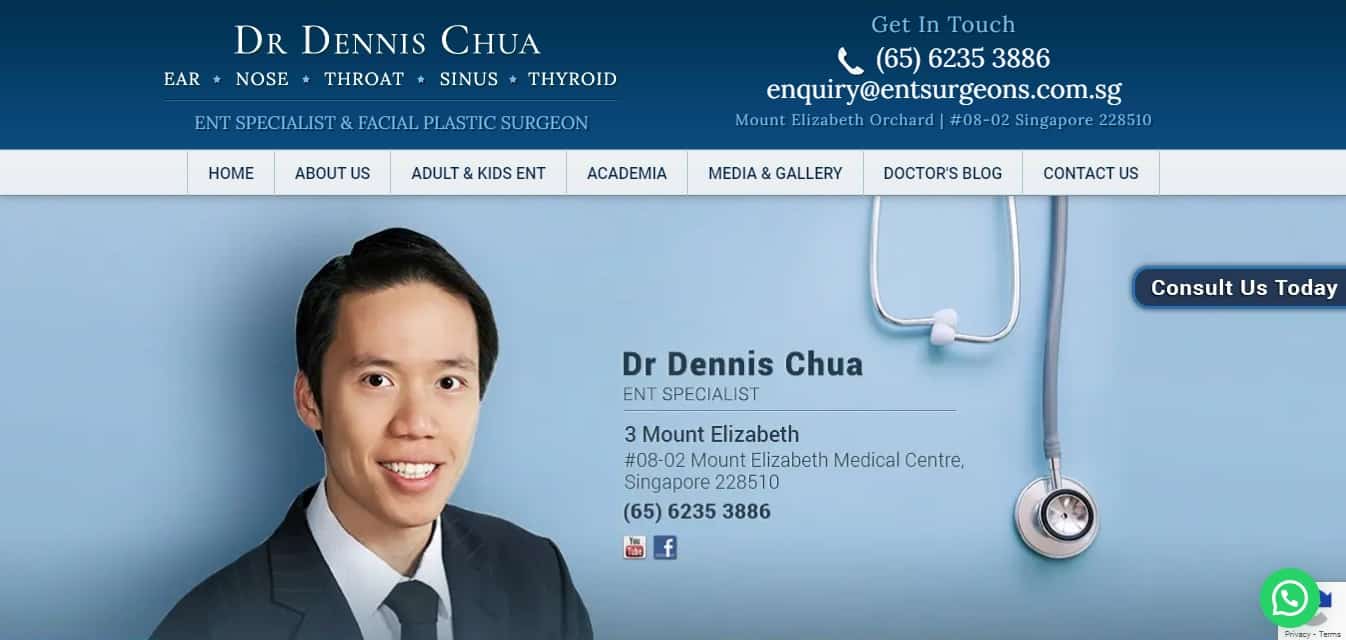 | | |
| --- | --- |
| BEST FOR | ENT surgeon |
| SERVICES | Septoplasty, rhinoplasty, septorhinoplasty, and autologous cartilage |
| WEBSITE | https://www.entdoctorsingapore.com/ |
| ADDRESS | 3 Mount Elizabeth, #08-02 Medical Centre, Singapore 228510 |
| CONTACT DETAILS | +65 6432 8230 |
| OPERATING HOURS | Monday – Friday, 9:00 AM – 5:00 PM |
Dr. Dennis Chua is an Otorhinolaryngology specialist that focuses on facial plastics and reconstructive surgeries. With his many years of training and experience, there's no doubt that he is someone who is skilled in the industry.
The clinic is equipped with the latest medical technologies, which ensures that his treatments are effective. No matter the ENT problem you may have, there's no doubt that Dr. Chua will be capable of handling it. Contact his office now for your queries or if you need to know more details about sinus surgery in Singapore's cost.
Highlights
Otorhinolaryngology specialist
ENT surgeon
Accredited by the International Board in Facial Plastics & Reconstructive Surgery
Cutting-edge medical equipment
Dr. Samuel CL Yeak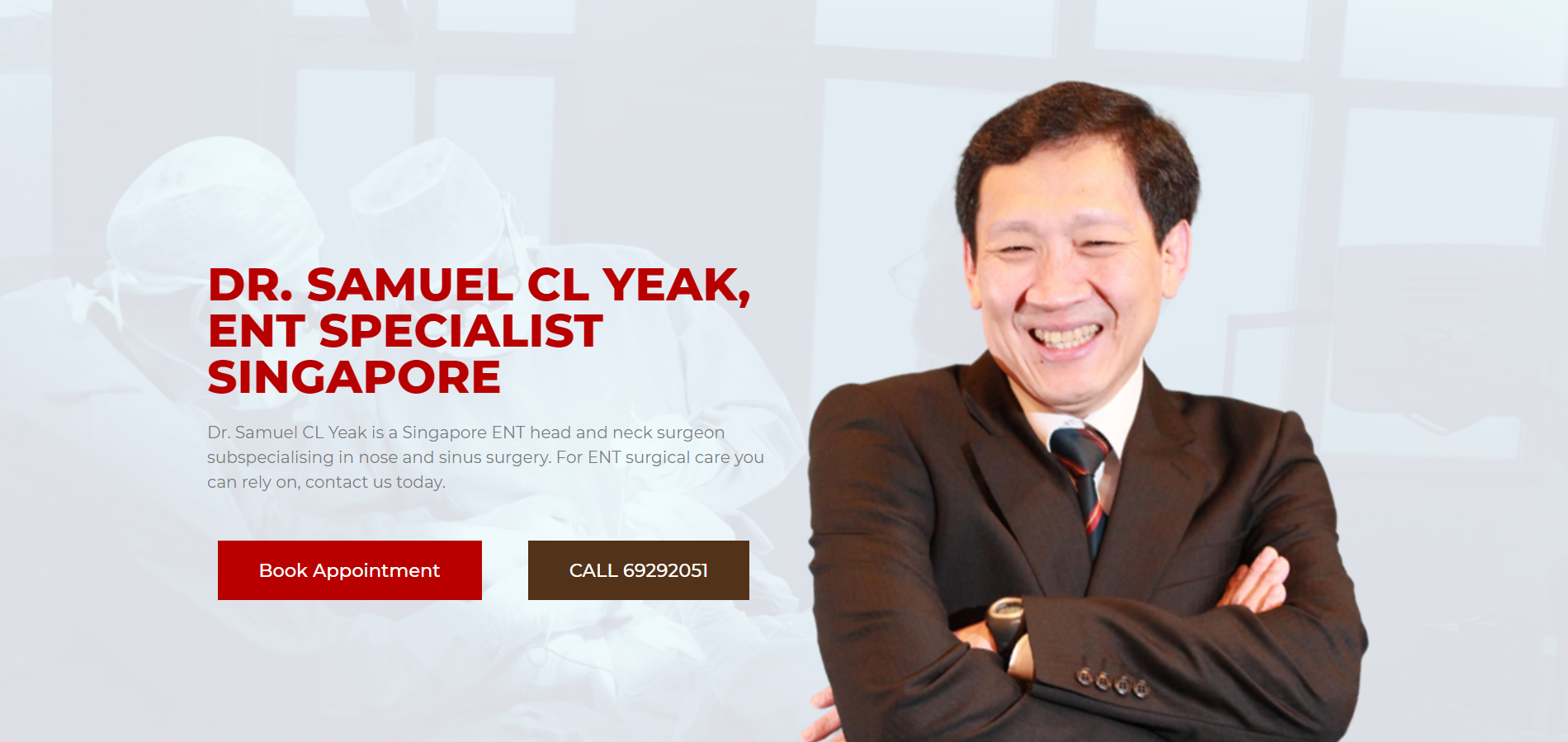 When left untreated, ENT problems can worsen to the point that medication and therapy can't treat it. If that's the case for you, then you should visit Dr. Samuel Yeak.
He is an ENT specialist that offers holistic treatments to his patients. His expertise lies in computer-guided sinus surgery. With him as your doctor, your ear, nose, and throat can easily be treated. We like that his clinic is open on weekends, so you can contact his clinic now and ask about sinus operation in Singapore cost and details soon.
Highlights
Holistic services
Specialises in computer-guided sinus surgery
Graduated medicine at the National University of Singapore
Active in medical and outreach institutions in Singapore and abroad
Dr. Christopher Hobbs – Gleneagles Hospital, Mount Elizabeth Novena Specialist Centre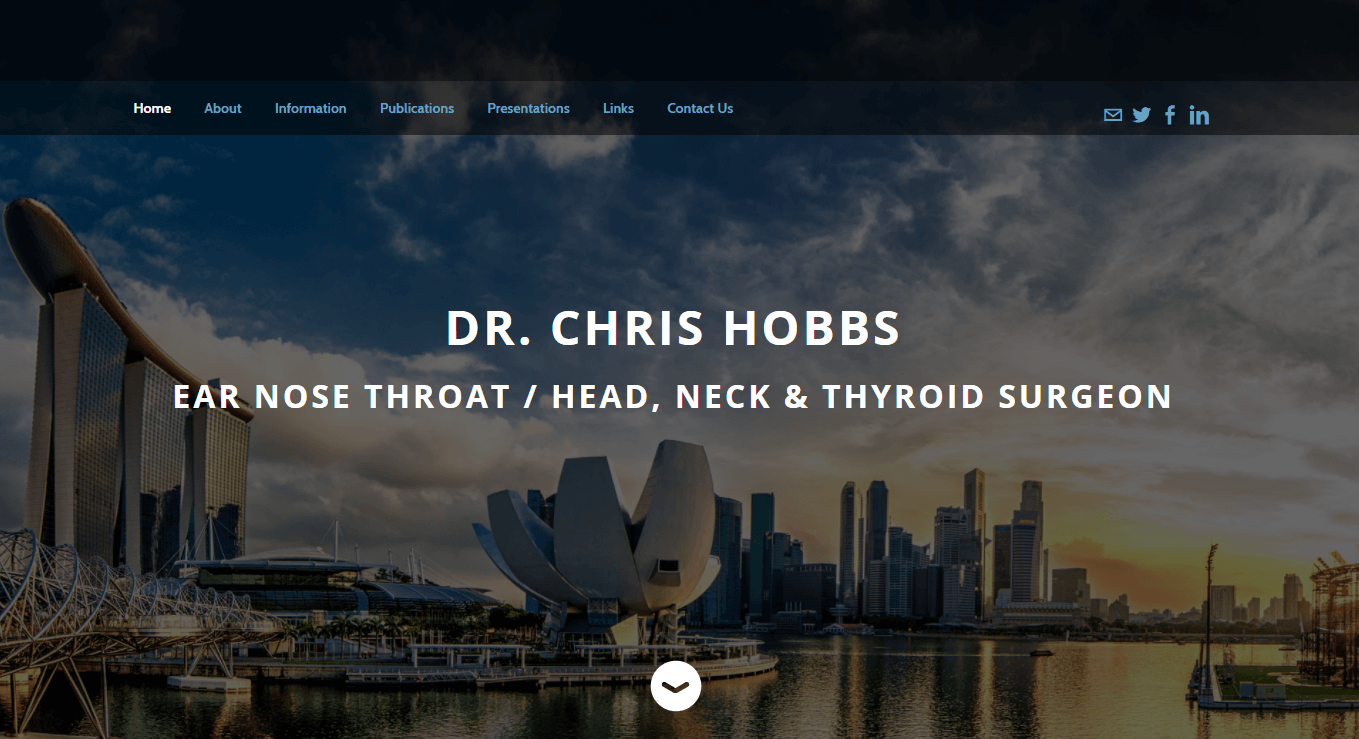 BEST FOR
Children's ENT specialist
WEBSITE
https://www.drchrishobbs.com/
ADDRESS
Mount Elizabeth Novena Hospital
38 Irrawaddy Road, #07-46/47
Singapore 329563

Gleneagles Hospital
6A Napier Road #03-41/42
Gleneagles Annexe Block
Singapore 258500

CONTACT DETAILS
+65 6432 8231
OPERATING HOURS
9am to 5pm Monday to Friday
9am to 1pm Saturday
Dr. Christopher Hobbs has a clinic in Mount Elizabeth and Gleneagles Hospital, two of the largest and leading hospitals in Singapore.
He specialises in adult and paediatric ENT services, and he's fully accredited and trained in laser surgery, endoscopic sinus surgery, sialoendoscopy, and coblation techniques.
With his children's ENT services, he provides treatment for glue ear, grommets, adenoid surgery, and tonsillectomy.
Aside from performing sinus surgery in Singapore, he also offers treatment for hearing and balance, snoring, allergy, thyroid nodules, neck lumps, head and neck cancer, and more.
Highlights
Adult ENT services
Wide range of specialities
Dr. Gan Eng Cern – Mount Elizabeth Novena Specialist Centre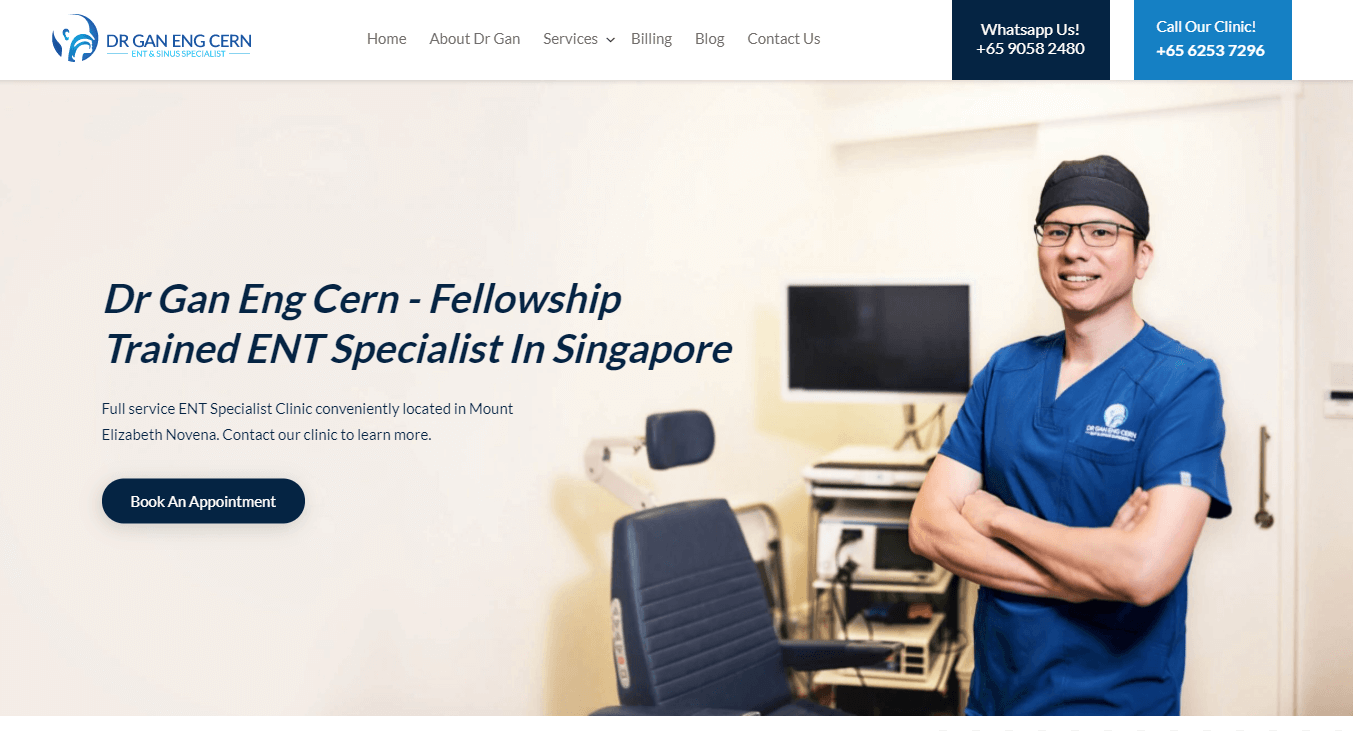 BEST FOR
In-house minor surgery
WEBSITE
https://www.drganent.com/
ADDRESS
38 Irrawaddy Road #08-45 Mount Elizabeth Novena Specialist Centre Singapore 329563
CONTACT DETAILS
(65) 6253 7296
OPERATING HOURS
Mon – Fri: 9:00 am – 5:00 pm

Sat: 8:30 am – 12:00 pm
Dr. Gan Eng Cern is a trained ENT surgeon who provides comprehensive management for sinus, snoring, as well as head and neck conditions.
He specialises in treating various sinus conditions such as blocked nose, nose discharge, sinus headache, post-nasal drip, reduced sense of smell, nasal allergy, and many more.
He's capable of performing common nasal investigations and procedures. This includes flexible nasendoscopy, septoplasty, functional endoscopic sinus surgery, and excision of sinonasal tumours.
His clinic offers multiple financing options to make the treatments accessible to everyone. His friendly and helpful staff can assist you with the medical insurance claims and requirements of your chosen healthcare organisation.
Moreover, he's an award-winning specialist who has been featured in numerous publications, proving that he indeed provides sinus surgery in Singapore.
Highlights
Fellowship trained nose & sinus subspecialist (trained at a renowned sinus centre in North America)
Special interest in treatment of nose and sinus conditions, snoring and sleep apnoea
Passionate and dedicated doctor
Friendly, responsive and responsible team
Insurance and medisave claimable for eligible cases
Dr Stephen Lee Teck Soong – Raffles Medical Group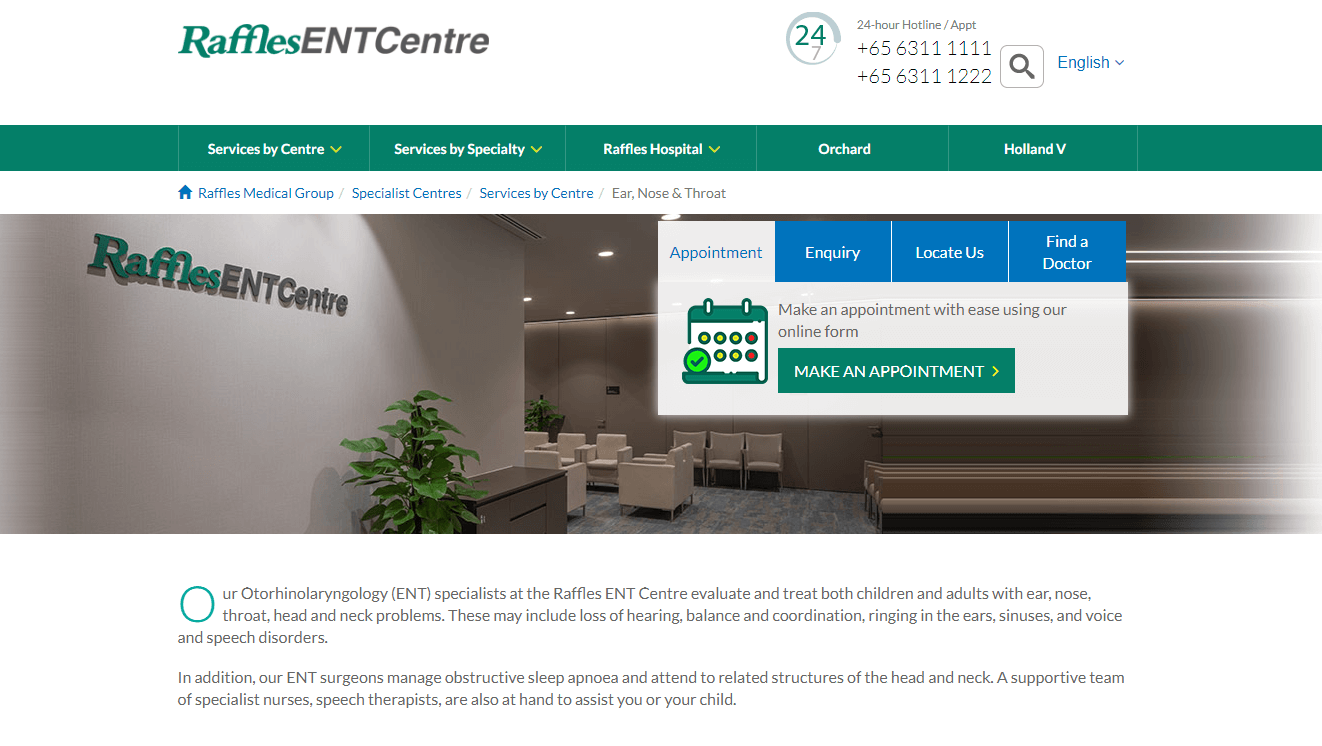 For over 20 years, Dr Stephen Lee Teck Soong has provided excellent general ENT treatment for both adults and children diseases.
He specialises in sinus and nasal disease treatment, for which he provides minimally invasive endoscopic sinus surgery and balloon sinuplasty surgery.
He also manages snoring concerns and sleep apnea as well as inhalant and food allergies. With this wide range of expertise, you can be sure that you're in good hands.
When it comes to their payment options, you can rely on their Raffles Shield: it can be combined with your current MediShield Life, providing enhanced medical coverage. This way, you can receive optimal medical care without paying the full rate.
The insurance plan also complements your company's health benefits, helping to earn more savings.
Highlights
24-hour services
Health screening packages
MediShield Life/ Integrated Shield Plan
Dr. Kenny Pang – Asia Sleep Centre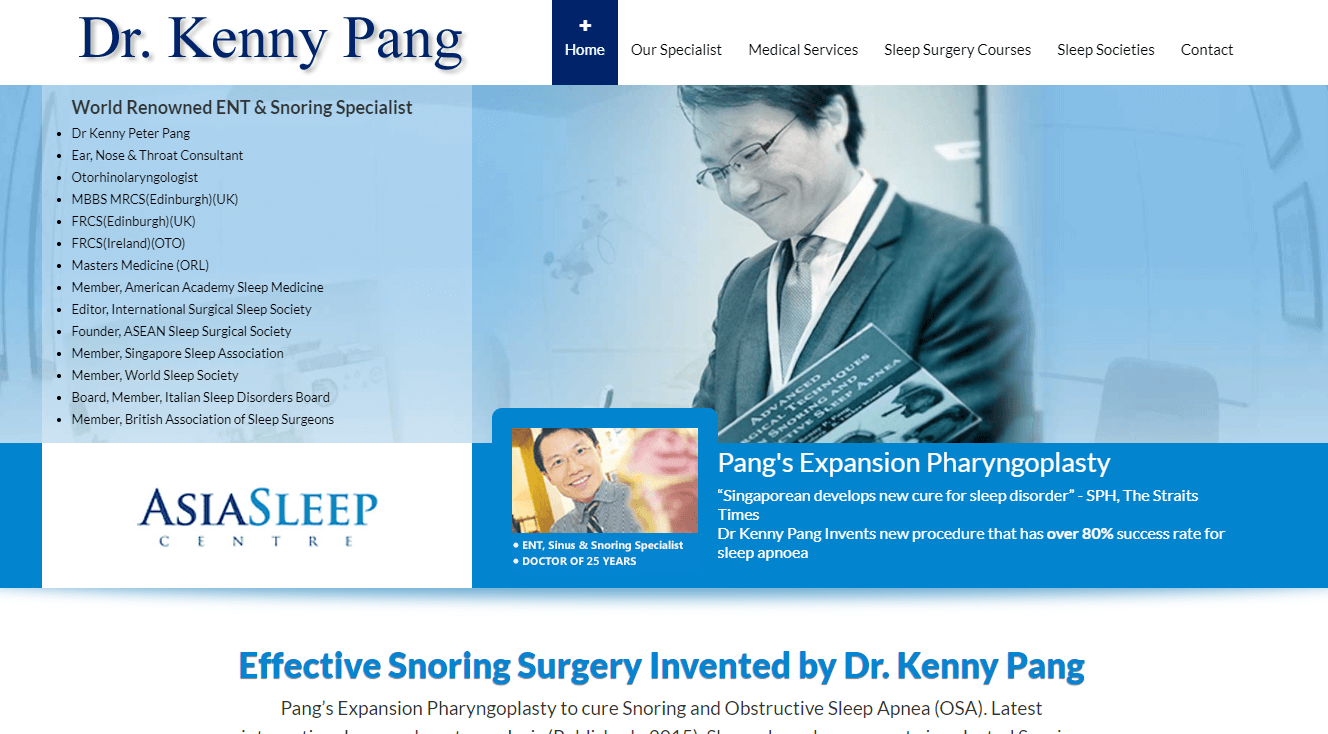 BEST FOR
Sinus allergy diseases
WEBSITE
http://www.drkennypang.com/
ADDRESS
Paragon, 18-04, Singapore
CONTACT DETAILS
(65) 6836 0060
OPERATING HOURS
Weekdays: 8:30am–5:30pm

Saturday: 8:30am–12:30pm
For those who are suffering from sinus allergy diseases, it's highly recommended to consult with Dr. Kenny Pang. His range of expertise includes nose anatomy, nasal allergy, nasal polyps, sinusitis, and nose bleeding.
Unlike other specialists, he has established his own clinic, called Asia Sleep Centre, where he performs a set of medical services. He's also invented a new technique used to treat snoring and sleep apnea.
He has achieved significant milestones throughout his career, having published books and other works that focus on ENT disorders, sleeping solutions, and more.
Highlights
Sleep disorders treatment
Paediatric ENT
Ear/hearing problems
Voice/throat problems
Head and neck surgery
Thyroid diseases treatment
Dr Leong Hoo Kwong – Gleneagles Hospital, Mount Alvernia Hospital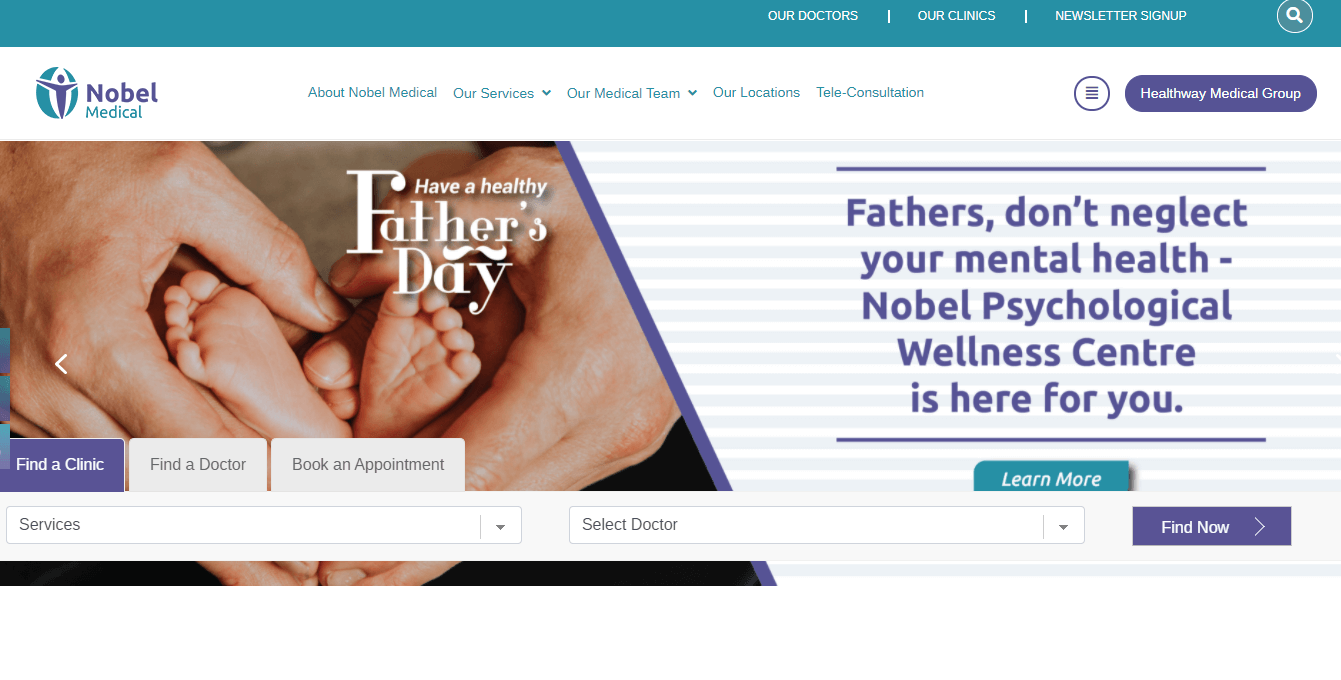 BEST FOR
Senior surgeon, Multilingual medical specialist
WEBSITE
https://nobelmedicalgroup.com/doctor/dr-leong-hoo-kwong/
ADDRESS
6 Napier Road #04-01 Gleneagles Medical Centre Singapore 258499

820 Thomson Road #05-02 Mount Alvernia Medical Centre A Singapore 574623

CONTACT DETAILS
6472 0488
OPERATING HOURS
Monday to Friday: 8:30am to 5:30pm

Saturday: 8:30am to 12:30pm

Sunday or Public Holidays: Closed
Dr Leong Hoo Kwong is a professional and certified ENT surgeon who has years of experience working in surgical departments at several public hospitals. His experience has earned him awards from various medical institutions.
He specialises in conducting endoscopic sinonasal and skull base surgery, ear, nose, and throat allergies, ear implants, and more. He also treats certain conditions such as snoring and sleep disorders for both adults and children.
Being a senior surgeon and consultant, he's also in charge of training young doctors and leading a team to provide optimal medical care. He's also a multilingual medical specialist, capable of accommodating foreign patients.
Highlights
Paediatric Ent services
ENT screening packages
Tele-consultation services
Head and neck tumour surgery
And that's our list of medical centres with sinus surgery in Singapore! Have you already decided which clinic you'd like to visit? Tell us all about it!
And for more options, take a look at these ENT specialists in Singapore!