The 5 Options for Best Rodent Control in Singapore
Have you already tried using traditional methods like spray repellents and other solutions but still can't get rid of the rodents at your home? Well, no worries, 'cause we're here to help you find the experts that provide the best rodent control in Singapore.
Most of the time, simple treatments that can be merely bought at local stores are not enough. In this case, you'd need a skilled specialist who knows how to properly control and eliminate all living rodents at your place.
Read our list below to know where you can find these reliable and trained specialists.
1. Anticimex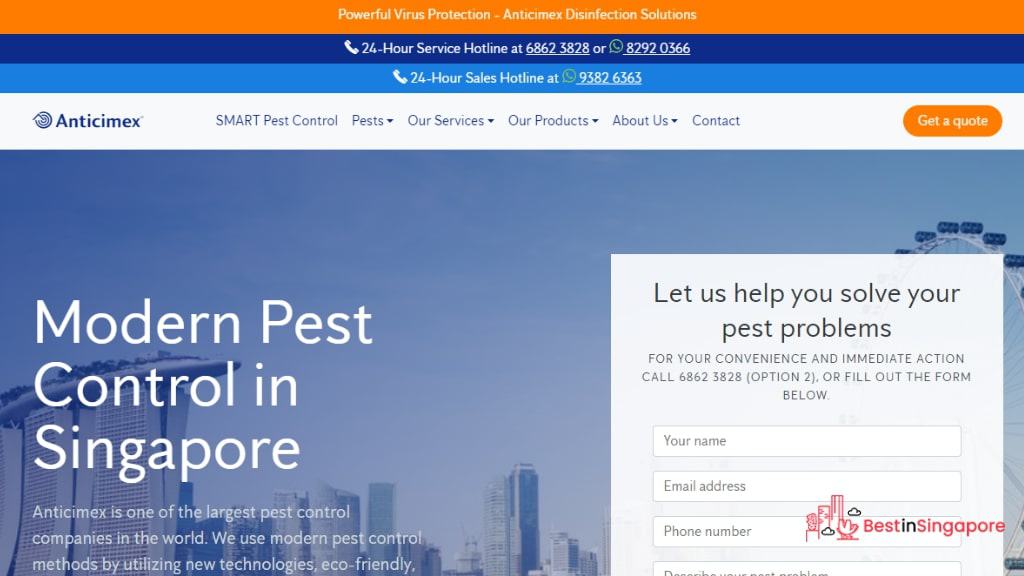 | | |
| --- | --- |
| BEST FOR | Smart system solutions |
| WEBSITE | anticimex.com.sg |
| ADDRESS | 3A International Business Park, #11-01 [email protected], Singapore 609935 |
| CONTACT DETAILS | 6862 3828 or 8292 0366 |
| OPERATING HOURS | Weekdays: 08:00am – 6:00pm |
Anticimex is one of the largest pest control companies that use new technologies to produce modern treatments. Aside from being innovative, their solutions are also eco-friendly, non-toxic, and sustainable — ensuring a healthy environment during the treatment process.
They use a smart system to provide the most accurate and suitable rodent control solution in a certain place. The system also helps monitor the progress of the treatment, thus preventing the rodent infestations.
Moreover, they perform their best rodent control in Singapore by inspecting the site, interviewing key persons, searching resources, and determining the optimal setup.
For offices and workplaces, they specifically use broad-spectrum disinfectant misting services to target surfaces and inaccessible areas.
Highlights
Environment-friendly treatments
Powerful virus protection service
General and garden pest control
2. Rapid Pest Control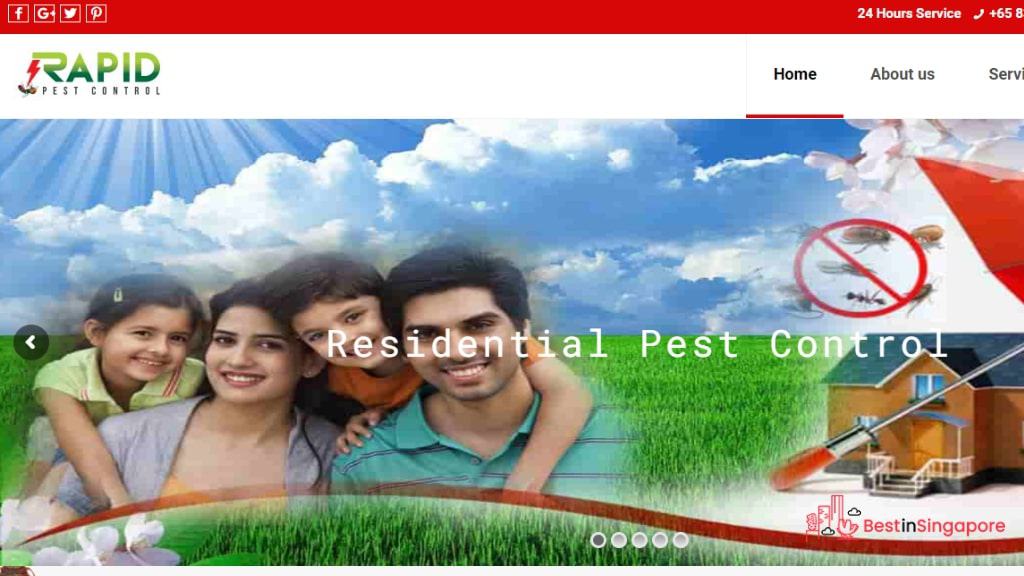 | | |
| --- | --- |
| BEST FOR | Advanced rodent management techniques |
| WEBSITE | https://www.rapidpestcontrol.sg/ |
| ADDRESS | 35 Selegie Road # 01-29B Parklane Shopping Mall (S) 188307 Singapore |
| CONTACT DETAILS | +65 64557962, +65 83876903 |
| OPERATING HOURS | Weekdays and Saturdays: 9am–6pm |
Rapid Pest Control uses the latest techniques in managing rodents, offering long-lasting solutions. Their trained technicians apply hygienic and eco-friendly methods, so there's no need to worry about possible health risks.
They offer an integrated pest management program that features tailor-made solutions to meet clients' needs. Using the most suitable treatments will help solve the current problems as well as the potential issues in the future.
All services come with affordable rates and timely delivery. So, for those who are on a tight budget, they have the best rodent control in Singapore for you!
Their rodent control specialists serve the residential, industrial, and commercial sectors.
Highlights
24/7 support system
Effective spray and credible solutions
State-of-the-art technology and equipment
Customer Reviews
Rapid Pest Control Management has received great reviews from customers. Clients said that they experienced safe, cost-effective, reliable, and on-time services. A customer left this feedback:
"Rapid Pest Control Pte Ltd is a trusted Pest control service provider company in Singapore. I highly impressed from its dedicated team and their services. Chemicals used by them are eco-friendly and odorless. I highly recommend them."
3. Innovative Pest Management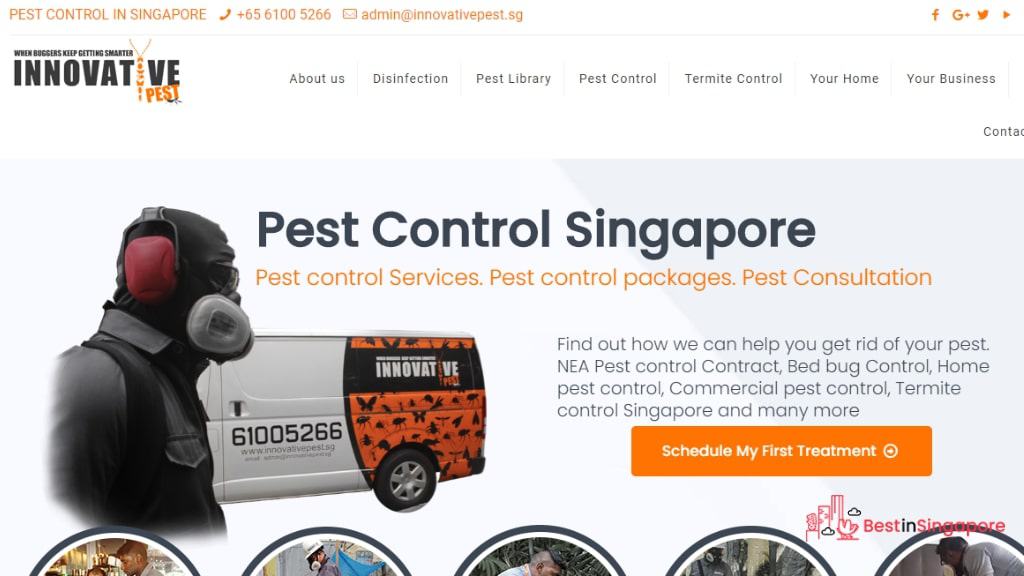 | | |
| --- | --- |
| BEST FOR | Customised pest control packages, Pre-move-in pest control |
| WEBSITE | https://innovativepest.sg/ |
| ADDRESS | 192 Pandan Loop #05-24 Pantech Business Hub Singapore 128381 |
| CONTACT DETAILS | +65 6100 5266 |
| OPERATING HOURS | Open 24 hours |
Innovative Pest Management continuously develops their pest control programs.
Their best rodent control in Singapore features a great combination of sustainable solutions and robotic management tools — bringing out a well-balanced method that benefits your environment.
For a fast and complete rodent termination, they use baiting and trapping methods, including rodent stations, snap traps, glue boards, and rodent pellets. Their treatment applications vary depending on the type of rodents found in your place.
They even provide a complimentary pest inspection where you'll get a fair quote before proceeding to solve the rodent issues. This way, you can plan your budget ahead of time.
Highlights
Environment-friendly products
Customised pest management services
Regular maintenance program
Same-day inspection
Customer Reviews
Customers said that the staff were quick, responsive, and knowledgeable. A customer wrote this feedback:
"Thank you for the excellent service. Innovative pest services are always punctual every month. They follow up consistently & diligently & super reliable. The people are really friendly, happy & its a joy to work with them! No matter your pest problems, they will do your best to advise you accordingly & they have done a great job for us for the past 1 year plus! (: Thank you Innovative Pest! i will recommend them for pest control problems because they are really genuine & professional. Keep up the amazing services!!"
4. PestClinic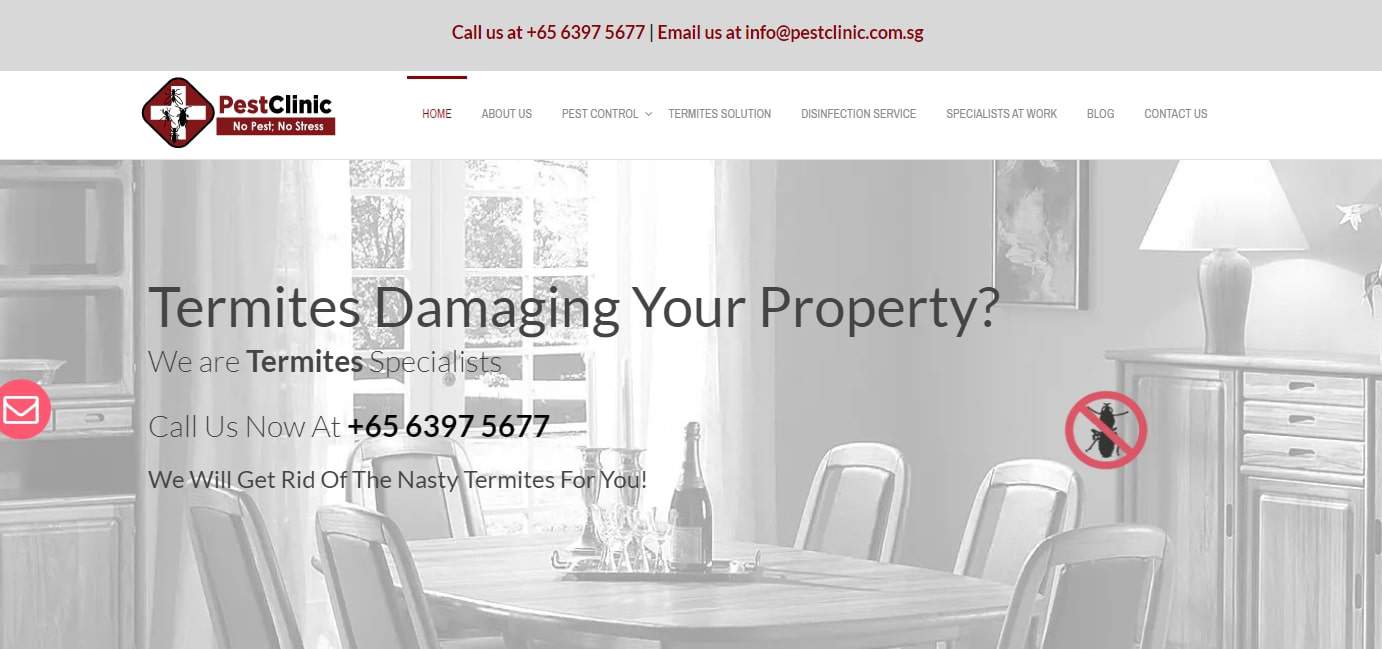 | | |
| --- | --- |
| BEST FOR | Modern and traditional treatments |
| WEBSITE | https://www.pestclinic.com.sg/ |
| ADDRESS | 3 Ubi Avenue 3, #05-03A Crocodile House Singapore 408857 |
| CONTACT DETAILS | +65 6397 5677 |
| OPERATING HOURS | Monday to Sunday, 8.30am to 6.00pm |
PestClinic is housed with NEA-trained and certified specialists — securing safe, effective, and clean pest control treatments. They apply both modern and traditional methods that involve the use of rodenticides and trappings for rodents.
Their specialised treatments deal with the root cause of the problem to eliminate the rodents permanently. The overall rodent extermination process also includes a thorough inspection and environmental sanitation to further keep the pests away and prevent them from coming back.
Highlights
Complimentary consultation and inspection
Free quotation
Residential, commercial, and industrial services
Customer Reviews
Most customers shared that PestClinic's team were highly meticulous and professional when handling rodent issues. Since the treatments come with free initial services, they said that the packages were affordable.
A customer gave this review:
"I'd like to commend your Service specialist, Dahros. He is professional, thorough and very patient. He explained everything very clearly and patiently and he took the time to listen and understand what my situation was and gave me advises on how to avoid my mistakes.He did not rush through his work and he checked all areas and handled my furniture with care. A true professional and he delivered a great service. PestClinic is lucky to have him. Credit should be given to him and to all of you at PestClinic. I'm sure the company has given him a good and solid platform to do so well in his job."
5. Aardwolf Pestkare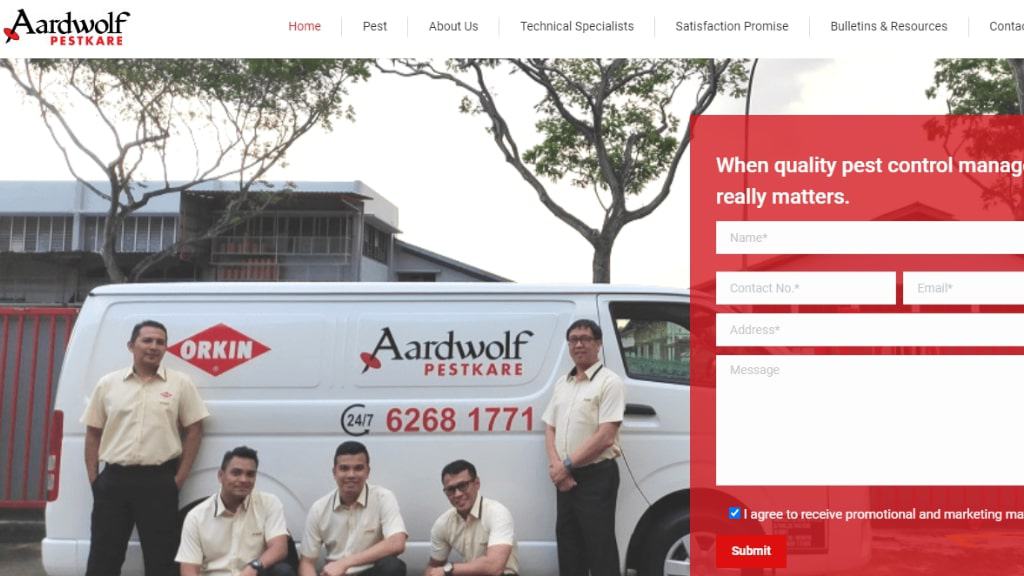 | | |
| --- | --- |
| BEST FOR | Comprehensive rodent monitoring method |
| WEBSITE | https://aardwolfpestkare.com/ |
| ADDRESS | 26 Third Lok Yang Road Singapore 628015 |
| CONTACT DETAILS | +65 6268-1771 |
| OPERATING HOURS | Open 24 Hours |
Aardwolf Pestkare eliminates pests and ensures a hygienic environment through eco-friendly pest control programs. They design their own pest management program to meet the different needs of every property.
Their treatments start with an installation of a mini-video camera to monitor the entrance of the rodents. The recordings will help the technicians develop more suitable termination methods.
They'll place traps, baits, and monitoring stations to get rid of the rodents. They'll also eliminate burrows, rodent-proof gaps, and entry points to completely prevent them from entering the place again.
Aside from residential services, they're also well-versed in local food safety and requirements. So, for those who are running a restaurant/eatery business, they have the best rodent control in Singapore!
Highlights
Traditional treatments and digital technology
Food outlets and factories services
Pest control and prevention program
There you go! That's our list of places with the best rodent control in Singapore! Have you already decided which service package you'd like to get? Tell us all about it!
If you'd like to look for more rodent control management services, take a look at these best pest control companies in Singapore too, by the way. Not all of those specialise in rodent control, but they're still very competent at it.