The 5 Best Portable Speakers in Singapore
Don't have enough space to fit in a whole sound system at home? Or maybe you'd prefer to have your sound system with you at all times but don't want to wear earphones or headphones? Either way, you should definitely get yourself the best portable speakers in Singapore!
At first, you might assume that huge speakers will always be better than compact ones. However, there are lots of portable speakers that produce great audio.
They also come with a wireless connection so you can bring one for an outdoor trip and listen to your favourite tracks while going for a drive or enjoying a BBQ party.
They're designed with a variety of styles and purposes: some are made for travel and some can only be used indoors. And, with the countless options available on the market, it can be confusing to decide which one is suitable for you.
To make it easy for you, we've rounded up the best portable speakers in Singapore, perfect for any use! But before we go on to our list, let's see first which factors must be considered when buying one.
How to Choose a Good Portable Speaker
To help you choose the best portable speaker in Singapore, here are some tips that you should take note of.
1. Audio Quality
The overall sound quality of a speaker mainly depends on the frequency response. This includes the top and low frequency where the standard rates are 100 Hz for the low frequency and 20 kHz for the top frequency.
Between the two, the low-frequency point is more important as it indicates the level of bass — the lower it gets, the better.
2. Audio Power
Most brands/models come with a specified parameter that is usually labelled in watts. Ten watts is considered loud enough but if you're going to use it in large rooms and outdoors, you're going to need more power.
3. Battery Life
For wireless speakers, this must be one of the top priorities. Many portable speakers have small batteries but it doesn't mean that they can't last for hours.
The average battery life of a speaker ranges between 4 to 10 hours, good enough for both home and travel use. With a speaker that features decent battery life, you won't have to recharge frequently.
4. Waterproof
Since portable speakers can be placed anywhere, even near water, you might also want to consider buying a waterproof one.
There are also models that are submersible, so even if they accidentally fall into a pool, you can be sure that they'll still work.
5. Bluetooth version
To connect your device to the speaker, both of their Bluetooth connectivity tech must be compatible. As long as the speaker features Bluetooth 2.1, you can connect most devices.
Best Portable Speakers in Singapore
Now that you know which features to look out for, it's time to see the best portable speakers in Singapore!
We've selected each model based on functionality, style, sound quality, and durability. We also tried to have something for everybody here, so you'll certainly find the right one for you!
1. Ultimate Ears Wonderboom 2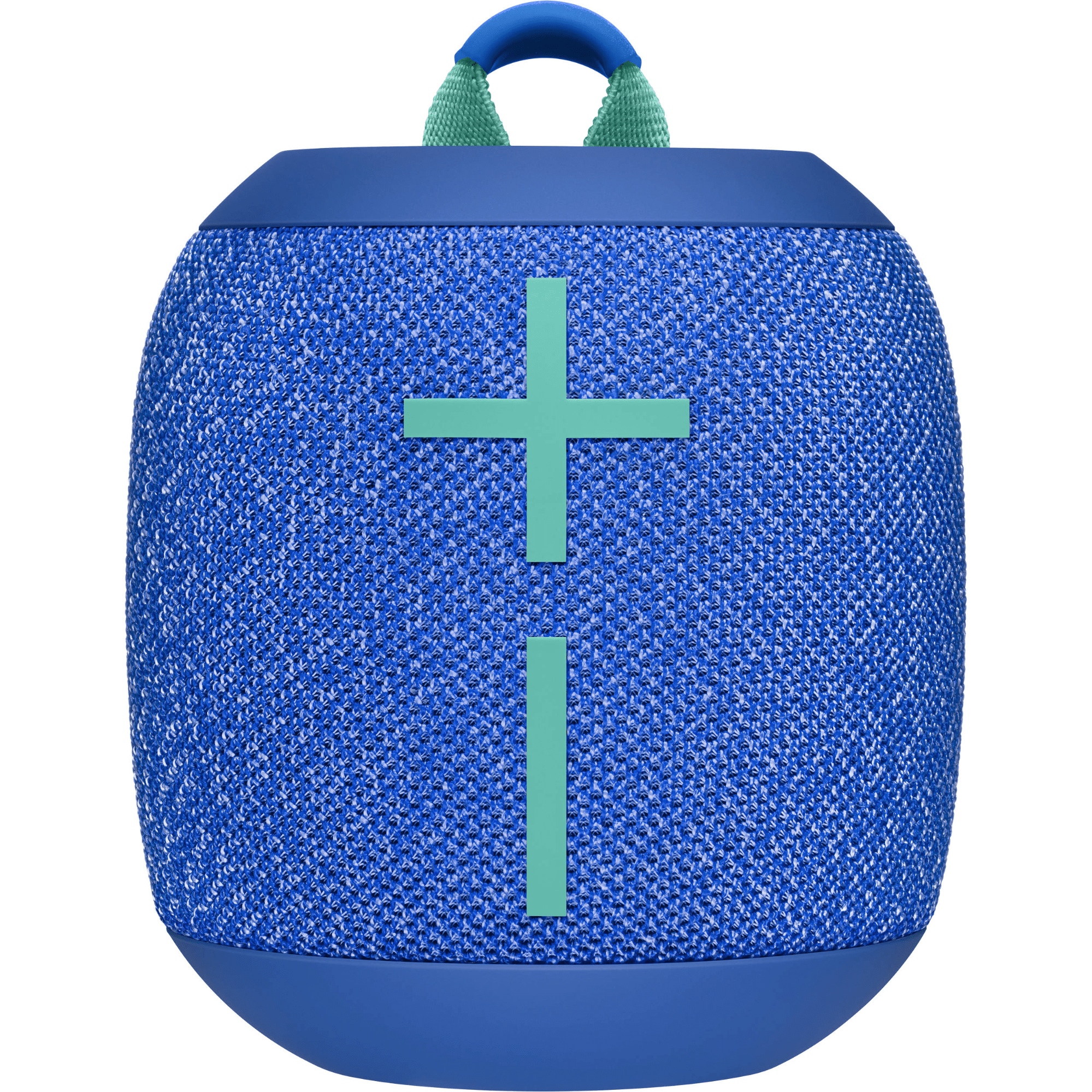 Price: $130.49
Despite the ultraportable design of the Ultimate Ears Wonderboom 2, it produces big, crisp, and bassy sound! With its outdoor boost, you can hype up the room with loud and powerful audio!
This wireless and waterproof speaker can last up to 13 hours, consistently providing superior audio quality so you can party all night, even until dawn.
To double the sound, you can connect it to another Wonderboom speaker, leaving with you with a more immersive experience.
Moreover, it has a stylish hanging loop so you can easily clip it onto your bag or the belt loop of your pants.
Whether you're practising some moves, biking, or even taking a dive, it can be the greatest companion that you could ever have!
Pros
Waterproof and dustproof
Multiple pairing direct stereo sound
Floatable and drop-proof
13-hour battery life
Cons
Distortion increases with volume
MicroUSB charging
Customer Reviews
Many users said that the Ultimate Ears Wonderboom 2 is truly one of the best portable speakers in Singapore due to its enhanced features. They mentioned the longer battery life, fuller sound, as well as its lightweight design.
A user gave this feedback:
"Well, if you are on the lookout for an extremely durable, great-sounding speaker that has a long battery life and even floats, then look no further than the Ultimate Ears Wonderboom 2. This is the sort of speaker you rarely have to worry about and is great for traveling or at-home use. Plus, there has never been a better time to buy one as the deals going right now are amazing! So, check it out to see exactly how much you can save today!"
2. Sony XB22 EXTRA BASS

Price: $99.00
Want to have a fun and lively party with your family and friends? Then, you'll definitely love the Sony XB22 EXTRA BASS!
With its extra bass and live sound feature, you'll instantly feel like you're in a music festival, whenever and wherever you are! This best portable speaker in Singapore features advanced DSP technology and rigid speaker cones that help cover a wider area, a perfect choice for grand parties.
You can also activate its party booster mode where you can make different sounds, ranging from soft to loud effects. This lightweight speaker also has flashing line lights that sync to the beat of the song, providing disco and funky vibes.
Aside from these, you can also connect it to hundreds of wireless speakers to further maximize the sound. Since it's built with a shockproof surface, it can withstand bumps, scrapes, and knocks that are inevitable during everyday use.
Pros
Live sound mode
Dustproof, waterproof, and washable
Up to 12 hours of battery life
Rugged and durable design
Flexible settings
Cons
Distortion on deep bass at high volumes
Customer Reviews
Users mentioned that Sony XB22 EXTRA BASS is easy to use and has many additional features to enhance audio quality. A reviewer gave this feedback:
"If you need an affordable Bluetooth speaker for your personal entertainment, the SRS-XB22 is a great choice. It is Exquisitely designed and you can throw it from one hand to the other. It has a decent sound for the price and the Live mode opens up a larger stereo area. If you enjoy hiking or picnicking, this speaker will sure add some colors, pun intended to your experience."
3. JBL Boombox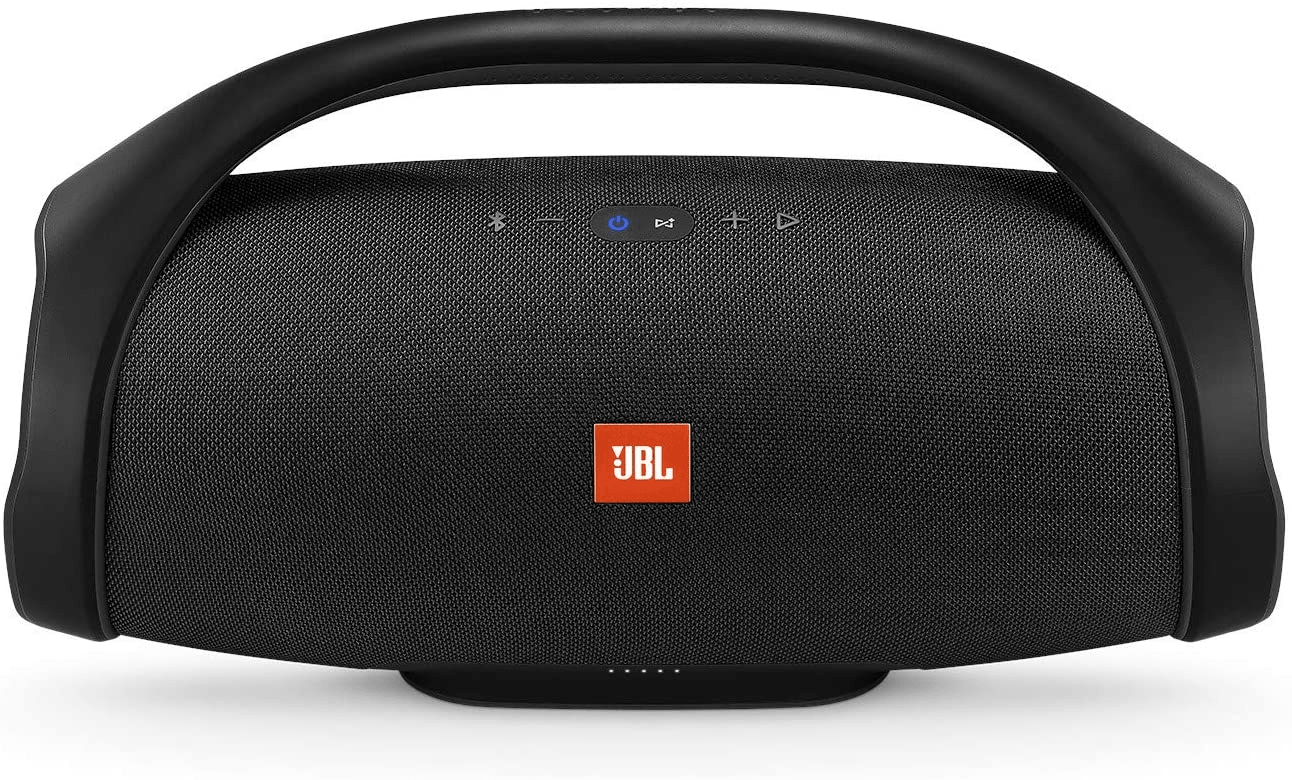 Price: $595.54
Compared to the previous options, the JBL Boombox offers a longer battery life of up to 24 hours — that makes it an excellent speaker to bring during travel!
If you're going for a summer trip, then you must certainly bring this waterproof speaker so you don't have to worry about possible damage, even when submerged into water.
It features two sound modes including indoor and outdoor mode. Once you press the indoor mode, you can experience rich sound and deep bass, giving you some delightful jamming sessions at home.
Meanwhile, outdoor mode provides an expansive sound, strong bass, and longer playtime. To further amplify the sound, you can connect more than a hundred speakers!
You can also connect up to 2 smartphones/tablet devices, allowing you to take turns playing your music when hanging out with others.
Pros
Durable builD
Voice assistant compatible
Can connect over 100 speakers
Powerful audio performance
Cons
Pricey
Takes a long time to recharge
Customer Reviews
The JBL Boombox has gained lots of positive feedback due to the solid and clear sound quality. Users also said that it's the best portable speaker in Singapore for those who like booming bass sound and want to bring it wherever they go.
A user left this review:
"The JBL Boombox is easily one of the loudest Bluetooth speakers you can find that will pump out massive sound and great sound performance. The music from this speaker sounds crystal clear, with crisp highs, good midranges and very powerful bass – in fact, the bass hits so hard that it feels almost like a standalone portable dedicated subwoofer. The entire speaker has a really rugged design to handle the outdoor elements and is IPX7 waterproof, which makes it perfect for outdoor trips and pool parties. The speaker comes with four active transducers and two bass radiators to enhance the overall bass performance. The Bluetooth connectivity on this speaker is consistently clear and intuitively connects to your mobile device to stream music on the go. We liked the fact that the speaker also comes with a nice carrying handle at the top which makes it convenient to carry around. The JBL Boombox is really the answer to those looking for a portable sound system for large party gatherings in open spaces with extremely powerful battery life."
4. Xiaomi Mi Compact Bluetooth Speaker 2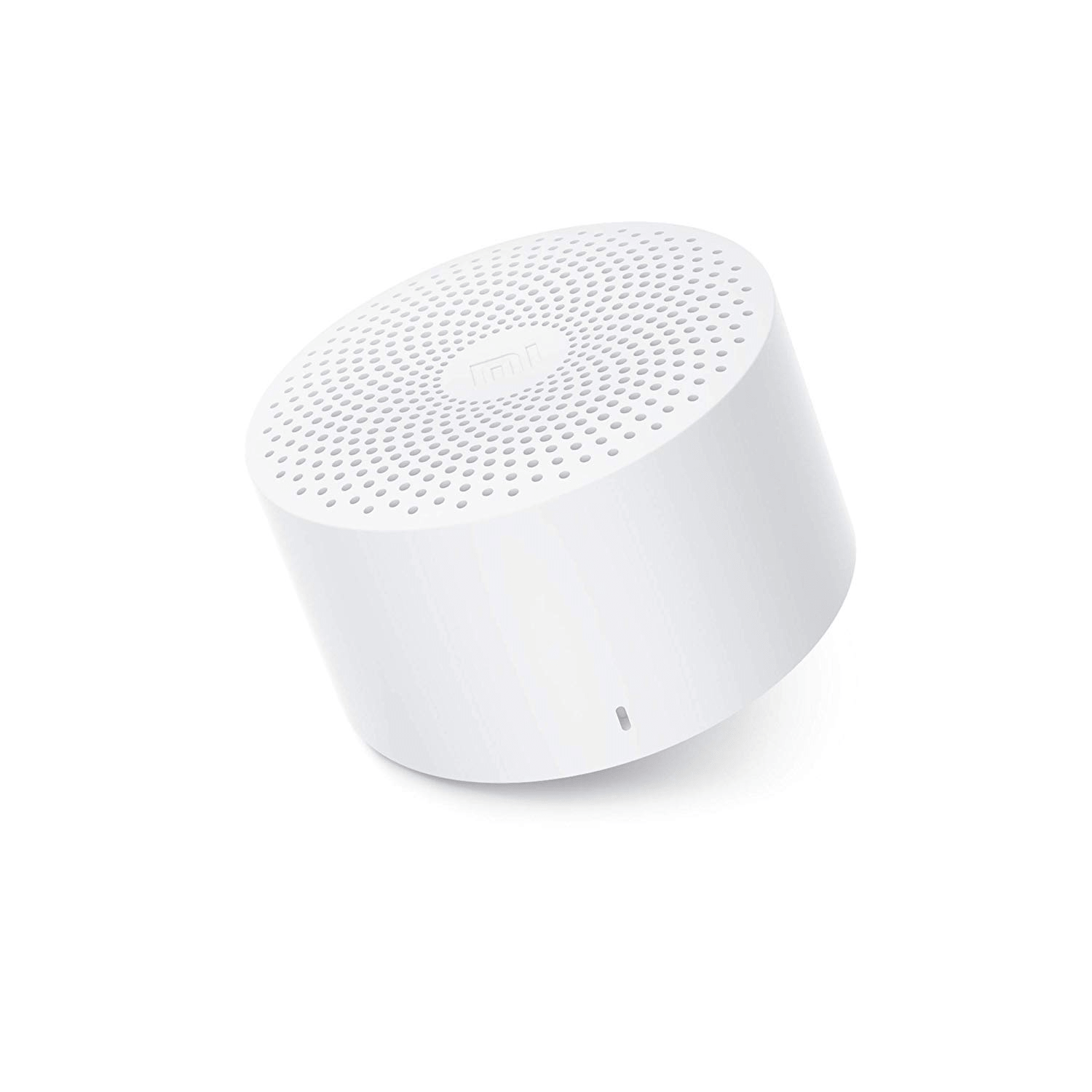 Price: $19.90
Searching for a high-quality yet budget-friendly portable speaker? If you are, then you must try the Xiaomi Mi Compact Bluetooth Speaker 2!
This compact and weightless speaker is the ideal one to bring on the go! Due to its ultra-compact design, you can easily slip it in and out of your pocket.
At first glance, it may seem like a weak speaker because of its small size but once you use it, you'll know that it's capable of providing a powerful and crystal-clear sound.
One of the best things about this speaker is the hands-free calling feature where you can receive incoming calls and talk — this can come in handy during hectic schedules.
Pros
Built-in mic
Hands-free calling feature
Easy to carry
Suitable for medium-sized rooms
Cons
Not recommended for the bass lovers
5. Sonos Move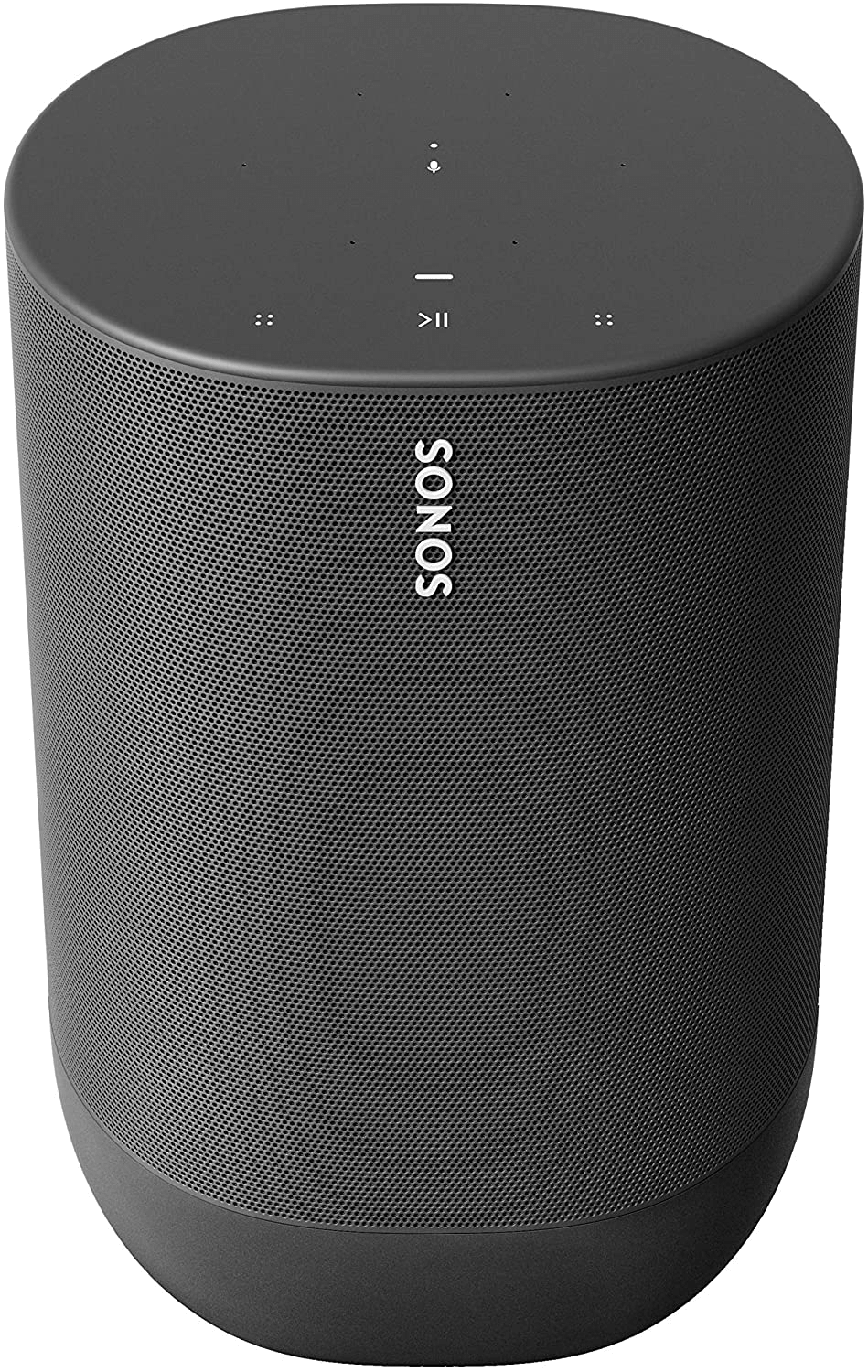 Price: $729.00
With the Sonos Move, you can control speaker settings with voice command through the Sonos app, making it easy for you to connect with your device and manage the tuning.
What makes this speaker different from others is the automatic tuning function. This feature allows the speakers to continually adapt to the acoustics of your location and the type of track you're listening to, ensuring that you'll experience fuller, clearer, and wider sound.
This best portable speaker in Singapore comes with digital amplifiers and mid-woofers for an ultimate music jamming venture anytime, anywhere!
Pros
Suitable for indoor use
Alexa and Google Assistant integration
Weather-proof and drop-resistant
Replaceable battery
Automatic tuning technology
Cons
Expensive
Sonos app doesn't work via Bluetooth
Quite heavy
Customer Reviews
Most users are highly satisfied and impressed with the overall performance of the Sonos Move. They shared that it offers advanced and extensive features that most speakers don't have.
A user wrote this feedback:
"The Sonos Move is rugged, portable, sounds great, and works with an app that allows you to tweak the sound signature to a degree. Throw in voice control with Amazon Alexa or Google Assistant, and there's not much to complain about. Those looking for stereo audio, or a pure, accurate sound signature, will want to look elsewhere—and probably outside of the often-mono smart speaker realm altogether"
And that's it for our list of the best portable speakers in Singapore! Have you already picked which one you'd like to try? Let us know!
And to see more speakers that you can use indoors and outdoors, take a look at these best Bluetooth speakers in Singapore!