The 7 Best Photo Editing Apps in Singapore
As you scroll through Instagram, you'll immediately see artistic photos that may seem as though they were taken by professional photographers. The truth is most of these aesthetic and nostalgic photos are done by novices who simply use the best photo editing apps in Singapore.
If you want your feed to be filled with artsy and high-quality photos, a photo editing app has everything you need. It offers special effects and various customisation features to enhance your photo.
To help you find the top apps of this type, we've gathered the best photo editing apps in Singapore. The apps we've put in this list offer amazing features and functions for both novice and intermediate photo editors.
That said, you still need to pick the app that best suits your style. If you're not sure how to choose the right app for your needs from our list, let's see first which features to consider when choosing a photo editing app.
Things to Keep in Mind When Selecting a Photo Editing App
There are several benefits to using a photo editing app for mobile instead of software for desktop. Chief among them is that most photo editing apps are user-friendly — in just a few taps, you can transform any photo into an Instagram-worthy shot.
However, not all of them offer great filters, flexible customisation settings, and lag-free functions. In fact, let's look at these and the most important features that you should look out for when choosing a photo editing app.
1. Basic Features
First of all, you must know that there are certain basic features that every photo editing app must have. This includes crop, straighten, rotate, flip, red-eye removal, and colour correction functions.
If the app has all of these features, then it'll be easy for you to fully edit your photos with the style/format that you want.
2. Customisable Filters
For casual or novice users, filter selection is the crucial factor that determines whether a photo editing app is a good one or not. It must have dynamic filter options that are entirely different from the Instagram filters.
It'd be better to choose an app where you can personalise the filters as every photo may need a different approach. This will come in handy for the social media influencers who need to keep a consistent feed theme for their followers.
3. Easy Switching Between Edits
Editing photos can be a bit tricky, especially if you're not sure which type of filter to use. Therefore, you should also consider if the app has easy switching between edits so you can finish the edit and upload your photo in no time.
Some apps may even allow you to edit different photos at the same time. There are also apps that can save your draft and let you go back to your work without having to start from scratch again.
4. One-touch Optimization
Though you may not want to spend too much time editing your photo, there are times when you don't have the luxury to do so. That's why having an app that features one-touch optimization would be a great help.
With this function, the app will recommend the best edits or styles (or even filters) for the photo. With a single touch, you can instantly upload them on social media and still have a quality photo.
That's useful if you're constantly editing and posting photos in a rush. Of course, if that's not your thing, this wouldn't be necessary at all.
Best Photo Editing Apps in Singapore
Anyway, now that you know the most important things to look for when choosing a photo editing app, it's time to actually pick one. Here are our own favorites!
1. VSCO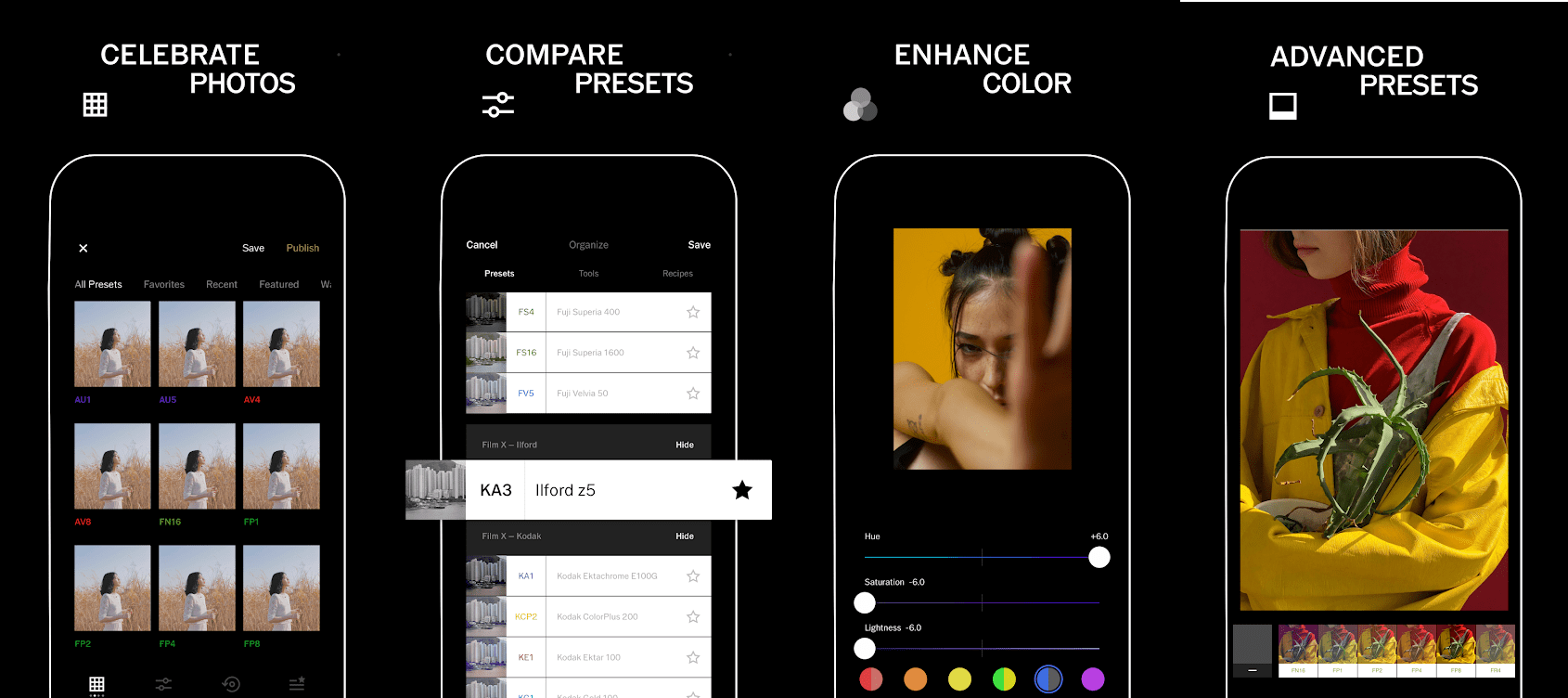 Download on Google Play Store | Apple App Store
VSCO is one of the most well-known photo editing apps used by both novices and pros. It features different presets that cater to specific styles or moods that you want.
You can add textures to achieve the analogue film effect or play around with other filters. It also has advanced editing tools such as HSL and Split Tone.
You can also make a short montage or a moving collage with this app. So, you can instantly compile your favourite moments, illustrate a mood, then share it with your loved ones.
Highlights
Advanced photo editing tools
Video editor
Short montage
Creative community
Customer Reviews
Many users were satisfied with VSCO's preset library that includes over a hundred presets to
choose from. They loved the vintage film look that they can recreate with just a simple adjustment.
A user posted this review:
"This app has allowed me to have a place to post my photographs and see what others have going on through pictures. Photographs tell a story and this app helps make that idea come to life. It's very clean, safe, and easy to use as well"
2. Snapseed
Download on Google Play Store | Apple App Store
With Snapseed, you can try various professional editing tools such as HDR, perspective, white balance, and more. It has a great selection of filters through which you can achieve a variety of styles.
You can bring out the main details of the photo to enhance its quality. Moreover, you can blend two different photos, a perfect feature for a fashion lookbook style.
Highlights
Personalised filters
Blend modes
Face enhancement
Glamour glow
Customer Reviews
Snapseed has earned a lot of good feedback from users, who complimented the simple layout where they can easily edit multiple photos in a short time.
This is why it's known to be one of the best photo editing apps in Singapore. A user gave this feedback:
"What a cool app! It has no ads and it's so easy to edit photos. It gives a smooth editing experience. I surely recommend it. I only want a cartoon filter option. It will be a nice filter. Download now! You can edit 10 photos in 5 mins here! It makes really extraordinary photos. It can be a bit complicated in starting but practice makes man perfect. And if you want then you can try all the filters at once. Luckily it has no in app purchases!"
3. Adobe Lightroom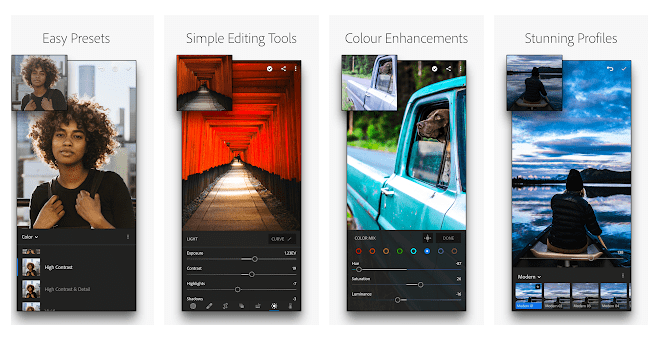 Download on Google Play Store | Apple App Store
Adobe is known for developing top creative suite software. They've also made it available for mobile users through Adobe Lightroom.
This app features a complete set of editing tools, ideal for professional photographers. Aside from applying presets and filters, you can also retouch full-resolution photos.
It offers powerful and easy-to-use sliders, giving you amazing control over your photos. Unlike other options, it has unique phone camera controls where you can instantly choose your preferred exposure and presets before capturing the moment.
Highlights
Unlimited customisation filter options
Interactive tutorials
Advanced photo sharing
Cloud storage backup
Customer Reviews
Most users loved the overall features of Adobe Lightroom and they said that it can truly be the best photo editing app in Singapore. A user left this review:
"It's the best app for editing in Android. Its colour correction is amazing and mind blowing. It's all affects to z are good. It doesn't affect the background colour and quality. Also the pixel of photo not damaged after saving. But a small problem should be solved that there is a little difficulty in taking photos from gallery except this everything is awesome"
4. Afterlight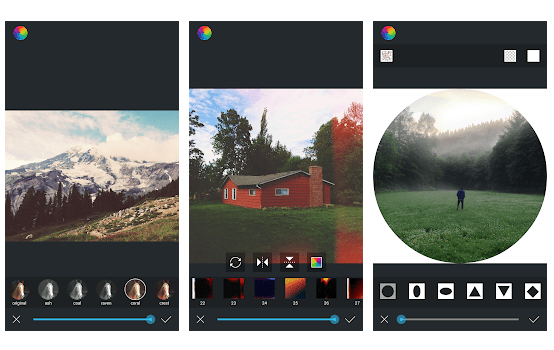 Download on Google Play Store | Apple App Store
If you prefer fast and straightforward editing, Afterlight can be the best photo editing app in Singapore for you! It has a simple user interface filled with highly functional and snappy tools.
It has a whole set of adjustment tools, customisable filters, real and natural textures, and more! It also has a variety of adjustable frames that are mainly made for Instagram posts.
Highlights
Customisable filters and frames
Transforming tools
Natural light leaks
Customer Reviews
Users were impressed with the simple controls and extensive range of filters and effects of Afterlight. A user wrote this feedback:
"Great vintage/ grunge editor on Android! I've used several apps for getting the "aesthetic look" for my photos . And trust me by far this is the best app on Android that I've come so far. The controls are really simple and the features, filters and effects are mostly free . I'm using this on my Realme 5 pro running Android 10 and this app runs smooth like butter and hasn't malfunctioned even once. I've absolutely no complaints and would rather recommend this app to others."
5. Touch Retouch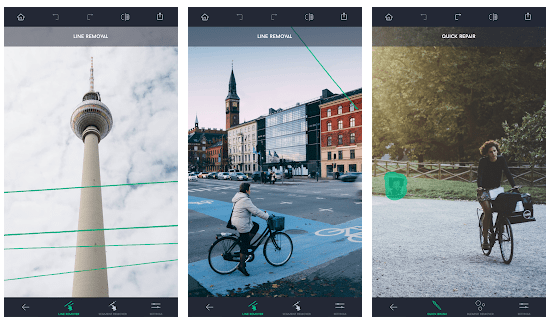 Download on Google Play Store | Apple App Store
If you're looking for the best photo editing app in Singapore where you can remove a certain part of your photos, you must try the features of TouchRetouch!
With this app, you can instantly remove surface breaks and scratches, photobombers, and other human-made objects that only distract from your main objective.
You can also remove pimples and skin blemishes for a flawless look.
Highlights
Single-flick line removal
Object removal tool
In-app video tutorials
Customer Reviews
The TouchReotouch has received a lot of compliments from users, saying that they can easily eliminate any distraction on the photo and enhance the quality. A user shared this experience:
"This is the first app I have ever paid for and it's brilliant! My favorite tool is the line remover, so easy and gives my photos a more finished look. I recommend using their trial images first to learn which tools are best for what job, it really helped me learn how to not distort my images"
6.   Instasize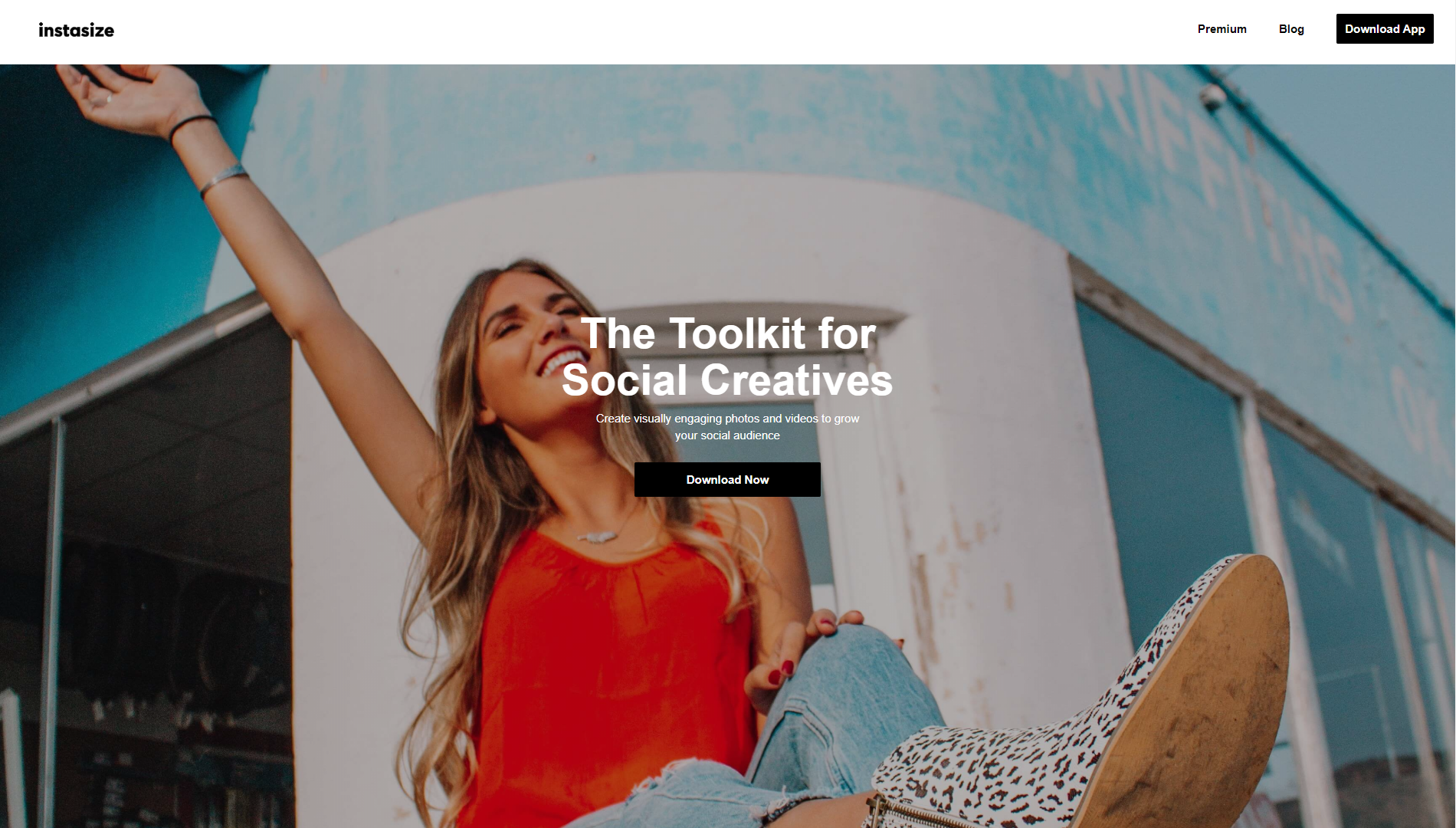 Download on Google Play Store | Apple App Store
Instasize is a photo and video editing app that gives its users a wide range of customisation options. It has a large number of filters, borders, and text choices for you to use for your media. Their collage maker is also easy to use, so you can explore your creative potential to its fullest.
While their standard version already offers a wide variety of choices, their premium subscription gives you access to their entire library and more advanced tools. In addition, you'll also be able to access exclusive content with media editing, where you can learn various tips and tricks from social influencers and experts.
With Instasize, you can create engaging media catered for your audience. Install their app now!
Highlights
Photo and Video Editor
Color Editing Tools
Original Filters
Customer Reviews
Instasize has a lot of dedicated users since day one, with each remaining satisfied to this day. Here's what one review said:
"Amazing❥ first used in 2016 & Find myself always coming back to it! There's plenty of features available & I knew back in '16 that this app would become so popular it would eventually no longer be free to use, But paying for the features it has, is worth it! My fav part is the white borders I use for my IG pics. I'll continue to use app as long as it's available! Thanks to the App creator& the amazing features that were easy to learn to use. much love, from a day 1 instasize user❥"
7. YouCam Perfect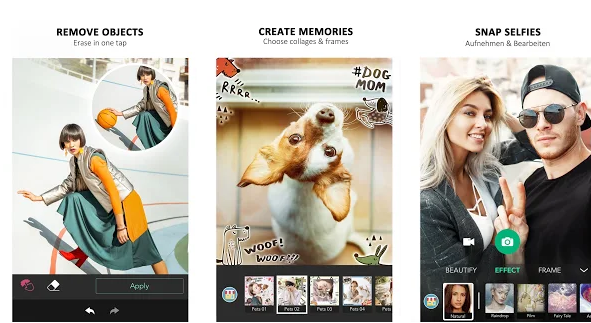 Download on Google Play Store | Apple App Store
YouCam Perfect is a great app for those who seek a photo editing app that does more than just editing raw photos. With this app, you can try your hand at creativity with its graphics and other effects.
It features an editing panel that can create perfect photos and selfies with features such as teeth whitening, removing blemishes, wrinkles, and more. It also features collages, frames, and stickers as well as adding layers and using magic brushes.
With YouCam Perfect, cutting out unnecessary objects and adding blurs has never been this easy. Overall, this editing app is an easy-to-use, one-stop-shop to help create the perfect set of photos and even short videos!
Highlights
Selfie Videos
Layer images and other effects
One Tap cutout & object remover
Easy blur effects
Customer Reviews
YouCam Perfects has a 4.8 out of 5-star rating among 71.7k ratings. With its wide variety of one-click, easy edits, users find YouCam as one of the best photo editing apps.
Let's read Aj's review of this app:
"YouCam Perfect is the best Photo app. The app lets you photo edit and video edit selfies while an auto-beautify feature enhances your looks as you shoot. The app masks skin flaws, while an eye enhancer enlarges eyes and removes under-eye puffiness. It has photo frames, camera lenses, pic collage maker, and more.
With group selfies, the app's multi-face detection can enhance the look of each face in your shot. YouCam Perfect further improves selfies with elements like stickers, backgrounds, collages, and frames, and can remove distracting background objects. With full-body portraits, the app works to lengthen legs and slim bodies or make you taller or shorter. Newer features include a mirror tool, new animated effects like rainbow lights, improved auto-detect (giving you sharper cut-outs for your portraits), and a range of new beautify presets and animated stickers and effects for premium members."
Whether you're searching for a specific style/look or you simply want to improve the quality of your photo, our selected best photo editing apps in Singapore have everything you need!
Have you already chosen which one you'd like to try? Tell us all about it!
Also, if you're planning to replace your smartphone with a model that you can use as an alternative to a discrete camera, take a look at these best camera phones in Singapore!