Our 17 Favourite Clinics for Lip Fillers in Singapore
Do you dream of having thick, luscious lips like those you see on television? With the best lip fillers in Singapore, your dream of achieving those lips is now easy and pain-free!
Thick lips are definitely a physical asset compared to thin ones. That's why a lot of people today are getting lip fillers to make their lips stand out, adding to their self-confidence as well.
If you don't know where the best lip injections in Singapore are located, then we're here to help you out with our list of the best lip fillers in Singapore.
To ensure that our list of the best lip fillers in Singapore is as credible as possible, we picked the clinics with great reviews, excellent staff, wide range of services, and of course, experienced aesthetic doctors. With these, you'll no longer have to stress about your thin and unnoticable lips!
(Note: This list is in no particular order.)
Dr. Lee Mun Heng – Cambridge Medical Group
Cambridge Aesthetic Clinic provides holistic treatments to make you beautiful inside and out. This boutique medical and laser aesthetic clinic provides medically sound and comprehensive aesthetic care in a comfortable and private environment.
Cambridge Aesthetic Clinic uses FDA-certified and approved machines, as well as Korean technology, to provide a comprehensive range of customised non-invasive therapeutic treatments for all their patients. Their range of services include laser and resurfacing therapies, radiofrequency, light and ultrasonic based treatments, botox and filler injections, chemical peels and various facial and body wellness treatments.
They will help you become the best version of yourself. With their experience and expertise, every treatment recommendation and program will be personally and specifically tailored to you, to ensure optimal results and outcome.
Highlights
Customised treatment programs
FDA-certified and approved machines
Comprehensive range of non-invasive therapeutic treatments
The Clifford Clinic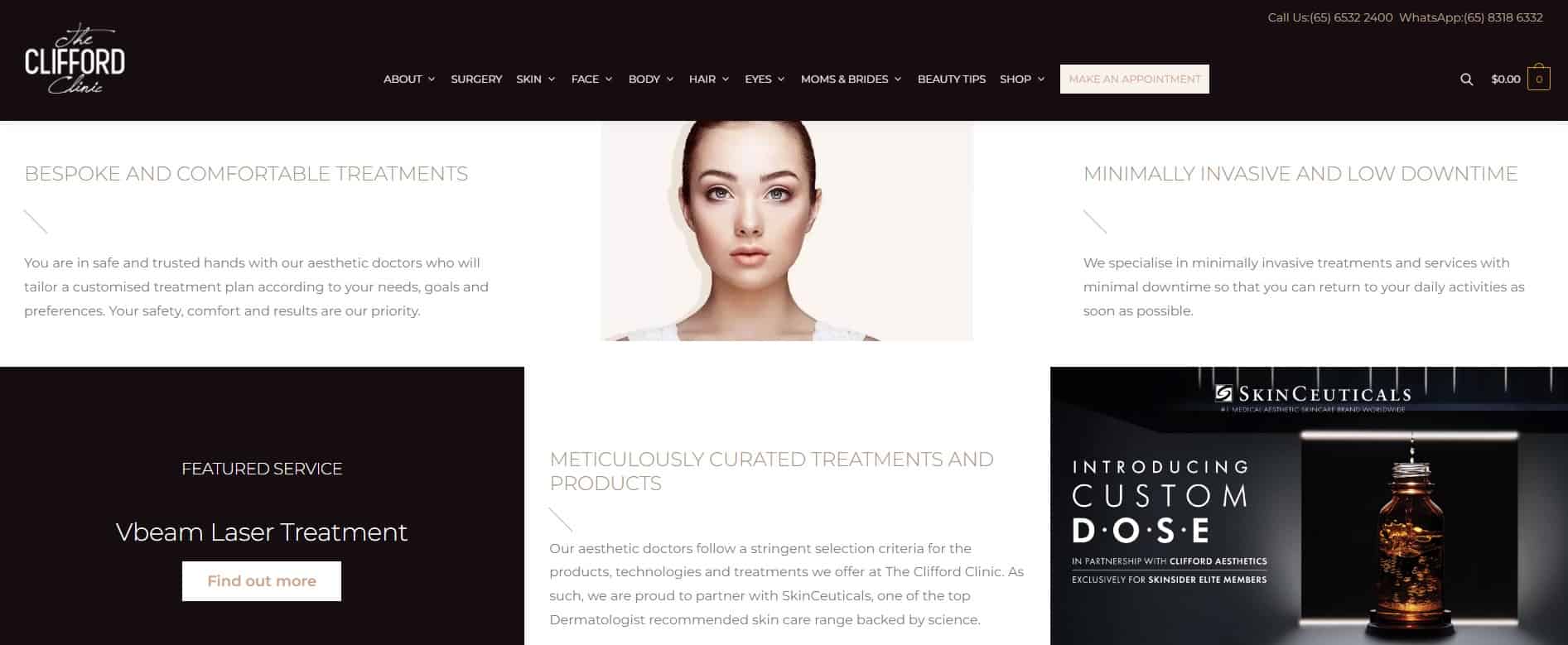 The Clifford Clinic is an excellent choice for facial filler treatments. Undergoing filler treatments in The Clifford Clinic can help clients achieve better-looking skin.
Dr. Gerard Ee, their head dermatologist, works with his team of expert aesthetic doctors in delivering the best services. With his interest in minimally invasive surgery and aesthetic medicine, you can rest assured that any treatment you undergo in Singapore Aesthetic Practice will go well.
Highlights
Minimal Downtime
Minimal Scarring
Safe Procedure
Accurate Treatment
Cutis Medical Laser Clinic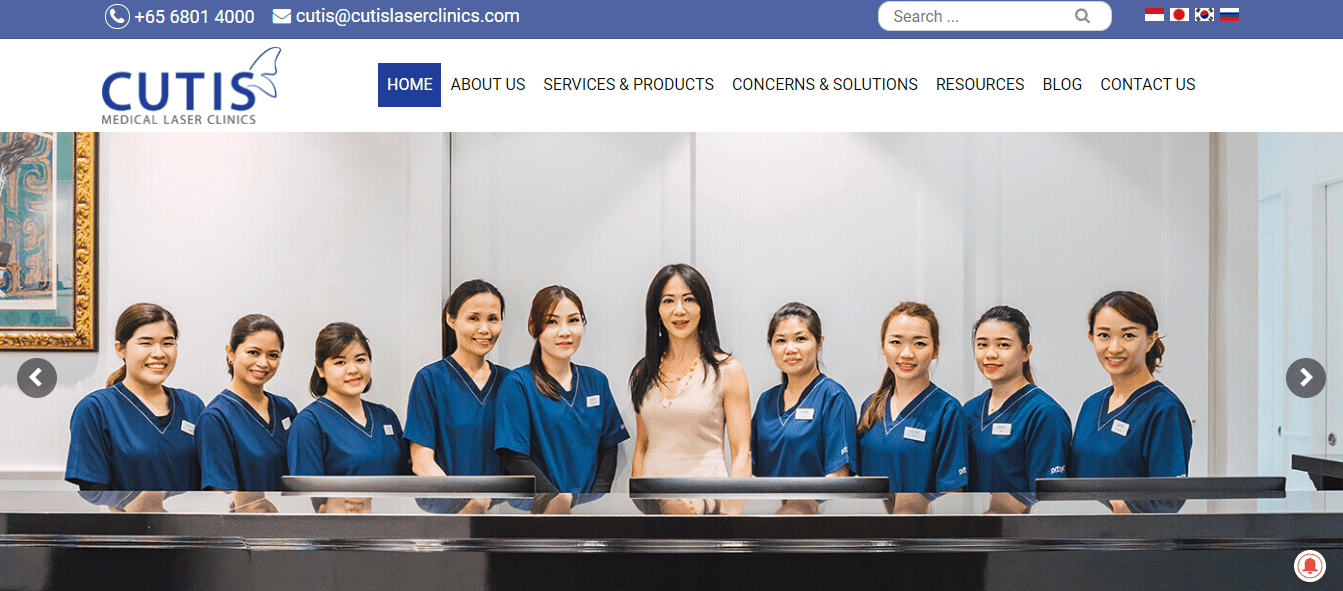 | | |
| --- | --- |
| BEST FOR | Face and Body Treatments |
| SERVICES | Lip Fillers, Botox, Chemical Peels, Dermal Fillers, Thread Lift, Laser Vein Removal, Body Sculpting, Liposuction, and Fat Freezing |
| WEBSITE | https://www.cutislaserclinics.com/ |
| ADDRESS | 9 Scotts Road Pacific Plaza Scotts Medical Center #08-07, Singapore 228210 |
| CONTACT DETAILS | +65 3138 4380 |
| OPERATING HOURS | Monday – Friday, 10:00 AM – 8:00 PM |
Cutis Medical Laser Clinics is no stranger to providing quality beauty treatments to clients. On top of its efficient support staff, it's headed by 2 professional aesthetic doctors who have years of practice under their belt.
It specialises in non-surgical face and body treatments, so patients who are afraid of operations can still avail of their services. Its treatments are guaranteed safe and FDA-approved.
What makes it an ideal clinic to get the best lip fillers in Singapore from is its various lip filler treatments. Cutis offers a total of 4 lip fillers, namely JUVEDERM, Restylane, Perlane, and the Natural Collagen Stimulator, all of which are proven to be capable of making your lips look more pronounced!
So, if you're in search of the best lip injections in Singapore, then consider checking them out!
Highlights
Different lip filler treatments
Experienced doctors
FDA-approved
Shens Clinic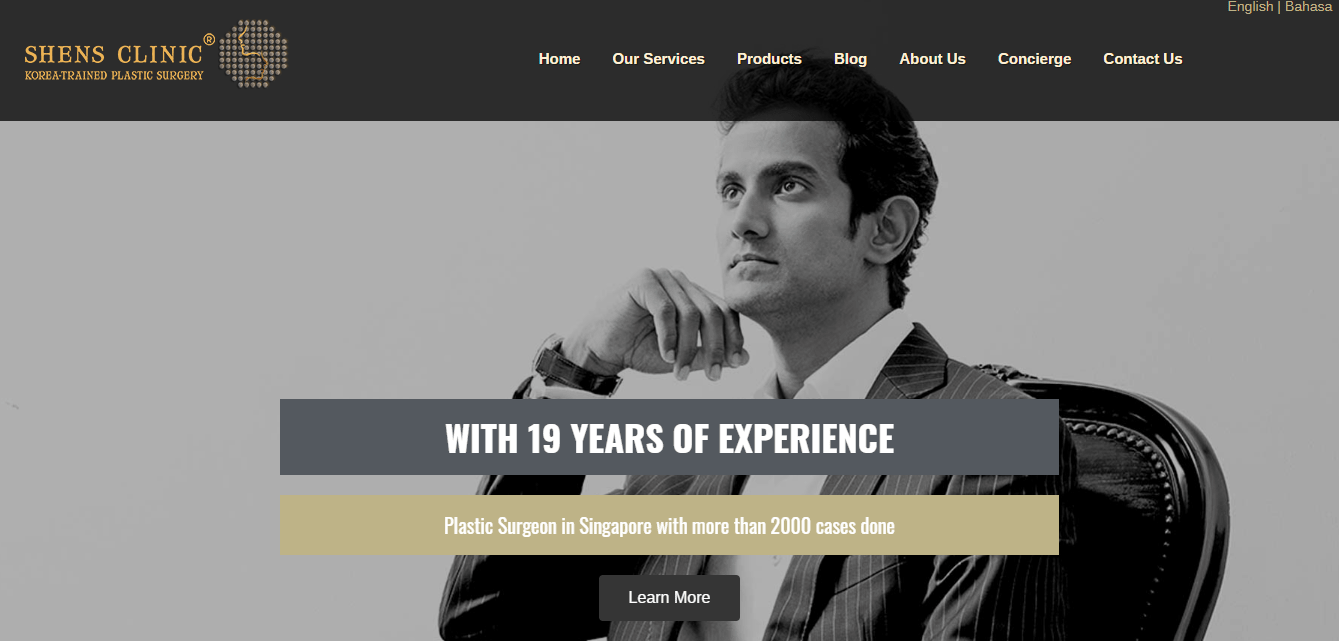 | | |
| --- | --- |
| BEST FOR | Korean-Trained Plastic Surgery |
| SERVICES | Lip Fillers, Face Lift, Cheek Implant, Rhinoplasty, Scar Removal, Mole Removal, Dermal Filler, Neck Lift, and Otoplasty |
| WEBSITE | https://www.shensclinic.com/ |
| ADDRESS | Winsland House 1, #09-08, 3 Killiney Road, Singapore, Singapore 239519 |
| CONTACT DETAILS | +65 3138 4395 |
| OPERATING HOURS | Monday – Friday, 9:30 AM – 6:30 PM |
If you want to have a lip filler treatment in Korea but can't afford to fly all the way there, then look no further than Shens Clinic. It's the only Korean-trained aesthetic and plastic surgery clinic that offers the best lip fillers in Singapore.
Shens Clinic knows how famous Korean beauty treatments are all over the world, and that's why it decided to bring them in the country for people to have access to them without spending a lot of money.
Lip fillers, one of its specialities, injects dermal fillers or fat transfer into a client's lip to make it look more thick and luscious.
It also offers other services such as face lift, nose life, rhinoplasty, scar removal, skin tightening, brow lift, and many more.
Highlights
Korean standards
Experienced doctors
Safe and effective treatments
SW1 Clinic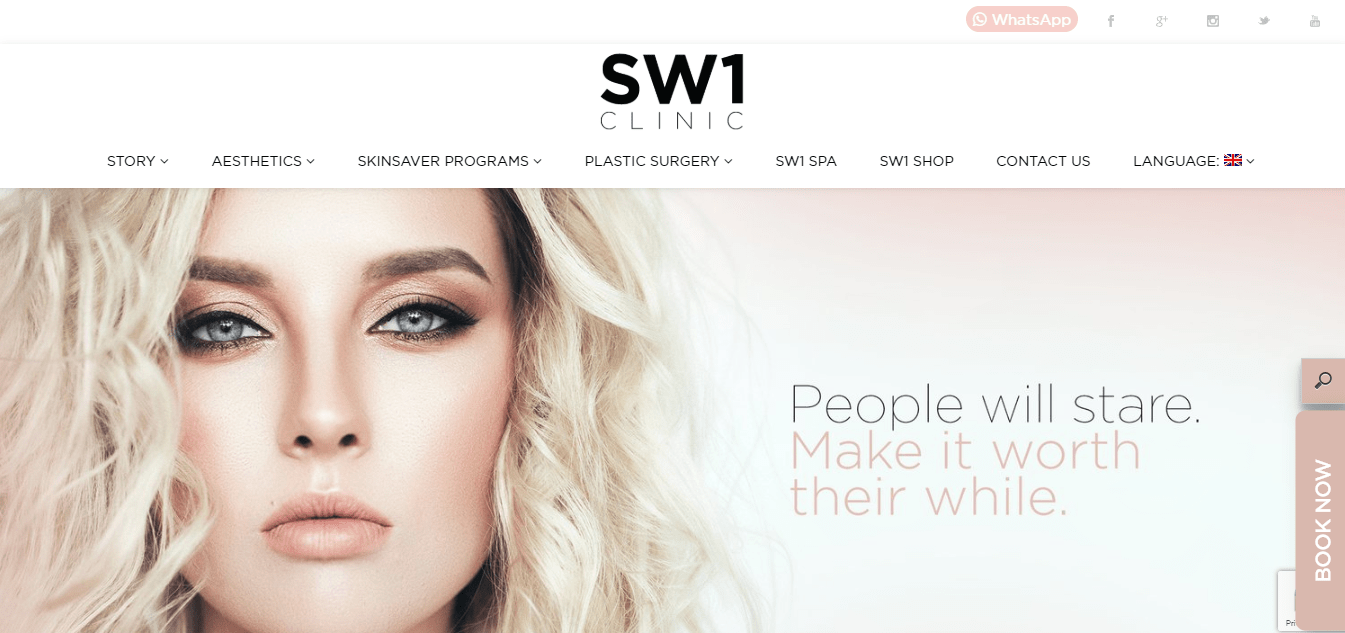 | | |
| --- | --- |
| BEST FOR | Face Beautification |
| SERVICES | Lip Fillers, Plastic Surgery, Facial Threads, Injectables, Lasers & Lights, and Facials & Spa |
| WEBSITE | https://www.sw1clinic.com/ |
| ADDRESS | 290 Orchard Road, #13-01/2/3/4/5/6, Paragon, Singapore 238859 |
| CONTACT DETAILS | |
| OPERATING HOURS | Monday – Friday, 9:00 AM – 8:00 PM |
With over 14 years of experience, SW1 Clinic has been helping Singaporeans feel more confident through quality and safe beauty treatments. It offers a wide variety of services such as plastic surgery, nose and face lift, anti-wrinkle injections, skin tightening, and of course, lip fillers.
SW1 Clinics injects lips with natural hyaluronic acid fillers, making them look thicker. Every lip filler procedure is done by one of their qualified and experienced doctors, and that's why we believe it's among the top options for the best lip fillers in Singapore.
Moreover, clients also get to choose how they want their lips to appear after the procedure. SW1 Clinic presents every client with a chart showing different ideal lips.
Another reason why we think it has the best lip injections in Singapore is due to the quick procedure and recovery. It will only take 30 to 45 minutes of your time, and the post-procedure swelling will only last up to 7 days maximum.
Highlights
Quick procedure
Online appointments
Lux Medical Aesthetic Clinic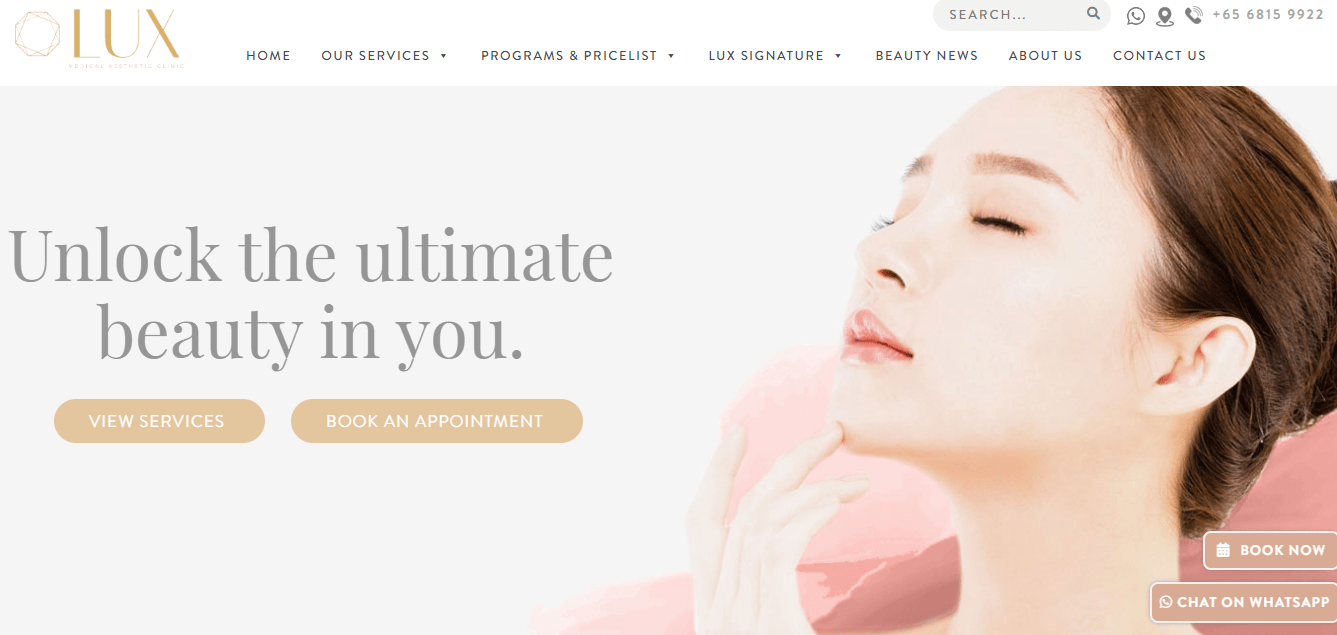 Do you want sexy, plump lips to further boost your confidence? If so, then Lux Medical Aesthetic Clinic has you covered with the best lip fillers in Singapore.
Ideal for older people, Lux Medical Aesthetic Clinic injects collagen into a patient's lip to restore its thickness and plumpness. What's more, it only takes up to 5-6 injections to bring back their volume.
Unlike other clinics, its lip injection procedure will only require a downtime of 2-4 days. So, you will be able to get back on track with a more beautiful pair of lips in no time!
Highlights
Competitive rates
Faster downtime
Sweng Plastic Aesthetic and Reconstructive Surgery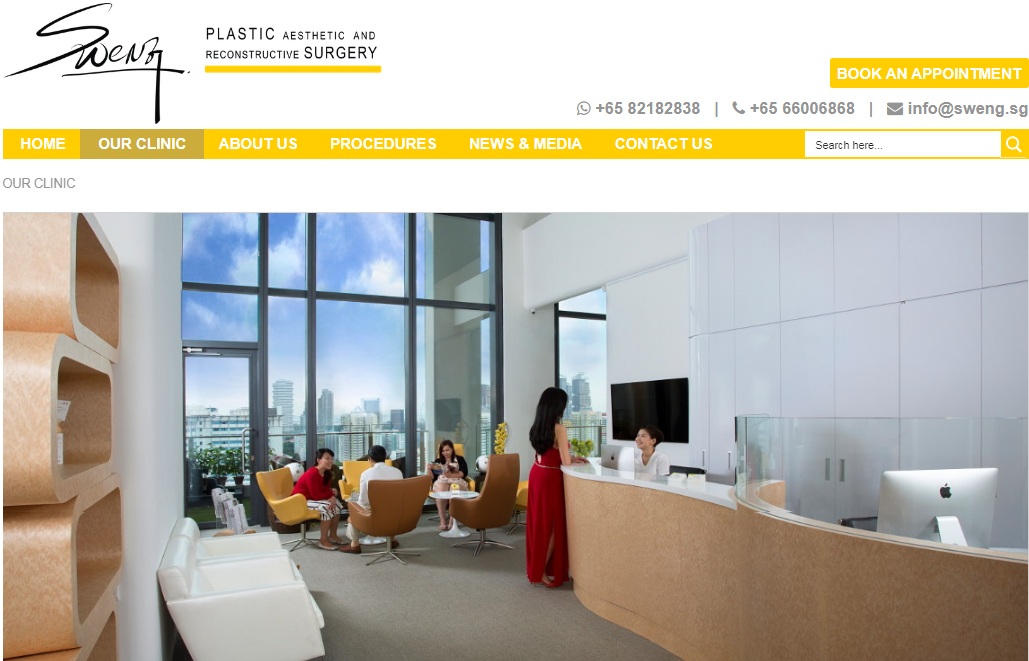 BEST FOR

Filler injection

SERVICES

Filler injection to lip, Fat injection to lip

WEBSITE

https://www.sweng.sg/

ADDRESS

1 Farrer Park Station Road, #16-08, Connexion, Singapore 217562

CONTACT DETAILS

+65 6600 6868/

[email protected]

OPERATING HOURS
Monday – Friday:

9:00 am to 6:00 pm

Saturday: 9:00 am to 1:30 pm
Sweng Plastic Aesthetic and Reconstructive Surgery is one of the best plastic surgery clinics in Singapore. It takes pride in their state-of-the-art health facilities which are being used for their clients. The Ministry of Health also accredited their Ambulatory Surgical Center so rest assured that you will be provided with the best service.
Their head surgeon, Dr. Ng Siew Weng, is considered a top plastic surgeon in the country. He was also the first to undergo intensive training in South Korea. As for their lip procedure, you can choose between filler injection or fat injection. The good thing is that they will explain what procedure you should get.
Highlights
Professional and skilled surgeon

Modern and latest technological equipment
Edwin Lim Medical Aesthetic Clinic Pte Ltd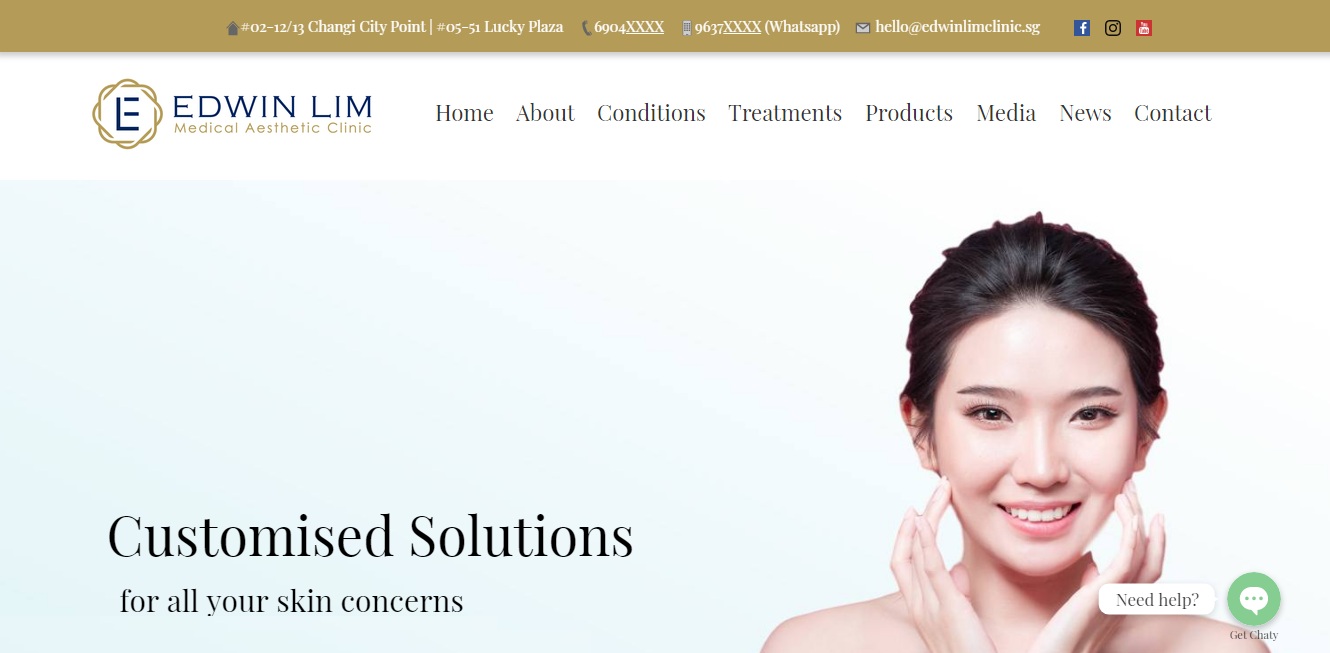 BEST FOR

HIFU facelift

SERVICES

Injectables, Laser, Medi-Facials and Fat Freeze, HIFU treatment

WEBSITE

https://edwinlimclinic.sg/

ADDRESS

#02-12/13 Changi City Point | #05-51 Lucky Plaza

#05-51, Lucky Plaza, 304 Orchard Road Singapore 238863

CONTACT DETAILS
[email protected]
OPERATING HOURS
Monday – Friday:

11:00 to 8:00 pm

Saturday and Sunday: 11:00 am to 6:00 pm
When you speak of aesthetic clinics, you cannot skip Edwin Lim Medical. This is headed by Dr. Edwin Lim who graduated from the National University of Singapore with a degree in medicine. He further pursued his surgical skills by qualifying as a member of Royal College of Surgeons from Edinburgh. His qualifications and educational background allowed him to treat different dermatological skin conditions. Thus, you can always go to them if you want to enhance or maintain your skin.
Aside from their surgical treatment, you can also buy beauty products from them. They have cleanser, toner, serum, moisturizer, and the likes. Just go to their website and proceed to the "Product" page to know more about these deals.
Highlights
Customized solution for your skin conditions

Comprehensive range of aesthetic services

Minimal discomfort and downtime
Lim Clinic & Surgery Medical Aesthetics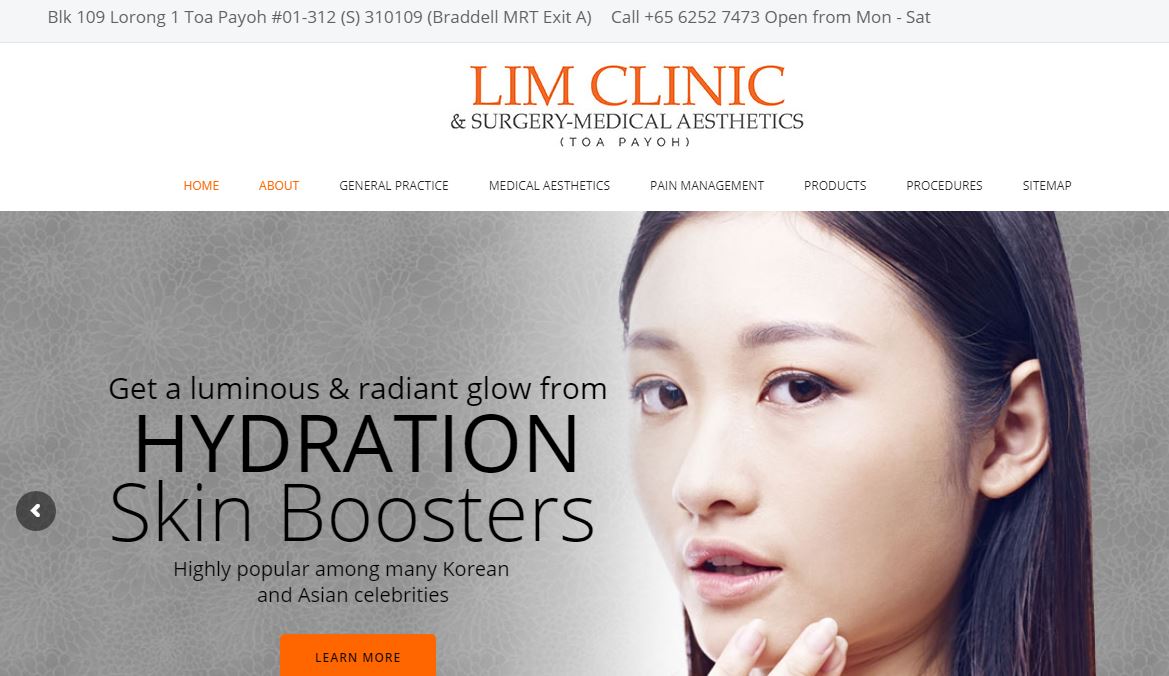 BEST FOR
Pigmentation, Acne scars removal, anti-aging. nose fillers, Botox, Chemical Peel, Facelift, Dermal Fillers, Body Slimming
WEBSITE

https://www.limclinicandsurgery.com/

ADDRESS

Blk 109 Lorong 1 Toa Payoh #01-312 (Braddell MRT Exit A) Singapore 310109

CONTACT DETAILS

Tel +65 6252 7473

Whatsapp +65 8587 8865

OPERATING HOURS

Monday to Friday 8.00am to 12.30pm

2.00pm to 4.30pm( Except Wed nights closed)

6.30pm to 9.00pm

Saturday. 8.30am to 3.00pm

Sunday and PH. Closed
Lim Clinic & Surgery Medical Aesthetics is known for their personalized skin care and treatments that cater to all types of individuals, each with a unique type of skin and treatment needs.
The in-house specialist, Dr. Lim Heng Wei has been a medical doctor for more than 30 years, solving a wide range of dermatological conditions such as wrinkles, acne, acne scars, pigmentation, enlarged pores and dull skin complexion.
The clinic provides an extensive range of aesthetic services from the face down to the body with lip filler as one of their specialties.
Highlights
First-class aesthetic treatments

Personalized procedures

Advanced technologies and luxurious facilities
Radium Medical Aesthetics

BEST FOR

Non-invasive medical aesthetic treatment

WEBSITE

https://radium-aesthetics.com/

ADDRESS

3 Temasek Boulevard #03-325/326 Suntec City Mall, Singapore 038983

CONTACT DETAILS

+65 6837-0507/ +65 9630-3022

OPERATING HOURS

Monday to Saturday: 10:30am to 8:00pm (Last appointment at 7pm)

Sunday: 10:30am to 3:00 pm (Last appointment at 2pm)
Radium Medical Aesthetics always make sure to use modern and latest technology when it comes to treating their clients. They offer different treatments which are designed to enhance your facial feature and structure. One of which is their Lip Filler.
The clinic is renowned for its non-invasive procedures Thus, you will only suffer minimal pain during the process. Their end goal is to make their clients look and feel better about themselves.
Headed by Dr Siew Tuck Wah, the medical staff of the clinic provides excellent performance and efficient service. This is how the clinic established their reputation and integrity in the industry.
Highlights
Non-invasive treatment

Customized skincare procedure

Minimum discomfort and pain
Bio Aesthetic Medispa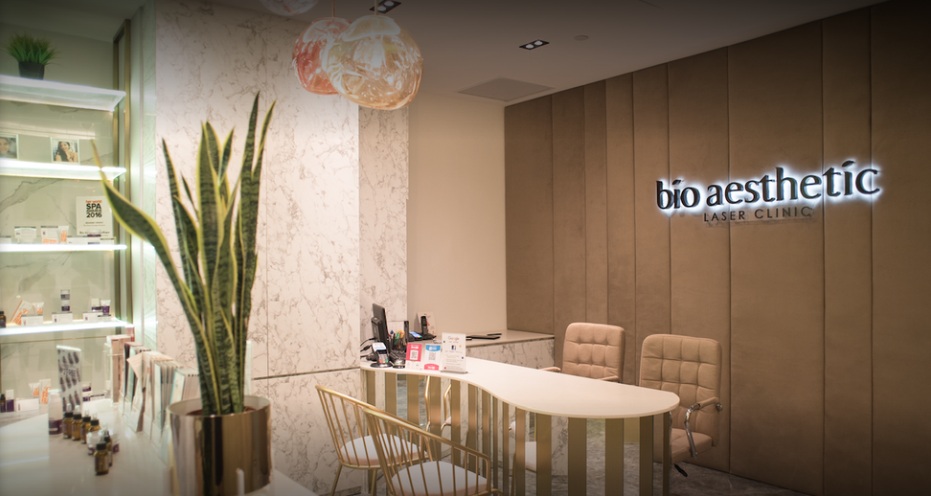 BEST FOR

Multi-awarded spa

SERVICES

Lip Fillers, Hydrating Booster for Intense Hydration, Chemical Peel Express, Fractional RF Skin Tightening, PhytoPeeling Hulk Acne Therapy, Opsis EyeLift Antitox, Thavma Wrinkle Control Therapy

Fat Freezing

WEBSITE

https://bioaesthetic.com.sg/

ADDRESS

Palais Renaissance, 390 Orchard Road #03-01 Singapore 238871

CONTACT DETAILS

+65 6333 4566

OPERATING HOURS

Mon- Fri 11am to 8.30pm

Sat: 10am to 6pm

Sun & Public Holidays Closed
Bio Aesthetic Medispa is a multi-awarded clinic offering an extensive range of aesthetic treatments that redefine and achieve beauty goals of all shapes and colors. They provide numerous procedures from the face down to the body.
One of the services they offer is lip fillers in which they make sure to be painless and will leave no scar.
Their clinic is completely equipped with the latest technology to ensure the quality of their work as well as the safety and comfort of their clients. They also feature some of today's most sought after beauty brands.
Highlights
Wide spectrum of aesthetic services

Medically Designed Treatments

Experienced Aestheticians
S Aesthetics Clinic

BEST FOR
Face fillers
SERVICES
Popular Treatments, Face Treatments, Skin Treatments, Eye Area Treatments, Hair Aesthetics Treatments, Body Treatments
WEBSITE
https://saestheticsclinic.com/
ADDRESS
9 Scotts Road #07-07
Scotts Medical Centre (Pacific Plaza)
Singapore 228210
CONTACT DETAILS
Email: [email protected]
Telephone: +65 6235 0338
WhatsApp: +65 90207234
OPERATING HOURS
Mon-Fri: 10am – 8pm
Sat: 10am – 6pm
Sun & Public Holidays: Closed
S Aesthetics is definitely a recommended clinic for high quality and pain-free aesthetic treatments. They offer not only face enhancements, but also skin, hair, eye area, and of course, body enhancements. This includes dermal fillers, face and jaw slimming, scar treatment, hair removal, hair supplements, and more!
They're also home to two of the best doctors in Singapore, who specialise in different fields of surgery and aesthetic medicine. They have been in the field for decades, having finished their practice outside of Singapore. Both Dr. Liong and Dr. Dong are highly praised doctors, and with them, you'll be able to conduct your desired aesthetic procedure with ease.
Among their numerous treatments, one of their best services is their lip fillers. Their treatments last for about a maximum of 2 years, with minimal maintenance. Bruising may occur after the procedure, but rest assured that it becomes normal after a week or two. All in all, their lip filler treatment is one you should consider if you're checking out facial enhancements.
Highlights
Expert aestheticians
Great customer service
High quality equipment and materials
Colin Tham Plastic Surgery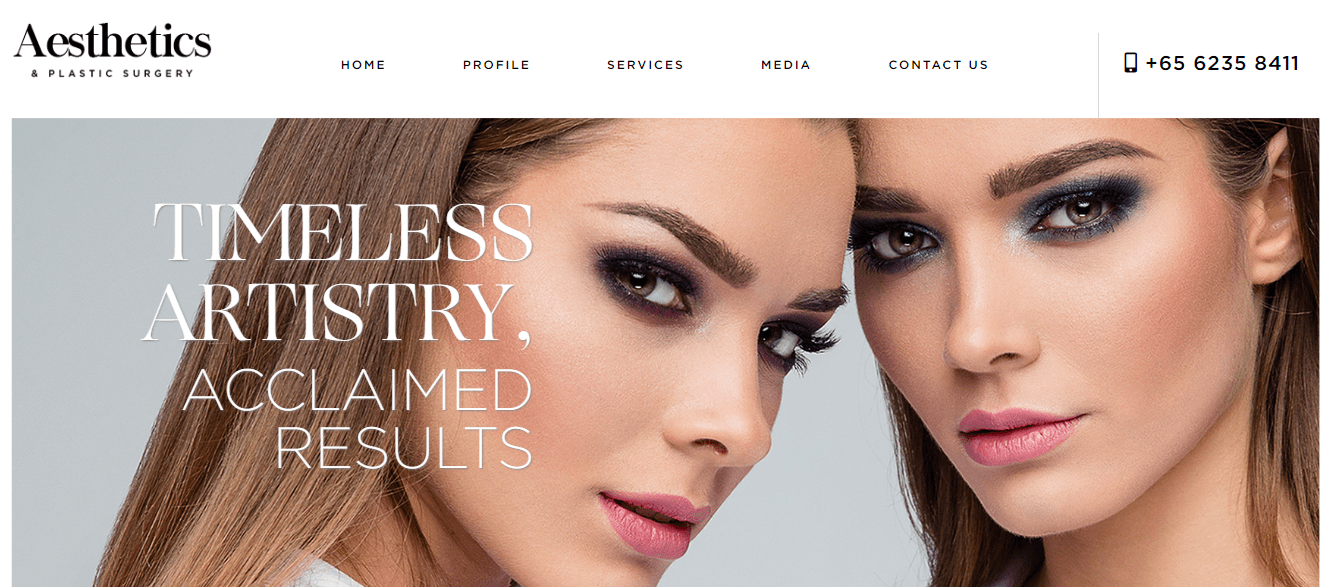 | | |
| --- | --- |
| BEST FOR | Plastic Surgery |
| SERVICES | Lip Fillers, Lip Reduction, Breast Augmentation, Double Eyelid Surgery, Rhinoplasty, and Liposuction |
| WEBSITE | https://www.colinthamplasticsurgery.sg/ |
| ADDRESS | 304 Orchard Rd, #05-06 Lucky Plaza, Singapore 238863 |
| CONTACT DETAILS | +65 6235 8411 |
| OPERATING HOURS | Monday – Friday, 9:00 AM – 8:00 PM |
Colin Tham Plastic Surgery is more known for its surgical procedures, but we also think that it offers one of the best lip fillers in Singapore. What makes it an ideal clinic is that patients get to choose the material that gets injected into their lips.
Among these materials are silicone, restylane, collagen, dermalogen, and their own fat from liposuction. All these are proven to be safe and effective in making lips look thicker and more symmetrical.
What's more, Colin Tham boasts a team of efficient and competent medical staff who take care of every patient to ensure that they're comfortable at all times. It also has a very cosy and pleasant environment that can put minds at ease.
And these are just the few reasons why we consider it one of the top clinics to get the best lip injections in Singapore from!
Highlights
Comfortable environment
Competent staff
Recognized plastic surgeons
8 Medical Aesthetic Clinic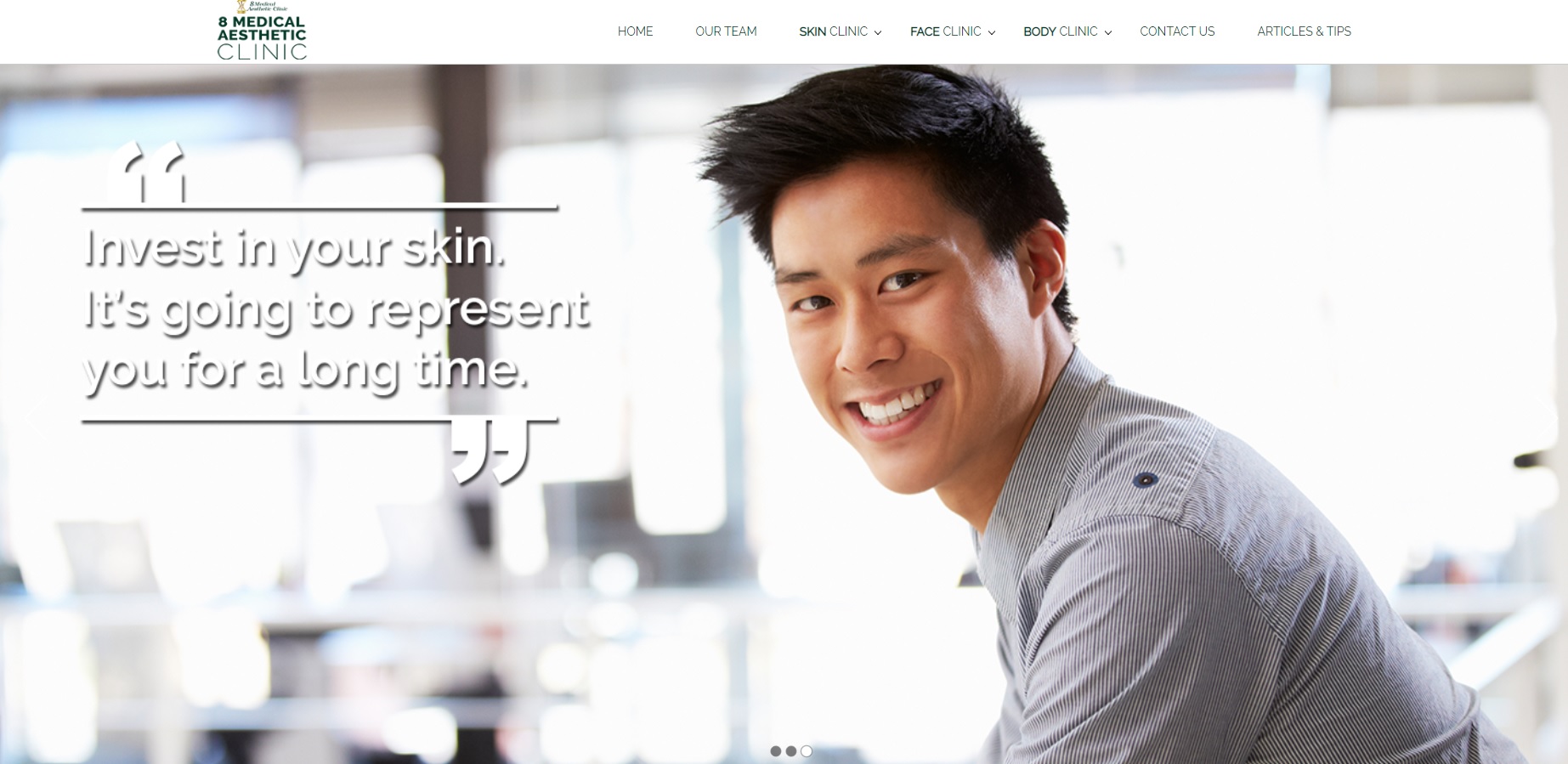 BEST FOR
Complete Aesthetic Treatments
SERVICES
Skin Treatments, Face Treatments, Body Treatments
WEBSITE
https://www.8medicalaesthetic.com/
ADDRESS
SOMERSET BRANCH
51 CUPPAGE ROAD, #06-22, SINGAPORE 229469DHOBY GHAUT BRANCH
2 HANDY ROAD, #04-19/20 THE CATHAY, SINGAPORE – 229233

 

 

CLEMENTI BRANCH
41 SUNSET WAY, #01-05, CLEMENTI ARCADE, SINGAPORE 597071

TAMPINES BRANCH
TAMPINES PLAZA, 5 TAMPINES CENTRAL 1 #03-01 S529541

CONTACT DETAILS
Tel: +65 3157 5947

 

 

SMS/WHATSAPP : +65 9151 9017
8 Medical Aesthetic offers a diverse set of medical aesthetic procedures. They primarily offer non-surgical treatments.
They have high standards of quality, from their doctors to their equipment. 8 Medical Aesthetic is a clinic you can count on to fulfil any of your aesthetic needs.
Highlights
Excellent attention to detail
FDA approved technology
Tiffiny Yang Aesthetics

Tiffiny Yang Aesthetics Clinic, believes that every problem has one solution, albeit not a simple one. With that in mind, they make sure to offer a wide range of beauty treatments from head to toe.
Their team of expert aestheticians creates tailor-fit beauty solutions suited for each individual. Their quality services are motivated by one goal, to give you newfound confidence.
Highlights
Proven aesthetic treatments
Wide range of beauty and cosmetic treatments
Veritas Clinic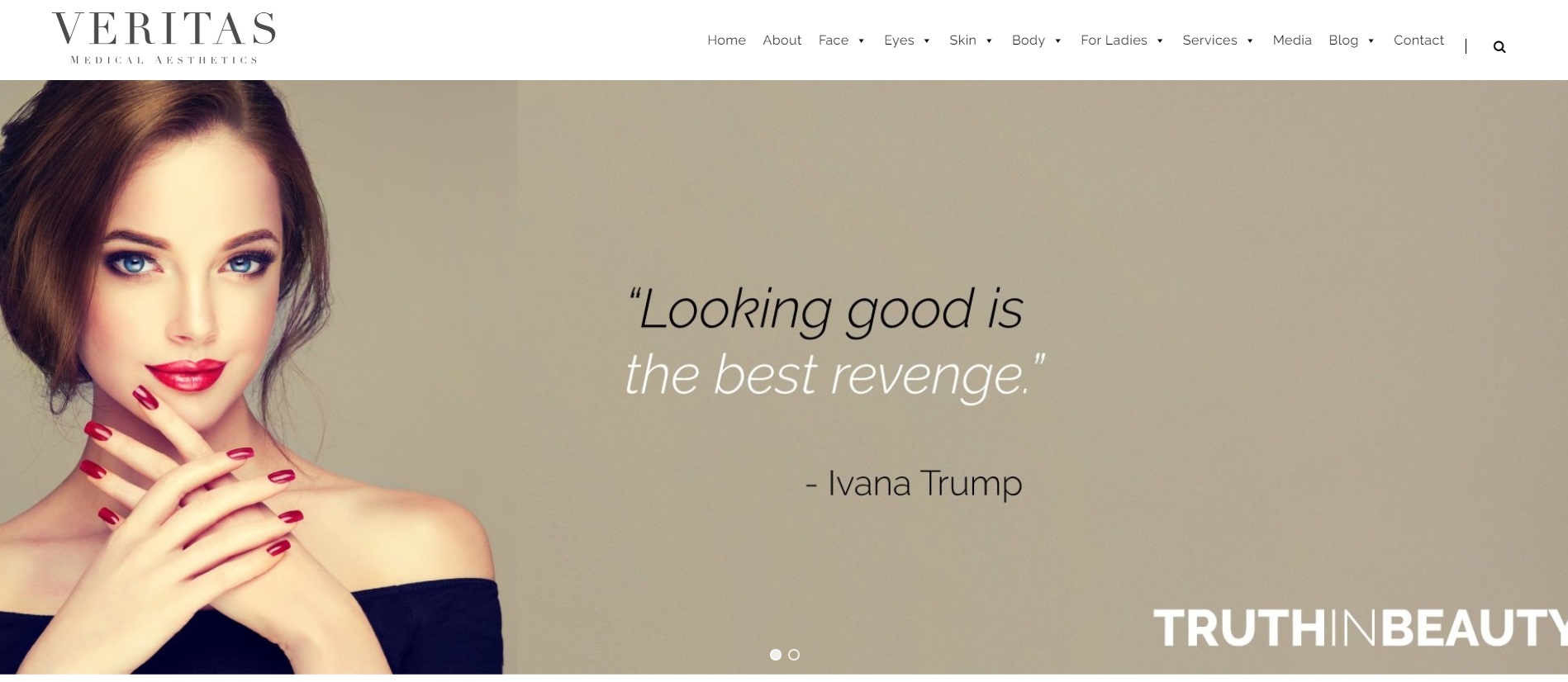 BEST FOR
Lip Fillers
SERVICES
Face, Eye, Skin, and Body Services
WEBSITE
https://veritas.com.sg
ADDRESS
13 STAMFORD RD, #B2-35 CAPITOL PIAZZA, SINGAPORE 178905
CONTACT DETAILS
[email protected]
+65 6283 3885
+65 8129 9789
Veritas Clinic is well-known for their use of science-backed treatments. Their services are focused on giving the patient the results they want immediately.
Their aestheticians are dedicated to finding the latest procedures that are best for their clients. With their comprehensive set of services, there's no doubt that you'll be able to get the most out of the aesthetic treatments.
Highlights
Treatments backed by science
Patient-centric experience
Comprehensive and result driven treatments
Experienced aesthetician
Illumia Medical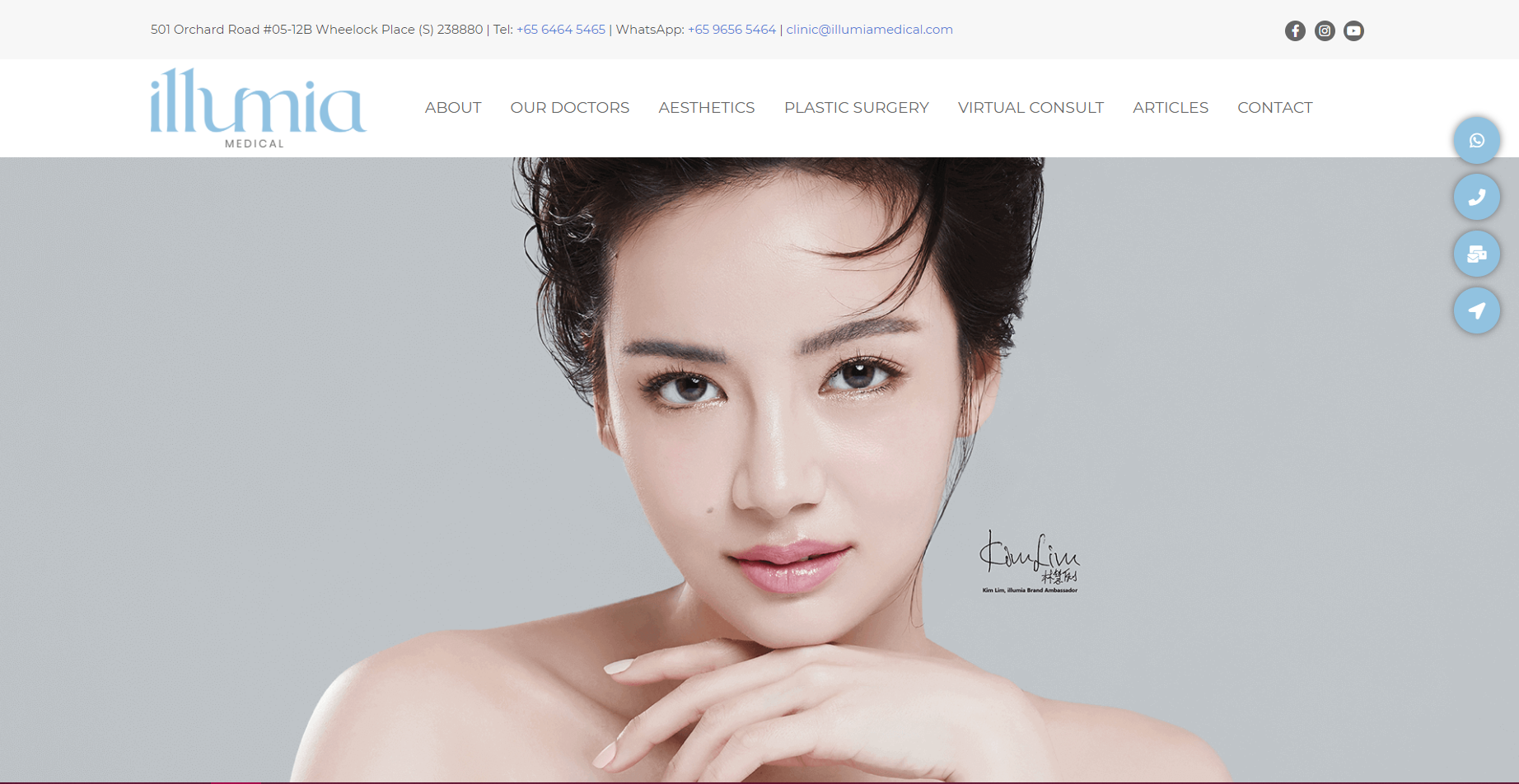 BEST FOR
Medical Aesthetics and Plastic Surgery
SERVICES

Aesthetic Services: Dynamic Skin Brite, Illumia Face Design, Feminine Health Rejuvenation, Hair Loss and Regrowth, Illumia Body Sculpt

Plastic Surgery: Upper Eyelid, Lower Eyelid, Face, Body

WEBSITE
https://www.illumiamedical.com
ADDRESS
501 Orchard Road, #05-12 Wheelock Place, Singapore 238880
CONTACT DETAILS

Tel: +65 6454 5465

Whatsapp: +65 9656 5464

Email: [email protected]
Illumia Medical is an aesthetic clinic that helps people attain their aesthetic needs with the use of state-of-the-art methods and technologies. They offer a wide range of aesthetic and plastic surgery services that can help you alter your appearance and provide you with satisfying and natural-looking outcomes.
One of their services include facial fillers, which can range from contouring the face to plumping up the lips or earlobes. Their clinic makes use of minimally invasive methods to not only rejuvenate your appearance, but also bring out the best in you.
You won't need to worry about suffering any adverse effects from their fillers, as they only use filler brands that have Hyaluronic Acid, a naturally occurring substance that is proven to keep skin plump and hydrated.
If you're interested, feel free to schedule a consultation with their doctor to get a comprehensive assessment and customised treatment plan.
Highlights
State-of-the-art centre
High performance
Self developed technologies
Latest proven technologies from all over the world
And that's the end of our list of the best lip fillers in Singapore. We guarantee that any of these aesthetic clinics can make your lips look more pronounced, more luscious, and thicker!
Do you know other clinics that provide the best lip injections in Singapore? If so, don't hesitate to share their names with us!
If you want more options, we also have you covered! We have a list of the best aesthetic clinics in Singapore that offer not only lip fillers but a whole range of beauty treatments as well!