By Ryan Lim
Do you dream of having thick, luscious lips like those you see on television? With the best lip fillers in Singapore, your dream of achieving those lips is now easy and pain-free!
Thick lips are definitely a physical asset compared to thin ones. That's why a lot of people today are getting lip fillers to make their lips stand out, adding to their self-confidence as well.
If you don't know where the best lip injections in Singapore are located, then we're here to help you out with our list of the best lip fillers in Singapore.
To ensure that our list of the best lip fillers in Singapore is as credible as possible, we picked the clinics with great reviews, excellent staff, wide range of services, and of course, experienced aesthetic doctors. With these, you'll no longer have to stress about your thin and unnoticable lips!
(Note: This list is in no particular order.)
1. 

The Clifford Clinic
BEST FOR 
Quality Noninvasive Treatments
WEBSITE
https://www.singaporeaestheticpractice.com/fillers
ADDRESS
24, #01-04 Raffles Place, Singapore 048621
CONTACT DETAILS
3129 2550
OPERATING HOURS
Mon to Fri: 10am to 8pm
Sat: 10 am to 5pm
Sun: Closed
Closed on Sundays and Public Holidays
The Clifford Clinic is an excellent choice for facial filler treatments. Undergoing filler treatments in The Clifford Clinic can help clients achieve better-looking skin.
Dr. Gerard Ee, their head dermatologist, works with his team of expert aesthetic doctors in delivering the best services. With his interest in minimally invasive surgery and aesthetic medicine, you can rest assured that any treatment you undergo in Singapore Aesthetic Practice will go well.
Highlights
Minimal Downtime
Minimal Scarring
Safe Procedure
Accurate Treatment
2. Cutis Medical Laser Clinic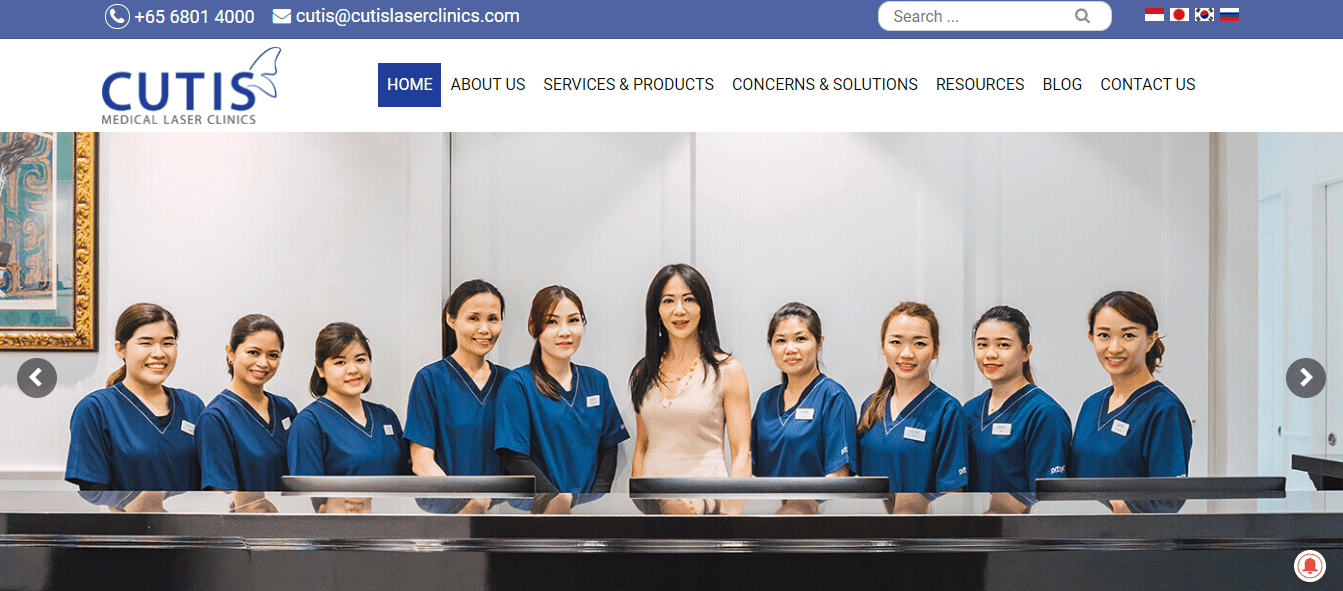 | | |
| --- | --- |
| BEST FOR  | Face and Body Treatments |
| SERVICES | Lip Fillers, Botox, Chemical Peels, Dermal Fillers, Thread Lift, Laser Vein Removal, Body Sculpting, Liposuction, and Fat Freezing |
| WEBSITE | https://www.cutislaserclinics.com/ |
| ADDRESS | 9 Scotts Road Pacific Plaza Scotts Medical Center #08-07, Singapore 228210 |
| CONTACT DETAILS | +65 3138 4380 |
| OPERATING HOURS | Monday – Friday, 10:00 AM – 8:00 PM |
Cutis Medical Laser Clinics is no stranger to providing quality beauty treatments to clients. On top of its efficient support staff, it's headed by 2 professional aesthetic doctors who have years of practice under their belt.
It specialises in non-surgical face and body treatments, so patients who are afraid of operations can still avail of their services. Its treatments are guaranteed safe and FDA-approved.
What makes it an ideal clinic to get the best lip fillers in Singapore from is its various lip filler treatments. Cutis offers a total of 4 lip fillers, namely JUVEDERM, Restylane, Perlane, and the Natural Collagen Stimulator, all of which are proven to be capable of making your lips look more pronounced!
So, if you're in search of the best lip injections in Singapore, then consider checking them out!
Highlights
Different lip filler treatments
Experienced doctors
FDA-approved
Customer Reviews
If we're basing it on reviews, then Cutis Medical Laser Clinics is the top clinic for the best lip fillers in Singapore. Take a look at some of these reviews:
"I would highly recommend Cutis Clinic for any skincare need.  The staff were extremely helpful and attentive and Dr Sylvia was extremely informative, friendly and knowledgeable.  Most importantly she made me feel comfortable and confident with any procedures I might have, because of her professionalism and expertise. Highly recommend this clinic."
"Dr Silvia is the best! She has a fine hand and has just given me ten years off with her filler technique! Highly recommended. To top it off the place is well run, the staff are lovely and everything is five stars. Can't wait to go for more. upper lip lines can be a curse as we get older and if we smoke as well!!  now my curse is gone"
3.  Shens Clinic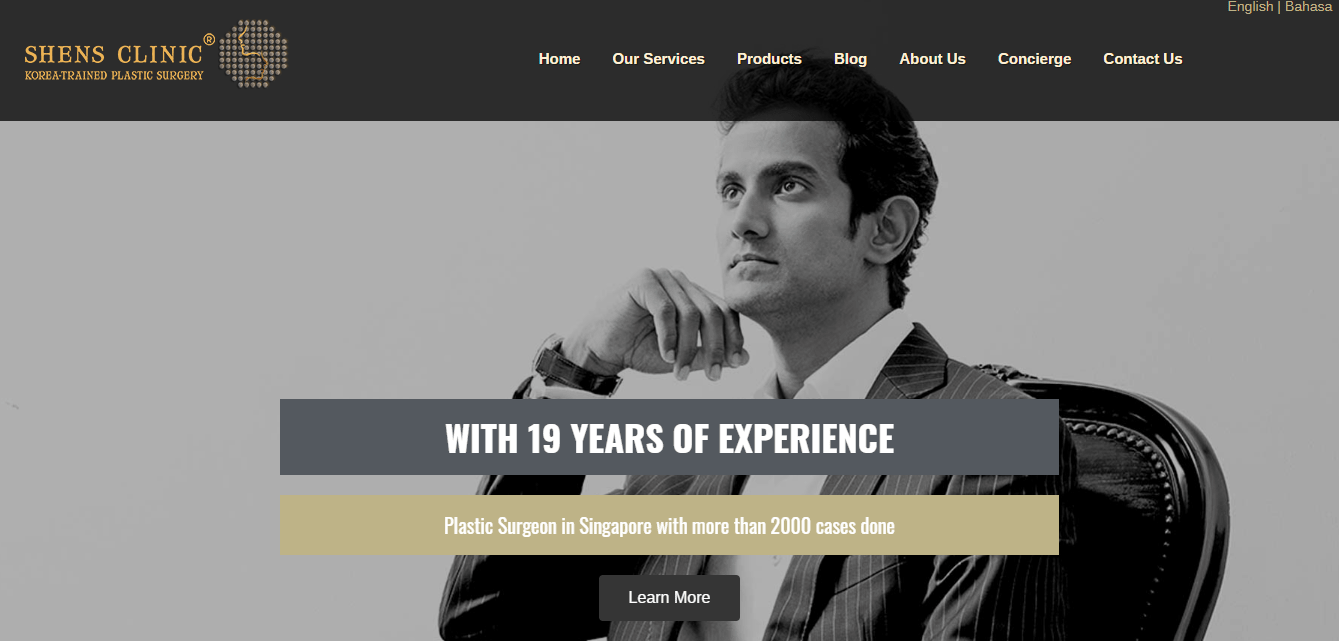 | | |
| --- | --- |
| BEST FOR  | Korean-Trained Plastic Surgery |
| SERVICES | Lip Fillers, Face Lift, Cheek Implant, Rhinoplasty, Scar Removal, Mole Removal, Dermal Filler, Neck Lift, and Otoplasty |
| WEBSITE | https://www.shensclinic.com/ |
| ADDRESS | Winsland House 1, #09-08, 3 Killiney Road, Singapore, Singapore 239519 |
| CONTACT DETAILS | +65 3138 4395 |
| OPERATING HOURS | Monday – Friday, 9:30 AM – 6:30 PM |
If you want to have a lip filler treatment in Korea but can't afford to fly all the way there, then look no further than Shens Clinic. It's the only Korean-trained aesthetic and plastic surgery clinic that offers the best lip fillers in Singapore.
Shens Clinic knows how famous Korean beauty treatments are all over the world, and that's why it decided to bring them in the country for people to have access to them without spending a lot of money.
Lip fillers, one of its specialities, injects dermal fillers or fat transfer into a client's lip to make it look more thick and luscious.
It also offers other services such as face lift, nose life, rhinoplasty, scar removal, skin tightening, brow lift, and many more.
Highlights
Korean standards
Experienced doctors
Safe and effective treatments
Customer Reviews
Here are some of the reviews proving that Shens Clinic is among the top options not only for the best lip injections in Singapore but for other procedures as well:
"I did a double eyelid sutera with Dr Shens. I wanted a higher lid but he explained very patiently why it would not suit me. I trusted him and went for the recommended height. It has been 3 months. My eyelids look fabulous. It is so natural that nobody would even guess I did any work to it. Thank you Dr Shens! He will definitely be the surgeon of choice if I want to do more plastic surgery!"
"I had vaser liposuction on tummy and love handles and fat grafting for fuller breasts. Dr Shen's techniques were excellent, he managed to carve my physique evenly and to my desired outcome. The recovery was arduous but he and his team were very professional, warm and assuring. Strongly recommend it for anyone considering vaser lipo and other procedures."
4.  SW1 Clinic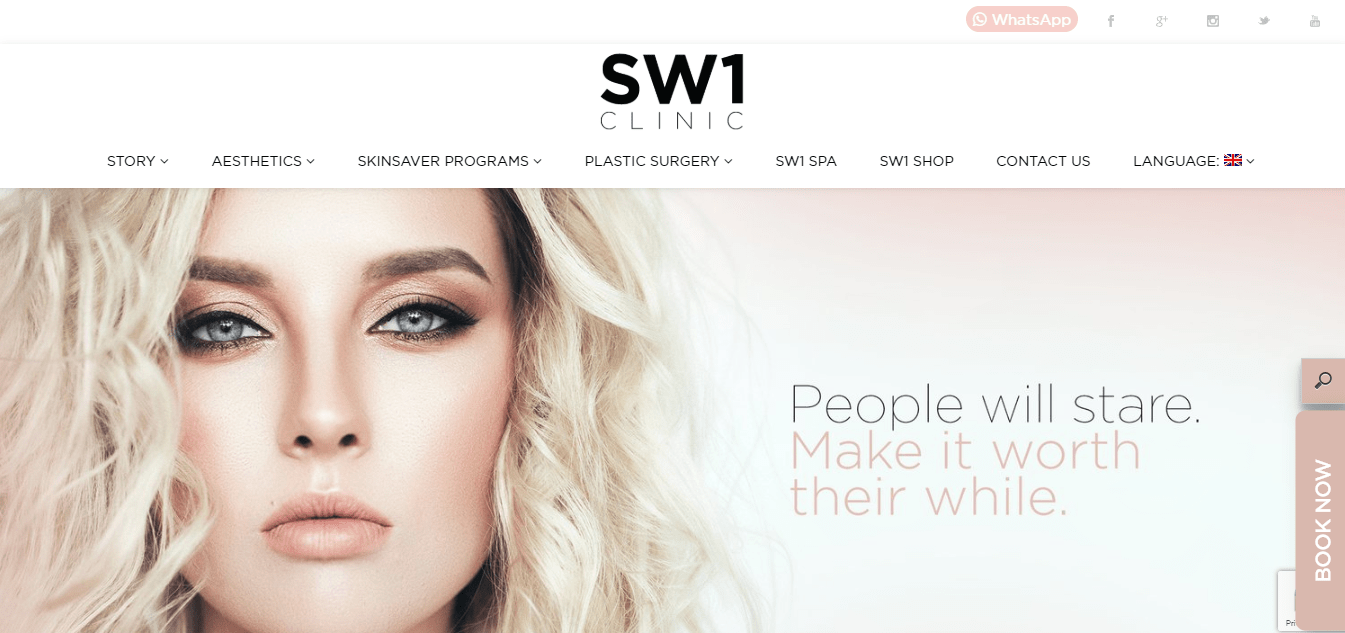 | | |
| --- | --- |
| BEST FOR  | Face Beautification |
| SERVICES | Lip Fillers, Plastic Surgery, Facial Threads, Injectables, Lasers & Lights, and Facials & Spa |
| WEBSITE | https://www.sw1clinic.com/ |
| ADDRESS | 290 Orchard Road, #13-01/2/3/4/5/6, Paragon, Singapore 238859 |
| CONTACT DETAILS | |
| OPERATING HOURS | Monday – Friday, 9:00 AM – 8:00 PM |
With over 14 years of experience, SW1 Clinic has been helping Singaporeans feel more confident through quality and safe beauty treatments. It offers a wide variety of services such as plastic surgery, nose and face lift, anti-wrinkle injections, skin tightening, and of course, lip fillers.
SW1 Clinics injects lips with natural hyaluronic acid fillers, making them look thicker. Every lip filler procedure is done by one of their qualified and experienced doctors, and that's why we believe it's among the top options for the best lip fillers in Singapore.
Moreover, clients also get to choose how they want their lips to appear after the procedure. SW1 Clinic presents every client with a chart showing different ideal lips.
Another reason why we think it has the best lip injections in Singapore is due to the quick procedure and recovery. It will only take 30 to 45 minutes of your time, and the post-procedure swelling will only last up to 7 days maximum.
Highlights
Quick procedure
Online appointments
Customer Reviews
Here's a review left by one of SW1 Clinics' patients:
"I have honestly never been to an aesthetic clinic which holds itself to such high standards of SW1. I've been with Dr Chua since 2019 and have been doing my facials here monthly. Such relaxing facials, the chai and sw1 skincare range is perfect, nothing in the range that i don't like, such a wide range of products to suit every skin type i cannot complain that don't have harsh ingredients in them either.
Everything down to professionalism of their staff and therapists, I truly don't think there is an aesthetic clinic in singapore that has the highest customer service standards that i've ever experienced in a clinic. Dr Chua is not pushy, friendly and you can tell everyone there genuinely cares about their patients. My skin has gone from flared up hormonal large cystic acne to flawless skin with no breakouts."
5. Colin Tham Plastic Surgery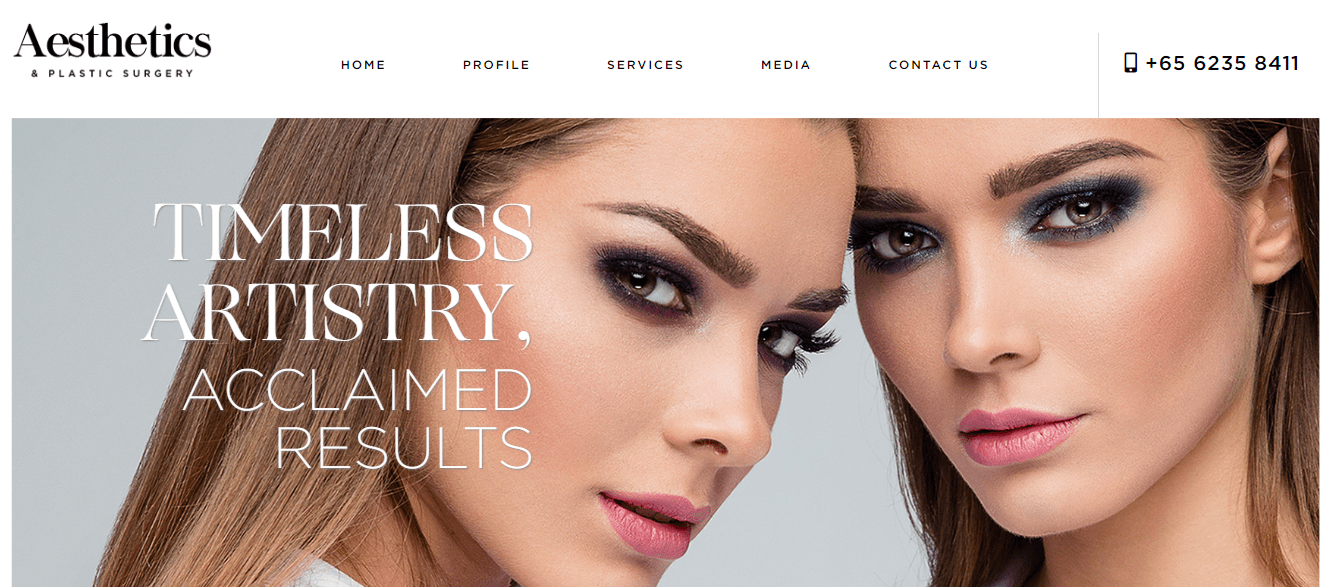 | | |
| --- | --- |
| BEST FOR  | Plastic Surgery |
| SERVICES | Lip Fillers, Lip Reduction, Breast Augmentation, Double Eyelid Surgery, Rhinoplasty, and Liposuction |
| WEBSITE | https://www.colinthamplasticsurgery.sg/ |
| ADDRESS | 304 Orchard Rd, #05-06 Lucky Plaza, Singapore 238863 |
| CONTACT DETAILS | +65 6235 8411 |
| OPERATING HOURS | Monday – Friday, 9:00 AM – 8:00 PM |
Colin Tham Plastic Surgery is more known for its surgical procedures, but we also think that it offers one of the best lip fillers in Singapore. What makes it an ideal clinic is that patients get to choose the material that gets injected into their lips.
Among these materials are silicone, restylane, collagen, dermalogen, and their own fat from liposuction. All these are proven to be safe and effective in making lips look thicker and more symmetrical.
What's more, Colin Tham boasts a team of efficient and competent medical staff who take care of every patient to ensure that they're comfortable at all times. It also has a very cosy and pleasant environment that can put minds at ease.
And these are just the few reasons why we consider it one of the top clinics to get the best lip injections in Singapore from!
Highlights
Comfortable environment
Competent staff
Recognized plastic surgeons
Customer Reviews
Here are some reviews on the services of Colin Tham Plastic Surgery:
I finally decided to get double eyelid surgery because I thought my single eyelids were quite unattractive. I was very scared actually but Dr Tham made me feel comfortable enough to trust that the surgery will go as planned. Sure enough, no issues! My scars are barely visible now, plus I'm so glad I never have to use double eyelid tape again!
"Dr Tham is a great medical professional, receptive and candid, and listened closely to my goals and concerns. As it was my first time going for surgery, Dr Tham took the time to reassure me by describing clearly what to expect during and after. I received great care from the whole team and the results turned out like everything I hoped too!"
6.  Lux Medical Aesthetic Clinic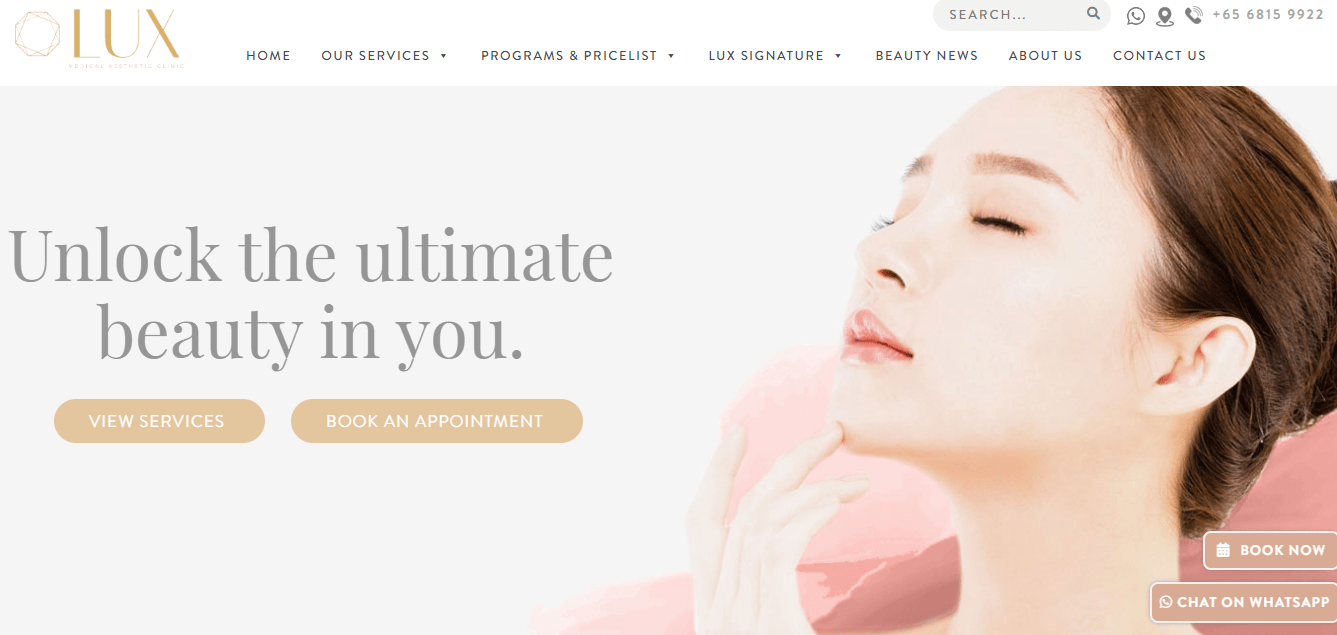 | | |
| --- | --- |
| BEST FOR  | Online Booking |
| SERVICES | Lip Fillers, Face Contouring, Skin Treatments, Body Contouring, Face Lift, Hair Treatments, and Eye Treatments |
| WEBSITE | https://luxaestheticclinic.com/ |
| ADDRESS | 2 Handy Rd, #02-09 The Cathay, Singapore 229233 |
| CONTACT DETAILS | +65 6815 9922 |
| OPERATING HOURS | Monday – Friday, 10:30 AM – 8:00 PM |
Do you want sexy, plump lips to further boost your confidence? If so, then Lux Medical Aesthetic Clinic has you covered with the best lip fillers in Singapore.
Ideal for older people, Lux Medical Aesthetic Clinic injects collagen into a patient's lip to restore its thickness and plumpness. What's more, it only takes up to 5-6 injections to bring back their volume.
Unlike other clinics, its lip injection procedure will only require a downtime of 2-4 days. So, you will be able to get back on track with a more beautiful pair of lips in no time!
Highlights
Competitive rates
Faster downtime
7. Sweng Plastic Aesthetic and Reconstructive Surgery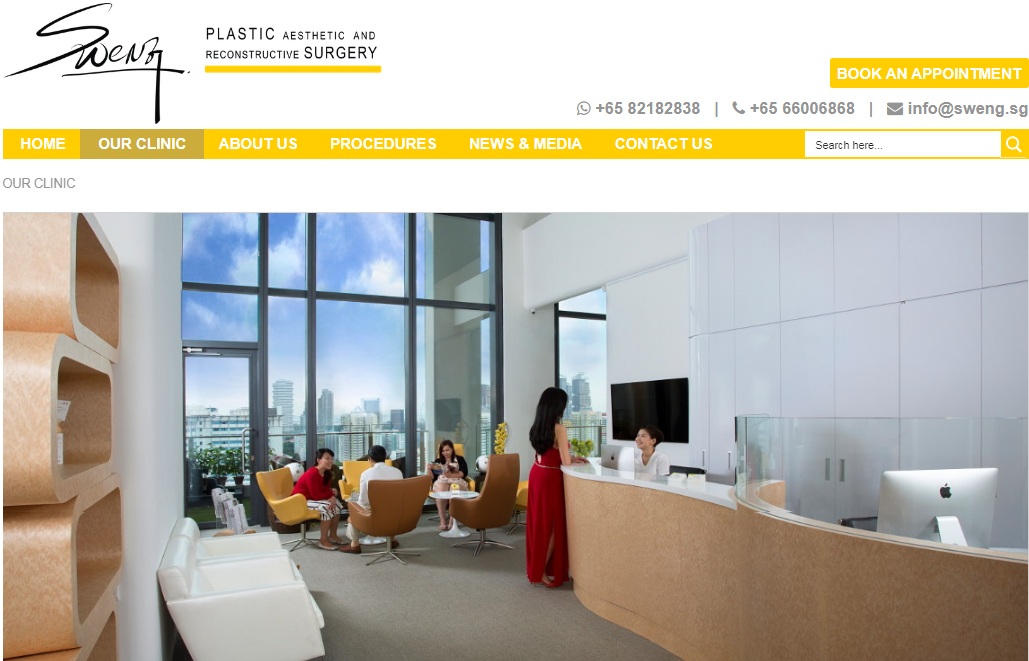 BEST FOR

Filler injection

SERVICES

Filler injection to lip, Fat injection to lip

WEBSITE

https://www.sweng.sg/

ADDRESS

1 Farrer Park Station Road, #16-08, Connexion, Singapore 217562

CONTACT DETAILS

+65 6600 6868/

[email protected]

OPERATING HOURS
Monday – Friday:

9:00 am to 6:00 pm

Saturday: 9:00 am to 1:30 pm
Sweng Plastic Aesthetic and Reconstructive Surgery is one of the best plastic surgery clinics in Singapore. It takes pride in their state-of-the-art health facilities which are being used for their clients. The Ministry of Health also accredited their Ambulatory Surgical Center so rest assured that you will be provided with the best service. 
Their head surgeon, Dr. Ng Siew Weng, is considered a top plastic surgeon in the country. He was also the first to undergo intensive training in South Korea. As for their lip procedure, you can choose between filler injection or fat injection. The good thing is that they will explain what procedure you should get. 
Highlights
Professional and skilled surgeon

Modern and latest technological equipment
Customer Reviews
Sweng Plastic Aesthetic and Reconstructive Surgery provides excellent service to their clients. Here's a 5.0 review from Google attesting to such: 
Dr Ng is an excellent and remarkable surgeon. I have received the best medical service from him in my 62 years. All doctors are kind and treat patient similarly, but Dr Ng took the extra mile to look after me both medically and mentally. He knows best how to explain in layman terms where I can understand best. It is rare to find such down to earth doctor in this time and age. – Patrick Lim
I'm very satisfied with my post eyelid, fat injection and laser result. He is a very detailed and meticulous surgeon. His staff is also very friendly, service is very good. My friends complimented that i look so much younger. – Belinda Kok
8. Edwin Lim Medical Aesthetic Clinic Pte Ltd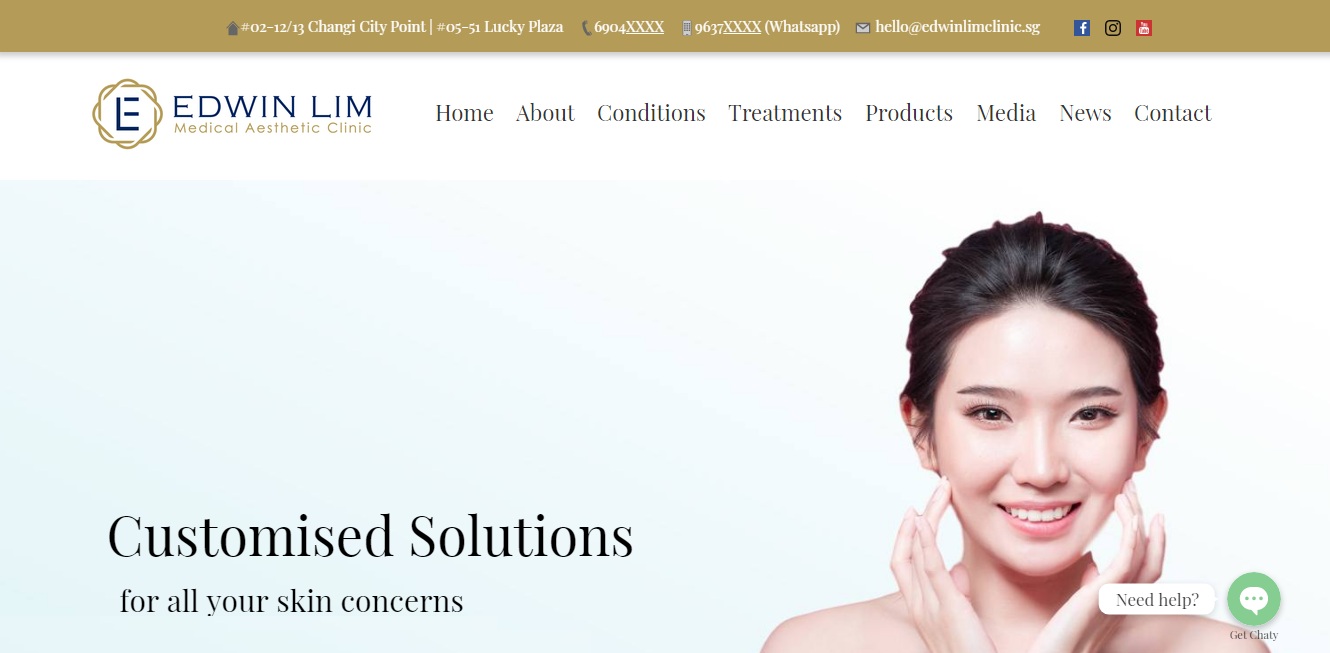 BEST FOR

HIFU facelift

SERVICES

Injectables, Laser, Medi-Facials and Fat Freeze, HIFU treatment

WEBSITE

https://edwinlimclinic.sg/

ADDRESS

#02-12/13 Changi City Point | #05-51 Lucky Plaza

#05-51, Lucky Plaza, 304 Orchard Road Singapore 238863

CONTACT DETAILS
[email protected]
OPERATING HOURS
Monday – Friday:

11:00 to 8:00 pm

Saturday and Sunday: 11:00 am to 6:00 pm
When you speak of aesthetic clinics, you cannot skip Edwin Lim Medical. This is headed by Dr. Edwin Lim who graduated from the National University of Singapore with a degree in medicine. He further pursued his surgical skills by qualifying as a member of Royal College of Surgeons from Edinburgh. His qualifications and educational background allowed him to treat different dermatological skin conditions. Thus, you can always go to them if you want to enhance or maintain your skin.
Aside from their surgical treatment, you can also buy beauty products from them. They have cleanser, toner, serum, moisturizer, and the likes. Just go to their website and proceed to the "Product" page to know more about these deals. 
Highlights
Customized solution for your skin conditions

Comprehensive range of aesthetic services

Minimal discomfort and downtime
Customer Reviews
The clinic garnered an over-all 5 stars from the reviews and feedback of their customers on Google Review. This goes to show how efficient and effective their procedures are. Here's one testimony from their client:
My experience with Dr. Edwin has been nothing less than spectacular. He is always meticulous, warm and extremely knowledgeable in his field. I've raised extensive questions across multiple occasions, and Dr. Edwin was patient, detailed and more than competent in addressing them. It is also this personal touch and his expertise that lends extra credibility and assurance that you're truly in solid hands — Dr. Edwin is indeed a class of his own! Thank you so much! – Melissa Lim
9. Lim Clinic & Surgery Medical Aesthetics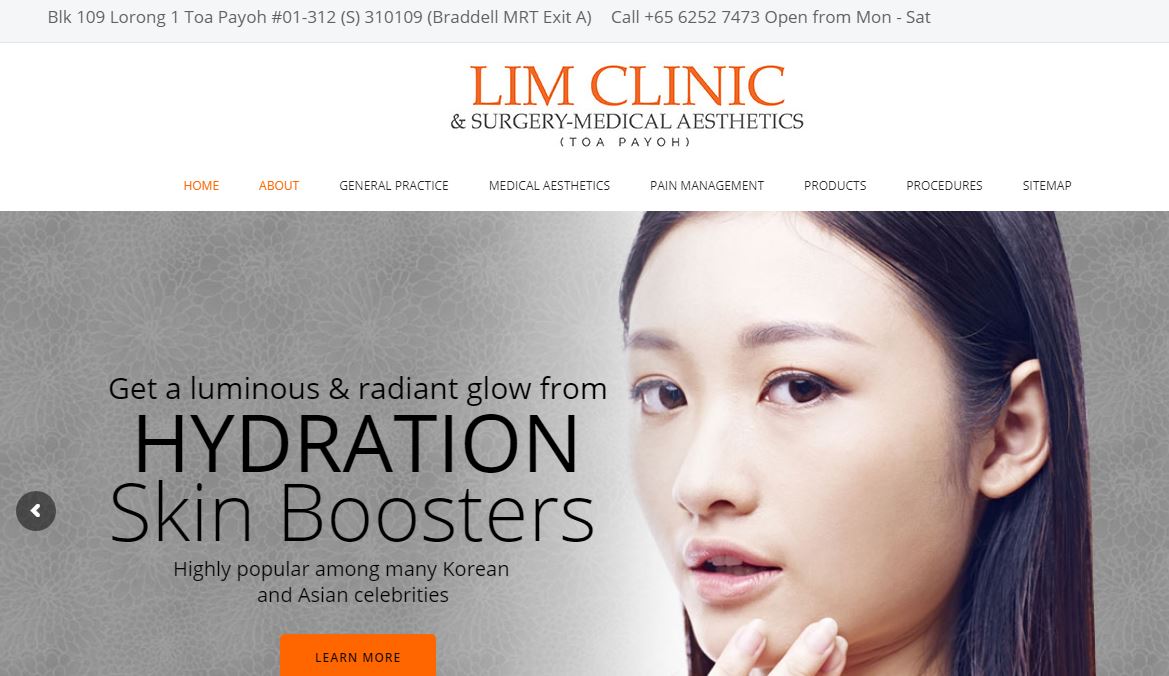 BEST FOR

Pigmentation, Acne scars removal, anti-aging. nose fillers, Botox, Chemical Peel, Facelift, Dermal Fillers, Body Slimming

WEBSITE

https://www.limclinicandsurgery.com/

ADDRESS

Blk 109 Lorong 1 Toa Payoh #01-312 (Braddell MRT Exit A) Singapore 310109

CONTACT DETAILS

Tel +65 6252 7473

Whatsapp +65 8587 8865

OPERATING HOURS

Monday to Friday    8.00am to 12.30pm

                                    2.00pm to 4.30pm( Except Wed nights closed)

                                    6.30pm to 9.00pm

Saturday.                  8.30am to 3.00pm

Sunday and PH.      Closed
Lim Clinic & Surgery Medical Aesthetics is known for their personalized skin care and treatments that cater to all types of individuals, each with a unique type of skin and treatment needs.
The in-house specialist, Dr. Lim Heng Wei has been a medical doctor for more than 30 years, solving a wide range of dermatological conditions such as wrinkles, acne, acne scars, pigmentation, enlarged pores and dull skin complexion.  
The clinic provides an extensive range of aesthetic services from the face down to the body with lip filler as one of their specialties.
Highlights
First-class aesthetic treatments

Personalized procedures

Advanced technologies and luxurious facilities
10. Radium Medical Aesthetics

BEST FOR

Non-invasive medical aesthetic treatment

WEBSITE

https://radium-aesthetics.com/

 

ADDRESS

3 Temasek Boulevard #03-325/326 Suntec City Mall, Singapore 038983

CONTACT DETAILS

+65 6837-0507/ +65 9630-3022

OPERATING HOURS

Monday to Saturday: 10:30am to 8:00pm (Last appointment at 7pm) 

Sunday: 10:30am to 3:00 pm (Last appointment at 2pm)
Radium Medical Aesthetics always make sure to use modern and latest technology when it comes to treating their clients. They offer different treatments which are designed to enhance your facial feature and structure. One of which is their Lip Filler. 
The clinic is renowned for its non-invasive procedures Thus, you will only suffer minimal pain during the process. Their end goal is to make their clients look and feel better about themselves. 
Headed by Dr Siew Tuck Wah, the medical staff of the clinic provides excellent performance and efficient service. This is how the clinic established their reputation and integrity in the industry. 
Highlights
Non-invasive treatment

Customized skincare procedure 

Minimum discomfort and pain
Customer Reviews
Radium Medical Aesthetic has garnered positive feedback and reviews from their customers. Here are some of those: 
Just wanted to thank Doc. Siew for saving my skin. It was so bad just a few days ago as it was peeling and throbbing red and I thought I really had to go under some medication or something.
Doc. Siew then told me to think what I had use differently and told me not to worry and perhaps try a treatment first and if am not in a rush just use his products first. I took all his suggestions for the light treatment plus products and it's softer now even. 
I started to see Doc Siew since my poly days and I must certainly say he has nv once tried to product push, in fact i feel that he always tells me to go for the most economic way. In fact sometimes if theres no need to, he would tell me to leave it, Which i really appreciate. All his treatments are very value for money and products are certainly lasting cos i only need a drop/2 . 👏🏻 – salsayaya85
Very satisfied with the results & services in Radium, 5-Star experience with reasonable prices. My first visit to consult with Dr Siew. He addressed my concerns and only recommended the treatment with very natural contour to enhance the face features. I took the Under Eye Filler,  reducing early wrinkles and hollow spaces under my eyes. He is very attentive and skillful in what he does. Highly recommended! – Sary Ann
11. Bio Aesthetic Medispa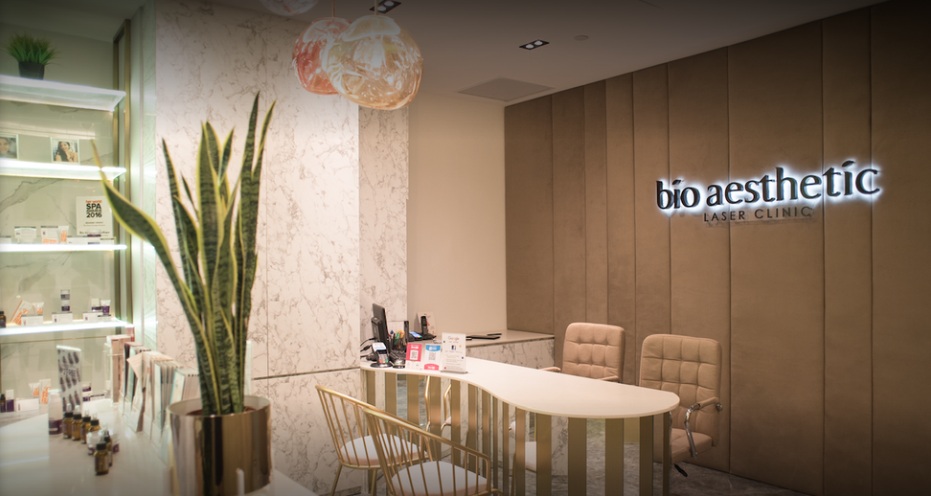 BEST FOR

Multi-awarded spa

SERVICES

Lip Fillers, Hydrating Booster for Intense Hydration, Chemical Peel Express, Fractional RF Skin Tightening, PhytoPeeling Hulk Acne Therapy, Opsis EyeLift Antitox, Thavma Wrinkle Control Therapy

Fat Freezing

WEBSITE

https://bioaesthetic.com.sg/

 

ADDRESS

Palais Renaissance, 390 Orchard Road #03-01 Singapore 238871

CONTACT DETAILS

+65 6333 4566

OPERATING HOURS

Mon- Fri 11am to 8.30pm

Sat: 10am to 6pm

Sun & Public Holidays Closed
Bio Aesthetic Medispa is a multi-awarded clinic offering an extensive range of aesthetic treatments that redefine and achieve beauty goals of all shapes and colors. They provide numerous procedures from the face down to the body.
One of the services they offer is lip fillers in which they make sure to be painless and will leave no scar.
Their clinic is completely equipped with the latest technology to ensure the quality of their work as well as the safety and comfort of their clients. They also feature some of today's most sought after beauty brands.
Highlights
Wide spectrum of aesthetic services

Medically Designed Treatments

Experienced Aestheticians
Customer Reviews
Here's one of the reviews as posted on Google Reviews.
"Had an amazing experience at this clinic. Dr fin, Jennifer, Rachel and xiao man were really friendly and helpful in explain the details to me. Nice ambience and atmosphere was great. Felt really relaxed throughout the whole procedure. Highly recommend and will totally visit again!"
12. Dr Leo Kah Woon Consultant Plastic & Reconstructive Surgeon
BEST FOR

Excellent face and body modification services

SERVICES
Mid Cheek Lift including Endotine and Silhouette, Face and Neck Lift, Facial Contouring, Buccal Fat Pad Removal, Otoplasty (Prominent Ears Correction), Repair of Torn Earlobe, Dimple Creation, Cheek Augmentation, Chin Augmentation & Implant, Lip Augmentation, Fat Grafting Face, Eyelid Surgery (Droopy upper eyelids & eyebags),Double Eyelid Surgery, Endoscopic & Transblepharoplasty Browlift, Ptosis Correction, Non-Incisional Ptosis Correction, Medial & Lateral Epicanthoplasty, Sub-Brow Lift, Dark Eye Circles Treatment, Rhinoplasty, Alarplasty, and more.
WEBSITE
https://www.drleoplasticsurgery.com/
ADDRESS
3 Mount Elizabeth, Mount Elizabeth Medical Centre #06-10 Singapore 228510
CONTACT DETAILS
For Appointments : 6733 3895 | Fax : (65) 6836 9296
Emergency Hotline : (65) 9030 0398
OPERATING HOURS
Monday-Saturday: 08:30AM – 5PM
Sunday & Public Holidays: Closed
Offering a wide range of plastic surgery services, Dr Leo Kah Woon Consultant Plastic & Reconstructive Surgeon is known to be one of the best in the field. Expert in both invasive and non-invasive procedures, they're able to accommodate most requests by customers and deliver it in best quality. They're quite know for their performance in doing fillers, especially for the nose and the lips.
Lip augmentation through filler injections is a very common way of enhancement, but there are a lot of possible complications. Using an advanced technological device called accuvein, you now no longer have to worry about major bruising and swelling as it reveals the location of blood vessels to evade.
Not to worry as the doctor in-charge has been accredited by the Ministry of Health and is very experienced in modern techniques that would shorten the procedure time, yet make the results even more long-lasting. Dr. Leo has not only made all his clients satisfied, but is also doing charity work for those who can't afford these high price services. He believes that giving back to the society is one of his duties as a doctor; to be able to help under-privileged people with cleft or burn deformities, for them to feel more confident in their own bodies. And if that meant undergoing several procedures, then he was willing to help.
Highlights
Fast procedures
Advanced devices
Cost-efficient
Humanitarian work
Customer Reviews
Approachable, patient, and skilled, Dr. Leo has proven himself as a plastic surgeon and is continuously applauded for his work. Several clients left their feedbacks on google review which read:
"Dr Leo listened to my concerns, and addressed them in detail.. I'm very satisfied with the outcomes and only wish I'd done it sooner!"

"Of all the plastic surgeons I've encountered, I felt really at ease with Dr Leo. He is not pushy nor will he let you go overboard. He will let you know if something is not possible or advisable. That is why I chose him as my plastic surgeon. He improved my appearance and did so responsibly."

"From the first time I went to his clinic up to the day of my operation and discharge, he was very professional and caring. I highly recommend him to anyone who may be thinking of getting some work done in the near future!"
13. S Aesthetics Clinic

BEST FOR
Face fillers
SERVICES
Popular Treatments, Face Treatments, Skin Treatments, Eye Area Treatments, Hair Aesthetics Treatments, Body Treatments
WEBSITE
https://saestheticsclinic.com/
ADDRESS
9 Scotts Road #07-07
Scotts Medical Centre (Pacific Plaza)
Singapore 228210
CONTACT DETAILS
Email: [email protected]
Telephone: +65 6235 0338
WhatsApp: +65 90207234
OPERATING HOURS
Mon-Fri: 10am – 8pm
Sat: 10am – 6pm
Sun & Public Holidays: Closed
S Aesthetics is definitely a recommended clinic for high quality and pain-free aesthetic treatments. They offer not only face enhancements, but also skin, hair, eye area, and of course, body enhancements. This includes dermal fillers, face and jaw slimming, scar treatment, hair removal, hair supplements, and more!
They're also home to two of the best doctors in Singapore, who specialise in different fields of surgery and aesthetic medicine. They have been in the field for decades, having finished their practice outside of Singapore. Both Dr. Liong and Dr. Dong are highly praised doctors, and with them, you'll be able to conduct your desired aesthetic procedure with ease.
Among their numerous treatments, one of their best services is their lip fillers. Their treatments last for about a maximum of 2 years, with minimal maintenance. Bruising may occur after the procedure, but rest assured that it becomes normal after a week or two. All in all, their lip filler treatment is one you should consider if you're checking out facial enhancements.
Highlights
Expert aestheticians
Great customer service
High quality equipment and materials
Customer Reviews
Check out some reviews left by S Aesthetics Clinic on Google review:
"Hands-down the best doctors I have ever seen.
Dr. Sii and Dr. Kwan really took the time and listened to my situation with patience to really understand what is best for solving the issue. I was having some allergic reactions from a lip filler, which I got from a different clinic a couple months ago. My lips were very swollen when I walked into S Aesthetics. I was in a middle of a business trip, so you can imagine, I was under great pressure and stress with the situation.
They explained to me in a logical and calm manner each step of the way, so I had little fear during the dissolving process.
I am so appreciative of their work and my situations have immediately gotten better.
Please keep up the wonderful things you are doing because the world needs doctors like you.
Thank you."
And that's the end of our list of the best lip fillers in Singapore. We guarantee that any of these aesthetic clinics can make your lips look more pronounced, more luscious, and thicker!
Do you know other clinics that provide the best lip injections in Singapore? If so, don't hesitate to share their names with us!
If you want more options, we also have you covered! We have a list of the best aesthetic clinics in Singapore that offer not only lip fillers but a whole range of beauty treatments as well!