Our Top 31 Options for the Best Landed Interior Design in Singapore
Maintaining a landed house in Singapore is one of hardest things to do because there's a lot of area to cover. If you need some help in making your landed house look more beautiful, it's ideal to hire the services of interior design firms that offer the best landed interior design in Singapore.
In choosing the right landed interior designer, you must know beforehand the overall concept you want to have, and check to see if an interior designer can accommodate your chosen concept.
But don't worry if you don't know where to begin, because we're here with a list of the interior designers that can come up with the best landed interior design in Singapore. Without further ado, here are the great ones we found.
1. Qanvast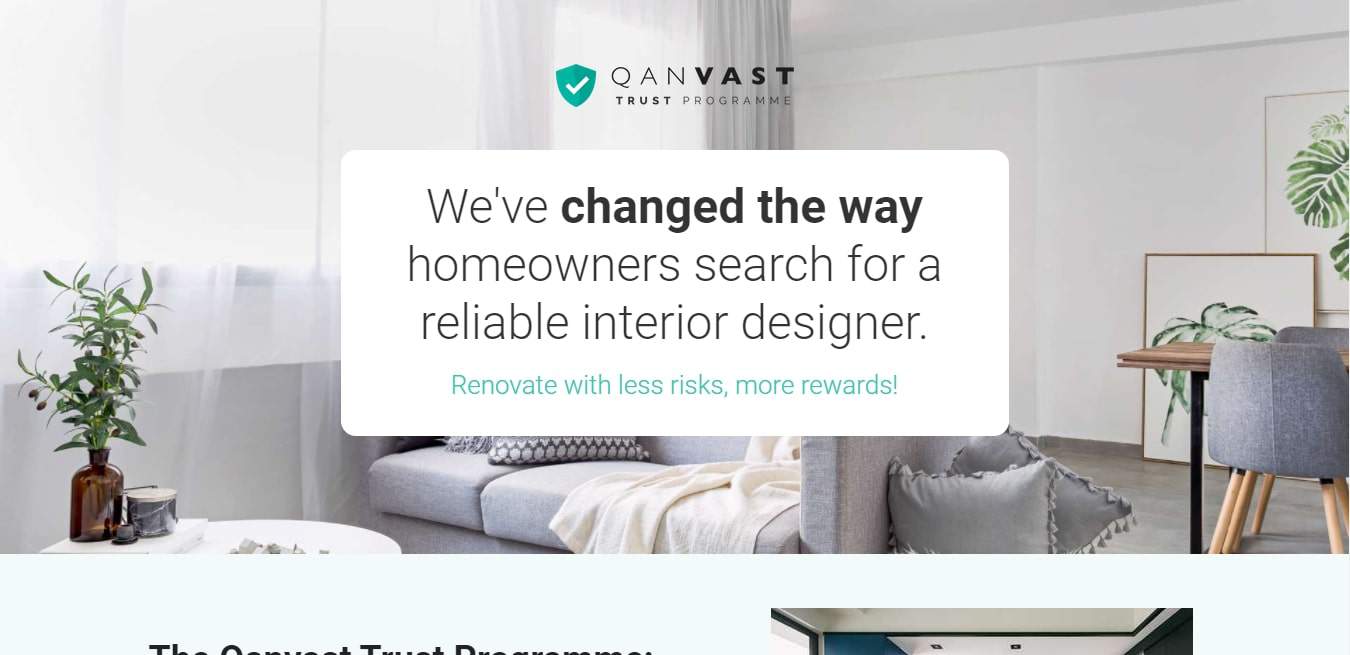 Qanvast's goal is to assist clients with their home renovation. With Qanvast, interior design is easy– it enables clients to find and connect with accredited interior designer firms that suit their tastes and expectations best.
Qanvast guarantees quality recommendations for its users at all times. Their portal not only enlists excellent interior designer firms, but also records the feedback of homeowners who have previously availed of their services. In addition, Qanvast makes choosing the best interior designer firm more affordable for clients, discounting the fee that they need to pay.
Qanvast has already helped over 25,000 homeowners build the house of their dreams. You can become one of them by signing up on the Qanvast platform today.
Highlights
Wide Choices of Designs
Awesome Staff
Professional Customer Services
High Quality Designs of Home
Customer Reviews
"Isaac was very patient with our demands in realising our Dream Home. He took the effort to research the best for our homes. For instance, we wanted to install a movable ladder to our built-in library. We got our awesome dream home library. Our renovation was done relatively fast, and of very good quality. Isaac ensured that the workmanship was according to the designs we dream for and advise us to ensure the practicality of the designs we ask for. All in all, super satisfied with our home."
2.  Renovation Contractor Singapore
Renovation Contractor Singapore's goal is to ensure that you receive only the best interior design and renovation services available.
Their team of professional and award-winning interior designers are known to perform their job well. Using their innovative ideas, they are sure to exceed their client's expectations each and every time.
Make your dream home design a reality– contact Renovation Contractor Singapore now. You can even get a quotation for free.
Highlights
Excellent customer service
Unique and modern designs
Professional designers
Customer Reviews
Take a peek at some of these comments posted on Google Reviews:
"Big thanks to Jake and the team at Renovation Contractor Singapore. They took the time to listen and delivered a beautiful new kitchen for my HDB. I love it! "
3.  Starry Homestead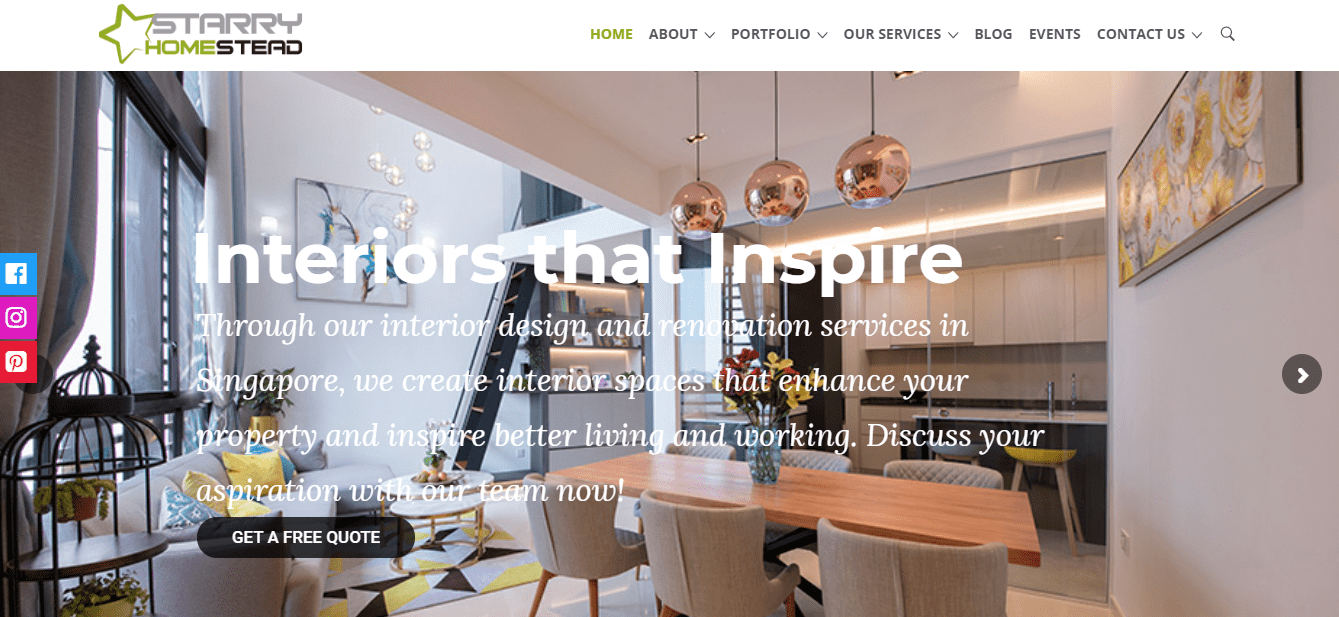 If you're looking for a reputable interior design firm with a great reputation, then Starry Homestead is the right one for you. It's considered Singapore's leading interior design firm with a full range of services that cater to both residential and commercial spaces.
One of its goals as a company is to improve the lives of its customers by providing pleasing and functional interior spaces. Among its areas of expertise is landed interior design, so its team of designers has the skill set to turn your landed house upside down and make it look better.
What's more, it has accreditations from various design institutions and industry leaders, and that's why we believe that it's one of the top options for the best landed interior design in Singapore.
Highlights
High quality designs
Excellent craftsmanship
Experienced designers
4. D'Perception Ritz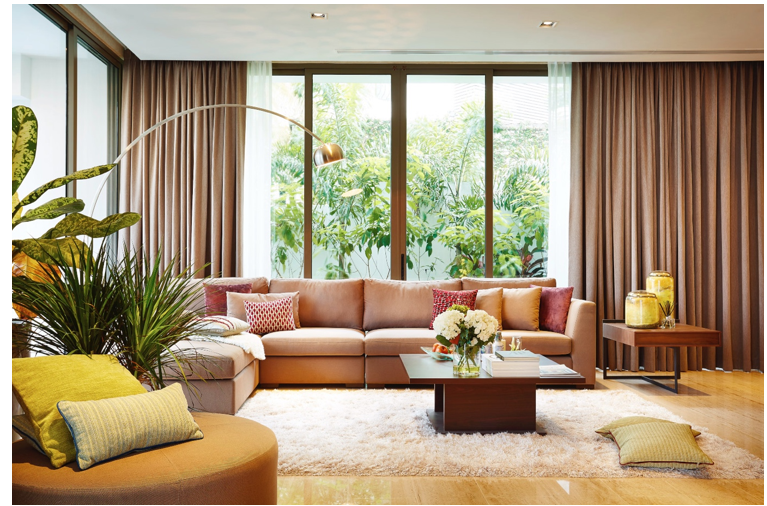 D'Perception Ritz is an award-winning interior design company that has been delivering fresh and unique designs since 2007.
They are known for conceptualizing elegant and captivating interior designs and architecture for the residential, hospitality and corporate sectors. Through active listening, perceptive conception and meticulous implementation, they take design and space planning to a new level.
Clients like that they customise interior design solutions unique to individual lifestyle needs and taste preferences, and at the same time, elevate the finished design with their expert direction and attention to detail.
The design awards they have won over the years is evidence of their strong reputation in delivering interior design solutions with the wow factor. Distinctive and elegant does not get better than this.
Highlights
Has won numerous design and industry awards and is accredited
Has a team of professional Interior Designers & Interior Architects
Distinctive and individualised designs
Customer Reviews
Here's what some people are saying about them:
"We wanted an elegant backdrop for our art collection. Five years on, we are still loving how beautiful our condominium looks at all times of the day. The finishing touch on the choice and position of lighting, wall color shades and window covering were expertly picked by our designer. The carpentry workmanship is very fine, the solution was ingenious and the project was delivered within the time and budget that was discussed at the beginning. – Adam F.
"Everything was done in time, with high level of quality and responsibility, indepth presentation, strong site management, punctual completion of works, and fantastic support along the whole project. – Yaros S.
5.  Craftwerkz Interior

Deemed one of the best interior design firms on the island, Craftwerkz Interior offers full-range design services that aim to answer every concern of its customers. It's famous for creating timeless, pleasing, and innovative designs that improve the overall appearance of your home.
As a design firm, its goal is to remove the stress of the renovation process off the back of its customers and provide them a smooth-sailing, hassle-free renovation projects.
So far, most customers love how uncomplicated its process is, and the fact that they manage this without ever compromising the quality of their workmanship.
Highlights
Stress-free renovation process
Efficient interior designers
6.  Orange Cube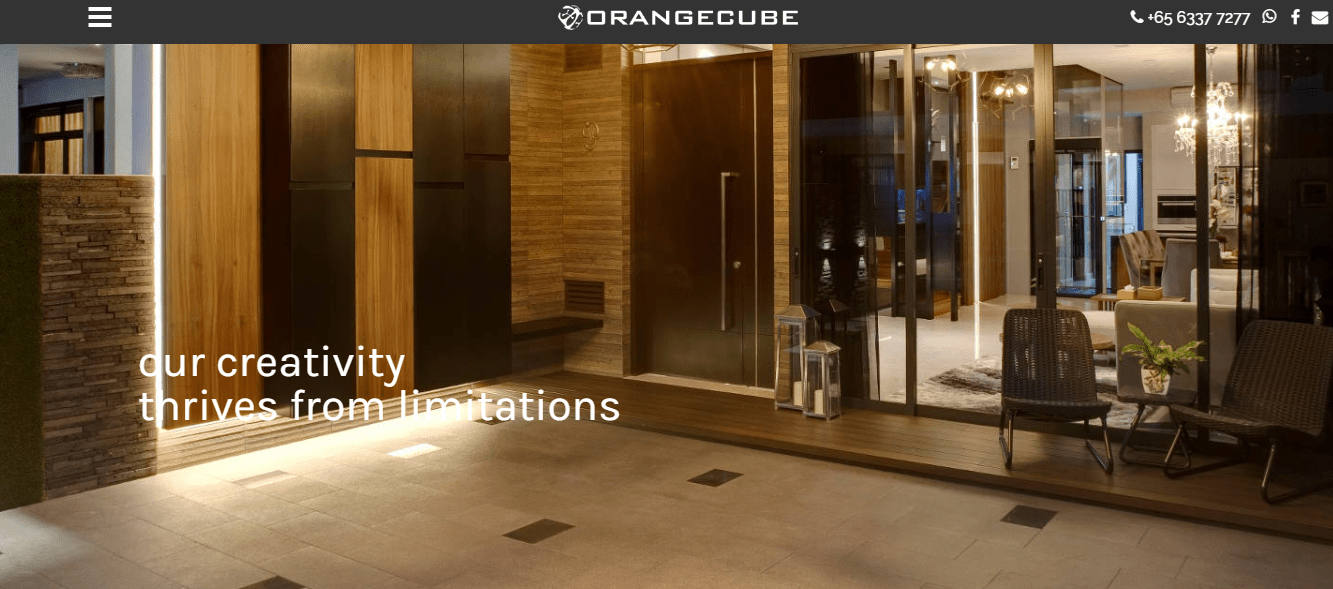 Established in 2003, Orange Cube has grown into one the most in-demand interior design firms on the island, with customers from both residential and commercial sectors.
It offers a wide variety of design services such as space planning, design consulting, project management, and of course, interior designing.
One of the reasons we consider it the best option for landed interior design in Singapore is its team of professional designers, project managers, design consultants, and in-house architects — who all work closely with each other to come up with designs that fit every customer's preference and budget.
Over its years of operation, it has served more than 4,000 clients and has completed almost 3,200 projects.
Highlights
17 years of experience
HDB accredited
Huge team of designers and architects
Customer Reviews
As one of the top interior design firms in Singapore, it's no surprise that Orange Cube has mostly received praise from customers
"Honestly, I feel like I am living in a top notch designer house. This joyful renovation experience started off by dropping 3 other IDs for Selvina from Orange Cube because of her popular rating from my friends. Indeed of her wide project experience, design creativity and customer centric ethnics; she exceeded our expectations on many aspects of cost. design, workmanship and follow ups. 5 stars is not enough, the overall rating is really beyond description, "WOW" would be best to describe our feelings when the actual turns out even more superior than simulation layout, mainly of her recommendations on color and material used." 
"It is now 1 year since Orange Cube completed the interior design and renovation of our new 5-room HDB apartment and each time I come through the front door I feel so pleased with what they did. The kitchen and bathrooms are wonderful, making full use of the space available. No detail was too small with the end result on a par with the high-end condos in Singapore. Jason worked hard to get the tiling done to exacting standards and to get the right windows to to make the most of the gorgeous views. My friends always admire the flat and exclaim that they had no idea an HDB flat could look as good as this. You may have to wait to get Orange Cube but they are well worth the wait. I highly recommend Orange Cube."
7.  Nook Design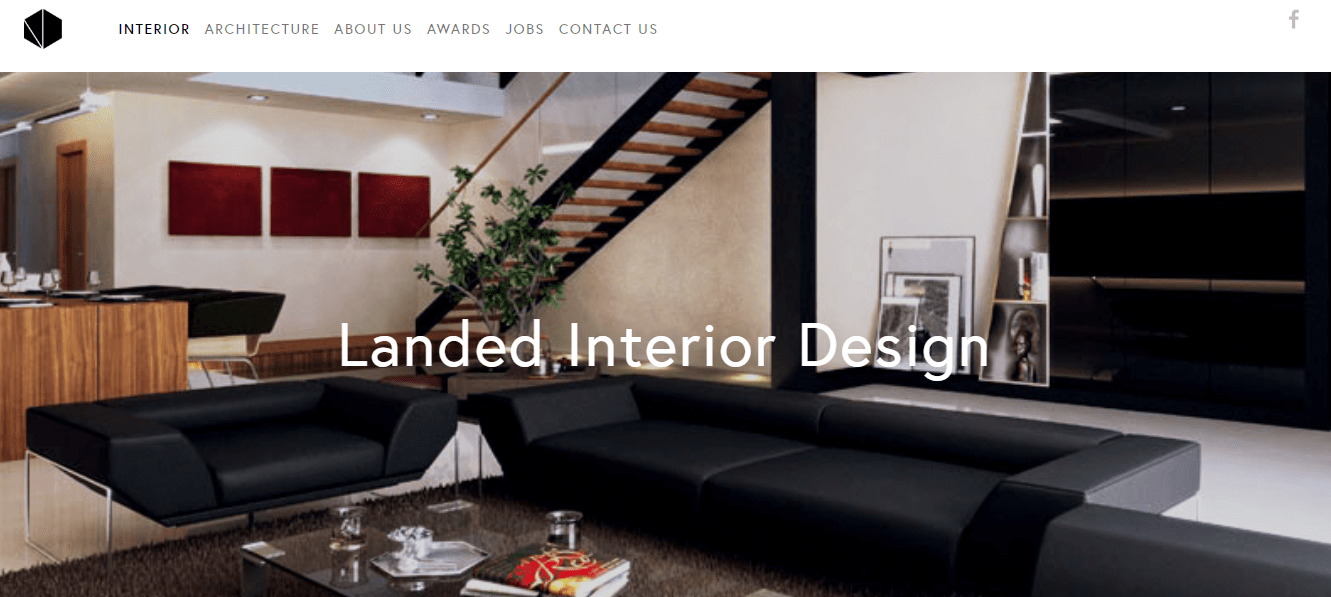 Nook Design is an interior design and architecture firm that serves both residential and commercial spaces. Among its services are landed interior design, condo interior design, commercial interior design, residential architecture, and many more.
One of its resources as a company is its professional team made up of interior designs and architects. On top of being experienced on the craft, everyone in its team is committed to providing customers with spaces that will help them relax and brighten up their disposition. 
Highlights
Multi-awarded firm
Experienced architects and designers
Customer Reviews
Here are some reviews received by Nook Design:
"Very professional services rendered by Nook Design Pte Ltd. Danny was patient in listening to our requirements and making sure our requests were met. Beginning with our long wishlist of ideas, Danny was able to interpret and translate virtually all our needs and desires in an artistic yet practical manner. He was also able to modify his design to accommodate our needs that arose during the design phase."
"Danny has been most patient , meticulous and most importantly pragmatic in designing our apt. He went beyond what was expected and my wife and I were appreciative to what he has done. I decided to engage him and Joe for a shop front and the end result was astounding, with a head turning design that is so out of the box."
8. MADE ARTISAN INTERIOR DESIGN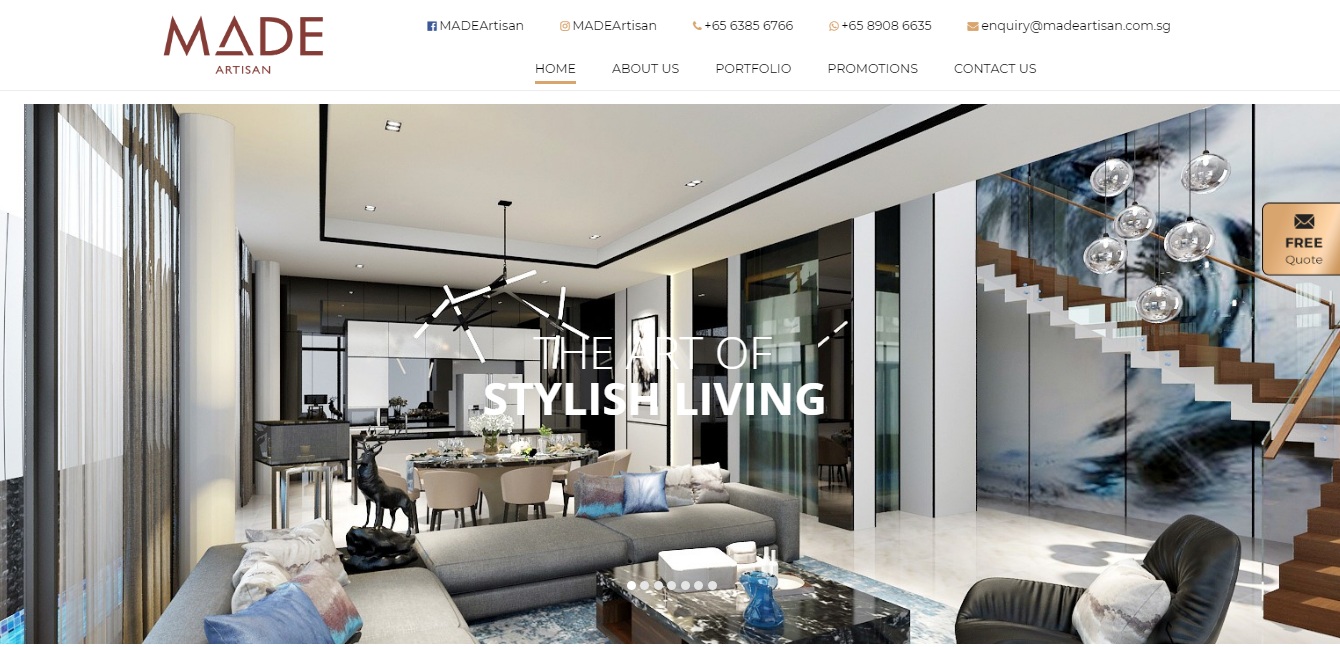 If you are on a budget but still want to ensure that your space is comfortable and is what you have always envisioned, you should visit MADE Artisan. One of their missions is to ensure that they will use quality materials but still keep their prices affordable.
Take advantage of their free quote and consult with one of their experienced designers. They will do their best to assist you in making your design vision a reality and leave you happy and satisfied.
Highlights
Provides free quote

Affordable prices

Uses quality materials

Experienced designers
Customer Reviews
Here are some of the reviews left by satisfied customers:
"Overall we are satisfied and happy with the recommended design and finished work. Thankful that we had made the right choice! Thank you once again!" – Wendy Oh
"Quick response time from the team. Nice showroom that is worth a visit." – Cheryl Wong
9. Ban Yew Interior Design Pte Ltd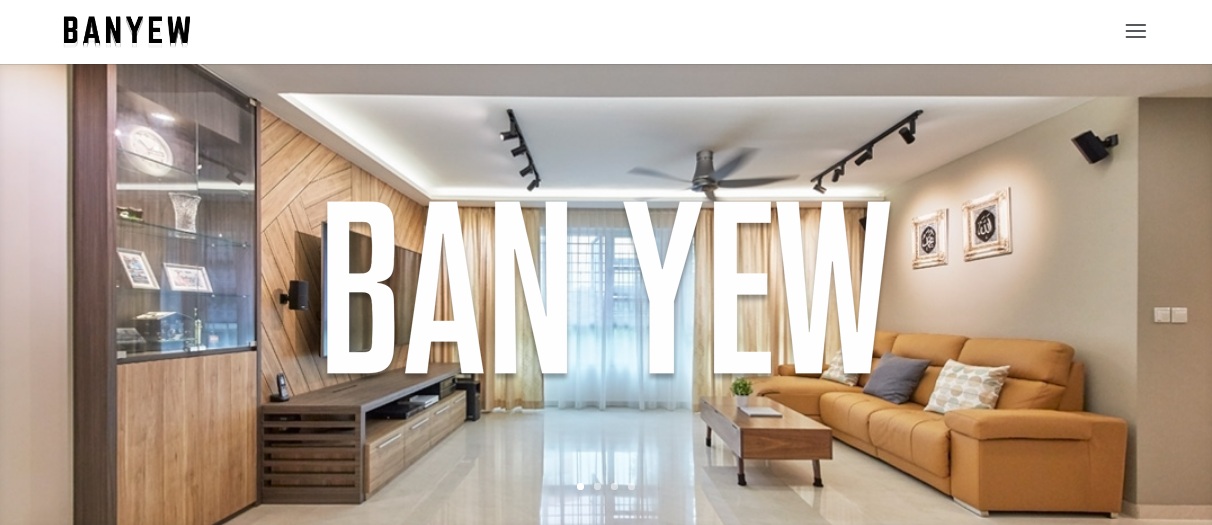 Ban Yew Interior Design Pte Ltd specializes in bespoke designs for both residential and commercial properties. They make sure to come up with a unique and timeless concept for a more cost-effective interior design. 
Their modern and elegant approach to designs truly livens up the space more, making it always looking fresh and comfortable to live in.
Ban Yew Interior Design Pte Ltd is also one of the few companies that manages their own carpentry factory so choosing them actually means hitting two birds with one stone.
Highlights
In-house warranty

Creative and knowledgeable team of designers

Premium quality designs
10. Metaphor Studio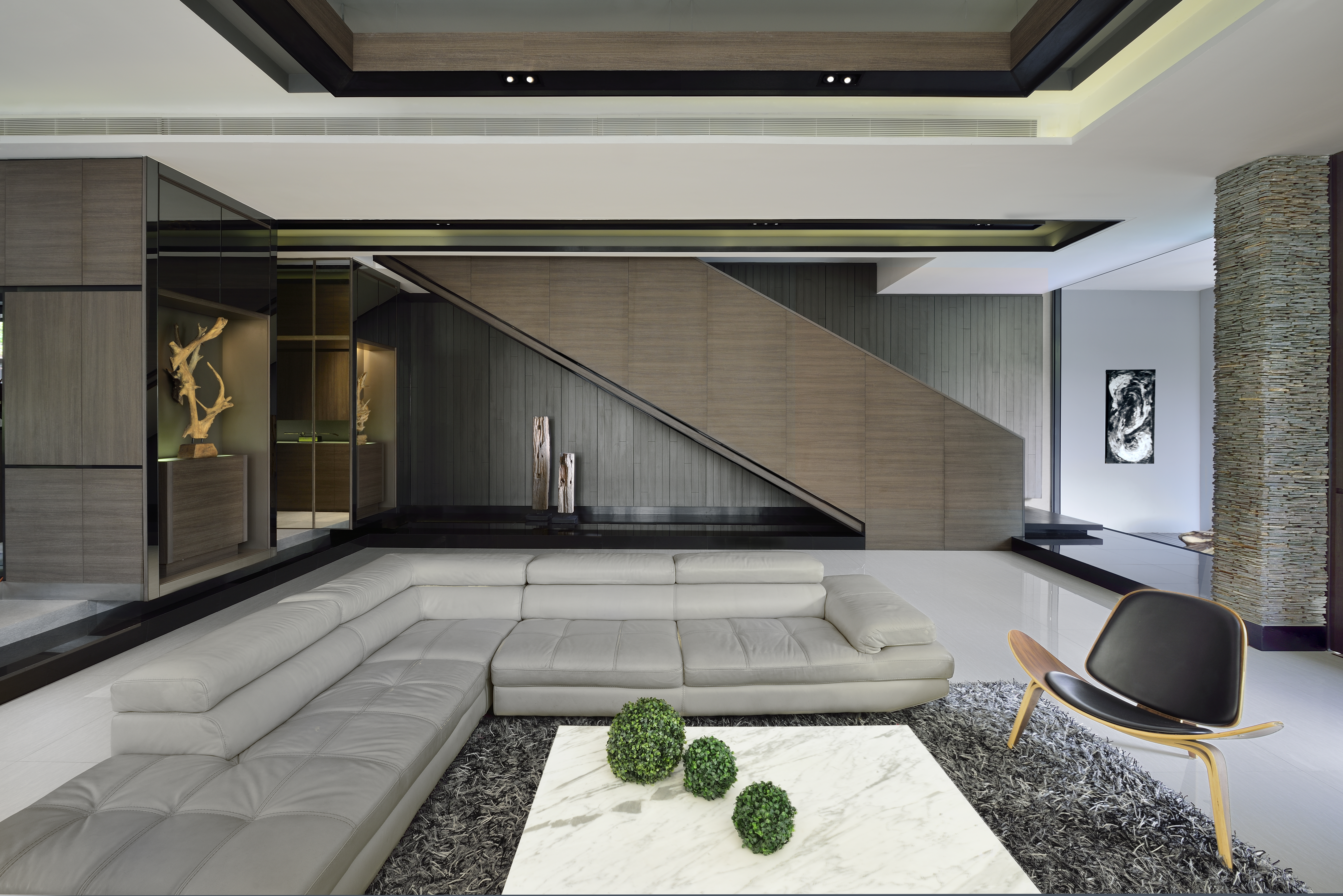 Looking for a residential and industrial interior designer that can combine traditional design with modern design principles? Metaphor studio is the one for you! 
Not only do they use logic and theories in the way they present their designs. more especially, they also take into consideration the way a client will use the space. To prove their mastery in the field of industrial design, they have one multiple awards from the Interior Designer Confederation (Singapore) in recent years.
Highlights
Combining contemporary and modern design

Practical use of space
11. HOME PHILOSOPHY PTE LTD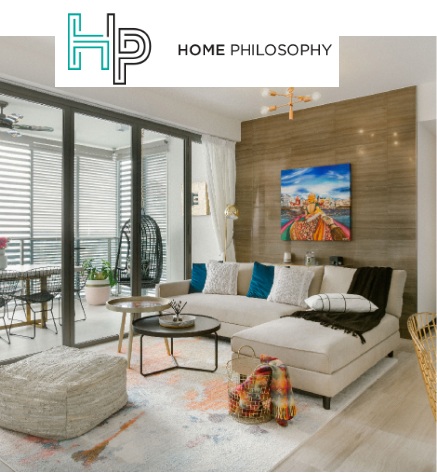 Home Philosophy makes renovation and design a lot easier for their clients. Since their processes are mostly digital, the process would be hassle free and it results in faster turnaround. 
In fact, they are also a one stop shop for your landed interior design provider. Whether you're looking for a full renovation or just furnitures, they got that service for you. 
Their processes are streamlined to ensure faster transaction and turnaround. First, they understand your design style by letting you answer a quiz. Then, you could schedule a consultation to get to know your requirements even better. 
Highlights
Style quiz to learn your style

Hassle-free furniture delivery

Free consultation

E-designing
12. LE INTERI DESIGN PTE LTD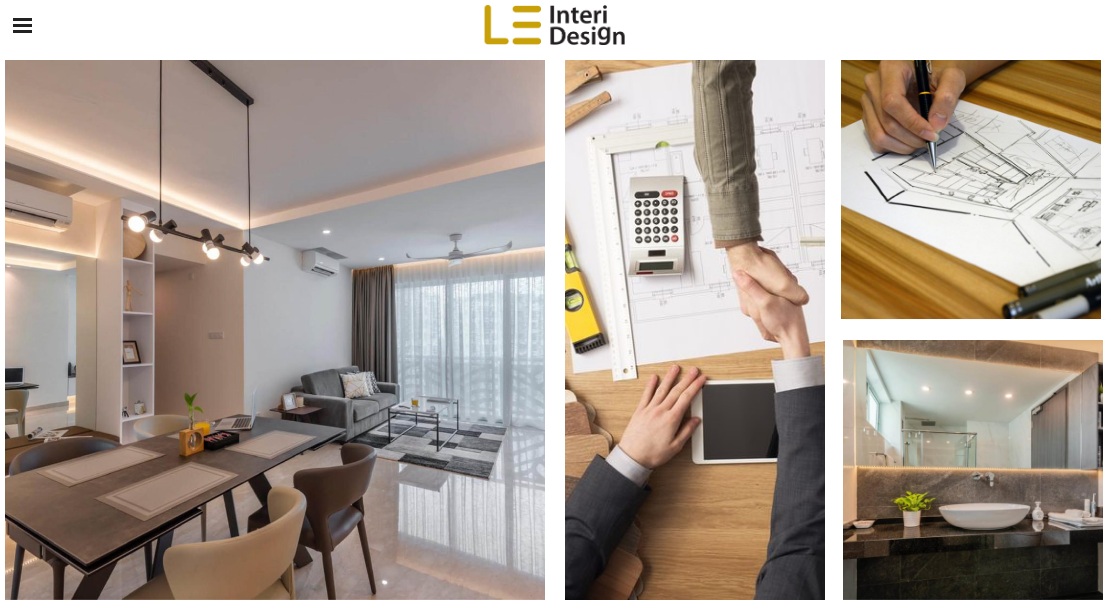 BEST FOR
Quality materials
WEBSITE

https://leinteri.com/

ADDRESS

5 Tampines Central 6, Singapore 529482

CONTACT DETAILS

+65 6786 3289

OPERATING HOURS

Monday to Friday: 11:00 am – 8:00 pm

 

Saturday to Sunday: 12:00 pm – 6:00 pm

PORTFOLIO

Past projects
This interior design firm focuses in bringing the style and spirit of their clients into their designs. They make sure that the space would be a clear representation of their client's vision. 
Aside from this, they make sure that they only use quality and trendy materials to their design. They complement this with trendy designs with their unique style that would make any space stylish. 
Lastly, they ensure that they keep up with the client's timeline. 
Highlights
Quality materials

Unique stylish designs

Personalized approach

Detailed quotation
Customer Reviews
Le Interi designs were always consulted with the clients. They wanted to make sure that the design embodies the goal of the company or the style of their clients. 
Here's what they have to say:
"Highly recommend Cecilia Yow as a professional and reliable interior designer. During the whole renovation period, she communicated with us well and gave useful suggestions, answered all our questions promptly via call or msg, updated us daily with progress when we were aboard."
"We are happy to get Cecilia as our ID. She is responsible for her work and provides very detailed quotations with no hidden cost. Cecilia also provides options to cater our needs. Well done!"
13. DESIGN STORY PTE LTD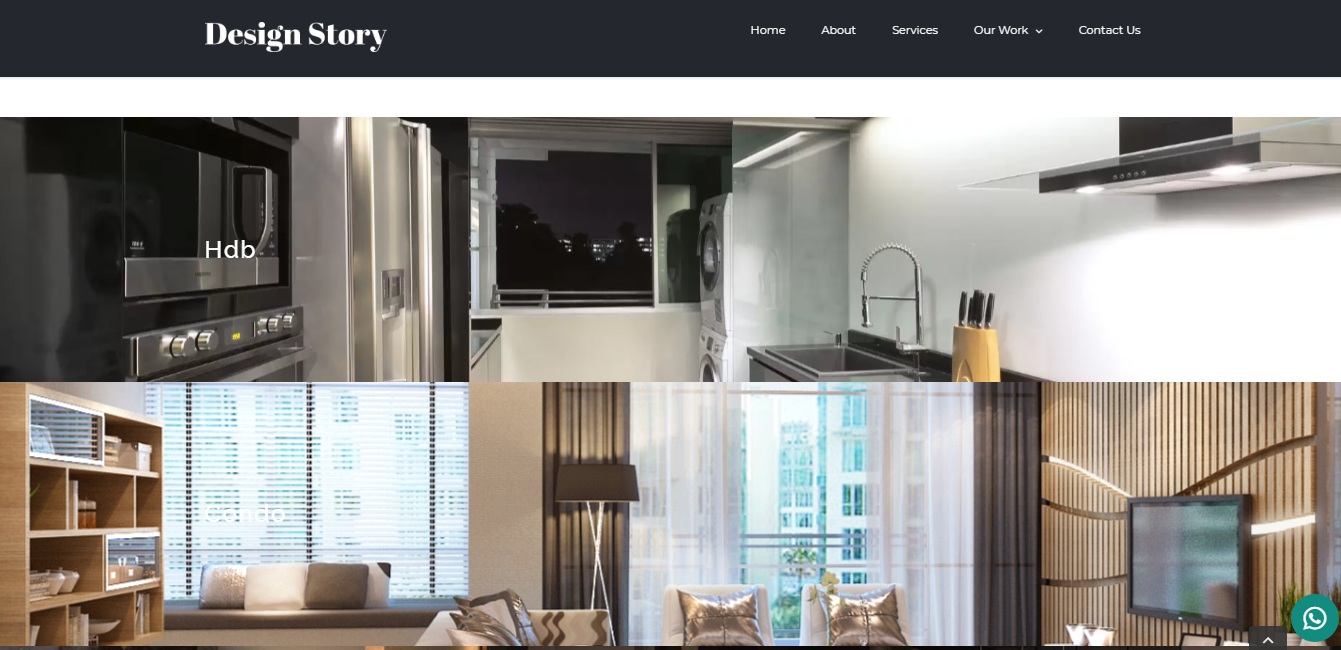 | | |
| --- | --- |
| BEST FOR | Personalized design |
| WEBSITE | https://www.designstory.com.sg/ |
| ADDRESS | Woodland Industrial Park E9, #03-33 E9 Premium, No. 61 Singapore 757047 |
| CONTACT DETAILS | +65 6266 6080 |
| OPERATING HOURS | Monday – Sunday: 10:00 am – 9:00 pm |
| PORTFOLIO | Previous works |
Design Story is dedicated to create one of a kind design for your landed home that is a balance of style, functionality, and comfort. They make sure that they find the perfect approach to create beautiful design for your home. 
They maintain high quality standards on all their works to ensure customer satisfaction. Their team is highly professional in dealing with their client's work and punctual in meeting client's deadline. 
More than that, they keep a friendly approach on communication and dealings. Each project was treated with a personalized approach to keep an open eye to each of their client's requirements and needs. 
Highlights
Combination of style and comfort

Professional interior designers

Exceptional Customer Service

Excellent craftsmanship
Customer Reviews
Customers liked the professionalism of the team in dealing with their clients and the comfortable feeling they have in transacting with the team from Design Story. 
"Recently got our house renovated By design story. Our designer Was Dorothy. In my 1st meeting itself I was very comfortable with her. She understands every bit of what we require. She has a lot of ideas and good experience. Highly systematic and well planned. "
"I strongly recommend Design Story Pte Ltd to take care of your home renovations, it is a pleasure to engage Mr Frank Lim for my new home. He is calm, professional and gives excellent tips and ideas. Quotations were provided on short notices and responses were prompt and proper."
14. ELLIOT JAMES PTE LTD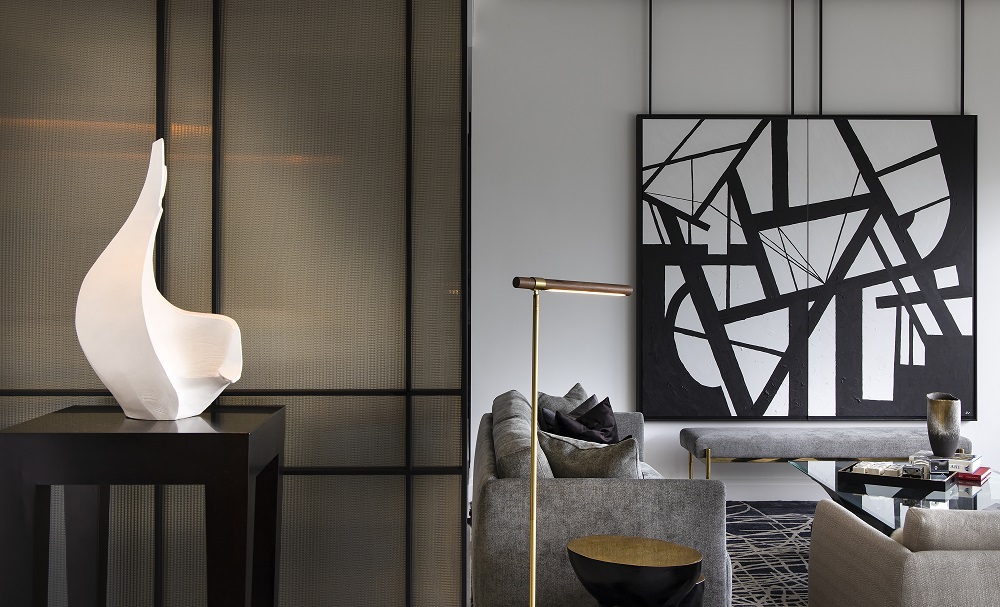 | | |
| --- | --- |
| BEST FOR | Global award winning interior design consultancy for luxury design |
| WEBSITE | https://www.elliotjames.com/ |
| ADDRESS | 30 Cecil St., Singapore 049172 |
| CONTACT DETAILS | +65 6727 7535 |
| OPERATING HOURS | Monday – Friday: 9:30 am – 6:00 pm |
| PORTFOLIO | Past Projects |
Elliot James PTE LTD creates beautiful designs for every customer. Whether you're looking for a luxurious design or a modern minimalistic style, Elliot James PTE LTD could help you fulfill your dreams. 
Their team specializes in designing office spaces, retail, home design, and hotel. Their service range from new design to full renovation. That's why they also do landed properties, condos, event venues and others. 
Their procedures are systematic from consultation to procurement. This would allow them to involve the client and learn more about his / her preferences and requirements. Then, space planning to maximize the space takes place. 
Highlights
Space Planning

Drawing and specification packages

Design presentation

Minimalistic design
15. FIFTH AVENUE INTERIOR
BEST FOR
Beautiful and practical solutions
WEBSITE

https://www.fifthavenue.com.sg/

ADDRESS

#01-11 81 Ubi Avenue UB. One Singapore 408830

CONTACT DETAILS

+65 6443 9350

OPERATING HOURS

Monday – Friday: 11:00 am – 8:00 pm

 

Saturday: 11:00 am – 7:00 pm

Sunday: 11:00 am – 7:00 pm

PORTFOLIO

Previous projects
Fifth Avenue Interior has a young team of dynamic and creative professionals that would make your dream design into reality. They have a wide range of experience from residential and commercial spaces. 
They are committed to turn empty space into beautiful pieces of art, but not compromising its functionality. With that, they try to find the balance between the two to ensure customer satisfaction. 
With that, they provide an end to end solution to your interior design needs. They start with consultations with the client to understand the needs and wants. Then, they proceed with interior detailing, space planning and others. 
Highlights
Creative Designs

Wide range of service offerings

Budget-friendly
Customer Reviews
Their customers appreciate the accommodating and friendly customer service that they provide. They also liked the creativity and talent of this young team of professionals. 
"Highly recommend Derick ID. His after sales service is excellent ?. I have some fault with my wardrobe, he immediately responded to my message and was able to find someone to fix it."
"I like this company because there are ony good and young designers.. so definitely results will be good"
16. FAITH INTERIOR DESIGN PTE LTD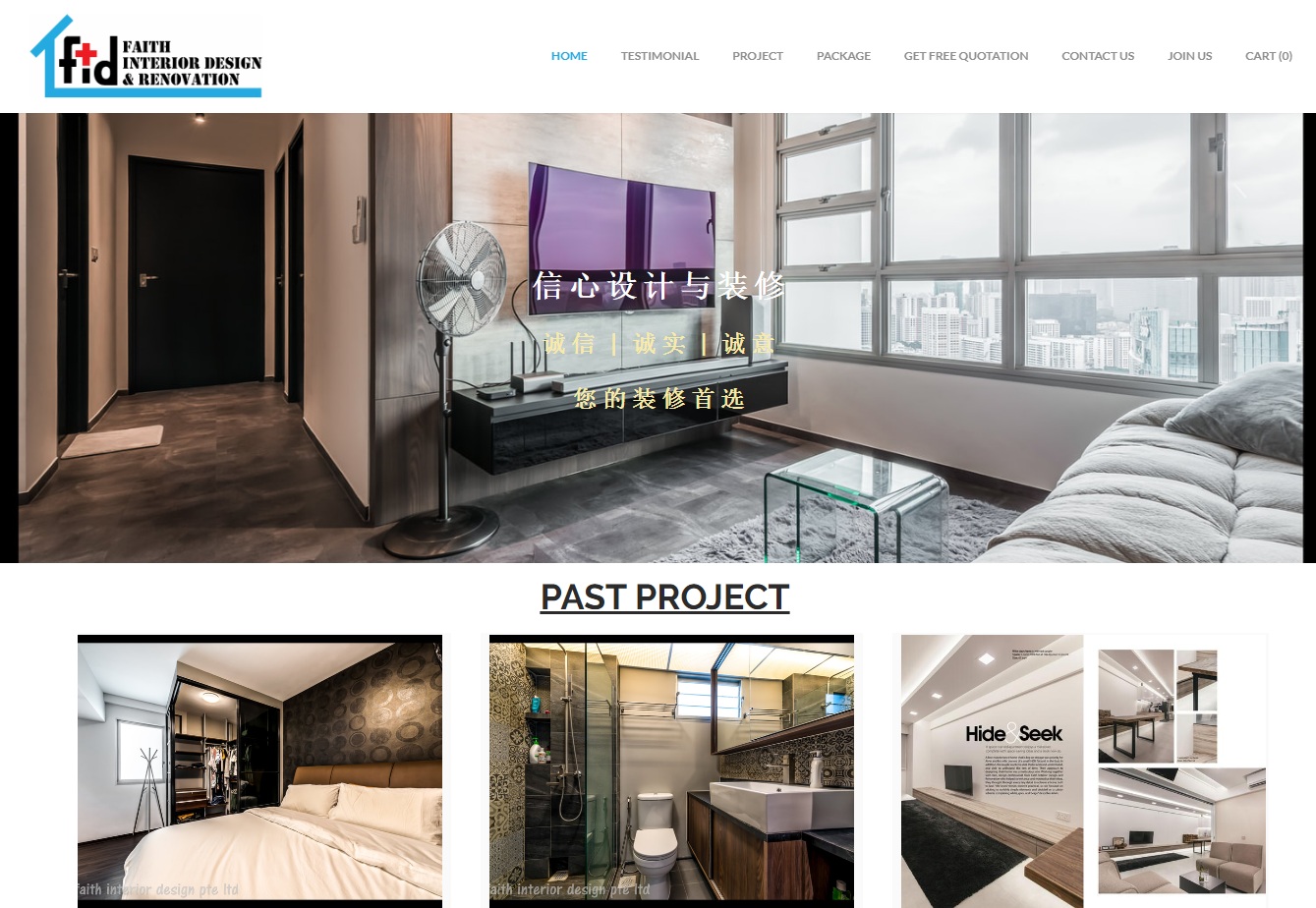 Faith Interior Design & Renovation has been in the business for 20 years now. They have a lot of different experiences in interior design from office space to retail space.
To get a glimpse of the fees you would most likely pay, you could visit their packages online. They have a reno package, hdb 2 toilet package, condo package and others. This shows the breakdown of services and the cost. 
You could also get a free quotation for free. But if you want a better quotation, you could request for free consultation and free onsite visit. 
Highlights
HBD license contractor

Interior design & build service

Free consultation and measurement
Customer Reviews
Their customers loved how helpful these people are. They helped them in their purchasing, coordination, and space planning. 
"Ken was able to give me a particle solution for my needs keeping my budget in check. He has also helped to purchase and co-ordinate for my curtain , wall paper , electric clothes hanger , fans and other stuff."
"This time, Ken went one step further to help us coordinate all the other subcontractors like curtains, window grills and even inspection by the condo defect team. This really saves us the hassle and annual leaves."
17. Quirky Haus Pte Ltd.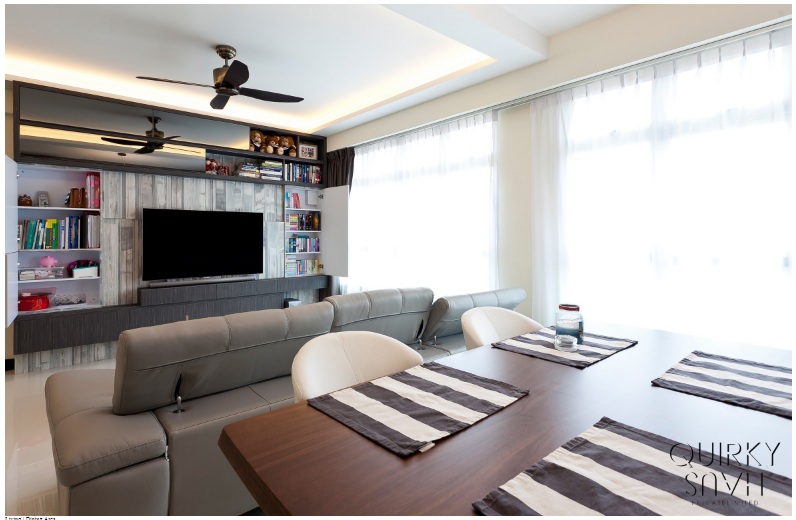 BEST FOR

Award-winning interior designs

WEBSITE

http://www.quirkyhaus.com/

ADDRESS

3007 Ubi Road 1 #03-436 Singapore 408701

CONTACT DETAILS

+65 6744 1121 (Tel.) /+65 6744 1101 (Fax)

 

OPERATING HOURS

By Appointment Only

PORTFOLIO

Projects
Having your home designed by a professional interior designer is one thing but getting an award-winning team to handle your home aesthetics is a whole new level. With Quirky Haus, you will definitely be in awe of their creative spectrum of designs that will make the most out of your lovely home.
Quirky Haus Pte Ltd. is not only notable in Singapore but also in other countries in Southeast Asia. They are highly committed to providing service with guaranteed 100% satisfaction and personalized according to clients' preferences, available space, and budget.
Highlights
Team of highly-qualified and award-winning designers

Locally and internationally acknowledged

First-class interior designs
18. Posh Home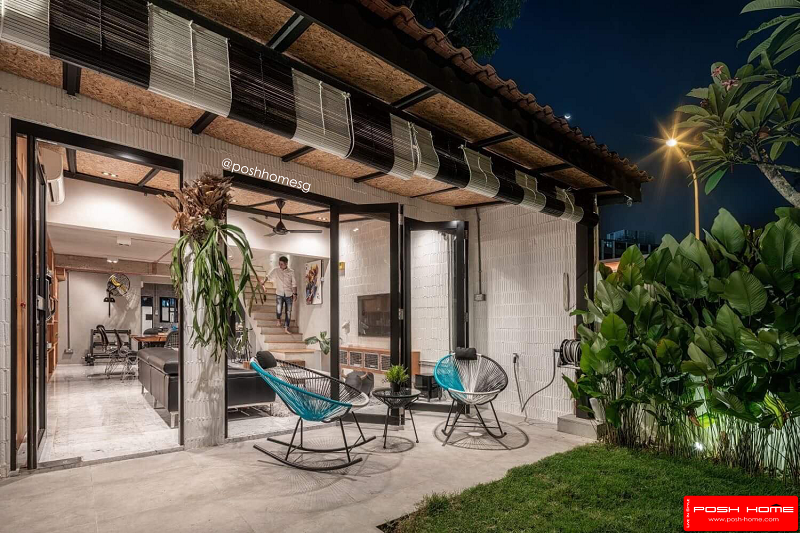 BEST FOR

Bold and earthly designs

WEBSITE

http://posh-home.com/

 

ADDRESS

61 Ubi Road 1 #04-09, Lobby 3 Oxley Bizhub 1, Singapore 408727

CONTACT DETAILS

+65 6604 7898

 

+65 8588 1188

OPERATING HOURS

Opens daily from 12pm to 7pm
Whether residential or commercial properties, Posh Home is known for delivering outstanding and timeless designs that bring life to your interior(s).
From space planning and drafting realistic 3D models to final modifications, the designers are sure to deliver more than just 'satisfactory' work, matching your requirements and creative taste.
Not only do they handle the aesthetics, but they also ensure that each section of your home is functional and cost-effective.
Highlights
Multidisciplinary practice and design process 

Trendy and bold designs and home accessories

Latest technologies and concepts
19. Cameron Woo Design
BEST FOR

Unique interiors and experience

SERVICES

Interior Design, Landscape Design

WEBSITE

https://cameronwoodesign.com/

 

ADDRESS

2 Jalan Kilang Barat

 

#04-03 Panasonic Building

Singapore 159346

CONTACT DETAILS

+65 6222 0280/Fax: +65 6222 0680 |

[email protected]
Cameron Woo Design does not only aim to provide their clients with a stunning interior design for their properties but they also want an arrangement that will give you an ultimate and unique experience.
With this, they strive to create a distinct space for each of their clients. They make sure to create designs that will make that specific space stand out and to show its genuinity through arts and design.
Cameron Woo Designs also takes pride in their team of extremely talented and highly qualified designers.
Highlights
Bespoke designs

Multi-award winning interior design studio

Sought-after team of designers
20. Audrey Lee Interiors Pte Ltd

BEST FOR
Interior Design
SERVICES/SCOPE
Large-Scale Renovations
New Constructions
Space Planning
Interior Designs
PRICING
Contact for more information
WEBSITE
https://www.audreyleeinteriors.com/
ADDRESS
100D Pasir Panjang Road
#02-08 The Meissa
Singapore 118520
CONTACT
[email protected]
May it be large-scale renovations, new constructions, or interior design, Audrey Lee Interiors Pte Ltd has your back. Founded in 1999 by none other than Audrey Lee, the full-service interior design firm provides a vast array of services, from public projects to residential/commercial spaces.
With any project, the primary goal of Audrey Lee Interiors Pte Ltd is to help realise the potential of each of space as a reflection of a client's lifestyle and preferences. Because of their unique way of helping clients, the firm has been featured in both local and international publications.
Audrey Lee Interiors Pte Ltd's main priority is to fulfill their clients' dreams and desires for their new homes. Grab the opportunity now and get their services when building your place!
Highlights
Featured in renowned international & local publications and television
Timeless, remarkable spaces that are always comfortable
21. Renopedia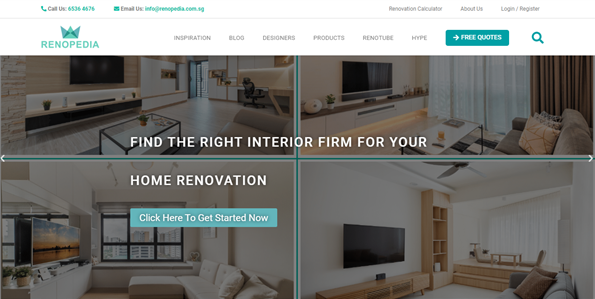 BEST FOR
Interior design, Home renovation
SERVICES
Shortlists interior design firms, furniture stores, home renovation brands, home renovation products and services in Singapore
WEBSITE
https://renopedia.sg/
ADDRESS
101 Upper Cross Street, People's Park Centre
#08-15 Singapore 058357
CONTACT DETAILS
65 6536 4676 | [email protected]
Renopedia is an online home renovation portal that provides inspirations, solutions, tips, and ideas for Singapore homeowners who are planning to renovate or design their homes. They help their clients achieve the home of their dreams by helping them find the design and renovation companies they need.
They are partners with over 300 interior design firms and renovation merchants. With the numerous connections they have, their clients will not only find the contractors they need, but also be able to choose the companies that are suited for their budget.
Highlights
SME 100 Awards Fast Moving Companies
The ASEAN IN Award 2018
Singapore Brand
Successful Innovators Awards
Customer Reviews
"We also recently found out about Renopedia – Singapore Number 1 Online Renovation Media Portal. We can draw inspirations for our new home there! There are even solutions or ideas for us to explore. If you don't have a new home to explore but is keen to renovate your existing house, do visit them too! " – James and Maybeline
"I have engaged 3D innovations via Renopedia last year for my house renovation. The places i have renovated are 3 bedrooms and the bathrooms. The price they quoted was reasonable. The overall design of the house was good and innovative. The designer was very initiative and patient. Although the renovation took slightly longer than expected but with the service and designs they have provided, i am satisfied" (Source: Google Reviews, 2019)
"Thank you Renopedia for the great service. My ID Racheal understands what I really want and gave me advices on what is practical and what's not. She worked within my tight budget and came up with solutions as well. My home is renovated nicely and her after sales service is terrific too. Thumbs up and thank you once again!" (Source: Google Reviews, 2019)
22. LUXUR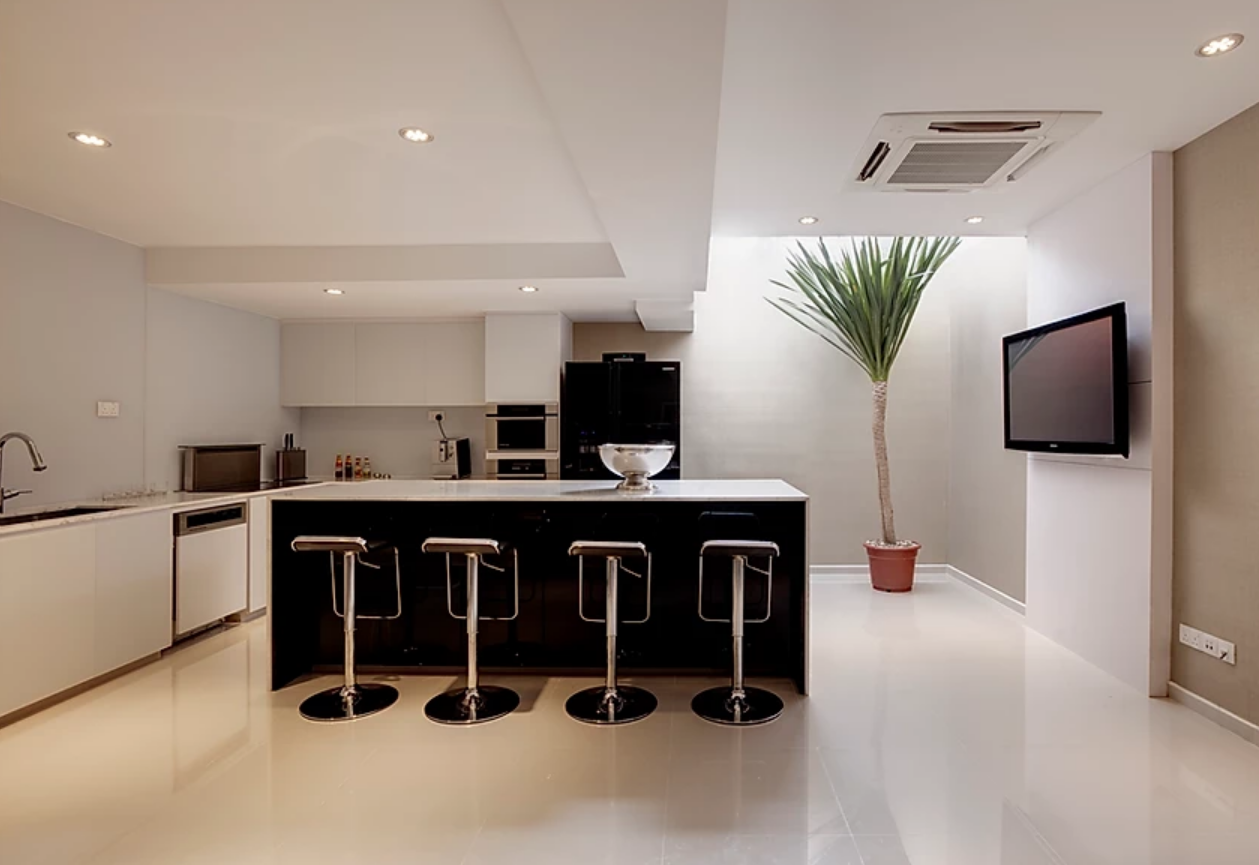 BEST FOR
Unique interiors, Design and Build
SERVICES
Interior and architectural design, Residential and commercial design
WEBSITE
http://www.luxxurr.com/
ADDRESS
Orion Building
160 Paya Lebar Road #02-01
Singapore 409022
CONTACT DETAILS
+65 6573 3284
[email protected]
LUXUR is a dynamic team offering a full range of services include design solutions, project management, and construction services. The team works closely with clients, suppliers, and consultants, ensuring the projects are executed in a timely and efficient manner. The firm is highly committed and involved to monitor the progress of the projects. In addition to producing high-quality design and planning solutions, the team prides themselves on delivering projects on time and within the agreed-upon budget.
Highlights
Bespoke interior designs
Multi-award winning interior design and architecture studio
Combination of style and comfort
Exceptional Customer Service
23. CARPENTERS
BEST FOR
High quality production standards
WEBSITE
https://www.carpenters.com.sg/
ADDRESS
62 Ubi Road 1 #01-01, Oxley Bizhub 2, Singapore 408734
CONTACT DETAILS
+65 6443 1123
OPERATING HOURS
Monday – Saturday: 11:00 am – 8:00 pm

 

Sunday: 11:00 am – 6:00 pm

PORTFOLIO
Past works and projects
Carpenters is committed to provide high quality designs and service to ensure and exceed customer satisfaction. They guarantee that their business practices are in line with government mandated laws and regulations.
This company started in 1950s with just 2 carpenters and traditional take on carpentry. They began the business with customizing furniture for their customers.
Currently, they transform space into a beautiful and functional space. They make use of innovative designs that fit the needs of their customers. They also work closely with their carpenters to ensure best craftsmanship in every project
Highlights
Innovative designs
High quality production standards
Excellent customer service
After sales support
Design Request Form
Customer Reviews
According to their customers, the service here is excellent every step of the way. In addition, their incorporation of innovativeness on their design is very impressive.
"He was open to new concepts and even gave good insights on what works and what is just plain impractical. We did have some bumps along the way but he managed to resolve it quickly without much hassle. "
"I would like to thank our ID Night Cheong for his dedicated efforts to do for us the renovation in the very tight period of time. We are very satisfied to thank enough to recommend Night Cheong to our family & friends. Well done Night and thanks again for your passion and wonderful work."
24. Urban Home Design Studio

Driven by their vision to become the new role model in Interior Design Industry, Urban Home Design Studio is dedicated to providing unique and timeless designs for your home interiors. They also maintain the quality of their works to make sure you remain satisfied with the output.
Their team is professional when dealing with your expectations and needs. They always strive to create a personalised interior design that balances your home's style and functionality– with a cost-effective and competitive price.
Give them a call today– they will certainly help you achieve the dream look you want for your home.
Highlights
Experienced interior designers
Quality-guaranteed
Affordable rates
Reliable staff
Customer Reviews
"We engaged Ken & Emma after meeting couple other IDs that Qanvast has recommended. What stood out in the process was the openness demonstrated by Ken, who is always willing to consider our needs and explore ideas with us. Beyond the aesthetics, Ken and Emma provided very practical tips to choice of materials and designs as well. The whole renovation process went smoothly with regular updates and we trusted Ken & Emma to deliver what was committed.
The final costing was close to the initial estimate and we were glad that everything went well and above our expectations.
Would highly recommend Urban Home!"
25. Archive Indesign

| | |
| --- | --- |
| BEST FOR | Modern and Classic Interior Design |
| WEBSITE | https://www.archiveindesign.com/ |
| ADDRESS | 16A Lim Tua Tow Road, Singapore 547752 |
| CONTACT DETAILS | (+65) 9837 3935 |
| OPERATING HOURS | Monday to Friday (9:30 am to 6:30 pm) ; Saturday and Sunday (11:00 am to 6:00 pm) |
Archive Indesign is committed to creating a home that expresses creativity and elegance. It enables them to identify and combine different ideas that suit their client's styling needs.
They make sure to provide their clients with expert interior designers that will surely fulfill anyone's interior design expectations.
With their wealth of experience in different projects, Archive Indesign will definitely serve you an excellent dream home design!
Highlights
Professional designer
Offers different kinds of services
Excellent customers service
Creative designs
Customer Reviews
"Excellent company who has very close follow up. Impressive after sales services and attend to request promptly even thought renovation is completed. Quality is good and work is value for money. Would highly recommended"
26. Project Guru

Looking for a one-stop interior design and renovation shop? Worry no longer, for ProjectGuru has what you need. Offering personalised and highly functional designs, ProjectGuru is one of the most trusted one-stop shops in Singapore.
The ProjectGuru staff knows that their clients want a prized and attractive interior space, be it a residential or commercial place. So, together with their team of expert design consultants, they plan out creative and innovative ideas that are tailored to the specific needs of their clients.
Offering free consultations, it is ensured that their services are flexible, so you don't have to settle for less. Their service quality isn't affected by your budget, for they believe every client deserves the best service possible.
Highlights
Convenient One-Stop Services
Personalised And Highly Functional Designs
Attractive Residential and Commercial Interior Design Solutions
Budget Friendly
Customer Reviews
Here is a review left by a very satisfied client:
"The renovation was outstanding. As per the online reviews, I think ProjectGuru is really a very reliable outfit. Our designer Tony was very accommodating and we made quite a few changes along the way, which he agreed and acted upon swiftly. For that, we are really thankful because there wasn't any delay to the handover as well. I can't seem to recall any minor issues during the renovation, let alone major ones. In fact, I would rate him 6 stars if I could for a job well done!" – Bobby
27. Museum Homes

If you are looking for the best firm of interior design out there, then look no further– Museum Homes is here to cater you and your needs. Known as an award-winning interior firm and creative powerhouse, their work has been celebrated by the locals around Singapore.
With over 20 years of experience, they are very much happy to share their techniques and ideas with their clients– all of which will surely elevate any space. You can even learn from their creative process, concept to completion, and their behind the scenes, which will make you see their approach in action.
With their clients in mind, they never forget to make the spaces they cultivate suit their clients' requests and personalities. From the color, materials, furniture, lighting, art, and objects, it is ensured that they create spaces that will tell a story and inspire you every single day.
Highlights
Professional and Responsive
Beautiful And Functional Design Ideas
Resourceful and Accommodating
Customer Reviews
Here is a review left by a very satisfied client:
"My house was designed and renovated by Alex. After 14 years, my house is still in very good condition. All hinges of my cardboards are still good. Some delivery guys thought i just moved in even after 14 years. Alex is very good with all details of his work. Easy to work with n very compromising. Good quality and good services!" – Susan Tan
28. New Interior Design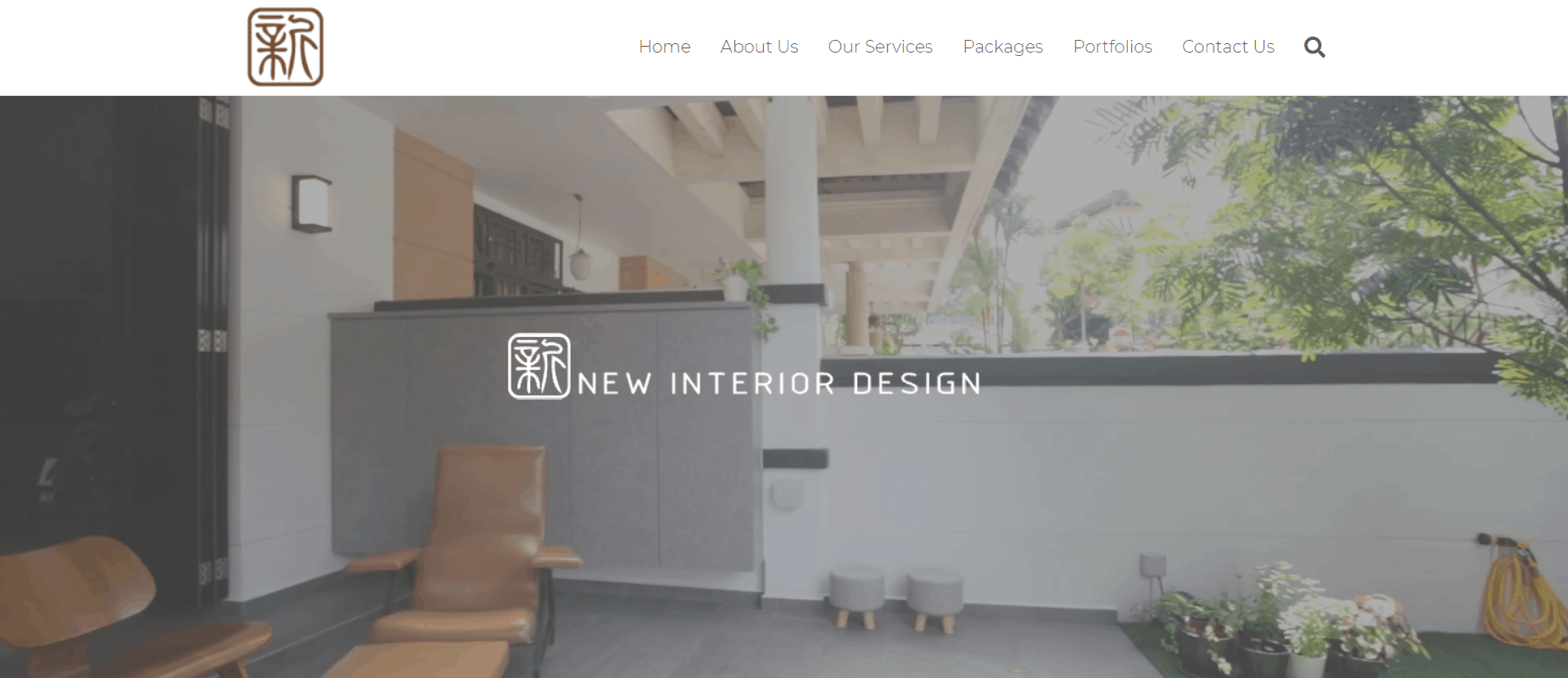 If you're looking for an interior design firm that can address your aesthetics and design needs for every room, then you may want to look into New Interior Design.
Established in 2011, New Interior Design has proudly served the community by offering interior design and carpentry services for renovation works or new construction. The firm confidently and competently does so thanks to its team, which comprises professional designers as well as workmen and carpentry experts.
These individuals take pride in being a part of one of the most reliable firms in the business. Their years of experience, skills, and expertise allow them to work on a slew of properties and rooms, including but not limited to regular houses and condos, kitchens, toilets, and many more.
So, if you're looking for a firm with a diverse portfolio, New Interior Design makes an excellent choice for the job.
Highlights
Award-winning company
Diligent and efficient staff
Diverse portfolio
29.  Vegas Interior Design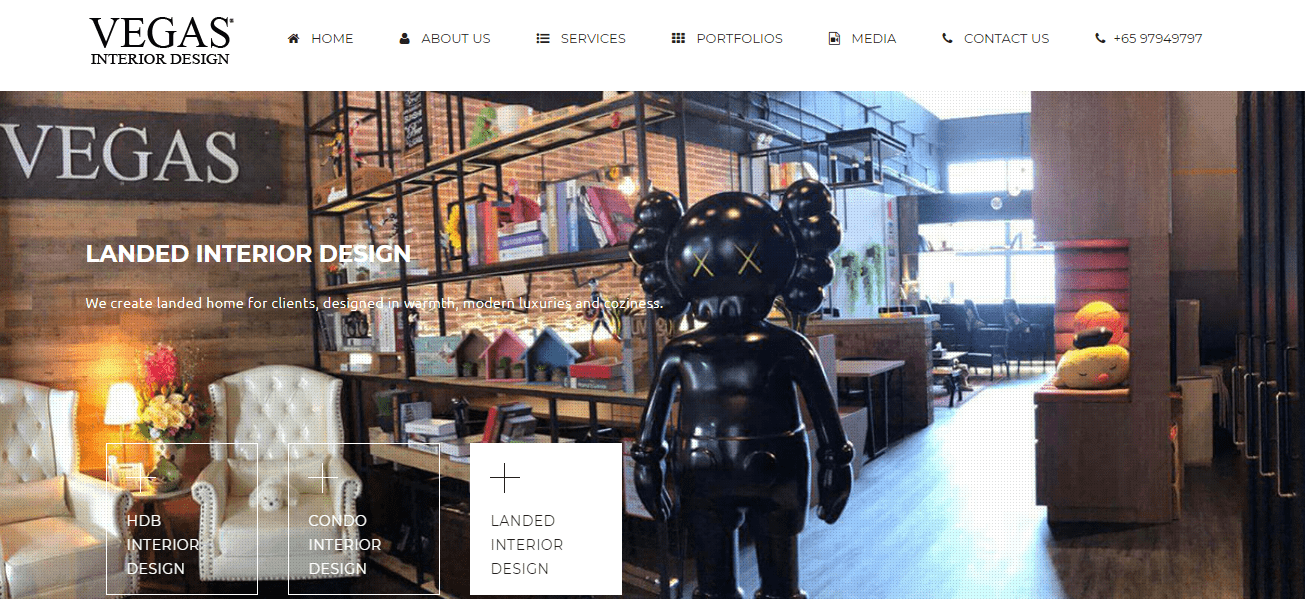 Vegas Interior Design has received multiple awards throughout its years of operation, making it one of top design firms that offer the best landed interior design in Singapore.
It has a team of certified and professional interior designers who can come up with unique and cool designs that fit your taste and budget.
With more than 20 years of experience, it has come up with its own design process that makes every project go smoothly and quickly. Its team of designers will also be with you every step of way — from planning and drawing up to renovation and remodelling.
Given that landed interior design is its expertise, its designers already have extensive knowledge and long experience in dealing with landed houses in Singapore. They can definitely help you achieve the dream look that you've been wanting for your house.
Highlights
Quality services
Experienced designers
Smooth-sailing projects
30. Black N White Haus Interior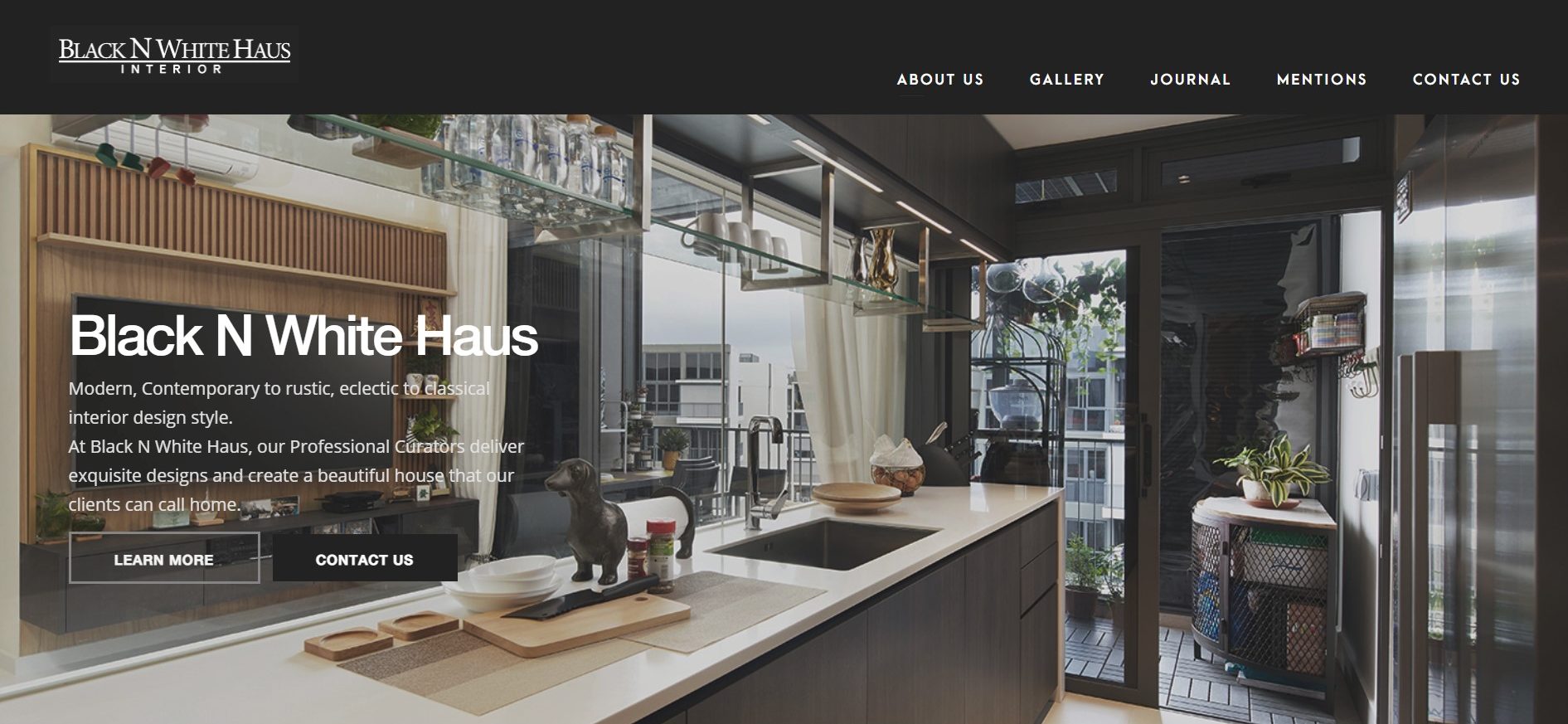 BEST FOR
Full range of services
SERVICES/SCOPE

brief analysis, concept design, space planning, consultant coordination, quotation evaluation, 3D visuals, project management, site evaluation & interior surveys, interior design, detailed & construction drawings, furniture, fixtures & equipment consulting

PRICING

Contact Black N White Haus Interior for a more detailed pricing rundown

WEBSITE
http://www.blacknwhitehaus.com/
ADDRESS
291 Tanjong Katong Road Singapore 437074
CONTACT
Telephone : +65 6440 9766
Email : [email protected]
Next on the list is Black N White Haus Interior. They're known for their quality design and project management, as well as a comprehensive structure of processing available for clients to acquire.
Their talented interior designers are able to muster almost whatever design you may want, from an elegant and contemporary style to a more modern and rustic feel. To add to it, Black N White Haus Interior understands how important it is to turn your house into a home, so they make sure they do their best to provide the artistry and functionality you need.
What started in 2009 as a small firm continuously grew into one of Singapore's best interior designing companies through the years. Consider Black N White Haus Interior and receive the service you deserve.
Rest assured that they'll be with you to assist every step of the way, from the initial consultation, to the last stages of finalizing the turnovers.
For further inquiries, a form is available on Black N White Haus' website to fill-up. They can also be reached through phone or email.
Highlights
Designers from diverse backgrounds and specialties
Delivers quality results
Exceptional themes and designs
Hassle-free processing
31

. Livspace Singapore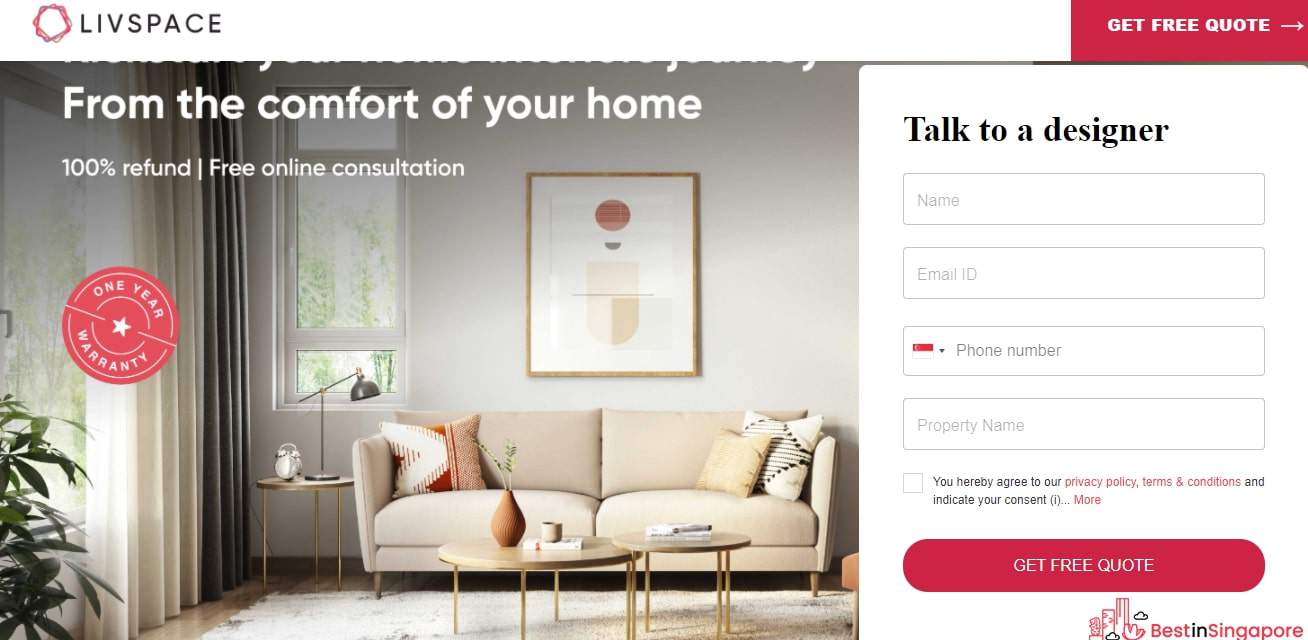 BEST FOR
Renovations, Full Home Interiors, Landed Interior Design
SERVICES/SCOPE
Renovations
Design and build
Carpentry work
Demolition, hacking, masonry, plumbing, etc.
Furniture and decor sourcing
PRICING
You can talk to a designer to get a free quote and sample designs.
WEBSITE
https://www.livspace.com/
ADDRESS
Level 6, Beach Centre, 15 Beach Road, Singapore 189677
CONTACT
https://www.livspace.com/
Livspace, Asia's biggest interior designer, is a platform that grants you access to the most experienced and highly renowned interior designers in the country. It has some of the best landed interior designers in Singapore on its roster, thanks to the fact that Livspace only hires professionals who have proven to be worth their salt.
In fact, their professionals undergo a 3-step quality check: Onboarding (portfolio screening), Testing (performance evaluation projects) and Monitoring (via a project manager).
To add to that, customers even get a $4 million insurance cover by AXA as well as a one-year warranty on all civil and woodwork.
All of that is accessible through 5 easy steps via their convenient and easy-to-use platform. Basically, you just need to fill out a form on their site with details about your project, get a free consultation and quotes as well as designs, then go ahead and book a professional to get started on the project!
Highlights
Award-winning designers
Verified contractors
$4 million cover by AXA
One year warranty
Customer Reviews
After meeting a few renovation companies, we decided to go with Livspace to design and renovate our new home. We worked with William and found him to be approachable and accommodating. Mostly, he could articulate designs, which were practical yet appealing while taking into consideration safety aspects for our young child.
–Willie Yeo via Trusted Interior Singapore
Livspace was highly recommended and we were pleased. It was the first time we have used a design professional and I would highly recommend leveraging the skills and experience of Livspace.
–Andy Clark via Trusted Interior Singapore
I recently dealt with Livspace for the renovation of my apartment. Their suggestions were non-intrusive but useful and my designer was able to understand my taste, budget and requirements and plan accordingly.
–David McGoldrick via Trusted Interior Singapore
And with that, we conclude our list of top interior design firms that offer the best landed interior design in Singapore. Start achieving the dream look of your house by dialling any of the numbers mentioned.
If you also know other interior design firms that specialise in landed interior design, tell us its name and we'll check if we can include it in our list.
By the way, if you're also looking for an interior designer for your office, you might want to check out our list of the best commercial interior designers in Singapore. Any of these interior designers can make your office look better and encourage everyone to be more productive.