Our 12 Favourite Options for Jaw Botox in Singapore
Do you suffer from frequent migraines caused by teeth grinding? If so, then you might need to undergo the best jaw Botox in Singapore in order to relax your jaw muscles and reduce tension in your face.
What's more, the best jaw Botox in Singapore is also recommended for people who want to achieve a slimmer and more chiseled face. Botox is injected into your chewing muscle to weaken and shrink its size.
So, if you want to know where to get the best jaw Botox in Singapore, then you've come to the right place. Today, we're making a rundown of the clinics worth checking out.
Dr. Lee Mun Heng – Cambridge Medical Group
BEST FOR
Non-invasive therapeutic programme
SERVICES
Ultra Skin HIFU, Liquid Face Lift, Lunchtime Nose Lift, Glow & Radiance, Laser Hair Removal
WEBSITE
https://www.aesthetic-clinic-singapore.com/botox-heng/
ADDRESS
391B Orchard Road, #08-05A1, Tower B, Ngee Ann City, Singapore 238874
CONTACT DETAILS
+65 6432 8215


[email protected]

OPERATING HOURS
Mon to Wed, and Fri 10am – 6pm
Thurs 10am – 8pm
Sat 10am – 3pm
Sun and PH Closed
Cambridge Aesthetic Clinic provides holistic treatments to make you beautiful inside and out. This boutique medical and laser aesthetic clinic provides medically sound and comprehensive aesthetic care in a comfortable and private environment.
Cambridge Aesthetic Clinic uses FDA-certified and approved machines, as well as Korean technology, to provide a comprehensive range of customised non-invasive therapeutic treatments for all their patients. Their range of services include laser and resurfacing therapies, radiofrequency, light and ultrasonic based treatments, botox and filler injections, chemical peels and various facial and body wellness treatments.
They will help you become the best version of yourself. With their experience and expertise, every treatment recommendation and program will be personally and specifically tailored to you, to ensure optimal results and outcome.
Highlights
Customised treatment programs
FDA-certified and approved machines
Comprehensive range of non-invasive therapeutic treatments
The Clifford Clinic

The Clifford Clinic is an excellent choice for botox treatments, which can help clients achieve younger-looking skin. Botox can also address issues related to over-sweating.
Dr. Gerard Ee, their head dermatologist, works with his team of expert aesthetic doctors in delivering the best services. With his interest in minimally invasive surgery and aesthetic medicine, you can rest assured that any treatment you undergo in Singapore Aesthetic Practice will go well.
Highlights
Minimal Downtime
Minimal Scarring
Safe Procedure
Accurate Treatment
Edwin Lim Medical Aesthetic Clinic
BEST FOR
Injectable and Laser procedures
SERVICES
Injectables, Laser, Medi-facials & Fat Freeze, HIFU & Other treatments
WEBSITE
https://edwinlimclinic.sg/
ADDRESS
#02-12/13 Changi City Point, 5 Changi Business Park Central 1,Singapore 486038

 

(By Appointment Only)

#05-51, Lucky Plaza, 304 Orchard Road Singapore 238863

CONTACT DETAILS
+65 69042218/+65 96372218 (whatsapp message only)[email protected]
OPERATING HOURS
Mon to Friday – 11am to 8pmSaturday and Sunday – 11am to 6pm
Edwin Lim Medical Aesthetic Clinic offers customised solutions for a wide array of skin and aesthetic conditions. Some conditions that they treat are acne, wrinkles, dull skin, and sagging skin.
The clinic's offerings don't stop with skin treatments, though. The in-house expert, Dr. Edwin Lim, is well-adept in conducting both Aesthetic injectable and Medical Aesthetic Laser procedures.
Dr. Lim's expertise is also backed with the clinic's use of advanced medical technologies to ensure the overall high quality of the procedure. You can rest assured that you're in good hands when he's working with you.
The clinic has two operational outlets, one in Changi Business Park Central and the other in Lucky Plaza. The latter, however, is strictly by appointment only.
Highlights
Expert and licensed doctor
State-of-the-art medical facilities
Premium quality products and services
Sozo Aesthetic Clinic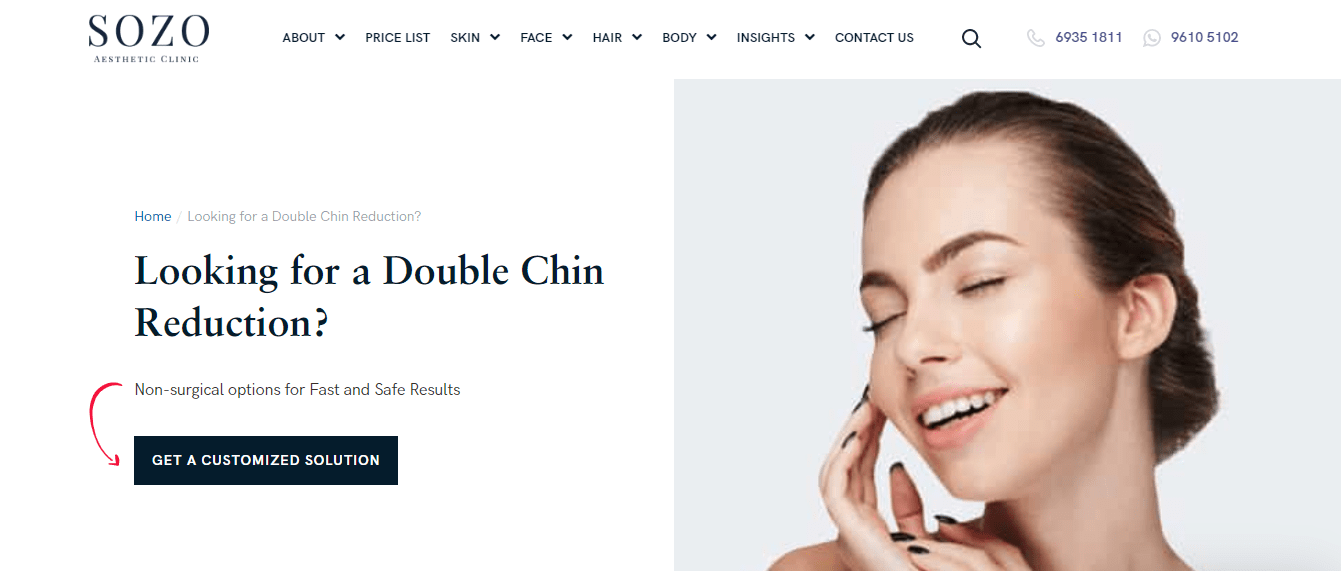 | | |
| --- | --- |
| BEST FOR  | Trained Aestheticians |
| SERVICES | Jaw Botox, Double Chin Reduction, Body Contouring, Hair Removal, Stretch Marks Removal, Underarm Whitening, and Fat Removal |
| WEBSITE | https://sozoclinic.sg/ |
| ADDRESS | 1 Raffles Place, #05-12/13, Singapore 048616 |
| CONTACT DETAILS | 6935 1811 |
It's no secret that Sozo Aesthetic Clinic is one of the most trusted beauty clinics in Singapore, earning the trust of thousands of clients. A reason behind this is its possession of trained aestheticians who are experienced in all types of beauty procedures, especially face and jaw Botox.
Jaw Botox is definitely not going to be cheap, however. That's because it requires the most number of Botox units.
On the bright side, Sozo Aesthetic Clinic will make sure that your money will be worth it, down to the last cent. If you want to ensure you get what you're paying for, you should go to clinics like Sozo.
After the treatment, your jaw will become noticeably slimmer and tighter. Above all, you will no longer experience any discomfort while chewing — which is why we've named it among the top options for the best jaw Botox in Singapore.
Highlights
Quality beauty treatments
Comfortable clinic
Experienced aestheticians
Apax Medical & Aesthetic Clinic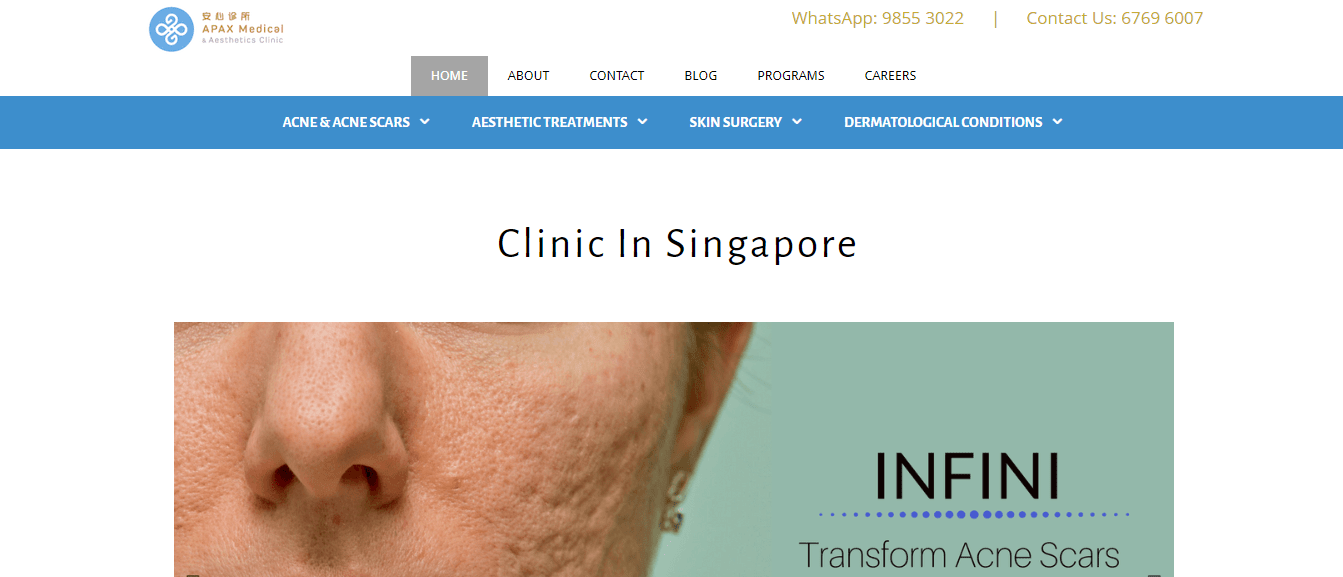 | | |
| --- | --- |
| BEST FOR | Aesthetic Treatments |
| SERVICES | Jaw Botox, Acne Scar Removal, Jaw Reduction, Fillers, Nose Lift, Face Lift, and Pore Size Reduction |
| WEBSITE | https://apaxmedical.com/ |
| ADDRESS | 1 Woodlands Road #02-11 Junction 10, Singapore 677899 |
| CONTACT DETAILS | 9855 3022 | 6769 6007 |
| OPERATING HOURS | Monday – Friday, 10:00 AM – 8:30 PM |
If you're looking for an aesthetic clinic that specialises in jaw Botox and reduction, then APAX Medical Clinic & Aesthetic Clinic is the perfect option for you. It offers a wide range of beauty and medical treatments, including acne scar removal, Botox, face lift, nose lift, skin tag removal, and skin surgery.
It's headed by Dr. Moses Ng, an aesthetic doctor with more than 10 years of clinical experience, so rest assured that all patients are in safe hands. He's also published multiple journals and studies about aesthetic medicine.
Above all, all of its treatments are conducted with cutting-edge and leading medical equipment to ensure quality results.
Highlights
Advanced medical technology
Wide range of treatments
Long-term results
IYAC Aesthetic Clinic

| | |
| --- | --- |
| BEST FOR | Body Treatments |
| SERVICES | Jaw Botox, Coolsculpting, Collagen Rebuilding, Liquid Lift, Laser Circuit, Non-Surgical Facelift, and Slimming Circuit |
| WEBSITE | https://www.iyac.com.sg/en/ |
| ADDRESS | One Orchard Blvd, #06-03/04 Camden Medical Centre, Singapore 248649 |
| CONTACT DETAILS | +65 6738 9989 |
| OPERATING HOURS | Monday – Friday, 8:30 AM – 5:00 PM |
Considered one the leading clinics in aesthetic treatments, IYAC Aesthetic Clinics offers all sorts of aesthetic services that one may need, from acne scar treatment down to Botox. Of course, all of its procedures are conducted by a trained and experienced aesthetician.
Its jaw Botox is ideal for people with jaw pains, sagging jaws, and those who want a slimmer face. On top of tightening skin, pores are also minimized with jaw Botox.
One of the reasons we consider it among the top options for the best jaw Botox in Singapore is that results last for a long time. If you opt for a repeat, the results will stay even longer and be more prominent.
Highlights
Easy appointment
Trained aestheticians
Longer results
Beauty products
Bio Aesthetic Medispa

| | |
| --- | --- |
| BEST FOR | Aesthetic Treatment, Botox, Fillers. Laser Treatment, Acne Scars |
| SERVICES | HIFU, Rejuran Skinbooster, Botox, Fillers, Acne Scars Lasers, Hydrafacial Peel |
| WEBSITE | https://baclinic.sg/treatments/botox-singapore-guide-2020/ |
| ADDRESS | 390 Orchard Rd, Singapore 238871, Palais Renaissance #03-01 |
| CONTACT DETAILS | 6782 2777 | [email protected] |
| OPERATING HOURS | 11am – 8.30pm |
Since 2012, Bio Aesthetic Medispa has been serving the public with quality beauty and wellness services. They were established with a simple goal in mind: maintaining their clients' well being.
To date, they maintain their high standards and continually introduce new, exciting services to their clients. They are pleased to launch a whole suite of doctor-designed treatments to give their clients a wider selection of services to choose from.
The Bio Aesthetic Medispa always works to ensure that all who come to them for beauty solutions leave satisfied and confident about themselves. They always make sure that their products and services bring out the best in you – just as you want.
Highlights
Skin Rejuvenation
HIFU AgeTite
Anti-Aging Services
Mendis Aesthetics Clinic
BEST FOR
Non-invasive Treatments
SERVICES
Cosmelan
Rejuran
HIFU (UltraSkin)
Microdermabrasion
Laser Skin Treatment (Mosaic)
Chemical Peels
Transdermal Anti-Ageing Facial
HA Hydrating Facial
EMSCULPT
D-Actor
Exilis
Threadlift
Thermage CPT
Dermal Fillers
UltraShape
WEBSITE
https://www.drmendis.com/
ADDRESS
333A Orchard Road, Mandarin Gallery, #04-17, Singapore 238897
CONTACT DETAILS
Tel: +65 6235 1728 | SMS : +65 88580810
Email: [email protected]
OPERATING HOURS
Monday – Friday: 10am – 8pm
Saturdays: 10am – 4pm
Closed on Sundays & Public Holidays
Mendis Aesthetics Clinic is simply one of the best choices to consider if you're looking for the highest quality botox services. It's owned by the highly esteemed Dr. Rohan Mendis, one of the foremost aesthetic doctors in Singapore.
Dr. Mendis has been in the field for over 20 years, and has mastered the art of advanced medical aesthetic technology. With their skills and experience, Mendis Clinic has continuously placed in the top ranks of aesthetic centers in the country.
Alongside the doctor's expertise, Mendis Clinic offers a wide range of services besides jaw botox, including, Laser Skin Treatments, Threadlifts, Fillers, and the like. Whatever the beauty service you may need, they'll be able to provide. They make sure that you can achieve the look you want and help you gain more confidence– all at a very reasonable price.
Highlights
Helps slow down aging process
Minimal downtime
Highly skilled doctor
Trinity Medical Centre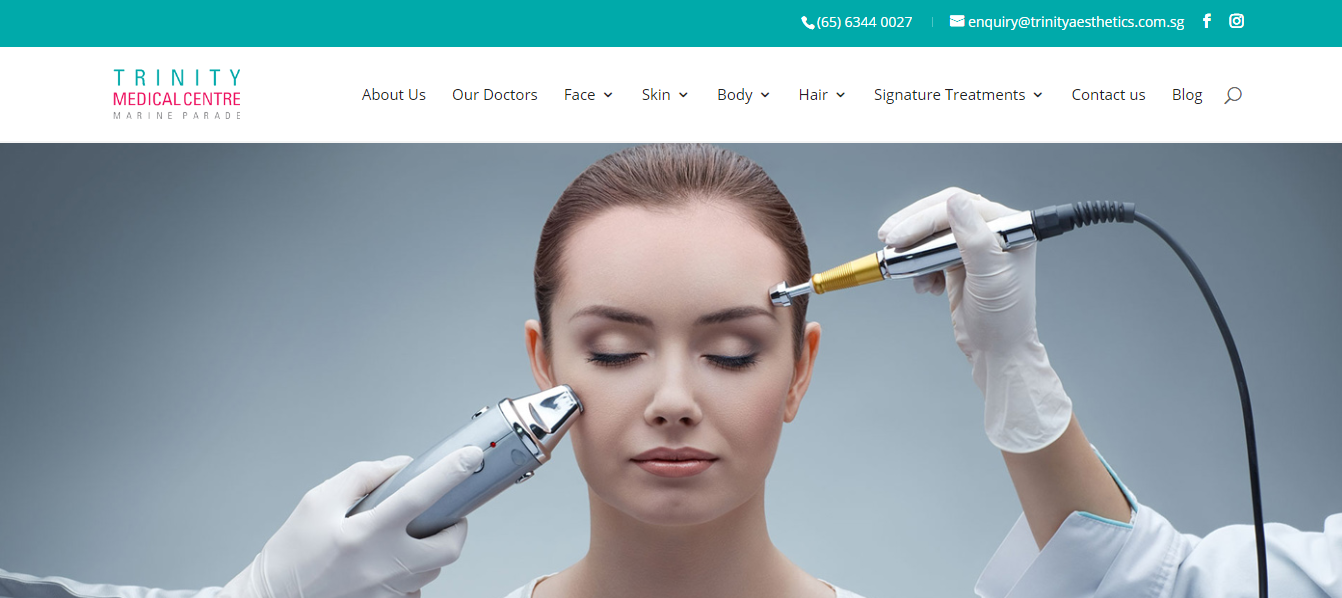 BEST FOR
Trained Aestheticians
SERVICES
Face
Skin
Body
Hair
Signature Treatments
WEBSITE
http://sgtrinityaesthetics.com/
ADDRESS
87, MARINE PARADE CENTRAL, #01-503, Singapore 440087.
CONTACT DETAILS
[email protected]
(+65) 6344 0027
(+65) 9727 1328
OPERATING HOURS
Weekdays: 10am – 8pm
Weekends: Sat 9am – 3pm
Sun closed
Closed on Public Holidays
Trinity Medical Centre has been treating patients for more than 7 years. Their services uses a wide variety of FDA-approved medical devices.
Their team of professional doctors takes pride in fulfilling their patients' needs regarding their health and beauty goals. All medical procedures are performed under the supervision of their doctors.
Trinity Medical Centre is highly acclaimed by their patients, with over 78% of new patients coming from patient recommendations to friends and families. They let their results and highly satisfied customers speak for themselves. They are truly a go to clinic for any of your aesthetic medical needs.
Highlights
S Aesthetics Clinic

| | |
| --- | --- |
| BEST FOR | Competitive Pricing |
| SERVICES | Jaw Botox, Skinbooster, PICO Laser, Skin Treatment, Fat Freezing, Ultherapy, and Hair Loss Treatment |
| WEBSITE | https://saestheticsclinic.com/ |
| ADDRESS | Scotts Medical Center (Pacific Plaza), 9 Scotts Road, #07-07, Singapore 228210 |
| CONTACT DETAILS | (65) 6235 0338 | +65 9020 7234 |
| OPERATING HOURS | Monday – Friday, 10:00 AM – 8:00 PM |
S Aesthetics Clinics boasts a team of professional and skilled aestheticians who are experienced in a number of aesthetic procedures such as jaw Botox, skinboosters, fat freezing, and others.
It's also famous for offering its services for a competitive price, a bit cheaper compared to the rates of other clinics
Despite that, S Aesthetic Clinics guarantees that every customer will receive only quality aesthetic services that are safe and last longer than average. Most of its services are either minimally invasive or non-invasive, so there's nothing to worry about if you're afraid of going under the knife.
Highlights
Minimally invasive
Holistic approach
State-of-the-art technology
Astute Medical Centre


BEST FOR
Luxury Medical Aesthetics Treatments
SERVICES
https://www.astutecentre.com.sg/aesthetic-a-la-carte
WEBSITE
https://www.astutecentre.com.sg/
ADDRESS
East Coast outlet
252 Tembeling Road, #01-08 Tembeling Centre, Singapore 423731
CBD outlet
18 Cross Street, #01-112 Cross Street Exchange, Singapore 048423
CONTACT DETAILS
+65 9155 2243 / +65 8870 0860 | [email protected]
OPERATING HOURS
East Coast outlet
Monday to Friday – 11.00 am to 8.00 pm
Saturday – 10.00 am to 7.00 pm
CBD outlet
Monday to Friday – 11.00 am to 8.00 pm
Saturday – 10.00 am to 7.00 pm
Sunday – by appointment only
For those looking for a holistic range of premium medical solutions across the pillars of aesthetics, medical, education, trichology, dental, spa and wellness, Astute Medical Centre is one of the best choices on the island.
The centre is known for its use of cutting-edge technology and top of the line products in every procedure, all of which are administered by various medical doctors and consultants with years of experience in the field and proven track records. These professionals endeavour to enhance their clients' natural beauty, curating each treatment to suit unique facial structures and features.
Clients interested in availing of Astute Medical Centre's services will be happy to know the clinic offers e-consultations. Not only that, but the clinic has a wide array of offerings that can address various aesthetic concerns.
Highlights
E-consultation available
Wide range medical aesthetic services
Solutions for all kinds of skin conditions
Latest suite of non-invasive FDA approved/CE marked medical aesthetic treatments
SL Aesthetic Clinic
BEST FOR
Aesthetic Services for the Entire Body
SERVICES
Aesthetic services for the skin, hair, face, and body
WEBSITE
https://slclinic.com.sg/our-treatments/face/botox-jaw-reduction/
ADDRESS
Causeway Point
1 Woodlands Square,
#04-11, Causeway Point S(738099)
Junction 8
9 Bishan Place, #04-02B/C,
Junction 8 S(579837)
Jurong Point
63 Jurong West Central 3, #B1-32
Jurong Point Hse 2 S(648331)
Plaza Singapura
68 Orchard Road, #04-08B,
Plaza Singapura S(238839)
Tampines 1
10 Tampines Central 1, #04-30/32
Tampines 1 S(529536)
Wheelock Place
501 Orchard Road #04-04,
Wheelock Place S(238880)
Westgate
3 Gateway Drive, #04-22
Westgate S(608532)
CONTACT DETAILS
Causeway Point
Tel: +65 6877 0144
Junction 8
Tel: +65 6262 5898
Jurong Point
Tel: +65 6316 2556
Plaza Singapura
Tel: +65 6336 1106
Tampines 1
Tel: +65 6634 8102
Wheelock Place
Tel: +65 6235 8403
Westgate
Tel: +65 6358 4588
OPERATING HOURS
Contact clinic for more information
Next on our list is an aesthetic clinic known for the range it has to offer its clients. SL Aesthetic Clinic has been serving the people of Singapore for over a decade now.
The clinic's team consists of highly skilled and knowledgeable individuals whose main goal is to make customers happy with their services, all while empowering them to be the best versions of their selves. As a result, SL Aesthetic Clinic is always updating its services, ensuring that they are non-invasive as well as FDA-approved, CE-marked, or HSA-approved.
Some of these services include derma fillers, mole removal, ultherapy, skin boosters, eyebag removal, pigmentation treatment, and more. When it comes to aesthetic clinics that caters to the aesthetic needs of various parts of the body, SL Aesthetic Clinic comes highly recommended.
Now, it's also worth noting that all of these services, including the ones that aren't mentioned, are performed by doctors who are all medically trained. Plus, they have the needed certifications of competence recognised by the Singapore Medical Council's Aesthetic Practice Oversight Committee (APOC).
Aside from being highly talented, skilled, and knowledgeable, these doctors are committed to helping clients look their best selves. So, it isn't all too surprising that they take the time to consult with each client, learning more about their aesthetic history and needs before moving forth with any service that they are in need of.
All in all, SL Aesthetic Clinic makes an excellent choice because of its range of services, team of doctors, and dedication to customer service.
Highlights
Offers a wide range of aesthetic services
Constantly updates aesthetic services
Minimal downtime depending on the service chosen
Multiple locations available
Professional and friendly staff
And that's it for our list of the clinics with the best jaw Botox in Singapore.
If you know of other clinics that offer jaw Botox, don't hesitate to drop their names and we'll check if we can add them to our list.
By the way, if you're also planning to have Botox on other parts of your face, then we know some clinics that offer the best Botox in Singapore. Say goodbye to sagging skin with these aesthetic clinics!