By Colin Ng
Do you suffer from frequent migraines caused by teeth grinding? If so, then you might need to undergo the best jaw Botox in Singapore in order to relax your jaw muscles and reduce tension in your face.
What's more, the best jaw Botox in Singapore is also recommended for people who want to achieve a slimmer and more chiseled face. Botox is injected into your chewing muscle to weaken and shrink its size.
So, if you want to know where to get the best jaw Botox in Singapore, then you've come to the right place. Today, we're making a rundown of the clinics worth checking out.
1.  Sozo Aesthetic Clinic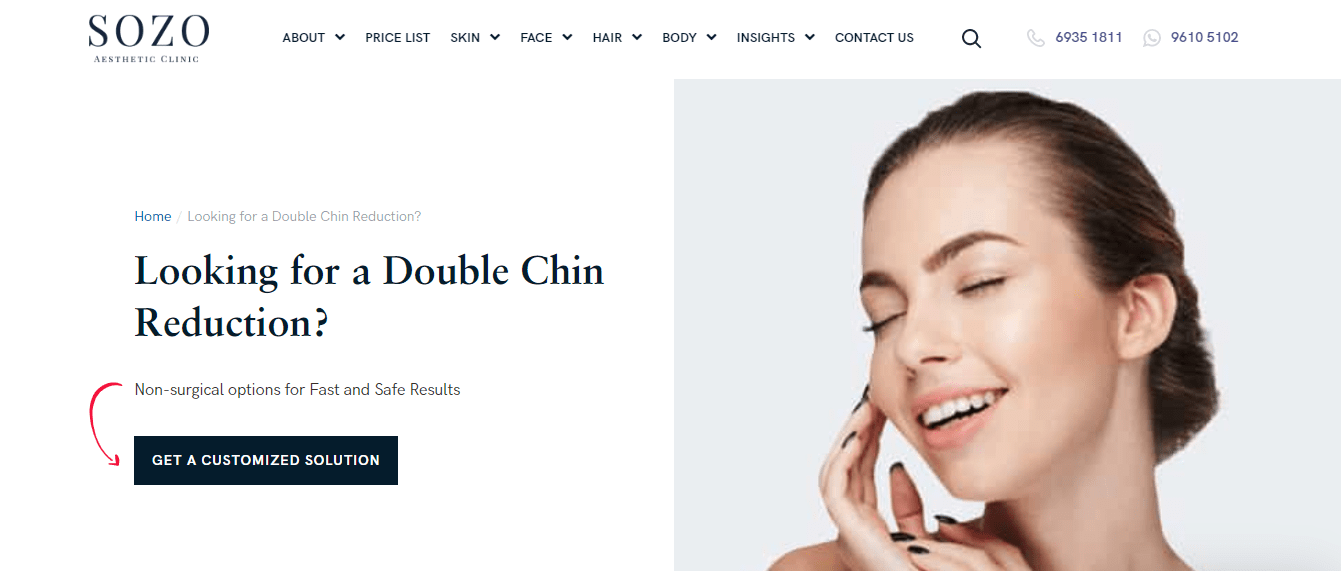 | | |
| --- | --- |
| BEST FOR  | Trained Aestheticians |
| SERVICES | Jaw Botox, Double Chin Reduction, Body Contouring, Hair Removal, Stretch Marks Removal, Underarm Whitening, and Fat Removal |
| WEBSITE | sozoclinic.sg/ |
| ADDRESS | 1 Raffles Place, #05-12/13, Singapore 048616 |
| CONTACT DETAILS | 6935 1811 |
It's no secret that Sozo Aesthetic Clinic is one of the most trusted beauty clinics in Singapore, earning the trust of thousands of clients. A reason behind this is its possession of trained aestheticians who are experienced in all types of beauty procedures, especially face and jaw Botox.
Jaw Botox is definitely not going to be cheap, however. That's because it requires the most number of Botox units.
On the bright side, Sozo Aesthetic Clinic will make sure that your money will be worth it, down to the last cent. If you want to ensure you get what you're paying for, you should go to clinics like Sozo.
After the treatment, your jaw will become noticeably slimmer and tighter. Above all, you will no longer experience any discomfort while chewing — which is why we've named it among the top options for the best jaw Botox in Singapore.
Highlights
Quality beauty treatments
Comfortable clinic
Experienced aestheticians
Customer Reviews 
Take a look at what previous patients have said about Sozo's doctors: 
"Had a pleasant journey to great skin with Dr Justin Boey and his team. I could vividly recall my first visit to Sozo in mid 2018. I was keen to find out more about Pico laser to treat my pigmentation and at the same time apprehensive about such treatments. During my first consultation, Dr Justin was very patient in addressing my skin concerns and his explanation and sharing on the subject matter was very professional and comprehensive. Since then I have been going to Sozo for other treatments as well and my skin conditions have improved significantly. I always walked out of the clinic feeling happy and confident after every visit." 
"Dr Boey is very professional and patient. My consultation was regarding my pigmentation. When Dr Boey heard that I had done my last laser with another clinic, he did not give any negative comments but suggested that I should continue my treatment with that clinic. So I end up with Ultraformer Hifu with Dr Boey."
2.  Apax Medical & Aesthetic Clinic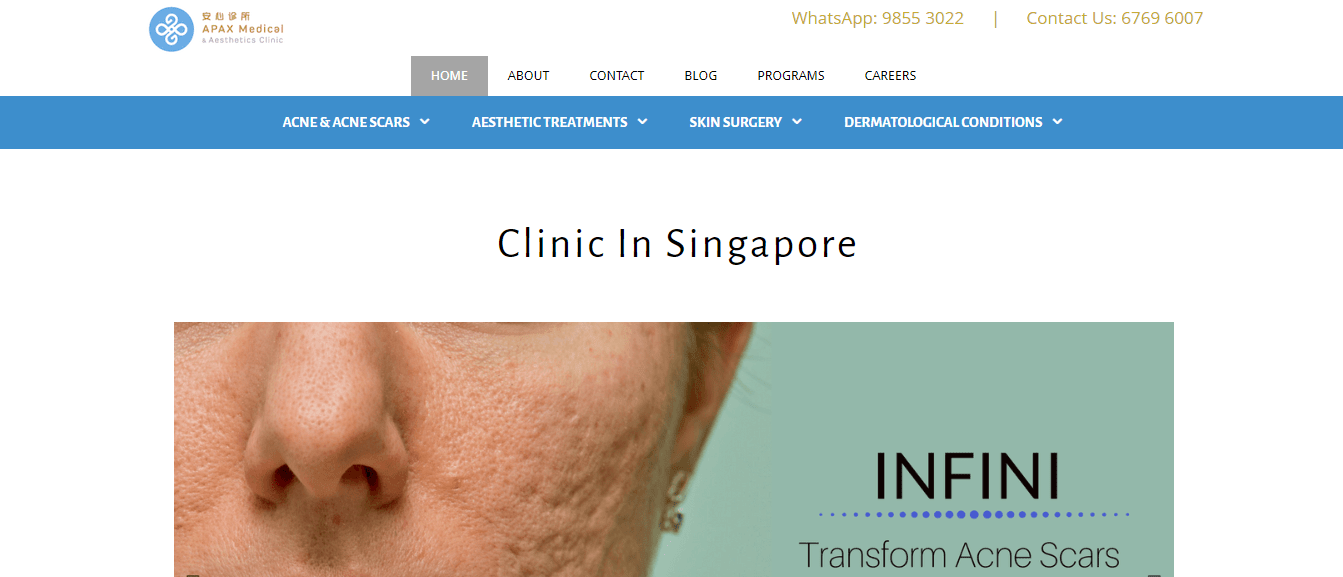 | | |
| --- | --- |
| BEST FOR  | Aesthetic Treatments |
| SERVICES | Jaw Botox, Acne Scar Removal, Jaw Reduction, Fillers, Nose Lift, Face Lift, and Pore Size Reduction |
| WEBSITE | https://apaxmedical.com/ |
| ADDRESS | 1 Woodlands Road #02-11 Junction 10, Singapore 677899 |
| CONTACT DETAILS | 9855 3022 | 6769 6007 |
| OPERATING HOURS | Monday – Friday, 10:00 AM – 8:30 PM |
If you're looking for an aesthetic clinic that specialises in jaw Botox and reduction, then APAX Medical Clinic & Aesthetic Clinic is the perfect option for you. It offers a wide range of beauty and medical treatments, including acne scar removal, Botox, face lift, nose lift, skin tag removal, and skin surgery.
It's headed by Dr. Moses Ng, an aesthetic doctor with more than 10 years of clinical experience, so rest assured that all patients are in safe hands. He's also published multiple journals and studies about aesthetic medicine.
Above all, all of its treatments are conducted with cutting-edge and leading medical equipment to ensure quality results.
Highlights
Advanced medical technology
Wide range of treatments
Long-term results
Customer Reviews
Here are some reviews proving that APAX offers some of the best jaw Botox in Singapore:
"Introduced by a friend to this clinic in Singapore. Communication with clinic staff before making an appointment was convenient. The nurses were helpful and the doctor was professional. One of the things that really stood out was the pricing and service. Pricing is reasonable although not the cheapest compared to my home country. Doctor did more than what was requested and I'm very thankful for the kindness. The follow up was a nice touch to make sure I was doing well as I had traveled." 
"Went there for a consultation earlier today after seeing a lot of good reviews here. 10/10 service. Even before coming, the staff were very friendly. Met up with Dr Moses & he was very kind & helpful in answering all my questions. I would say the price is a bit high for me but obviously cheap isn't good & good isn't cheap. Best part is he doesn't try to upsell you & you only pay after each individual treatment."
3.  IYAC Aesthetic Clinic

| | |
| --- | --- |
| BEST FOR  | Body Treatments |
| SERVICES | Jaw Botox, Coolsculpting, Collagen Rebuilding, Liquid Lift, Laser Circuit, Non-Surgical Facelift, and Slimming Circuit |
| WEBSITE | https://www.iyac.com.sg/en/ |
| ADDRESS | One Orchard Blvd, #06-03/04 Camden Medical Centre, Singapore 248649 |
| CONTACT DETAILS | +65 6738 9989 |
| OPERATING HOURS | Monday – Friday, 8:30 AM – 5:00 PM |
Considered one the leading clinics in aesthetic treatments, IYAC Aesthetic Clinics offers all sorts of aesthetic services that one may need, from acne scar treatment down to Botox. Of course, all of its procedures are conducted by a trained and experienced aesthetician.
Its jaw Botox is ideal for people with jaw pains, sagging jaws, and those who want a slimmer face. On top of tightening skin, pores are also minimized with jaw Botox.
One of the reasons we consider it among the top options for the best jaw Botox in Singapore is that results last for a long time. If you opt for a repeat, the results will stay even longer and be more prominent.
Highlights
Easy appointment
Trained aestheticians
Longer results
Beauty products
Customer Reviews 
As one the top clinics in Singapore, it has received countless compliments from its clients. Here are some of them:
"I have been a loyal customer of IYAC for more than 10 years. Every time I go for my facial, the comfortable environment, relaxing music and soothing facial makes it a retreat experience. I am also very impressed with the staff who go the extra mile for their customers. There was once I hurt my forehead which resulted in a bruise. When the staff heard about it, they went the extra mile to massage an ointment that was efficient to reduce swelling. Also I love that their products are lightweight and non greasy which is suitable for wearing an entire day."' 
"Excellent service! Dr Chung always greeted me with a smile whenever I saw her. She is very friendly and helpful whenever I have doubts to clarify. She remembers details of what I had shared and would recommend what to apply to the slightest detail."
4. Edwin Lim Medical Aesthetic Clinic
BEST FOR
Injectable and Laser procedures
SERVICES
Injectables, Laser, Medi-facials & Fat Freeze, HIFU & Other treatments
WEBSITE
https://edwinlimclinic.sg/
ADDRESS
#02-12/13 Changi City Point, 5 Changi Business Park Central 1,Singapore 486038

(By Appointment Only)

#05-51, Lucky Plaza, 304 Orchard Road Singapore 238863

CONTACT DETAILS
+65 69042218/+65 96372218 (whatsapp message only)[email protected]
OPERATING HOURS
Mon to Friday – 11am to 8pmSaturday and Sunday – 11am to 6pm
Edwin Lim Medical Aesthetic Clinic offers customised solutions for a wide array of skin and aesthetic conditions. Some conditions that they treat are acne, wrinkles, dull skin, and sagging skin.
The clinic's offerings don't stop with skin treatments, though. The in-house expert, Dr. Edwin Lim, is well-adept in conducting both Aesthetic injectable and Medical Aesthetic Laser procedures.
Dr. Lim's expertise is also backed with the clinic's use of advanced medical technologies to ensure the overall high quality of the procedure. You can rest assured that you're in good hands when he's working with you.
The clinic has two operational outlets, one in Changi Business Park Central and the other in Lucky Plaza. The latter, however, is strictly by appointment only.
Highlights
Expert and licensed doctor
State-of-the-art medical facilities
Premium quality products and services
Customer Reviews
Edwin Lim Medical Aesthetic Clinic has a perfect 5.0-rating on Google which simply reflects the clinic's utmost credibility when it comes to aesthetic procedures. The in-house expert, Dr. Edwin Lim is praised for his meticulousness and professionalism.
"Dr Lim is very professional, nice & patient.
I did laser for pigmentation & filler on my face, he is gentle & always check if there is any discomfort. His skill is great & I don't experience pain while he is doing laser or filler."
5.  Clifford Clinic

| | |
| --- | --- |
| BEST FOR  | No Downtime |
| SERVICES | Jaw Botox, Acne Treatment, Acne Scar Treatment, Face Lift, Nose Threadlift, Coolsculpting, Stretch Mark Removal, Double Chin Reduction. and Laser Eye Lift |
| WEBSITE | https://cliffordclinic.com/ |
| ADDRESS | 24 Raffles Place, #01-03 Clifford Centre, Singapore 048621 |
| CONTACT DETAILS | (65) 6532 2400 | (65) 8318 6332 |
| OPERATING HOURS | Monday to Saturday, 10:00 AM – 8:00 PM |
If you want a jaw Botox that doesn't require downtime, then Clifford Clinic would be a great match for you! It guarantees that its jaw Botox doesn't hurt nor does it need them to rest for a few days.
After the procedure, you can resume with your normal routine right away, as if nothing happened. What's more, Clifford Clinic's only takes as little as 10 minutes, so you can even have it during your break time — which is why we've named it among the clinics with the best jaw Botox in Singapore.
And of course, it's conducted by aestheticians who have over 10 years of experience in aesthetic surgery procedures. In short, it's genuinely quality jaw Botox you'll be getting!
Highlights
Trained aesthetic doctors
Quick procedure
Painless
6. S Aesthetics Clinic

| | |
| --- | --- |
| BEST FOR  | Competitive Pricing |
| SERVICES | Jaw Botox, Skinbooster, PICO Laser, Skin Treatment, Fat Freezing, Ultherapy, and Hair Loss Treatment |
| WEBSITE | https://saestheticsclinic.com/ |
| ADDRESS | Scotts Medical Center (Pacific Plaza), 9 Scotts Road, #07-07, Singapore 228210 |
| CONTACT DETAILS | (65) 6235 0338 | +65 9020 7234 |
| OPERATING HOURS | Monday – Friday, 10:00 AM – 8:00 PM |
S Aesthetics Clinics boasts a team of professional and skilled aestheticians who are experienced in a number of aesthetic procedures such as jaw Botox, skinboosters, fat freezing, and others.
It's also famous for offering its services for a competitive price, a bit cheaper compared to the rates of other clinics
Despite that, S Aesthetic Clinics guarantees that every customer will receive only quality aesthetic services that are safe and last longer than average. Most of its services are either minimally invasive or non-invasive, so there's nothing to worry about if you're afraid of going under the knife.
Highlights
Minimally invasive
Holistic approach
State-of-the-art technology
7. Bio Aesthetic Medispa

| | |
| --- | --- |
| BEST FOR | Aesthetic Treatment, Botox, Fillers. Laser Treatment, Acne Scars |
| SERVICES | HIFU, Rejuran Skinbooster, Botox, Fillers, Acne Scars Lasers, Hydrafacial Peel |
| WEBSITE | https://baclinic.sg/treatments/botox-singapore-guide-2020/ |
| ADDRESS | 390 Orchard Rd, Singapore 238871, Palais Renaissance #03-01 |
| CONTACT DETAILS | 6782 2777 | [email protected] |
| OPERATING HOURS | 11am – 8.30pm |
Since 2012, Bio Aesthetic Medispa has been serving the public with quality beauty and wellness services. They were established with a simple goal in mind: maintaining their clients' well being.
To date, they maintain their high standards and continually introduce new, exciting services to their clients. They are pleased to launch a whole suite of doctor-designed treatments to give their clients a wider selection of services to choose from.
The Bio Aesthetic Medispa always works to ensure that all who come to them for beauty solutions leave satisfied and confident about themselves. They always make sure that their products and services bring out the best in you – just as you want.
Highlights
Skin Rejuvenation
HIFU AgeTite
Anti-Aging Services
Customer Reviews
Here is a review left by a very satisfied client:
"Booked a couple treatment with my wife using her package. Was very impressed with the service and I must really commend on the environment. My view on beauty saloon has changed, didn't know it can look so modern yet relaxing. Now I understand why she loves to come here.
Great Team, Great Environment & Lastly, Great Experience ! Thank you !"
8. Mendis Aesthetics Clinic
BEST FOR
Non-invasive Treatments
SERVICES
Cosmelan
Rejuran
HIFU (UltraSkin)
Microdermabrasion
Laser Skin Treatment (Mosaic)
Chemical Peels
Transdermal Anti-Ageing Facial
HA Hydrating Facial
EMSCULPT
D-Actor
Exilis
Threadlift
Thermage CPT
Dermal Fillers
UltraShape
WEBSITE
https://www.drmendis.com/
ADDRESS
333A Orchard Road, Mandarin Gallery, #04-17, Singapore 238897
CONTACT DETAILS
Tel: +65 6235 1728 | SMS : +65 88580810
Email: [email protected]
OPERATING HOURS
Monday – Friday: 10am – 8pm
Saturdays: 10am – 4pm
Closed on Sundays & Public Holidays
Mendis Aesthetics Clinic is simply one of the best choices to consider if you're looking for the highest quality botox services. It's owned by the highly esteemed Dr. Rohan Mendis, one of the foremost aesthetic doctors in Singapore.
Dr. Mendis has been in the field for over 20 years, and has mastered the art of advanced medical aesthetic technology. With their skills and experience, Mendis Clinic has continuously placed in the top ranks of aesthetic centers in the country.
Alongside the doctor's expertise, Mendis Clinic offers a wide range of services besides jaw botox, including, Laser Skin Treatments, Threadlifts, Fillers, and the like. Whatever the beauty service you may need, they'll be able to provide. They make sure that you can achieve the look you want and help you gain more confidence– all at a very reasonable price.
Highlights
Helps slow down aging process
Minimal downtime
Highly skilled doctor
Customer Reviews
Mendis Clinic has received nothing but praise from their clients, their services are top-notch and worth every dollar to spend. Here's one of the feedbacks left for them on Google Review:
"Dr. Mendis is as professional, knowledgeable, and friendly as they come, and I have always trusted his advice, service, and staff with all my needs to look and feel my best. I won't be the first to confess that we don't enjoy ageing and getting old, but I am blessed to have a doctor–and even more importantly–a friend in Dr. Mendis who provides the latest advances in treatment and equipment to ensure that I age as slowly as possible. Thank you Mendis Aesthetics Clinic and keep up the AMAZING work!"
9. Trinity Medical Centre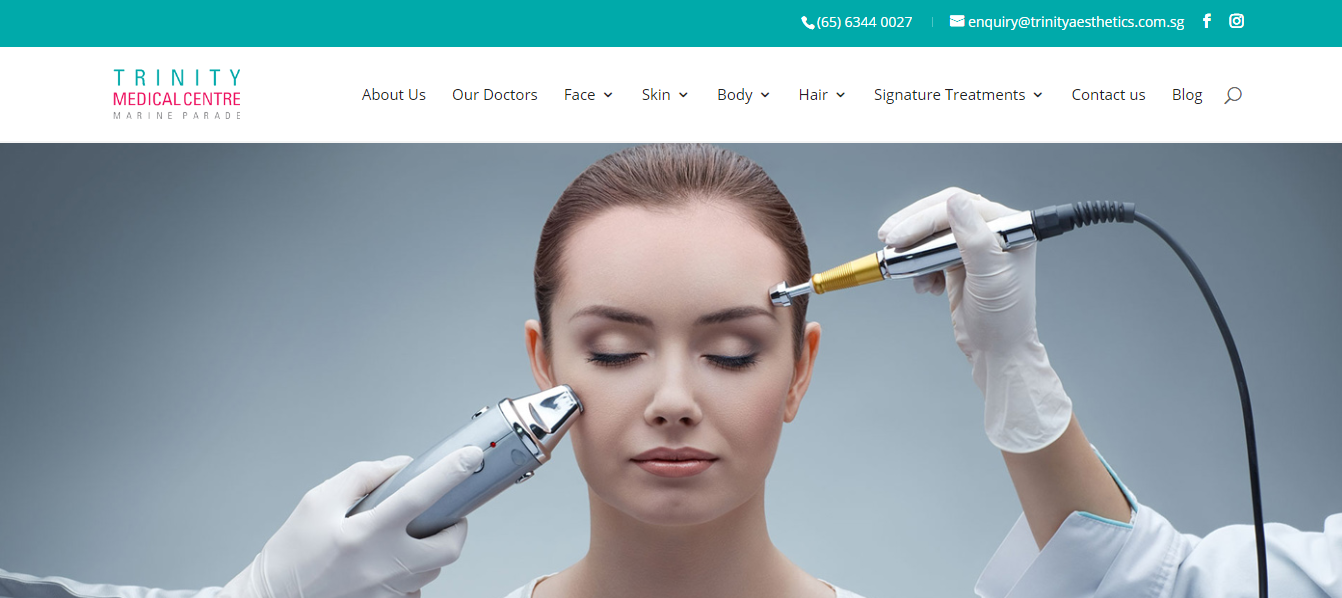 BEST FOR
Trained Aestheticians
SERVICES
Face
Skin
Body
Hair
Signature Treatments
WEBSITE
http://sgtrinityaesthetics.com/
ADDRESS
87, MARINE PARADE CENTRAL, #01-503, Singapore 440087.
CONTACT DETAILS
[email protected]
(+65) 6344 0027
(+65) 9727 1328
OPERATING HOURS
Weekdays: 10am – 8pm
Weekends: Sat 9am – 3pm
Sun closed
Closed on Public Holidays
Trinity Medical Centre has been treating patients for more than 7 years. Their services uses a wide variety of FDA-approved medical devices.
Their team of professional doctors takes pride in fulfilling their patients' needs regarding their health and beauty goals. All medical procedures are performed under the supervision of their doctors.
Trinity Medical Centre is highly acclaimed by their patients, with over 78% of new patients coming from patient recommendations to friends and families. They let their results and highly satisfied customers speak for themselves.  They are truly a go to clinic for any of your aesthetic medical needs.
Highlights
Pleasant Customer Service
Friendly and Supportive Staff
Wide Range of Aesthetic Services
Customer Reviews
"I and my daughter have been with Dr Tommy and trinity clinic for a few years . My complexion is so much better after laser treatment and my daughter acne has also improved tremendously ,and special shoutout to senior clinic staff Catherine is highly attentive during my visits ,I feel well taken care .Overall was pleasant experience !"
And that's it for our list of the clinics with the best jaw Botox in Singapore.
If you know of other clinics that offer jaw Botox, don't hesitate to drop their names and we'll check if we can add them to our list.
By the way, if you're also planning to have Botox on other parts of your face, then we know some clinics that offer the best Botox in Singapore. Say goodbye to sagging skin with these aesthetic clinics!