The 9 Best Indian Restaurants in Singapore: 2021 List
Hankering for some scalding-hot, fascinatingly-spiced, and absolutely authentic Indian cuisine?  Perhaps you're wondering if there's any new Indian restaurant in Singapore that's worth trying?
Luckily for you, you don't have to travel to India just to get it — as you'll see in our lineup of the best Indian restaurants in Singapore.
We picked these top Indian restaurants in Singapore due to the consistency of their dishes and service, as well as the appeal of their establishments, physically-speaking.
Now, it's time for you to enjoy our research by trying them out… so let's take a look at our picks for the best Indian restaurants in Singapore!
1. Komala Vilas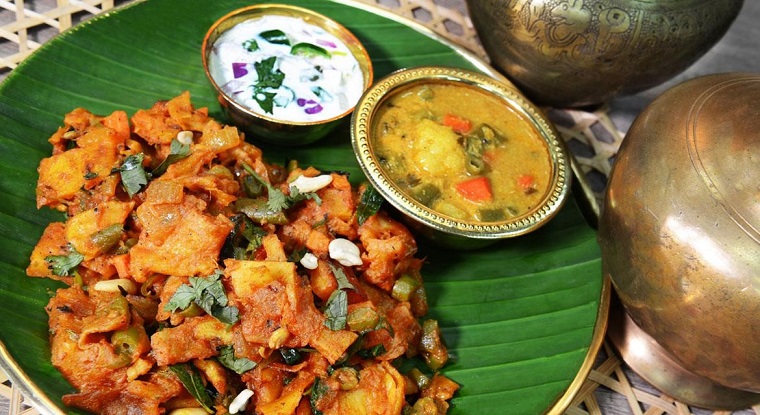 BEST FOR: Authentic Casual Vegetarian Indian Cuisine
PRICING: Menu
WEBSITE: https://www.komalavilas.com.sg/
ADDRESS: 82 Serangoon Road, Singapore 217981
CONTACT DETAILS: +65 62943294
OPERATING HOURS: 11am-09:00pm (Mon-Sat)  11am-7pm on Sundays

The Indian cuisine at Komal Vilas has all the richness of spice you've been looking for. Whether it is the colour, taste, aroma or flavour, you will be impressed by how each dish represents true Indian cooking.
Being one of the oldest Indian restaurants in Singapore, they have been consistently serving customers for years. Through that time, they have stuck to their principles of authenticity and freshness in cuisine.
Also worth mentioning is their use of freshly cut banana leaves for serving food. It's a simple yet interesting food presentation technique really highlights traditional Indian dining culture.
Komal Vilas has definitely been top of mind for many when looking for a vegetarian indian restaurant in Singapore.
Service Highlights
Classic and traditional food presentation
Affordable menu prices
Catering services for special events
Customer Reviews
The family-owned restaurant, Komala Vilas, is greatly loved by both locals and tourists. It has been receiving praise from customers for years for the quality of its food and many consider them to have the best Indian food in Singapore.
Vegetarians also commend it for offering them healthy Indian dishes. Milan Zatakia wrote this feedback on Google Reviews:
"Outstanding and authentic south Indian cuisine in a no frills ambience. Focus is on nice clean wholesome awesome tasty and lip smacking food that tickles the tastebuds with extreme joy. A not to miss experience. This reviewer has eaten here since 1972.  47 years of infinite joy !!!!"
2. Punjab Grill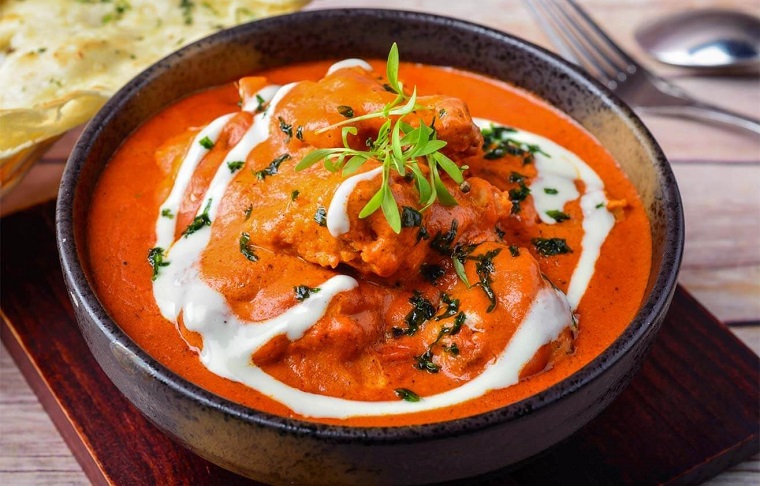 BEST FOR: Royal Indian fine dining
PRICING: Menu
WEBSITE: http://www.punjabgrill.com.sg/
ADDRESS: B1-01A, The Shoppes at Marina Bay Sands, South Podium, 2 Bayfront Avenue, Singapore 018972
CONTACT DETAILS: 66887395
OPERATING HOURS: Lunch @ 11:30 AM to 3:00 PM / Dinner @ 6:30 PM to 11:00 PM
If you're in search of a restaurant that serves Indian fine dining in Singapore, Punjab Grill should be on top of your list.
Punjab Grill belongs to those Indian restaurants in Singapore that serve the most compelling food concepts you'll ever see even while staying true to certain tastes (in this case, classic Indian ones). Aside from their dishes' delightful visuals, the taste and flavours will not disappoint you.
The overall interiors will also let you experience a significant era in India and introduce you to their royalty while exploring their cuisine. For those who want to have exclusive gatherings, they also have a private dining area with a charming kitchen view.
Service Highlights
Sophisticated and elegant ambience
Vegetarian menu and special promotions
Majestic view of wine cellar
Customer Reviews
Punjab Grill's fancy interiors and 10-course menu have won awards from institutions as well as praise from diners. They have never failed to give a remarkable impression to both of their loyal customers and first-time visitors. 
We're not surprised to see many 5-star reviews as many consider them to serve the best Indian food in Singapore. 
Pratima Nagaraj left a 5-star review on Google Reviews:
"This restaurant never disappoints me!! I've been to other Punjab Grills in India but this one in Singapore has the best quality and their food tastes delicious. Love the ambience too. A little too pricey but you won't mind paying for the quality. Great place to dine out on a special occasion."
3. Kebabs and Curries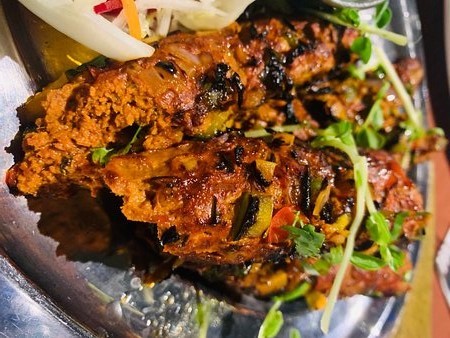 BEST FOR: Casual Indian cuisine
PRICING: Menu
WEBSITE: http://kebabsandcurries.com/
ADDRESS: Mustafa Centre, 171 Syed Alwi Rd, #07-00, Singapore 207704
CONTACT DETAILS: +65 6419 0749
OPERATING HOURS: Daily, 11am–12:30am
If you're looking for a good Indian restaurant in Singapore that serves no-fail casual Indian food but with a high end environment, Kebabs and Curries is your place to go. 
Located at an exclusive 5-star hotel, Kebabs and Curries features friendly service and heartwarming dishes that make their customers feel cosy and comfortable.
Coming from the restaurant's name, the main highlights of the menu are the enticing kebabs and curries. Due to the alluring interior design, the place looks spacious, with the outside view dominated by a refreshingly green environment.
Kebabs and Curries gets our nod for being one of the best Indian restaurants in Singapore for casual dates, catch-ups and intimate gatherings.
Service Highlights
Budget-friendly menu and services
Online ordering services
Outdoor catering services
Customer Reviews
The nature-friendly ambience of Kebabs and Curries will let you enjoy the beauty of Indian cuisine while having some good conversations with your family and friends.
Many love the rooftop ambiance but also consider the place as a go-to for good Indian food in Singapore.
Here's some positive feedback from Bina on Google Reviews:
"This rooftop restaurant at Mustafa Center has great food, nice seating and reasonably priced. We ordered some kebabs and some curries literally what this restaurant is about 🙂 and they were delicious. We asked for keeping the food mild and the food was exactly how we wanted it. Will highly recommend and will definitely go back."
4. Chat Masala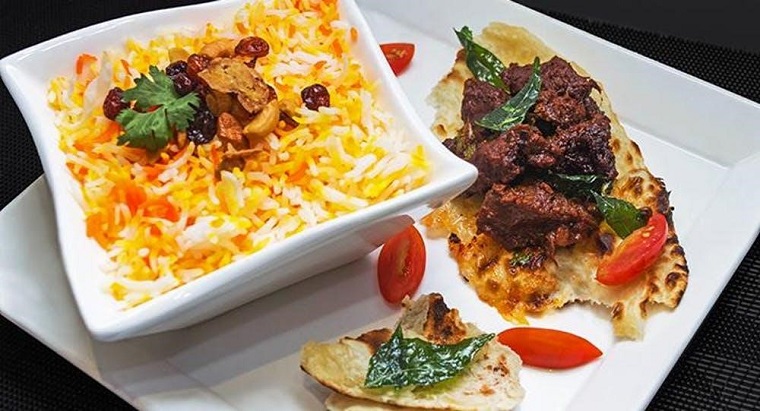 BEST FOR: Authentic Fiery Indian Cuisine
PRICING: Menu
WEBSITE: http://chat-masala.com/
ADDRESS: 158 Upper East Coast Road, Singapore 455254
CONTACT DETAILS: +6876 0570
OPERATING HOURS: Tuesday to Sunday and Public Holidays,12pm – 2pm / 6.30pm – 10pm (Monday closed unless Public Holiday)
If you're looking for the best Indian restaurant in Singapore that will wake up all your senses with their fiery cuisine, Chat Masala is a must-visit! Chat Masala engages your appetite with its invigoratingly hot and spicy dishes.
If you are a spicy food lover, then you will have a great time with their courses. They bring out a different side of Indian cuisine that focuses on the exciting and fiery taste of traditional dishes.
If you are wondering if this place will suit your taste buds because you are a vegetarian or a non-spicy food lover, though, don't worry. They have a wide range of milder options for you.
Service Highlights
Intense spiciness
Perfect combination of colour and flavour
Friendly accommodations
Customer Reviews
Customers are highly satisfied with the diversity in their menus. The restaurant interior might be simple but their extraordinary meals will definitely amuse you, say customers.
Spice lovers and those who can handle the heat consider them to be one of the best Indian restaurants in Singapore.
Fae O'Neill wrote these compliments for them in a Google Review:
"Enjoyed the food immensely.  Have eaten there 3 times already and the standard has been the same.  We were served by the Lady Boss who incidentally doubles up as the chef on occasion.  One dish I found pretty spicy was the fried brinjal.  Lucky I had ordered lassie. The Briyani was excellent as was all the dishes we tried.  The prices maybe a little steep but the service and the food quality more than make up for it."
5. Kailash Parbat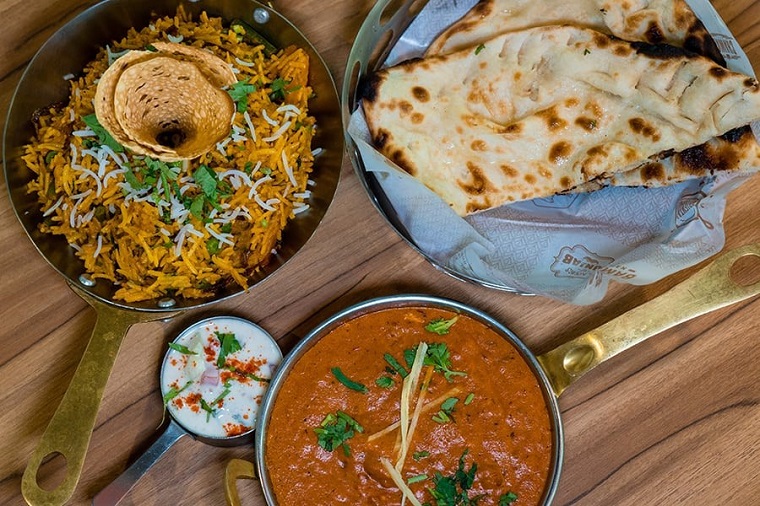 BEST FOR: Authentic and creative Indian cuisine
PRICING: Menu
WEBSITE: https://www.kailashparbat.com.sg/
ADDRESS: https://www.kailashparbat.com.sg/contactus.php
CONTACT DETAILS: https://www.kailashparbat.com.sg/contactus.php
OPERATING HOURS: https://www.kailashparbat.com.sg/contactus.php
Kailash Parbat has been open since the 1950s, proving that they have established their brand and gained the trust of Singaporeans, Indians, and tourists on the island.
Their menu is filled with different dining styles such as their original dishes, lunch specials, executive menu, house specials, starters, main courses, bento box options, and desserts.
The restaurant also has a chic and modern setting decorated with classic paintings.
Service Highlights
Signature dishes
Exclusive menu offers
Online catering order services
Customer Reviews
From delicacies to setting and services, Kailash Parbat is considered as a top brand in the food industry, with patrons saying its fame is merited. Here's a review from Zomato:
"A Singapore Little India adventure will never be completed without visiting Kailash Parbat. I am indeed a fan of Indian cuisine and their food never failed me! I am happy I was able to try this restaurant because I super enjoyed my experience. I love their Naan together with their Paneer Butter Masala. Super worth it! A must try!"
6. Tandoor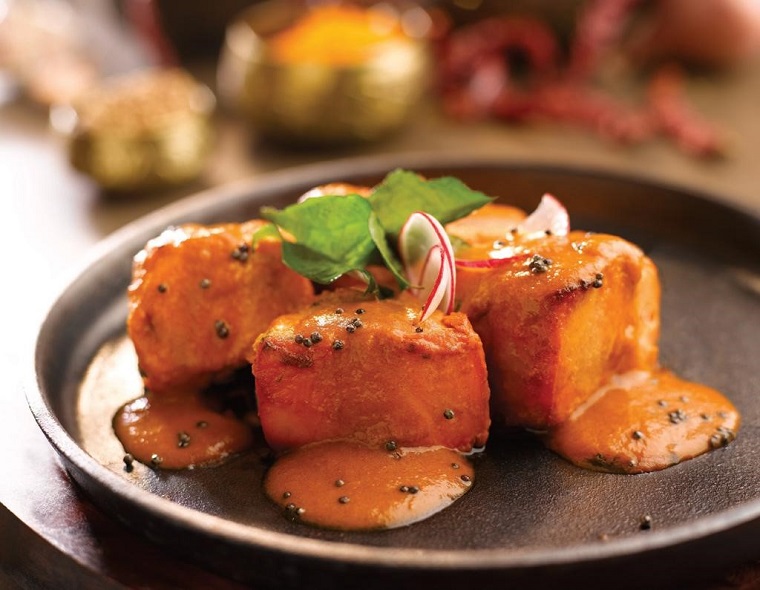 BEST FOR: Traditional Indian cuisine
PRICING: Menu
WEBSITE: http://www.tandoor.com.sg/
ADDRESS: 11 CAVENAGH ROAD, SINGAPORE 229616
CONTACT DETAILS: +65 6733 8333
OPERATING HOURS: Lunch from 12 noon to 2.30pm, Dinner from 7pm to 10:30pm
Tandoor is known for its carefully-crafted dishes made with traditional recipes from India.
Each delicacy has the influence of different cultures from regions across the country. This diversity is the prime treasure of this restaurant.
You can also have some engaging conversations with the staff as they recall the beautiful history behind each dish. Whether for business or personal purposes, Tandoor would always be a great choice.
Service Highlights
Vintage Indian architecture
Stunning wedding venue
Gourmet dinner
Customer Reviews
Tandoor offers amazingly authentic Indian cuisine, say customers. Stefano Malachi left this high-rated feedback on Google Reviews:
 "Best Indian Restaurant at Orchard Singapore 
Since 1985 Tandoor an award-winning Indian restaurant in Singapore has offered a carefully handcrafted dish using classic recipes and time-honoured methods which date back in time across India's rich history. The beautiful interior design has a story behind it, Full-length windows give diners an intimate view of the kitchen where two custom-made copper tandoors (or clay ovens) stand. From the dining hall, you will be able to see our chefs at work, from making Indian breads to preparing kebabs of tandoori meats and vegetables that are served fresh to your table, presents an inviting atmosphere where you can enjoy good food and great conversations with family, friends and clients alike."
7. Muthu's Curry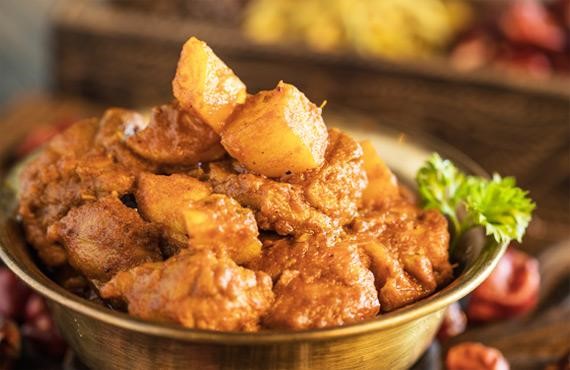 BEST FOR: Traditional and innovative Indian cuisine
PRICING: Menu
WEBSITE: https://www.muthuscurry.com/
ADDRESS: 3 Temasek Boulevard #B1-109/177 Suntec City Mall
CONTACT DETAILS: 6835 7707 / [email protected]
OPERATING HOURS: Lunch: 11.30AM to 3.00PM / Dinner: 6.00PM to 10.00PM
The Indian recipes of Muthu's Curry have been passed on through generations. This is how they are able to maintain the genuine taste of traditional Indian cuisine.
They take pleasure in their signature dish, Fish Head Curry, which was created by the establishment's founder. Their dishes are acknowledged for their savoury flavors and textures.
Service Highlights
Affordable menu packages
Indoor and outdoor buffet menu
Friendly ambience
Customer Reviews
Muthu's Curry serves mouth-watering seafood, fresh meats, and organic spices. Their success goes beyond their main highlights, as they regularly add new dishes to their menu, which customers find exciting.
In a review from Yelp, Jason expressed his thoughts about the restaurant: 
"Never had Fish Head Curry a day in my life but came here to try it and it was amazing! The restaurant was nicely designed and had a great staff and of course a great menu. Would be ideal for a date, business meeting, or just an outing. The naan was good as was the Indian Chai. I will be returning to try more things."
8. Aromas of India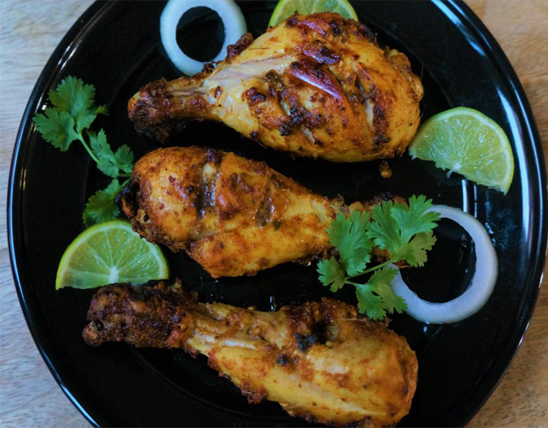 If you're seeking that authentic Indian spices in food, then head out to Aromas of India! Just like the origin country, the food served in the restaurant is made with exotic spices that vary in level of spiciness, but all offer great taste.
With a vast menu selection to offer, you'll sure to find something new to try every time you go there. Don't miss the chance of tasting one of the best chicken and Biryani in Singapore, dine in at Aromas of India.
Service Highlights
Economically priced menu
Amazing Indian food
Relaxing ambience
Great servicing
Customer Reviews
Check out some of the feedbacks on Aromas of India's Google Review, further proving how amazing they are as a restaurant:
"My favorite place to have Indian food with good friends. Clean and conducive. Can feel the chef prep the food with his heart…"
"Me and my family tasted the chicken briyani and wow! What a briyani to crave for!! Definitely gonna repeat soon and try other dishes! Great taste keep it up."
9. Yantra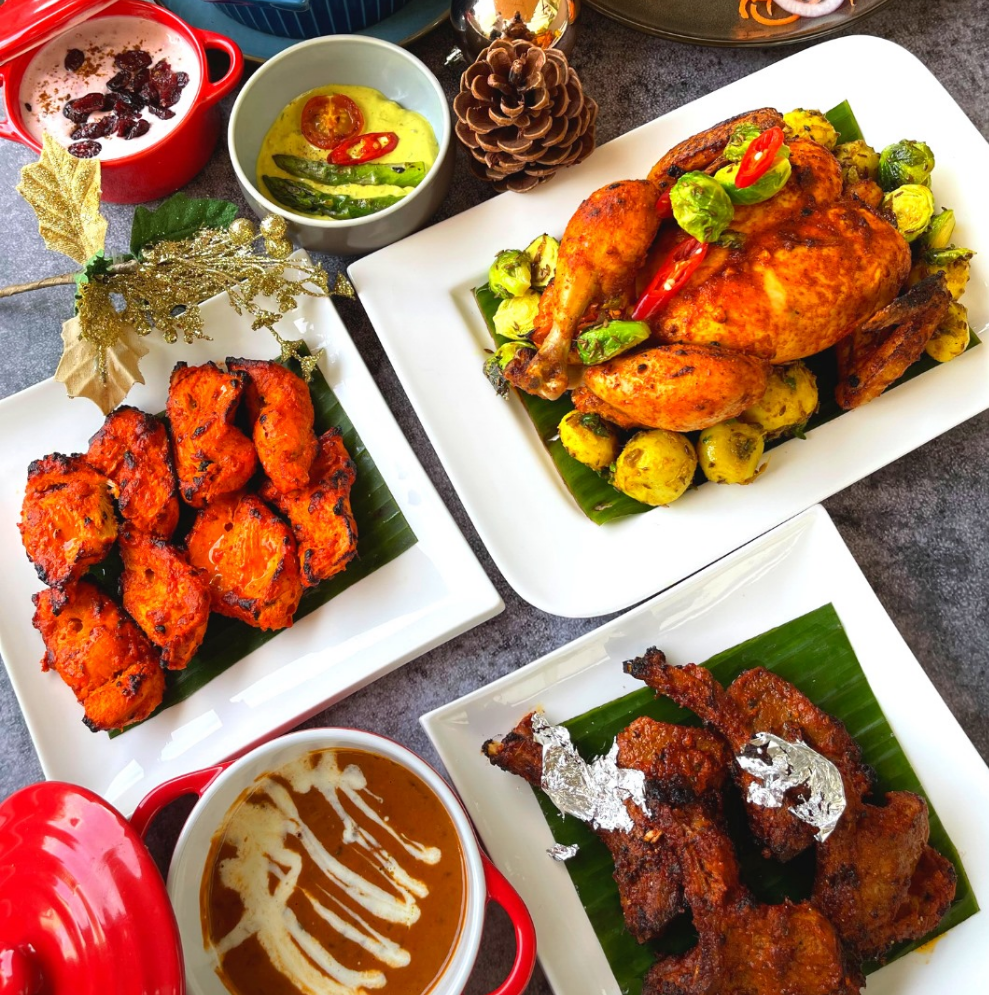 BEST FOR
Traditional and Contemporary Fine Dining Indian Cuisine
PRICING
Menu
WEBSITE
https://www.yantra.com.sg/
ADDRESS
163 Tanglin Rd, #01-28/33, Singapore 247933
CONTACT DETAILS
(+65) 6836 3088 | [email protected]
OPERATING HOURS
Monday – Friday | 12:00 PM – 3:00 PM, 6:30 – 10:00 PM
Saturday – Sunday| 12:00 PM – 3:00 PM, 6:30 – 10:30 PM
The taste of Yantra is defined as Indian cuisine in which every dish is a history book on a plate. In between chapters you might find dishes that are mashups of both traditional and contemporary techniques.
Yantra's menu offers a wide variety of Indian cuisine that has a balance of both traditional and contemporary items. The best part is that their menu is inclusive for vegans. Of course, such luxurious dishes should only be served through a fine dining experience.
Apart from the artful Indian fusion found within the menu, the interior of Yantra does not fall behind. The restaurant is set up with wide tables with plush velvet couches and you may even find art hangings on the walls that capture the traditional cultures of India.
Service Highlights
Intimate dining experience
Home Delivery
Offers Cocktails and Drinks
Offers vegan and non-vegan menu
Customer Reviews
Yantra is a highly luxurious restaurant found within Tanglin mall. This is according to the reviews left on Google.
Read this review on Google left by Hammad Mohammed:
"Excellent authentic Indian food and some of the best service I've had in Singapore. The whole staff was attentive and very friendly. As soon as you walk in the luxe interiors and ambiance, smoky smell of the tandoor oven wraps around you and the food doesn't disappoint. Best Galauti kebabs and grilled Lamb i have had in singapore. Would definitely recommend Yantra and come back again."
Here's another review left by Sam Reeves:
"Excellent high end Indian food in a very nice restaurant. Service is great, friendly chef. Highly recommended and definitely going back soon."
And with that, we wrap up our list of the best Indian restaurants in Singapore.
We hope our list has helped you with your late-night Indian food cravings and you will no longer have to ask where the best Indian restaurant is near me (or you!)
Remember, the best way to learn about a certain culture is to explore their native cuisines so make sure to visit these top restaurants and have fun sampling as many things as possible!
Oh, and if you want to try other cuisines of the world right on the island, check out our other lists for foodies. For example, we have a roundup of the best Japanese restaurants in Singapore and one for the best Thai restaurants in Singapore too!