The 7 Best Hostels in Singapore
Planning for a long vacation and not sure where to stay? Then you need to plan ahead and look for the best hostel in Singapore!
As we all know, Singapore has countless tourist attractions, which is why it also has no shortage of hostel accommodations. To find the best one, there are some things to consider — such as the location, facilities, and accommodations.
We've taken note of these factors and listed the best hostels in Singapore that have accessible locations, excellent amenities, and top service. See our list below to know more about their offered services, prices, and more!
1. Dream Lodge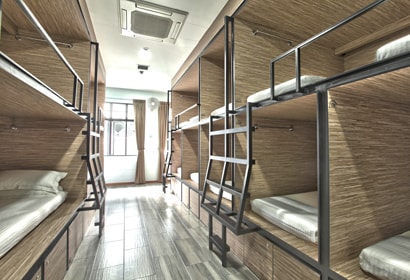 Dream Lodge features a community-style inn for travellers who love meeting and socializing with different people. Being located in one of the oldest districts in Singapore, it gives you a chance to explore a lot of classic and new tourist spots around the area.
With their full range of services and excellent facilities, they provide almost everything that you need. You can choose between single pods or couple pods in which all are in the mix dorm.
However, if you'd prefer to stay in an all-girls room, they have single pods in a female dorm. Each pod is complete with functional features such as LED lights for reading, privacy curtains, orthopaedic mattresses, bath towels, and personal lockers.
They're also near public transportation, making it more convenient for you to follow your itinerary.
Highlights
Free daily breakfast
Free PC terminals use
Printing services
Discounted attraction ticketing
Customer Reviews
Many customers have claimed Dream Lodge to be the best hostel in Singapore because of their great facilities and accommodating staff. A customer left this feedback on Google Reviews:
"The BEST hostel I have ever stayed at. First of all this place is immaculately clean. There is absolutely no lingering smells from anywhere including the mixed dorms or bathrooms. The front desk and cleaning staff are incredibly kind and helpful and even the guests were very polite and conscious of others. I would literally live here if I could."
2. Adler Hostel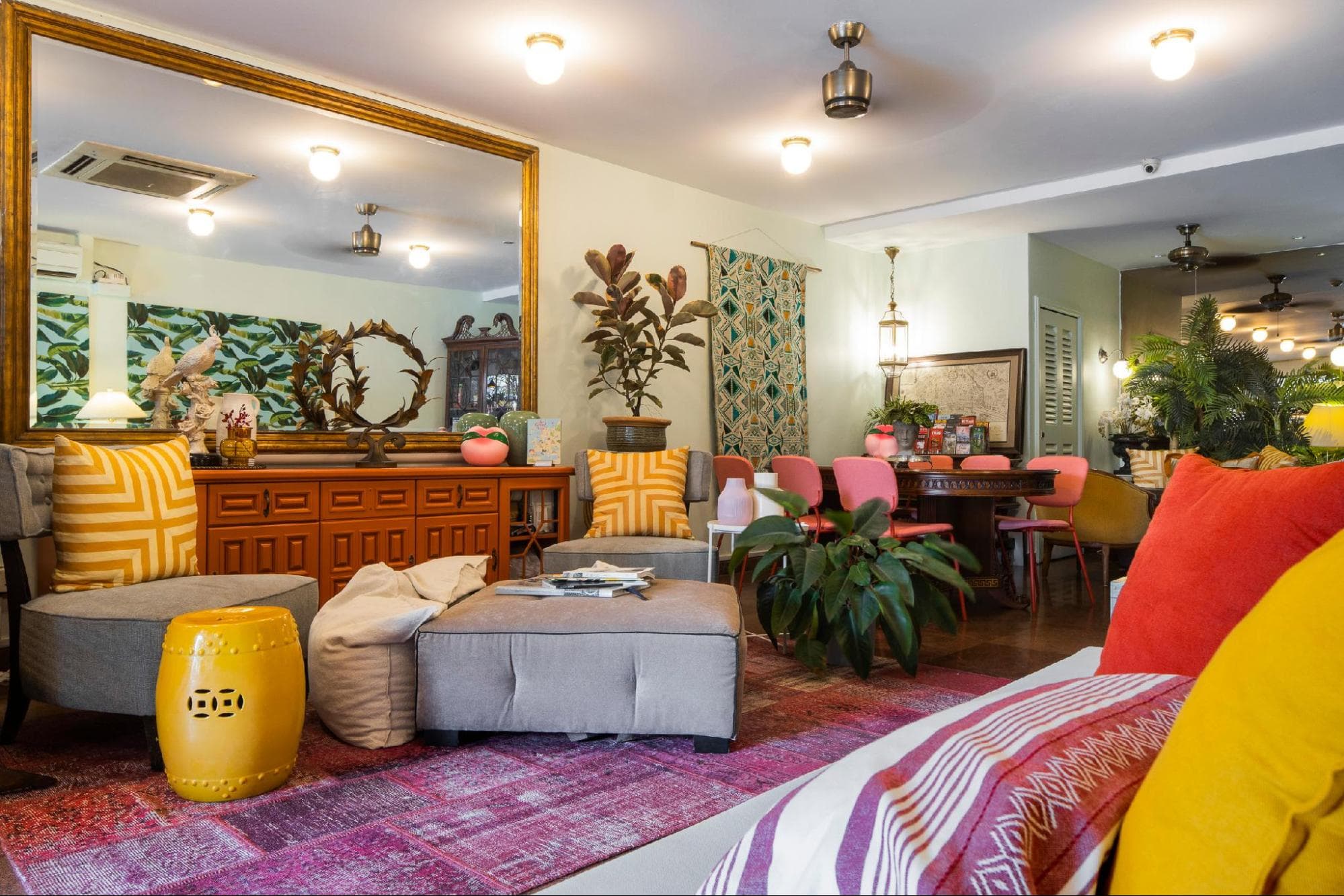 | | |
| --- | --- |
| BEST FOR | Artistic and vibrant style |
| WEBSITE | https://www.adlerhostel.com/ |
| ADDRESS | 259 South Bridge Road Singapore, 058808 |
| CONTACT DETAILS | +65 6226 0173 |
Adler Hostel is decorated with artistic interiors that perfectly complement the festive vibe of Chinatown, where the hostel is located. Just from a glance at the lobby, rooms, and facilities, you can instantly see that the place is filled with a cosy yet vibrant ambience.
You can also enjoy some street-side dining at their coffee bar in which you can enjoy some weekly social events. All of their cabins have comfy large beds and sheets, fluffy pillows, complete bath amenities, and free Wifi.
Highlights
Gourmet coffee tea
Laundry butler
Customer Reviews
Most customers had a wonderful experience at Adler Hostel and also appreciated it being located near shopping and dining areas.
This is why they're one of the best hostels in Singapore. A customer from Google Reviews wrote:
"The location is unbeatable! We were in the heart of Chinatown, so every type of food and shopping was available. I stayed in "bed in ivory" in the mixed dorm & the space exceeded my expectations. There was plenty of room for my things and I felt at home in my private space. Thanks for the comfortable stay."
3. Golden Hostel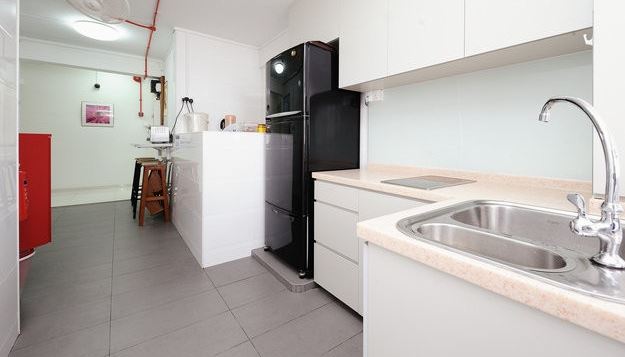 | | |
| --- | --- |
| BEST FOR | Simple yet functional facilities |
| WEBSITE | https://www.hostelgolden.com/ |
| ADDRESS | Block 146,#01-1088, Jalan Bukit Merah, Singapore 160146 |
| CONTACT DETAILS | +65 91447823 |
For those who prefer simple yet functional lodges, Golden Hostel might be the best hostel in Singapore for you! They're fully equipped with air-conditioned rooms, electric fans, free WiFi, lockers, mini-library corners, laundry, and more.
There's also no curfew. Other services such as photocopying, scanning, and laminating are also part of their services.
Highlights
No curfew
Bicycle and car park
Customer Reviews
Customers praised the safe and clean facilities of Golden Hostel, one of the reasons why they're considered to be the best hostel in Singapore. A customer recommended their services and posted this feedback on Google Reviews:
"Excellent hostel, very clean and well maintained. Good facilities, and location is ideal. Bus stop to all major areas and train lines outside, and a big local shop with hot food places too just next door. The owners are extremely friendly and helpful, felt very welcome there especially the mum Mei Ling. 10/10 recommend to anyone backpacking or visiting Singapore."
4. Cube Boutique Capsule Hotels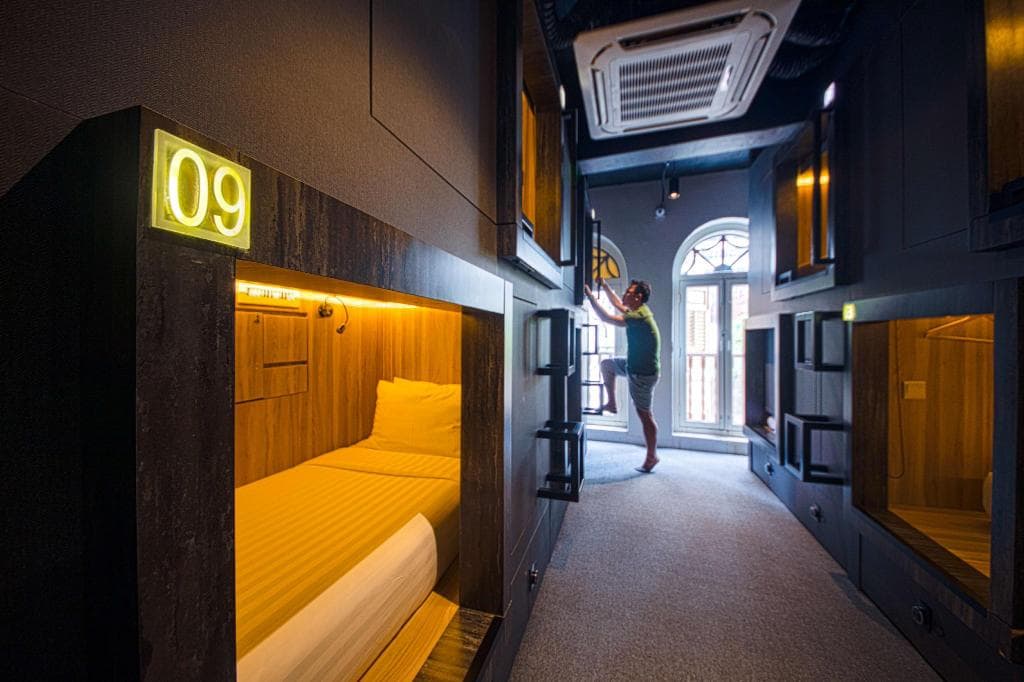 Cube Boutique Capsule Hotels are located on Chinatown and Kampong Glam, so you can choose which of the two locations is preferable. The best thing about them is that they feature a compelling combination of hotel facilities and shared community accommodations.
They take pride in offering a whole set of services for those who are on a business trip or a personal travel venture. Their rooms display elegant and sophisticated interiors along with fully cleaned facilities.
Highlights
Airport shuttle services
Individual bathrooms
Maintenance services
Special promotions
Customer Reviews
Cube Boutique Capsule Hotels has gained plenty of positive reviews because of its excellent management and overall services. That's why some named the place to be the best hostel in Singapore.
"This is my one of the best experience. I never tasted this kind of things ever before. Thanks for the service And management has playing vital for providing best for theit customers. I'll definitely suggest to my friends and family."
5. Coo Hostel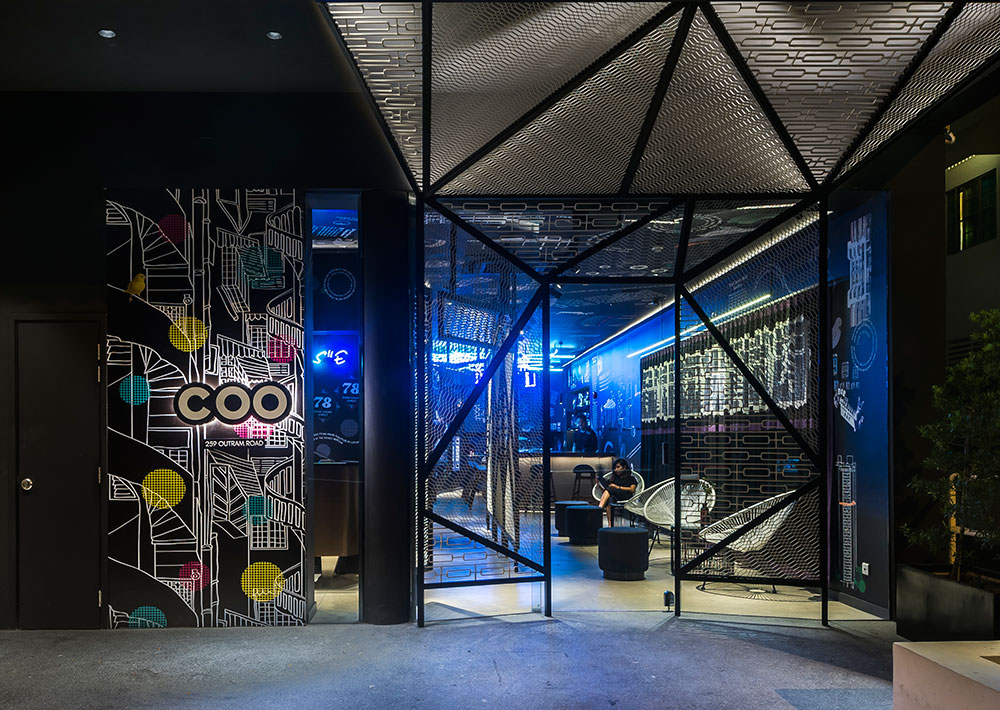 | | |
| --- | --- |
| BEST FOR | Youthful and hip style |
| WEBSITE | http://www.staycoo.com/ |
| ADDRESS | 259 Outram Rd, Singapore 169056 |
| CONTACT DETAILS | +65 6221 5060 |
Coo Hostel is designed with a very modern and hip style. The community lodge is filled with fun and stylish interiors, giving off a cosy and youthful vibe.
Each bed features a private locker, lamp for reading needs, universal socket, WiFi access, and more. You can also choose between an ensuite or shared toilet.
Highlights
Female-only rooms available
Free bicycle rental
Customer Reviews
Customers were impressed by the interiors and great facilities of Coo Hostel, which is why they're one of the best hostels in Singapore. A customer from Google Reviews wrote:
"Great value for money. One of the most modern hostels I've seen and fits right in with all the good architecture and design in Singapore. The bed is similar to a capsule and the mattress is comfortable. Showers are well kept, there is cold drinking water to refill your water bottle, the staff is helpful. It's not really central but it's near Chinatown which has some good food places. Would recommend."
6. River City Inn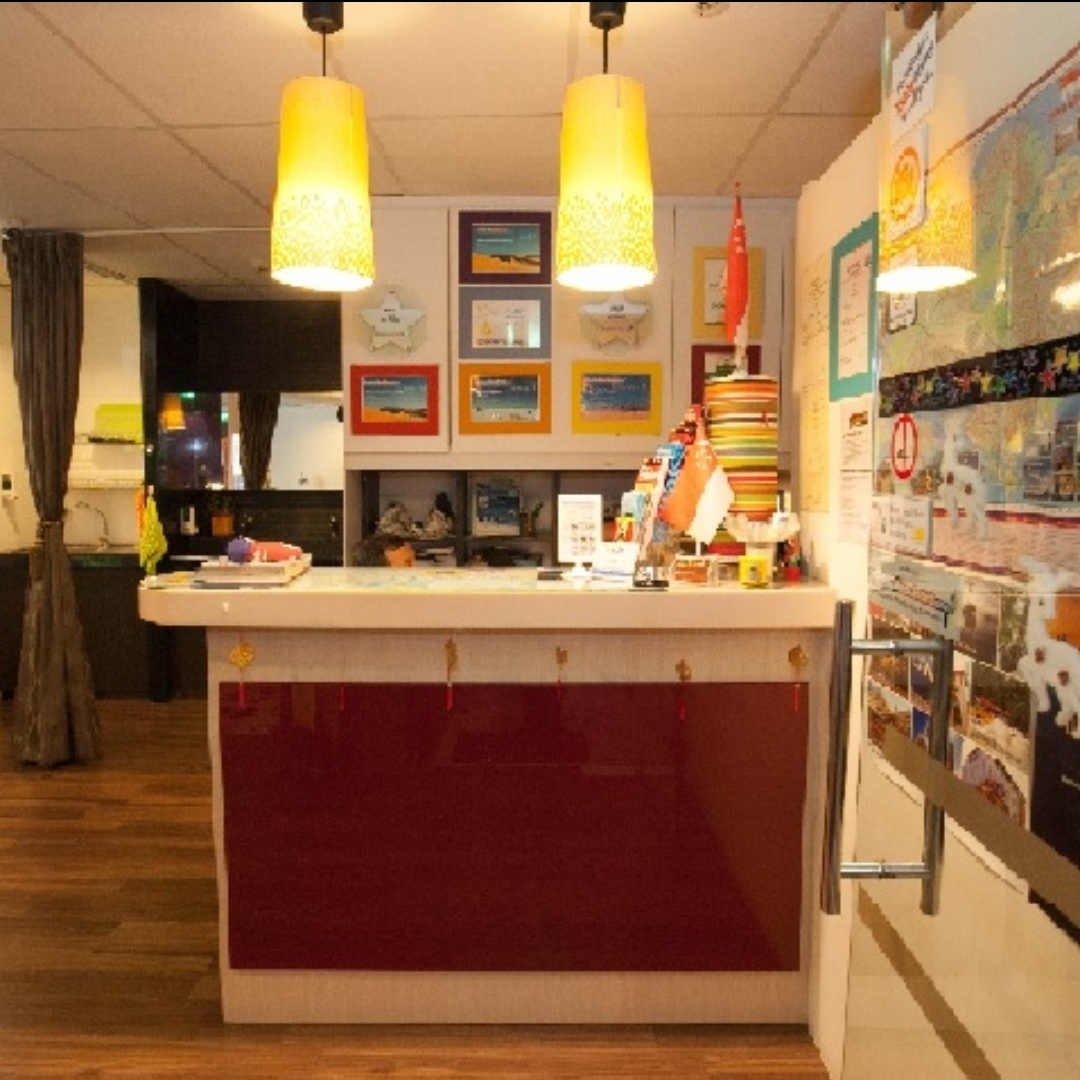 River City Inn is owned by a family of travelers who aim to provide the best accommodations for travelers like them, for a cheaper price. They know how hard it is to find something more than decent that doesn't cost much, so they created such a place for others.
Some of the amenities they offer are free Wi-Fi, clean sheets, good breakfast, air-conditioning, and so much more– all to ensure that your stay at their hostel is the best it can be. With River City Inn, you won't have to worry about compromising high quality facilities for cheap rates, as they can provide both!
Highlights
Female-only rooms available
Private rooms
Free Wi-fi
Customer Reviews
Read what previous customers have to say about River City Inn's amazing customer service and amenities:
"The hostel was clean and organized. There is a nice common space. The staff was very wellcoming and helpful. I enjoyed my stay very much!"
7. Rucksack Inn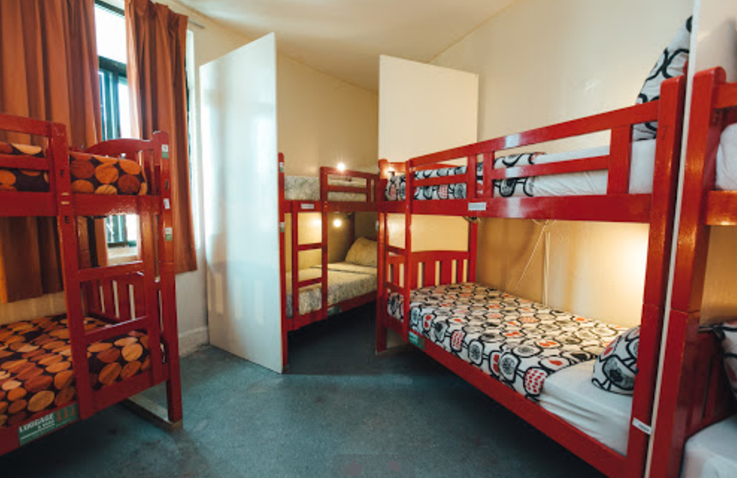 | | |
| --- | --- |
| BEST FOR | Accessible location |
| PRICING | |
| WEBSITE | |
| ADDRESS | 280 Lavender St, Singapore 338800 |
| CONTACT DETAILS | +65 6295 2495 / [email protected] |
Strategically built in the heart of the city, Rucksack Inn is the perfect place for travellers who are looking for an affordable home away from home during their visit to Singapore.
They've got different room types to choose from – pods, dorms, family rooms, and private en-suite rooms catering to solo, couples or groups travellers. Not only that, but the hostel's clean bathrooms are also much appreciated by travellers too!
Chill out and wind down at the amazing rooftop patio, offering you a great respite after a day of exploring.
To add on to all their amazing features, you can also enjoy free wi-fi to post your memorable pictures on social media! Truly a recommended hostel in Singapore, make sure to check in to check them out!
Highlights
Fast internet
Variety of room types catering to different needs and budget
Clean bathrooms
Security access
Customer Reviews
Customers rave how Rucksack Inn is the best accommodation in the vicinity, being in the heart of the city and accessible to multiple leisure and travel spots. Check this review out for a more in-depth description:
"I can highly recommend this place, they have everything you need, clean rooms, wifi, respecting resting time, so nice and quiet to sleep. In the same time good atmosphere, great vibe, you can meet nice people. They have 3 different entrances with many floors and rooms, really cozy. The best thing is the staff. They helped me in all my things even if it wasn't so connected to the hotel. All the staff is very very kind! have seen the cleaning process many times, which made me calm and happy too."
And that's our list of the best hostels in Singapore. Have you already figured out which one is nearest to all of your planned itinerary stops? Let us know and share with us your travel experience — we'd love to hear about your adventure!
For more affordable rates, these best budget hotels in Singapore offer a complete range of facilities at cheaper prices! So if you're on a tight travel budget, you can still experience a fun-filled adventure with these accommodations.