The 6 Best Hair Curlers in Singapore
Are you searching for hair curlers that can give the luscious locks you've always wanted? Well, consider yourself lucky because we're making a rundown of the best hair curlers in Singapore, recommended to us by hair experts and hairstylists.
We made sure to include a wide variety of the best hair curlers in Singapore to cater to different hair types, preferred hairstyles, and budget. You will definitely find something in here that perfectly fits what your hair needs.
Anyway, before we reveal our picks for the best hair curlers in Singapore, we want to share a few tips that will help anyone find the right hair curlers for them. No one wants to spend money on an item that isn't capable of giving what they need, right?
If you already know what to look for, then feel free to jump right ahead to our list of the best hair curlers in Singapore.
How to Buy the Best Hair Curlers in Singapore
If there's something you need to know about hair curlers, it's that looking for the right one is far from easy because of the thousands of options to sift through. Worry not though, because we made it a bit more convenient for you.
We don't recommend dropping by a store and picking the first one that catches your attention because hair curlers are personalised tools built for different types of hair.
One of the common mistakes that people commit is purchasing the wrong hair curler for their hair type and texture. To prevent this from happening, here are some of the factors you need to keep in mind:
1. Type
There are four common types of the best hair curlers in Singapore: ceramic, titanium, tourmaline, and gold plated. All these can get the job done but differ in terms of price and durability.
Ceramic remains the most common hair curler material. It's mostly used in salons because apart from being durable, it can spread heat evenly and smooths out the hair.
We recommend going for ceramic hair curlers if you have thin hair that can't handle high temperatures. Those with thicker hair are perfect for titanium hair curlers because they heat up a lot quicker, but heat up from the outside instead.
Another hair curler type perfect for those with thicker hair is the tourmaline hair curler. We found that hairstylists use it for their clients with thick hair that's a bit difficult to manage.
When it comes to affordability, we have to say that gold-plated hair curlers take the top spot. They're best for thick and coarse hair.
However, they're the least recommended option by hair experts as they're incapable of balancing the heat evenly over the entire blade.
2. Barrel size
Hair curlers come in different barrel sizes, with each being perfect only for mostly one to two hair types. You need to be extra careful when checking the barrel size because you might end up with one that doesn't suit what your hair needs.
A 3/4-inch barrel size is commonly used for creating tight ringlets which are best achieved with short and fine hair. It's also recommended for those with naturally curly hair who want to improve how their curls look.
On the other hand, a one-inch barrel size is an all-rounder hair curler that works best with all hair lengths and texture. It's usually used by hairstylists to create classic curls and create more defined curls.
If you have medium-length to long hair, we suggest going for either a 1½-inch or 2-inch barrel size. It's easier to curl longer hair with either as the full-length of your hair can fit the likewise length of the barrel.
3. Heat settings
The heat is crucial to make sure that your curls last for hours. It's worth noting that automatically going for hair curlers with higher heat levels isn't the wisest idea as it can do more damage than good.
If you have thin, damaged, or chemically-treated hair, never use a heat setting that goes above 149 °C to prevent further damage or totally frying your hair.
Those with healthy and medium-thick hair can afford to go all the way to 193 °C, while those with coarse and naturally curly hair can bring the heat settings up until 232  °C.
Never go beyond 232 °C regardless of your hair type, unless you want irreparable damages to your hair.
The Best Hair Curlers in Singapore
Anyway, now that you know how to look for the best hair curlers in Singapore, it's time to go over which ones we think are worth spending on.
Let's start off our list with the most affordable option we could find!
1.   Pritech 3 Barrel Hair Curler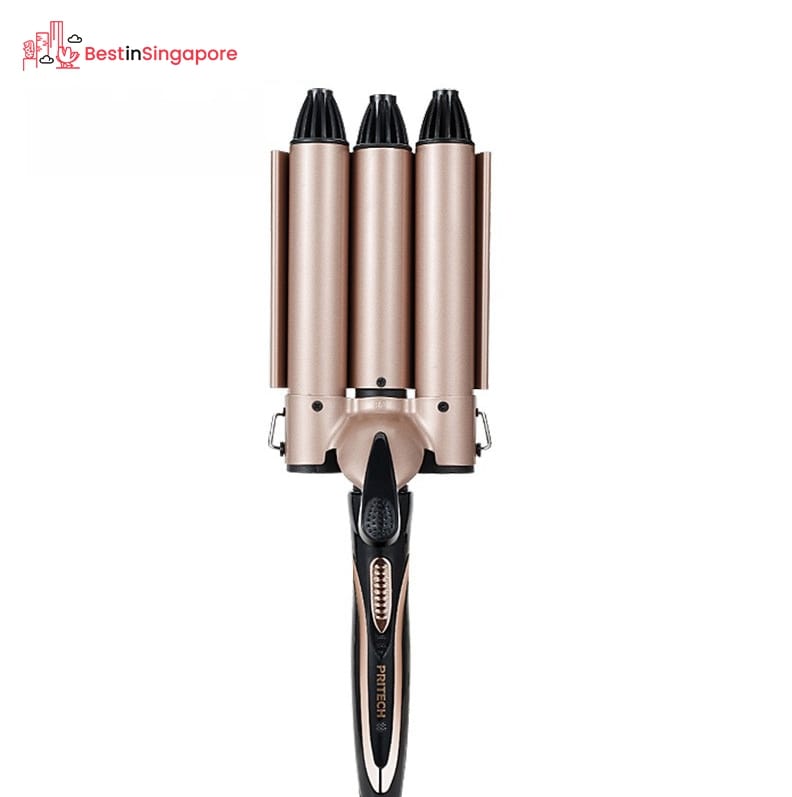 Price: S$28.19
The Pritech 3 Barrel Hair Curlers prove that there's no need to spend a lot of money to achieve your desired curls and locks. It's one of the cheapest hair curlers on the island, costing no more than S$29.
One of the most striking features of the Pritech 3 Barrel Hair Curlers would have to be its 3 barrels which make it easier and more convenient for you to have mermaid-like curls. There's no need to twirl your hair around the barrel, just simply clamp it onto your hair and hold for at least 30 seconds.
Another reason we consider it one of the best hair curlers in Singapore is its quick heating time of 1 to 2 minutes. If you're always rushing in the morning preparing for work or school, then getting your hands on the Pritech 3 Barrel Hair Curlers will help you get ready in no time.
The Pritech 3 Barrel Hair Curlers is highly recommended for those with medium-length and long hair. Its minimum heat setting is 160 °C while the maximum is 220 °C.
Pros
Affordable
3 barrels
Convenient to use
Cons
Questionable durability
Limited temperature setting
2.   Philips Stylecare Curler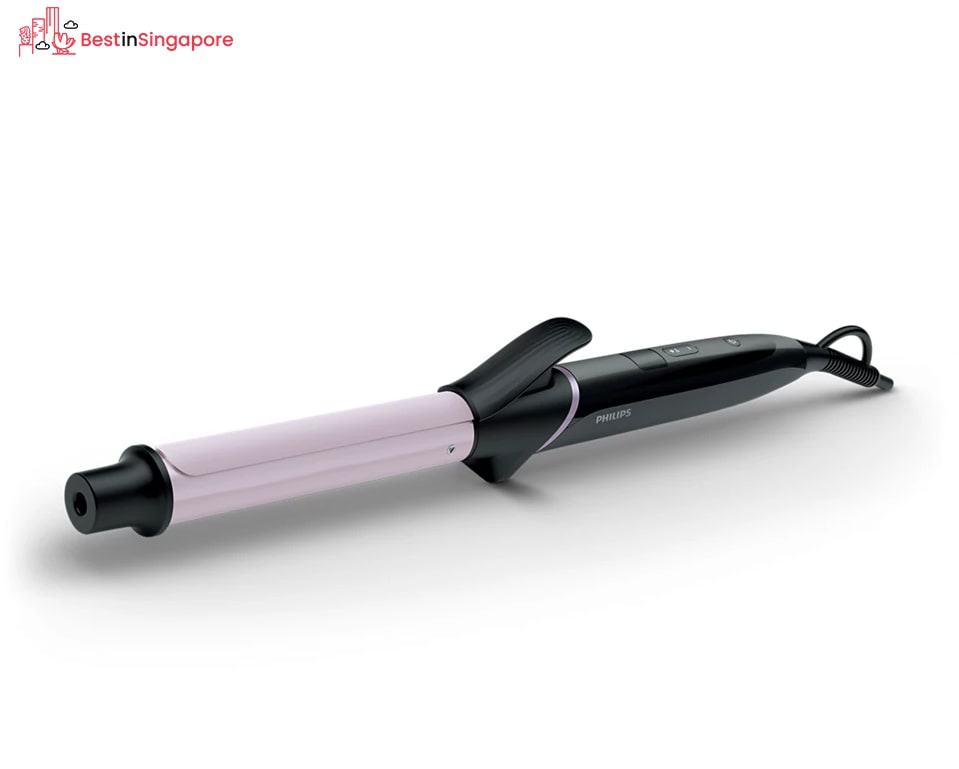 Price: S$55.00
Since Philips is one of the most trusted names when it comes to home appliances, we couldn't help but include one of its hair curlers in our list. Here's the Philips Stylecare Curler, and we believe that it's among the best hair curlers in Singapore.
For one, it comes with a ceramic-coated barrel which prevents hair damage during styling, while keeping your locks and curls looking gorgeous and strong. It's also infused with tourmaline to make curls extra smooth and shiny.
The Philips Stylecare Curler has a 1-inch barrel which is perfect for a variety of hair length and texture. You don't have to worry about spending money on a hair curler that doesn't match your hair's length and needs.
In terms of safety, the Philips Stylecare Curler has a total of 8 temperature settings that give users absolute control over the heat level to prevent hair damage. It's equipped with an automatic shut-off feature that's designed to keep users safe.
Every purchase of the Philips Stylecare Curler comes with a 2-year worldwide warranty to ensure that you will be able to use it for the years to come. In case there's an issue, you won't need to spend money to have it repaired.
Pros
Affordable
2-year warranty
8 temperature setting
Safety features
Cons
Limited features
Lightweight; feels flimsy
3.   Braun Satin-Hair 7 Hair Curler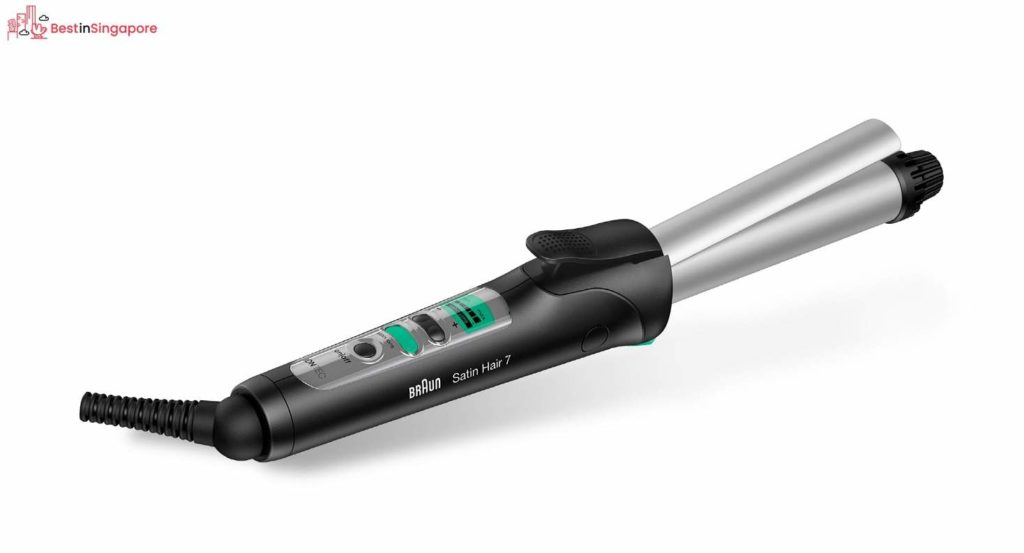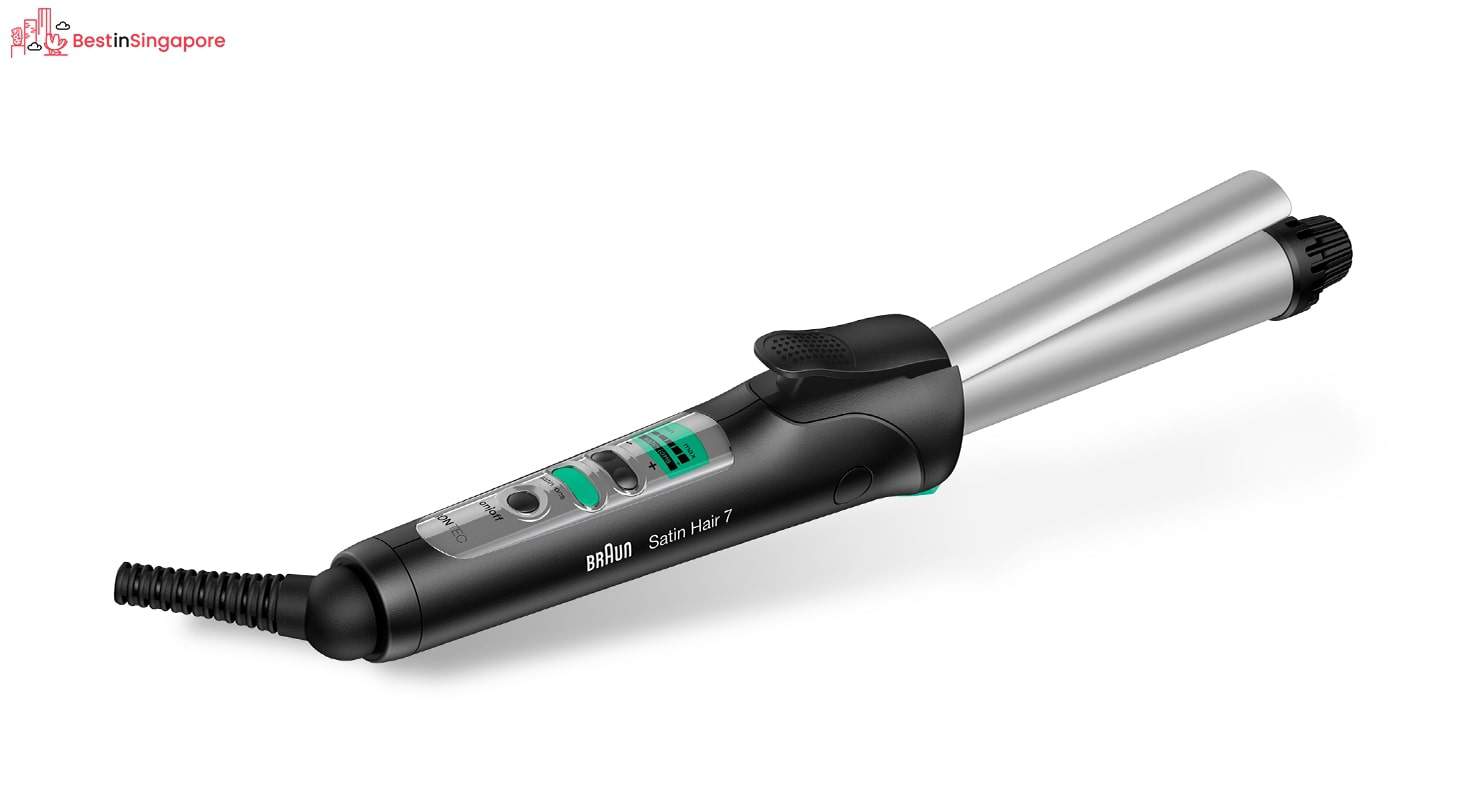 Price: S$119.00
If you're looking for a hair curler that's trusted by regular users and professional hairstylists alike, then look no further than the Braun Satin-Hair 7 Hair Curler. We're not surprised that most users call it one of the best hair curlers in Singapore due to its minimal heat damage.
One of its top features would have to be its IONTEC Technology which adds shine and smoothens the hair while reducing frizz. Most stylists strongly recommend it to those with coloured, thin, and delicate hair.
It may be a bit expensive compared to our previous picks, but the Braun Satin-Hair 7 Hair Curler is a perfect match for all hair types and texture. It's built with multiple heat settings that start at 135°C and can reach up to 185°C.
In terms of build, the Braun Satin-Hair 7 Hair Curler is coated with ceramic that prevents hair tips from getting fried. Its LED display makes it easier for the users to adjust the temperature to what works best for them.
Pros
LED display
Temperature boost button
For all hair lengths and types
Minimal heat damage
Cons
Expensive
Limited temperature levels
Customer Reviews
Let's take a look at what customers who bought the Braun Satin-Hair 7 Hair Curler have to say:
"The Braun curling iron is very well made and is easy to use. It heats up quickly and 3 heat settings can be set. I have thick, naturally curled, shoulder-length hair. I use the curling iron to curl the top hairs more defined. The strands are perfectly twisted, even without a heat glove, and after a few seconds the hair is beautifully curled generously. They look very natural, like beach waves, since the diameter of the heating rod is not so small."
"The curling iron is sooooo beautiful. Small but nice. I really like the fact that you can adjust the hair thickness. The curling iron quickly warms up, so you do not have to wait long. Beautiful curls (I have thick hair) will conjure up the curling iron. It's also very handy,= which is perfect."
4.   Jose Eber SOLO Hair Curler
Price: S$230.00
If you're after a portable hair curler that can be used anywhere, then we recommend taking a look at the Jose Eber SOLO Hair Curler. It's a compact and handy hair curler that will fit perfectly inside anyone's bag.
It may be a lot smaller compared to other standard curlers, but it definitely gets the job done. One user even commented that her curls stayed in place after a long bike ride where the wind was constantly blowing against her face.
Its barrels use PTC technology to evenly distribute heat, providing users with stronger and smoother locks. It's capable of locking in moisture as well, so rest assured that your hair won't feel dry just after a few hours of using it.
Every purchase of the Jose Eber SOLO Hair Curler includes clipless and interchangeable 1-inch barrels, perfect for all hairstyles and textures.
It comes with precise digital temperature control that puts the user in control of the temperature at all times, preventing any hair damage.
Pros
Digital temperature display
Compact and lightweight
Professional-length power cord
Cons
Expensive
Limited features
5.   Dyson Airwrap Hair Styler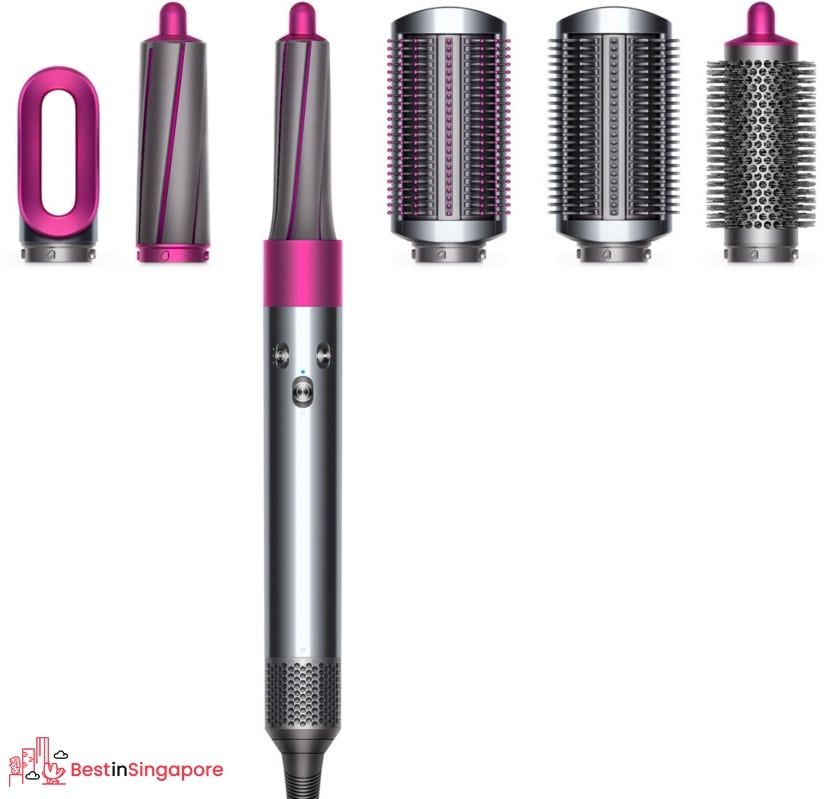 Price: S$649.00
The Dyson Airwrap Hair Styler is the most expensive hair curler in our list, but you will definitely get more out of it because it can do more than just hair curling. It can straighten, smoothen, and give the hair more texture as well.
One of the reasons we consider one of the best hair curlers in Singapore would have to be the fact that it's designed for multiple hair types. Even if you have the thinnest and most damaged hair, the Dyson Airwrap Hair Styler can style it without increasing the damage.
The Dyson Airwrap Hair Styler comes with 1.2-inch and 1.6-inch barrels for curling and 2 smoothing brushes for straightening your hair. It's equipped with a volumising brush and a pre-styling dryer as well.
Another feature we like about The Dyson Airwrap Hair Styler is the intelligent heat control feature that measures airflow over 40 times per second. It controls the heating element to ensure that the temperature doesn't go beyond what's required.
It may have an attractive temperature control feature, but the Dyson Airwrap Hair Styler doesn't solely depend on heat to style the hair. If you're in the mood to straighten your hair, all you have to do is use its brush and run it down your hair.
Pros
Multifunctional hair styler
Intelligent temperature control
For all hair types and lengths
Can be used to straighten hair
Cons
Expensive
Recommended mostly for hairstylist
Customer Reviews
Take a look at some of the positive feedback shared by its users:
"There are not many things I get super excited about, but this styler definitely exceeded all my expectations. My hair has never looked or felt so good!! I do not have the time or patience to spend hours styling my hair, this product allows me to look good in around 20 minutes from start to finish!!!"
"Finally made the investment and have not regretted it one bit. I was never able to use a curling iron so the learning curve was minimal, but with huge reward. My hair retains the curl much longer and dries much quicker than using a conventional blow dryer and curling brush. So happy I made this purchase. true to other dyson products, this one does"
Price: $39.99
If you're looking for a high quality and durable curler to use, then purchase Pritech's Hair Curler! It offers six different heat settings for different hair types to avoid damaging your locks, and can be used as fast as 30 seconds after plugging it, ensuring that you can achieve your desired look in no time.
What's more is that it also has an LCD display for easy view of the temperature. The cord also has a 360 degrees swivel for better use.
Head on to their website and buy it before stocks run out.
Pros
Avoid Waste Time
Easy to Use
12 Months Warranty
Heats up at 30S quick
Cons
Limited colors available
Heavy, not for traveling
And with that, we conclude our list of the best hair curlers in Singapore. Have you made your choice? Tell us all about it in the comments below!
If you know other hair curlers that should've been part of our list, share them with us and we'll check if we can add them to our list.
If you want to get your hands on hair straighteners as well, you might want to read our list of the best hair straighteners in Singapore. Just like this one, we feature a wide range of straighteners in that article!