The 5 Best Gaming Monitors in Singapore for Every Gamer
At first glance, almost all of the gaming monitors on the market seem impressive. As a gamer on the lookout for the best deal, how can you know which one fits your needs the most?
We can help you with that! We have a list of the very best gaming monitors in Singapore in today's article. We've even covered some FAQs about the topic.
But before that, we'll also take you over the key factors to consider when choosing a monitor. This way, you can decode the specs listed for each option.
How to Pick the Right Gaming Monitor
Each gamer has a specific set of features that they're looking for in a gaming monitor. For example, a casual gamer doesn't usually need high-end specs to enjoy the game.
Meanwhile, pro gamers would want ultra-HD resolution and super-fast refresh rates.
To make your shopping much easier and faster regardless of which type of gamer you are, we've made a guide to the most important things that you should look out for.
1. Size and Resolution
When choosing the monitor size, most people think that a larger screen will always be better. This isn't always the case.
Think about it: if it's too big, then you may have to move your head often just to see the full view. That's why you need to know how to choose the right size.
For gaming purposes, monitors with a size range between 24-inch to 27-inch are the most recommended. Since you'll be sitting a few meters away from the screen, this size range will allow you to comfortably see everything at once.
You also have to remember that your monitor must fit in your desk area so determine first how much space is allotted for your screen display.
Meanwhile, the resolution you need mostly depends on your PC's GPU (Graphics Processing Unit) and the estimated budget you have.
A higher resolution is indeed more preferable as it delivers clearer visuals. However, it also comes at a higher price and requires a powerful graphics card.
The most common resolutions used by gamers are 1080p, 1440p, and 4k. For a 27-inch and below screen display, it's best to choose a 1080p resolution — this combination is also a budget-friendly option for everyone.
If the monitor size you're considering is above 27 inches, then it'd be wise to pick 1440p resolution. Listed below are the most optimal size/resolution pairs.
24-inch or smaller: 1920×1080
27-inch to 32-inch: 2560×1440 and 3840×2160
32-inch or bigger: 2560×1440 and 3840×2160
25-inch to 30-inch ultrawide: 2560×1080
34-inch to 35-inch ultrawide: 3440×1440
38-inch ultrawide: 3840×1600
43-inch super-ultrawide: 3840×1200
49-inch super-ultrawide: 5120×1440
2. Refresh Rate
For those who've never bought a gaming monitor, refresh rate might not be a familiar term in the specs list. This feature just refers to the number of times that a monitor refreshes the image on the screen.
Therefore, a higher refresh rate means that fast-moving images will become sharper and gameplay will become smoother, giving you a more responsive gaming experience.
Monitors support 60Hz, 120Hz, 144Hz, or 240Hz refresh rates. The top suggested refresh rate for gaming monitors is 144hz.
A higher rate like a 180Hz monitor will be a good choice only for hardcore gamers. Meanwhile, a 60Hz monitor best suits casual gamers.
The refresh rate is also associated with FPS (Frames Per Second). For instance, if your graphics card can render 100 frames per second but you only have a 60Hz monitor, then you can only see 60 pictures from your display.
If you need a higher refresh rate, make sure that your graphics card can meet the high-end specs.
3. Response Time
Most people often confuse response time with refresh rates but they're completely different. If the refresh rate is the total amount of times a monitor refreshes the image, response time refers to how quickly the monitor can change from one picture to another.
When playing any game, every second counts so your monitor must be able to display every scene clearly and quickly. So if the response time is quite slow, the visuals will be delayed, causing your game to be interrupted.
Unlike refresh rates, higher response time will do no good. So look for a monitor that has the lowest response time – such as the ones with 1ms response time.
If you're into fast-paced games like FPS (First-Person Shooter) games, it's advisable to have a monitor with 1ms response time. For gamers who need better colour quality, 4ms response time can be a good option.
4. Panel
Response time is related to the monitor's panel. Some panels provide a beautiful array of colours but have slow response time; some are more responsive but have low colour quality.
Panels are categorised into 3 different types including IPS, TN, and VA. Each has its pros and cons.
TN (Twisted Nematic) – This panel offers super-fast response times and high refresh rates, which is what FPS gamers need. It's also the only panel that can reach 240Hz.
Compared to the other types, it has low power consumption and is the least expensive as well. However, the colour accuracy isn't great and viewing angles aren't wide enough as well.
It's also rarely found on most monitors in the market. So you might want to avoid this kind of panel despite its fast response time and refresh rate.
VA (Vertical Alignment) – This one has a better contrast ratio, viewing angles, and colour accuracy than a TN panel. It produces more vivid details, be it in dark or bright shades.
Whenever there are dark scenes, you can still clearly see all the details due to its high contrast ratio. So, for those who love to watch movies or play horror and adventure games, this panel is a great choice.
When it comes to response time performance, however, it's not the best type to choose. Though it delivers higher refresh rates, this panel has some noticeable ghosting issues.
For casual gamers, the ghosting is tolerable… But for competitive gamers and those who often play fast-paced games, it's wise to consider other panels.
IPS (In-Plane Switching) – Out of all the panel types, IPS has the greatest viewing angles, colour accuracy, sunlight visibility, and longest lifespan too. This is why it's known for providing a high-definition display, making it a smart choice for gamers and designers who value visual quality.
It has a response rate of less than 5ms, which mostly meets the needs of every gamer. So if you like to play FPS games, this is a great choice for you.
Unlike VA panels, there are no ghosting issues when playing fast-paced games here either.
The main drawback with this panel is the apparent glow on the corners of the screen, which can be bothersome during dark scenes in the game, especially if you prefer playing with dim lights.
It's also more expensive than the other two panel types and has higher latency as well as inefficient power consumption.
5. FreeSync and G-Sync
Lastly, there are two different technologies that you must be aware of: FreeSync and G-Sync.
These aren't exclusive of the other types we just mentioned. A G-Sync monitor can be a TN panel or an IPS panel, for instance. Hence, they're better seen as alternative categorisations.
These technologies can be confusing at first as they're highly identical — they're both developed methods used to remove screen tear problems.
However, they have their own pros and cons. FreeSync is from AMD and it produces smooth and crisp graphics. The best thing about it is that it doesn't require specialised hardware to operate, it only needs compliance with the newest DisplayPort standards.
It's also much cheaper than G-Sync monitors. The only drawback of it is that it's not suitable for 4k gaming so if you do enjoy playing games at standard quality, then FreeSync is a cost-effective option you can have.
Keep in mind that it's also only compatible with AMD GPUs and FreeSync compatible displays.
Meanwhile, G-Sync is from Nvidia and unlike FreeSync, it requires a specific type of hardware installed on the monitor. It offers powerful specs, is compatible for 4k gaming, and has low latency.
For pro gamers and those who want to level up their gaming skills, G-Sync monitors are excellent equipment. Also, take note that they only work with G-Sync enabled NVIDIA graphics cards.
The Best Gaming Monitors in Singapore
It's now time to see our top picks: here are the best gaming monitors in Singapore!
Read our list below to know more about their specs, prices, and reviews.
1. Acer Predator CG7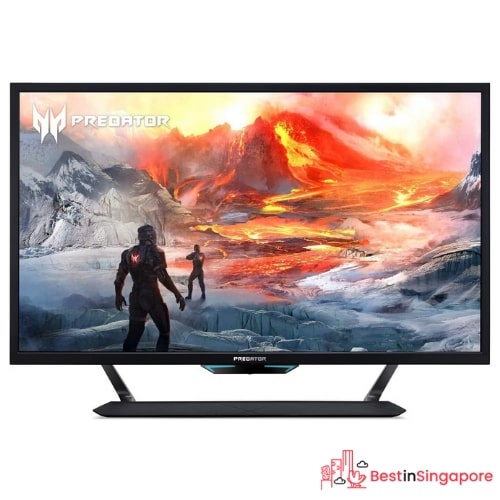 | | |
| --- | --- |
| Resolution | (4K UHD) 3840p x 2160p |
| Size | 43-inch |
| Refresh Rate | 120Hz |
| Response Time | 1ms |
| Panel | IPS |
| Sync Technology | G-Sync |
| Price | $1,398.00 |
The Acer Predator CG7 offers 4k gaming experience with a 43-inch display. If you want a gaming monitor with a TV-sized screen, then this can be the best gaming monitor in Singapore for you!
This G-Sync monitor comes with an IPS panel, 120Hz refresh rate, and 1ms response time – the ideal specs for a gaming monitor. Aside from these, it's also known for its sharp and clear contrast and cinematic colour performance, giving you realistic and captivating visuals.
To make your gaming sessions more immersive, it has LED light strips attached on the back, displaying various lighting patterns. You can also sync the lights to the audio of the game you're playing!
Another feature that makes this monitor stand out among the rest is the light sensor. It can automatically detect the ambient light around the environment and adjust the settings for comfortable viewing.
This high-end monitor can also switch into power-saving mode by itself if needed, boosting its lifespan.
It has a total of 3 HDMI ports for console/PC and a USB hub consisting of all port types! This way, you can connect multiple devices all at once!
Great colour accuracy and brightness and contrast levels
Highly configurable
Has more additional peripherals than most monitors
Ultra-low-latency gameplay
Has RGB LED lights at the back if you like "gamer lighting"
Can sync lights to music
Comes with a remote control
Quite expensive
Stand isn't adjustable
Limited audio options
Customer Reviews
Most gamers shared that they enjoyed seamless gameplay with rapid speed thanks to the Acer Predator CG7. They also loved the 4k support and extra-large screen as well as its responsiveness.
Though it's a bit expensive, they admitted that it delivers satisfying performance, making it a worthy purchase. A reviewer posted this feedback:
"There's no question that the Acer Predator CG437K is a cutting edge display. Getting 4K, HDR, and 144Hz refresh rate in one package is incredible. But for a 43-inch display, the CG437K is expensive, not to mention the cost of multiple graphics cards needed to reach that 144Hz at a 4K resolution. For those that have the money to burn and want to be set for the next five years, it will look impressive on your desk. If you're looking for a console display, a traditional TV is the better option."
2. MSI Optix MAG271CQR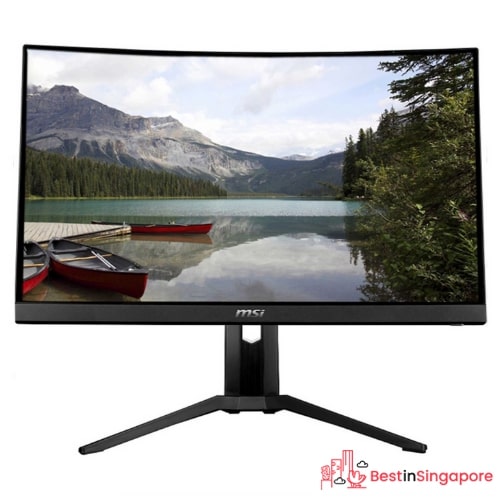 | | |
| --- | --- |
| Resolution | 2560p x 1440p |
| Size | 27-inch |
| Refresh Rate | 144Hz |
| Response Time | 1ms |
| Panel | VA |
| Sync Technology | FreeSync |
| Price | $809.05 |
The MSI Optix MAG271CQR is considered by many to be the best FreeSync monitor in the market. It displays finer and richer details, making the game titles look more refined.
Unlike the previous option, it has a curved display panel with a wide view angle and frameless design. So, despite the 27-inch screen, you can still see the ultimate view of the game with ease.
It also has a 144Hz refresh rate, 1ms response time, and VA panel, allowing you to beat the competitive edge between your opponents. With these features, you can enjoy playing fast-moving game genres like FPS, real-time strategy, sports, and many more!
When it comes to lighting functions, you can customise your own colour scheme with this gaming monitor! It has a soft ambient light that can sync with other Mystic-Light-enabled gaming products.
To avoid eye strain and fatigue during long gaming hours, this monitor also has anti-flicker and less-blue-light features.
With this monitor, you can also instantly adjust the height and even tilt the position for an optimum viewing experience.
Powerful brightness levels
Has lots of gaming features
Suitable for a wide range of applications
Adjustable height and tilt
Has anti-flicker and blue light features
Limited options on the stand
Shows moderate smearing of dark pixels
Colour banding issues with older firmware
Customer Reviews
Gamers were impressed by the excellent colour accuracy and quality of the game textures, characters, and environments. They also said that it has a high contrast ratio and great grey uniformity, which provides vivid and clear images.
Some mentioned that there's also a slight motion blur when playing fast-paced games but due to the FreeSync technology, it has been easily resolved. A reviewer wrote this verdict:
"The MSI Optix MAG271CQR monitor is outstanding for gaming and for producing work. The display serves well for creatives, photographers, and video editors alike. Gamers may experience a bit of motion blur during fast-paced scenes but shouldn't be an issue. The monitor has FreeSync and overdrive, which are fantastic features to help with the motion blurs. But if you're looking to upgrade to a new display, then you'll have to consider the MSI Optix MAG271CQR display."
3. BenQ PD3200U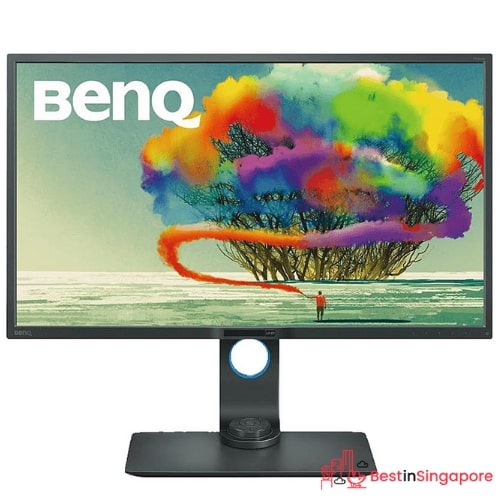 | | |
| --- | --- |
| Resolution | 3840p x 2160p |
| Size | 32-inch |
| Refresh Rate | 60Hz |
| Response Time | 4ms |
| Panel | IPS |
| Sync Technology | G-Sync |
| Price | $1,099.00 |
If the Acer Predator monitor is too big for your desk, then you might want to consider the BenQ PD3200U. This 32-inch monitor also features 4k gaming support and an IPS panel, delivering absolute colour performance and high resolution, turning your games into reality!
Whether for images, animations, graphics, or visual effects, this gaming monitor displays astounding clarity and an in-depth look at characters and environments. It also has an advanced wide viewing angle technology that reduces colour shift and boosts an ultimate display.
The most unique feature of this monitor is its factory-calibrated colour technology. With this feature, there's no need to adjust the settings for a long time just to get the best view.
Since it has a 60Hz refresh rate and 4ms response time, it's the perfect choice for people who don't often play fast-paced games.
For those who don't have a choice but to play with dimmed lights just to keep the distracting reflections from the screen, this monitor also has an answer to your problem. It has an anti-glare matte finish that diminishes distracting reflections, allowing a squint-free and comfortable viewing experience.
Similar to the previous option, it also has low blue light technology that reduces eye strain and irritation.
Compared to the MSI Optix monitor, it has a more extensive range of stand motions. You can customise the settings with height, tilt, stroke, pivot, and swivel adjustments, giving you a tailored fit.
Produces precise colour reproduction
Has 4k resolution support
Superior contrast ratio
Has an anti-glare matte finish
Low input lag
Low-blue-light and flicker-free feature
Wide range of stand motions
Narrow colour gamut support
Size of the bezels are a bit thick
Quite expensive
Customer Reviews
Many users liked the crisp and high-quality colour display of the BenQ PD3200U. They also complimented the great viewing-angle performance and fully adjustable stand of the monitor.
A reviewer gave this feedback:
"Monitors like the BenQ PD3200U give us hope for a 4K future. It performs brilliantly, and the large screen size really gives you an insight into how a large 4K monitor can improve your productivity. Going back to a 1440p screen after experiencing 4K with the BenQ PD3200U has been painful, with our still-pretty-high-resolution monitor feeling cramped and claustrophobic by comparison. The BenQ PD3200U also does a decent job of showing off media and games in 4K, so don't dismiss it because of its professional-focused design and features."
4. ASUS ROG Swift PG279Q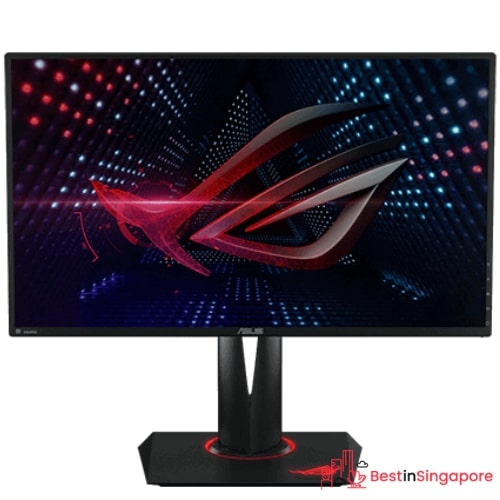 | | |
| --- | --- |
| Resolution | 2560p x 1440p |
| Size | 27-inch |
| Refresh Rate | Up to 165Hz |
| Response Time | 4ms |
| Panel | IPS |
| Sync Technology | G-Sync |
| Price | $1,298.00 |
For all the hardcore gamers out there, the ASUS ROG Swift PG279Q may be the best gaming monitor in Singapore for you. It features a powerful 165Hz refresh rate and G-Sync technology that provides smooth visuals and lag-free gameplay.
It's a 27-inch monitor that features an IPS panel, 1440p resolution, and wide viewing angles, offering a lifelike gaming display and more onscreen space. With these specs, you can play FPS, racers, sports, and real-time strategy game titles.
One of its key features is the turbo key where you can quickly toggle the refresh rates. You can choose between 60, 120, or 165Hz refresh rates while playing the game — this way, you can match the specific frame rate needed for the game without accessing the graphics driver control panel.
To make sure that you can have a comfortable gaming experience, it has multiple exclusive features including ultra-low-blue-light and flicker-free as well as Game Plus and GameVisual functions.
The GamePlus hotkey function gives you different crosshair options, an onscreen timer, and FPS counter. Moreover, GameVisual technology has several pre-set display modes to optimise visuals based on the type of the game.
This ergonomically-designed monitor also has a flexible stand where you can fully adjust its height, tilt, swivel, and pivot settings.
If the previous option has a thick bezel, well, this one has a slim and super-narrow bezel, providing seamless multi-display setups.
If you're worried about overheating issues when playing for longer hours, there's no need to be! This gaming monitor has a silent and maintenance-free smart air vent that contains a custom heatsink to always keep it cool.
Indeed, this award-winning monitor is mainly built for all enthusiast players to ensure victory and have the ideal viewing position during marathon gaming sessions.
Has turbo key to switch refresh rates
Perfect for multi-display gaming setup
Silent air vent
Smart cable management feature at the back
Different blue light filter settings
Easy-to-use controls
Not automatically calibrated to get the best image quality
Small speakers
Limited connectivity options
Customer Reviews
Users shared positive reviews on the ASUS ROG Swift PG279Q. They said that it's filled with immense gaming features and has solid build quality as well.
They also said that it comes with a high cost but serious gamers will surely appreciate its value because of the incredible performance. A reviewer left these remarks:
"The Asus PG279Q is a G-sync monitor with some impressive features. Despite its high price, it delivers fantastic visuals and quick response times unmatched by most other monitors out there. The only minor gripe with this monitor is the small speakers, which will hardly be used."
5. ASUS TUF VG27AQ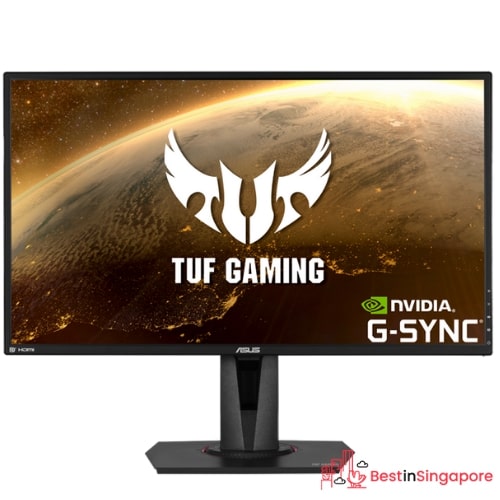 | | |
| --- | --- |
| Resolution | 2560p x 1440p |
| Size | 27-inch |
| Refresh Rate | 165Hz |
| Response Time | 1ms |
| Panel | IPS |
| Sync Technology | G-Sync |
| Price | $639.00 |
If you're on a tight budget but still want to have a decent gaming monitor, the ASUS TUF VG27AQ is the right one for you. This monitor is designed with an IPS display, G-Sync technology, 165Hz refresh rate, and 1ms response time, providing immersive gameplay!
At first glance, you might think that it has the same specs as the ASUS ROG monitor… but then, why is it so much cheaper? Well, as mentioned earlier, the ASUS ROG monitor has a lot of gaming features, unlike the ASUS TUF where there are only a few.
That's quite reasonable, though, considering its low price.
For example, the ASUS ROG monitor has smart air vent technology to keep the system cool, allowing optimised performance despite long hours of gaming. The ASUS TUF monitor doesn't have this feature.
Despite this, every element of the ASUS TUF is solid, which is why it deserves a spot on the list. This 27-inch monitor includes adaptive-sync and motion blur reduction that can be used at the same time, letting gamers enjoy clear and sharp visuals at high-speed frames.
You can also adjust the HDR quality of the monitor based on the scenarios of the game. So, you can see full and detailed graphics, earning you a higher chance to win battles.
In addition to this, it has a shadow boost feature that clarifies the dark scenes without overexposing the brighter areas. With this feature, you can easily find hidden enemies in the dark areas of the map.
It offers a dynamic range of colour and brightness levels that surpass standard monitors. Just like the previous option, you can also customise the height, swivel, tilt, and pivot settings of the monitor stand.
Multiple HDR modes
Has extreme low motion blur sync
Flicker-free and low-blue-light technologies
Affordable price
Ergonomic design
Low input lag
Doesn't have a wide colour spectrum
No USB ports, RGB LEDs, and remote controls
Low-quality speakers
Customer Reviews
The ASUS TUF VG27AQ has received a lot of favourable feedback saying that the visuals remain accurate at every angle and it truly has low input lag. They also mentioned the adaptive sync variable refresh rates as one of the main highlights of the gaming monitor.
A reviewer posted this verdict:
"The Asus TUF Gaming VG27AQ delivers fast, smooth and crisp gaming thanks to its peak 165Hz refresh rate and improved motion blur technology – it's hard to find a screen that's as rapid and as clear as this display. It has a good resolution and great colours, too. Its physical feature set is a little scarce and contrast could be better, but this is a good option for people who play fast-paced games."
FAQs About The Best Gaming Monitors in Singapore
____________________________________________________________________________
Already found the right gaming monitor that perfectly suits your needs and preferences? Or perhaps you want to recommend other great displays for all gamers? Tell us all about it!
Also, if you're searching for something in particular like gaming monitors with standard quality, here are some of the best 144Hz gaming monitors in Singapore! As mentioned earlier, 144Hz is the ideal refresh rate for all competitive gamers so you'll want to see those selections too!