9 Best Fanny Packs In Singapore Under $100
Just when we thought its time was done, famous brands have come up with new takes on the fanny pack and made it popular again. If you want to hop on this bandwagon, you're in luck — because we're here to talk about the best fanny packs in Singapore!
Whether you want a convenient travelling bag or a practical yet stylish satchel, the fanny packs we've found would be a great pick for you. We considered everything from size to compartments and of course, material and design.
Listed below are some of the best fanny packs in Singapore offered at a fair price. We've restricted our picks to ones S$100 and below, to help you achieve your desired look without leaping off-budget.
1. Fila White Line Unisex Waist Bag

Price: S$106.00
Do you want to look chic and sporty at the same time? If so, the FILA Waist Bag would be a good choice and the best fanny pack in Singapore for you!
This lightweight waist pouch in Singapore has two compartments and one inner zip pocket. The strap is also adjustable so you can customise it with your preferred length.
It's made of durable fabric and available in navy, black, and white. As it's a unisex bag, you can give it as a gift to family and friends this upcoming holiday season!
Highlights
Lightweight bag
Unisex
Two compartments 
2. Dusty Multi-Functional Compartment Waist Bag

Price: S$127.90
 Unlike the previous option, the Dusty Multi-Functional Compartment Waist Bag is a little bit bigger and has a lot more compartments. It features a total of four partitions, so you can store more items inside.
With its material and design, it's advised to pair it with light-coloured clothes to prevent a mismatched outfit. It should still look good with neutral-hued dark clothing, though.
Utility-wise, it may be the best fanny pack in Singapore for those who like to bring additional stuff when travelling. It can store an awful lot, which is probably its main draw.
Hands down, we vote for the Dusty Multi-Functional Compartment Waist Bag as the best fanny pack in Singapore for keeping your stuff organised.
Highlights
Water-repellent nylon
Multi-functional compartment 
3. The North Face Waist Bag

Price: $20.40
If you want an even taller and bigger bag than the Dusty one, you'll definitely like this The North Face Waist Bag.
Aside from the three compartments and one internal pocket, it also has two card slots. That's very convenient, as it means you can quickly slip your card in and out when in travel.
It's made of polyester for a durable structure. It also has a lined interior.
You have two choices, design-wise. The camouflage one will certainly look good with solid colours while the black one can complement just about any style.
No matter what design you choose, it should easily match any piece in your closet, making it one of the best fanny packs in Singapore in terms of style.
Highlights
Two card slots
Three compartments
Camouflage version available
4. JanSport Fifth Ave Fanny Pack

Price: $39.00
JanSport has gotten into the fanny pack trend with their own JanSport Fifth Ave Fanny Pack. You will absolutely adore this bum bag in Singapore if you love the brand's backpack collections.
It might be a bit smaller compared with the other ones in this list. However, it still has two nicely-sized compartments where you can keep the necessary stuff.
It's a slightly rounded bag designed with a variety of colours. That makes selecting the perfect one for your style easier than ever, especially compared to many of the other fanny packs here, which only come in 2 colours.
Another thing to love about this is that you can transform it into a sling bag! You can just adjust the strap and throw the pack over your back in a sling style.
This feature is one of the many reasons it's in our list of the best fanny packs in Singapore. That sort of versatility is very much appreciated.
Highlights
Colourful prints
Adjustable waist belt
Can be used as a sling bag
Customer Reviews
 Most customers have recommended the JanSport Fifth Ave Fanny Pack for its comfortable, lightweight, and durable design.
However, you might be bothered by the excess cord that hangs from it if your waist size is small. Fortunately, you can loop it up and squeeze it with an elastic "keeper" band.
A reviewer from the brand's official website wrote:
"It's crazy cute and the perfect size. I use mine for phone, camera, credit cards/id/cash/chapstick. Basically, all the essentials fit in there no problem. The only thing is that the excess cord – there is nowhere for it to go. Even when putting it in the loop, it still reaches the end and just sort of hangs, which I know wouldn't be an issue if my waist was bigger. I just don't want to cut it. Other than that I love it. People joke about the fanny pack, but I tell them "Convenience never goes out of style!" "
5. Waterfly Slim Fanny Pack

Price: S$68.33
If you're looking for a fanny pack that you can use when you have intense outdoor activities such as hiking or exercising, the Waterfly Slim Fanny Pack is the best fanny pack in Singapore for you!
This bag is mainly intended for adventurous people. That's why it's ultra-lightweight and built with a water-resistant material.
At first glance, it may look too small… but the length actually covers up its real size. It's actually larger and more efficient than you might expect it to be, just from looking at it.
It has a double-zippered compartment and two extra front pockets in which you can fit in your must-have items, gadgets, and accessories.
You can also wear it for daily use because you can modify it as a waist bag, bumbag, sling bag, or even a crossbody bag.
This is an excellent choice for those who prefer a simple yet functional fanny pack companion during their trips or daily activities. It's ultra-affordable too!
Highlights
Extension strap for outdoor activities
Multifunctional
Water-resistant
6. Herschel Fourteen Hip Pack

Price: $46.90
If you want to keep it minimalist yet convenient, you might want to take a chance on the Herschel Fourteen Hip Pack.
This is a simple waist pouch in Singapore with a solid-colour design. However, you can be sure that it'll last for a long time with its sturdy texture and durable polyester material.
It only has one main compartment, which is big enough to fit in all of the things that you'd always want to bring with you.
Highlights
Adjustable waist strap
Solid-colour texture
7. Aldo Sevasen Fanny Pack

Price: S$60.90
Just take a look at the snakeskin print of the Aldo Sevasen Fanny Pack. With a print that eye-catching, it's pretty much one of the most stylish fanny packs in Singapore you can get right now.
To pull off a fancier look, this bag would be a blast for you!  It's even made with genuine leather, so you know it takes practicality to the luxe side.
Similar to the Herschel bag we mentioned earlier, it also has only one main compartment. Still, it's spacious enough to accommodate your favourite and must-have items.
Highlights
Natural, striking look
Detachable & adjustable waist buckle
8. NA-KD Velvet Fanny Pack

Price: S$48.90
The NA-KD Velvet Fanny Pack is the ideal pick for those who love a classic and elegant piece but have to find it on a budget.
You can match it with both casual and fancy looks, which makes it one of the best fanny packs in Singapore, style-wise. Besides, it's a waist bag that you can use over and over again.
For the outer appearance, it comes with a solid shade and nicely velvety texture. It's also built with polyester material for long-lasting use.
The strap is adjustable and it has two compartments. This includes one zip pocket at the front for easy access. 
Highlights
Velvety texture
Classic look
9. Aldo Graber Fanny Pack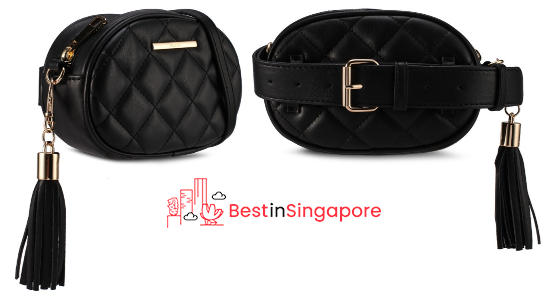 Price: S$56.90
For the ladies out there, the Aldo Graber Fanny Pack would be a gorgeous treat that you'd want to add to your collection!
This is the perfect fanny pack to bring when you go to special gatherings. It's made with faux leather, has a luxurious quilted look, and has a tassel keychain that oozes sophistication.
Besides being a belt bag, it can also serve as a shoulder bag with its adjustable shoulder and waist strap. There's also a slot pocket inside where you can keep your phone separate from your other essentials — and save it from scratches!
Highlights
Sophisticated style
Adjustable waist and shoulder strap
So, after looking at these, do you already have one you like? You might even have two, as these best fanny packs in Singapore can go with any style are so easy on the budget!
The best thing about them, undoubtedly, is that they offer such great value for money. You get something sturdy and practical with these fanny packs, without sacrificing style.
By the way, you may also want to look at our list of the best smartwatches in Singapore to complete your OOTD. Like the best fanny packs in Singapore, they're both stylish and practical, which makes them ideal for fashionable Singaporeans on the go.