By Colin Ng
If you haven't visited in a long time, it's the right time to change that before anything bad happens to your teeth. With the best dental clinics in Sengkang, all your oral problems will be fixed.
We also know that one of the reasons people don't regularly visit dental clinics is that some offer limited services. However, for our list of the best dental clinics in Sengkang, we included dental clinics in the area that don't limit themselves to a single treatment.
Check them out below to see which one offers the treatment you want to get. These are the best dental clinics in Sengkang, so they should be able to provide just about everything you might want.
(Note: This list is in no particular order.)
1.  Advanced Dental Sengkang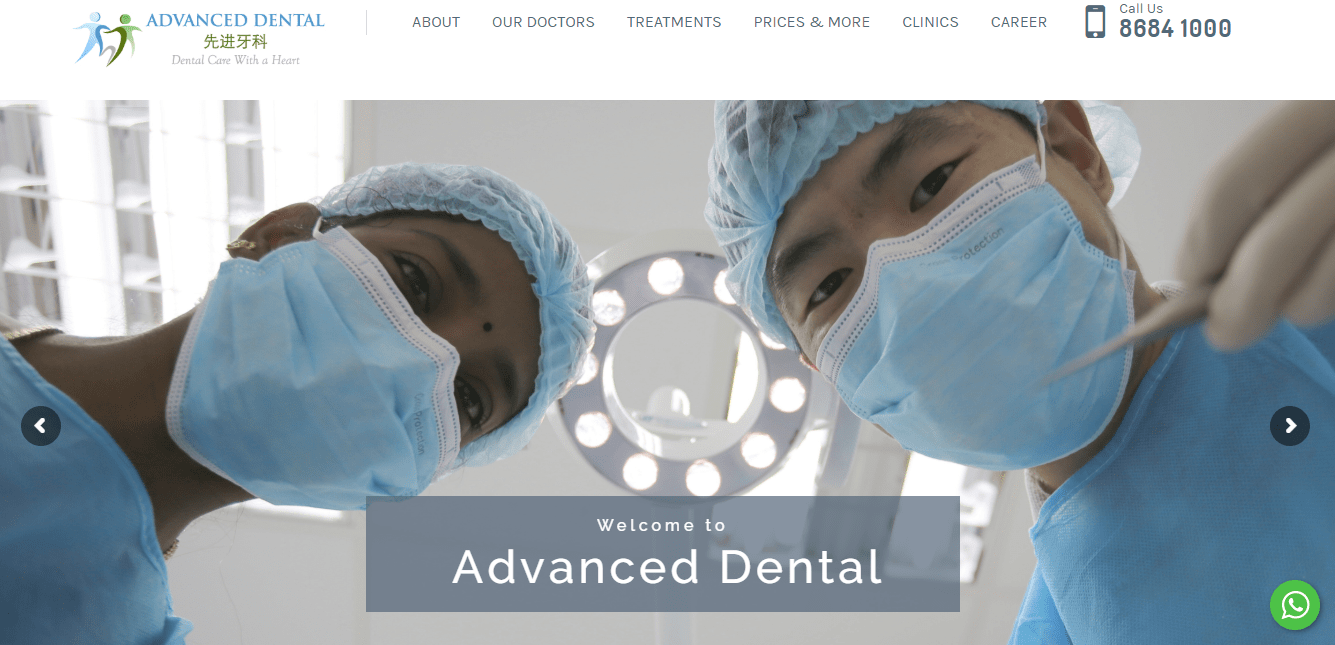 | | |
| --- | --- |
| BEST FOR  | Safe and Cozy Environment |
| SERVICES | Braces,Children's Dentistry, Crowns and Bridges, Dentures, Extractions, Fillings, Fluoride Treatment, and Gum Treatment and Surgery |
| WEBSITE | https://www.advanceddental.com.sg/ |
| ADDRESS | 11 Rivervale Cres, #02-12 Rivervale Mall, Singapore 545082 |
| CONTACT DETAILS | +65 3138 4376 |
| OPERATING HOURS | Monday – Friday, 9:00 AM – 6:00 PM |
If you're searching for a dental clinic that accepts multiple payment options, then you'd definitely like Advanced Dental in Sengkang. Considered one of the best dental clinics in Sengkang, it also offers a wide variety of services that can fix all your gum and tooth problems.
Speaking of payments, Advanced Dental allows clients to split their total bill into 6, 12, 18, or 24 equal payments. There aren't a lot of dental clinics on the island that allow installment payment.
What's more, it has a team of experienced and professional dentists who are all committed to providing you with treatments that will improve the overall condition of your teeth and gums. With Advanced Dental, you don't need to worry about not getting the quality of service you paid for.
Lastly, it prides itself for having a safe and comfortable environment. Unlike other dental clinics, it doesn't have an intimidating vibe.
Highlights
Installment payment
Comfortable environment
Customer Reviews 
Similar to its other branches in Singapore, Advanced Dental in Sengkang has constantly received praise from its customers. Here are some of them: 
"The receptionist was efficient in getting me an appointment slot on the same day. The doctor, Dr Candy Ding, was very friendly, very detailed in explaining the procedures and very reassuring that it will be painless. Highly recommended if you need any dental services!"
"All the staff and doctors are very friendly and patient. Dr Evelyn, Dr Vivian, Dr Candy are professionals and detailed in explaining the procedures. They will share the pros and cons for every treatment option for our understanding and assist in our decision-making." 
"The clinic's receptionist (Jacqueline) is really friendly and cheerful, making customers feel welcomed and at ease. Have done scaling & polishing twice so far with Dr Candy. She is warm and always puts on a smile 🙂 Just did a dental filling with Dr Vivian. Pleasant experience too! Thank you Advanced Dental – Sengkang!"
2.  Caring Dental Sengkang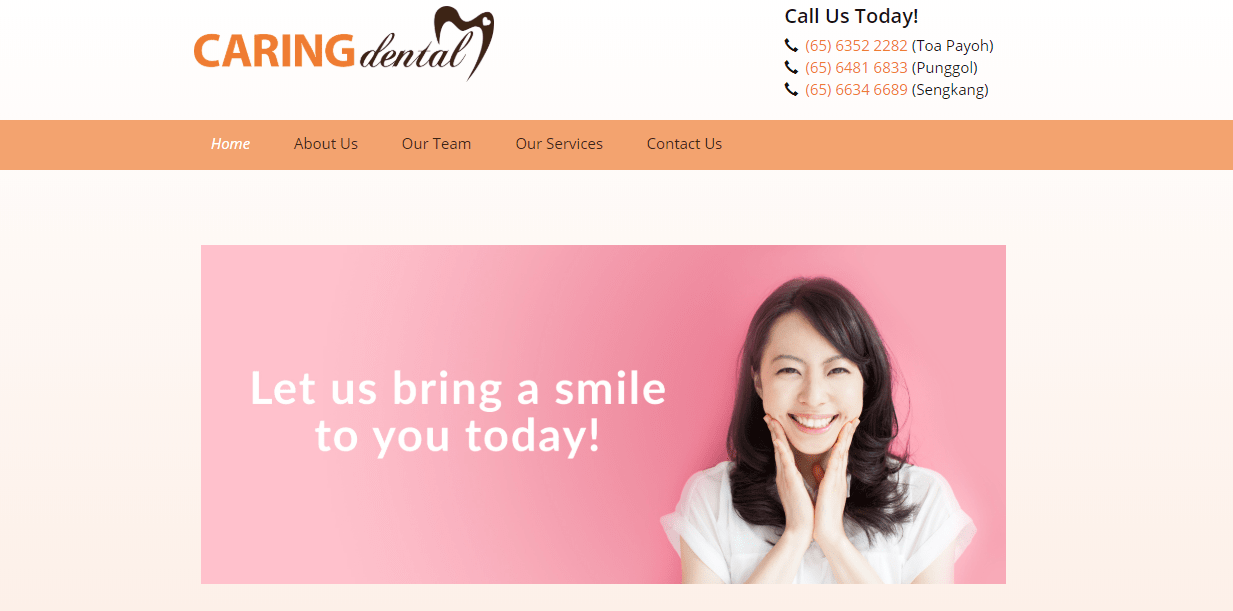 | | |
| --- | --- |
| BEST FOR  | Multiple Branches |
| SERVICES | Extractions, Scaling and Polishing, Fillings,, Wisdom Tooth Surgery, Dentures, Crown and Bridge, Implants, and Aesthetic Dentistry |
| WEBSITE | http://www.caringdental.com.sg/ |
| ADDRESS | 473a Fernvale St, #01-01, Singapore 791473 |
| CONTACT DETAILS | 6634 6689 |
| OPERATING HOURS | Monday – Friday, 9:00 AM – 9:00 PM |
If you're looking for a dental clinic that's easily accessible, then look no further than Caring Dental in Sengkang. It has a total of 3 branches all over the island — one is here in Sengkang, while the other two are in Punggol and Toa Payoh.
Dental Caring has been in Singapore for only 9 years, but it has managed to become one of the most in-demand dental clinics on the island. When you have a team of experienced and competent dentists, it's not that hard to be among the best dental clinics in Singapore.
In terms of services, it also doesn't fall short. It has a wide range of services including dental implants, braces, teeth whitening, extractions, and even aesthetic dentistry.
Highlights
Very accessible
Team of experienced dentists
Competitive rates
Customer Reviews 
Here are some reviews by satisfied clients:
"My friendly neighbourhood dental clinic. Now this is one thoughtful dental clinic. I remember having to go here six months ago for oral cleaning. Fast tracked to six months after, I received a postcard in my mailbox reminding me about my oral cleaning and just a routine checkup. I highly appreciate it. It just goes to show that they really are a caring dental. Very satisfied with my dental care." 
"Even though it's late they still treated me with very gentle and professional work. This is the best dentist that I have encountered. She is very good and treats me well even after long closing hours. Also credits to the lady at the counter who has been entertaining, patient, advising us and very friendly towards us. Definitely will come again . Highly recommended."
3.  Q & M Dental Surgery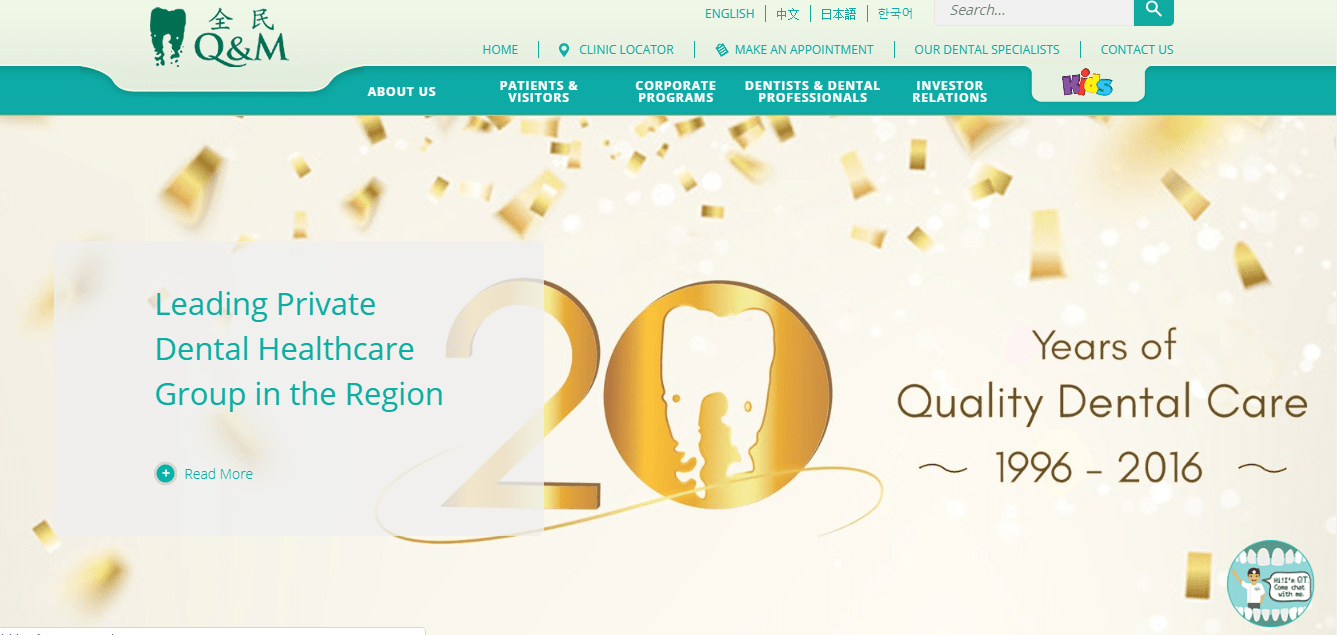 | | |
| --- | --- |
| BEST FOR  | General Dentistry |
| SERVICES | Braces, Crowns and Bridges, Dental Implants, Gum Treatment, Wisdom Tooth Extraction, and General Dental Treatment |
| WEBSITE | https://qandm.com.sg/Q&M-Dental-Group-Singapore-Home |
| ADDRESS | 10 Sengkang Central #01-01 Buangkok MRT Station (Exit A, Singapore 545061 |
| CONTACT DETAILS | +65 6315 6882 |
| OPERATING HOURS | Monday – Friday, 9:00 AM – 9:00 PM |
Q & M Dental Surgery is regarded as one of the leading dental health care providers in Singapore. Despite having only 24 years of experience, it has managed to build over 70 branches scattered all over Singapore, making it the only dental clinic with that number of branches.
Moreover, it has a team of over 200 experienced dentists and nurses, the majority of which have undergone extensive training overseas. So, you get to be sure that the dentists who inspect your gums and teeth are the most qualified people to do the job.
In terms of technology, Q & M uses only the most advanced and effective dental innovations to ensure quality dental treatments that yield in satisfying results. Some of the services it offers are dental implants, aesthetic dentistry, gum treatments, and even children's dentistry.
Above all, it also knows how to take care of every patient's safety. Its team of dentists has established, comprehensive, and detailed operating procedures to make sure that patients are safe at all times.
Highlights
24 years of experience
70 branches all over the island
Experienced dentists and nurses
Advanced dental technologies
Customer Reviews
Q & M Dental Surgery has an average rating of 4.7 on Google Reviews. Take a look at some left by customers: 
"Due to past experiences, I've always been very afraid to visit the Dentist. However, due to unforeseen circumstances, I visited Q&M Buangkok for my wisdom tooth extraction and I can confidently say that it's truly the best decision that I've ever made! Dr Abdul Qayyum was my wonderful Dental surgeon! Knowing my fears, he kept assuring me constantly throughout the whole procedure. His jokes definitely made the entire process much more tolerable as well. I loved the fact that he was so patient with me despite me being a rather difficult patient and I'm 100% certain that the procedure would have been a quick and easy one if it weren't for me!"
"Dr Chan Pui Kee Peggy and her team did an excellent job when doing the wisdom tooth extraction for me. They are very caring and make sure I am well taken care of during and after the extraction. Really appreciate what they have done!!:) Would definitely recommend it to others."
And that's it for our list of the best dental clinics in Sengkang. We guarantee that any of these dental clinics can provide the type of service that you're expecting.
Do you know other dental clinics in Sengkang worth checking out? If so, leave its name, and we'll check if we can add it to our roster!
By the way, if you want more options, you may check out our list of the best dental clinics in Singapore. You will never have to worry about gum and teeth problems anymore when you've tried out their services.