By Colin Ng
Caring for our teeth doesn't end with regular brushing and flossing. If you're really committed to keeping your teeth clean and healthy, it's ideal to drop by the best dental clinics in Punggol.
Searching for the right dental clinic on the island can be harder than expected because some dental clinics don't offer the treatment that your teeth need. Luckily for you, we've created a list featuring the best dental clinics in Punggol that offer more than just one dental treatment.
Check them out below!
(Note: This list is in no particular order.)
1.  Caring Dental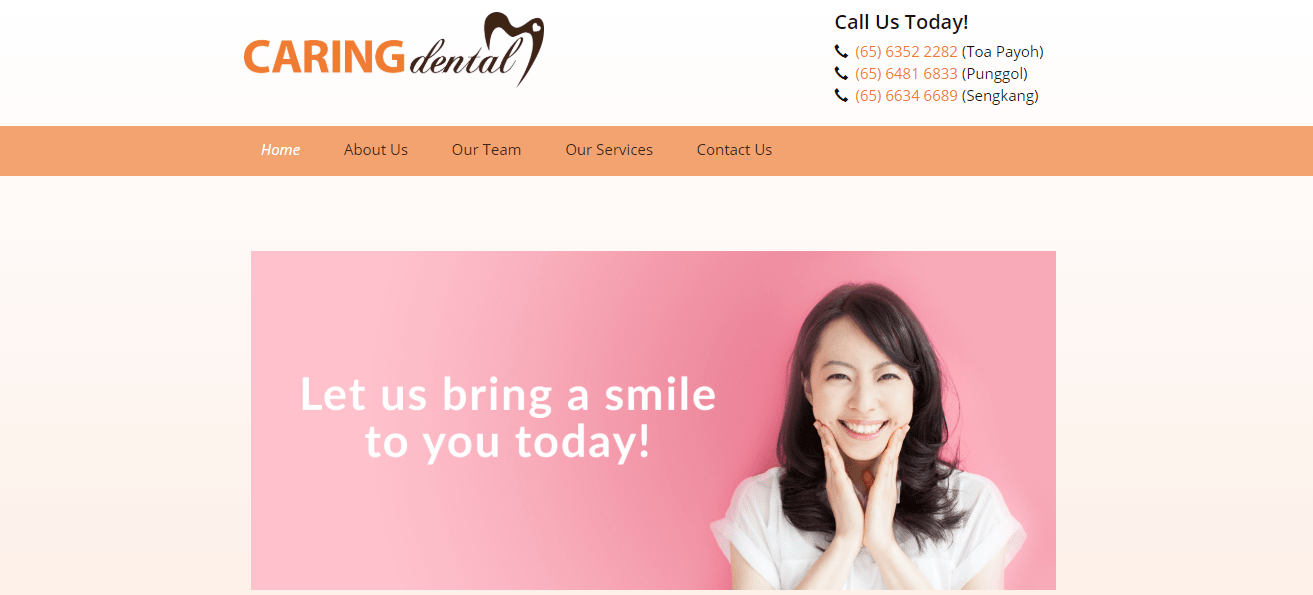 | | |
| --- | --- |
| BEST FOR  | Multiple Branches |
| SERVICES | Scaling and Polishing, Fillings, Extractions, Wisdom Tooth Surgery, Crown and Bridge, Dentures, Implants, and Aesthetic Dentistry |
| WEBSITE | http://www.caringdental.com.sg/ |
| ADDRESS | Blk 665A Punggol Drive, #01-02, Singapore 821665 |
| CONTACT DETAILS | 6481 6833 |
| OPERATING HOURS | Monday – Friday, 9:00 AM – 9:00 PM |
In terms of accessibility, Caring Dental takes the top spot. It doesn't only have 1 branch in Singapore but 3: one in Punggol, and another two in Toa Payoh and Sengkang.
Despite being around for only 9 years, it has grown into one of the best dental clinics in Punggol–thanks to its professional and experienced team of dentists who make sure that every customer is comfortable during treatments.
In addition, almost every dentist on its team has studied and practiced dentistry across different countries.
Moreover, Caring Dental offers a wide variety of dental treatments such as braces, implants, teeth whitening, scaling and polishing, extractions, aesthetic dentistry, and many more!
So, whatever your dental concerns are, their dentists will make sure that they will address them thoroughly!
Highlights
9 years of experience
Experienced dentists
Affordable treatments
Customer Reviews 
Take a look at some reviews from customers posted on Google Reviews: 
"I recently went to get my wisdom tooth removed at Caring Dental's Punggol branch. I was quite nervous at first, since it was my first time undergoing wisdom tooth surgery but everything happened really fast and painlessly – especially since mine was an impacted tooth. Special mention to Dr Jade and her assistant, Ms Cora, who supervised my procedure – they were very efficient and greatly-skilled, but above all, they put the patient's welfare as top priority. Recovery has been smooth too, just follow the doctor's instructions and take prescribed medications as directed. Highly recommended to go here – they really do care for your teeth!"
"Went to a wisdom teeth extraction yesterday for Dr Jade. Prior to that I have been visiting caring dental for teeth cleaning. The extraction went well, quicker than I expected. Dr Jade was very professional and made sure I wasn't in pain. Even if there was, she'd prepare me and the pain wouldn't last too long. Highly recommended. I have done a walk-in before and the time during consultation was a lot shorter compared to an appointment. Hence, if you need more information or time with the dentist, I recommend getting an appointment. Dr Tan is also very kind and patient, a great dental centre to be at!"
2.  Smile Doctor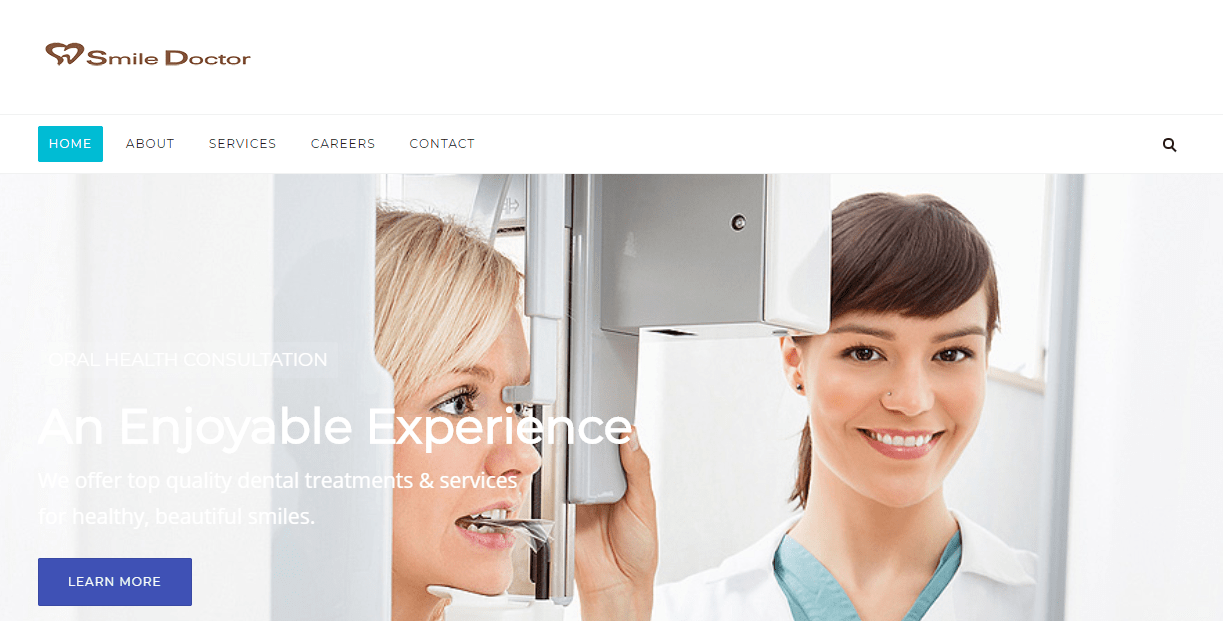 | | |
| --- | --- |
| BEST FOR  | Comfortable Environment |
| SERVICES | General Dental Care, Cosmetic Dentistry, Restorative Dentistry, and Emergency Care |
| WEBSITE | http://smiledoctor.com.sg/ |
| ADDRESS | 83 Punggol Central, Singapore 828761 |
| CONTACT DETAILS | +65 6386 7880 |
| OPERATING HOURS | Monday – Friday, 9:00 AM – 9:00 PM |
Established in 2013, Dental Smiles has made it its job to improve the quality of smiles of everyone in Singapore by offering comprehensive dental treatments and services.
As one of the best dental clinics in Punggol, it has managed to build a huge pool of customers from all walks of life who swear by its excellence.
On top of this, it's also known for being a dental clinic with a comfortable, safe, and non-intimidating environment. This is mostly due to its very approachable and friendly staff made up of dentists and nurses.
It also makes use of the most updated and highest-quality equipment to ensure that each treatment yields satisfactory results. Its advanced technology allows its dentists to fix problems that other dental clinics can't due to lack of facilities.
Above all, Dental Smiles is one of first dental clinics on the entire island to offer advanced dentistry treatments. It can deal with dental anxiety, periodontal diseases, and even restorative dentistry.
You may also book an appointment on their website to ensure that your desired date and time will be accommodated. 
Highlights
Advanced dentistry
High quality equipment
Friendly and approachable staff
Customer Reviews
Here are some reviews on the services of Smile Doctor:
"Doctor Loy and team are super nice and friendly. Visits are painless and you are informed of each procedure at every step of the way. Pricing is extremely fair. Receptionists will message you to remind you of appointments. Very different experience from other dental clinics that I have gone to so far."
"We have a positive experience of this clinic. The receptionist and nurses are very polite and helpful. During new years, even though there was no appointment available, they accommodated my father as he was a senior citizen. Doctor was able to diagnose the issue and give correct treatment. Also the follow ups were not charged."
3.  Family Dental Care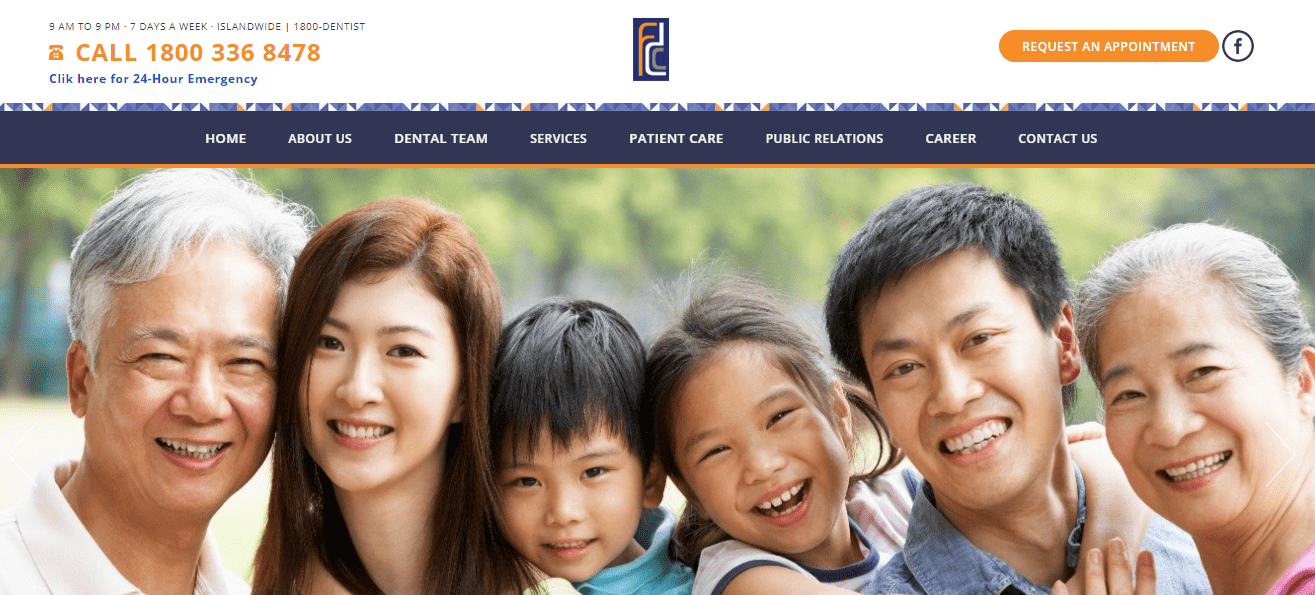 | | |
| --- | --- |
| BEST FOR  | Multiple Payment Options |
| SERVICES | Braces, Aligners, Dental Crowns, Dental Implants, Root Canal Treatment, Wisdom Tooth Surgery, Teeth Whitening, Sedation Dentistry, and Emergency Dentistry |
| WEBSITE | http://fdc.sg/ |
| ADDRESS | 168 Punggol Field, #02-06, Singapore 820168 |
| CONTACT DETAILS | +65 6886 0905 |
| OPERATING HOURS | Monday – Friday, 9:00 AM – 9:00 PM |
If you're looking for a dental clinic that not only has a great track record but is well-regarded by different institutions as well, then we highly recommend Family Dental Care.
It's no secret that it's one of the leading dental clinics not only in Punggul but on the entire island.
Family Dental Care is accredited by various health institutions such as Medisave, Pioneer Generation, Community Health Assist Scheme, and a whole lot more.
More than these, it also boasts a team made up of 50 dental surgeons who each have their own expertise and specialisation.
In terms of the amount of services, it also doesn't fall short. Some of its services are dental implants, teeth whitening, wisdom tooth surgery, and even children dentistry.
Highlights
50 dental surgeons
Multiple accreditations
State of the art dental facilities
Customer Reviews 
As one of the leading dental clinics on the island, Family Dental Care has had its share of praise. Here are some reviews: 
"I am terrified of the dentist but am glad to have found this clinic under the great care of Dr. Hor. I like the sound and tone of her voice, very assuring and comforting. Most importantly, she took great care not to cause much pain and was really very gentle. Just halfway through, my fear actually subsided much and I made another appointment for a thorough cleaning session which I would never have done so in my past experiences. Receptionist was friendly and helpful too. Definitely recommendable."
"Dr Hor was gentle throughout the treatment and not rushing. She did the procedures carefully. And I don't mind waiting despite my appointment time as now I understand each of us have different types of issues and she (Dr Hor) will do her best to our needs. Keep it up! And for the staff, they are friendly too."
4. Polygems (PG) Dental Care Pte Ltd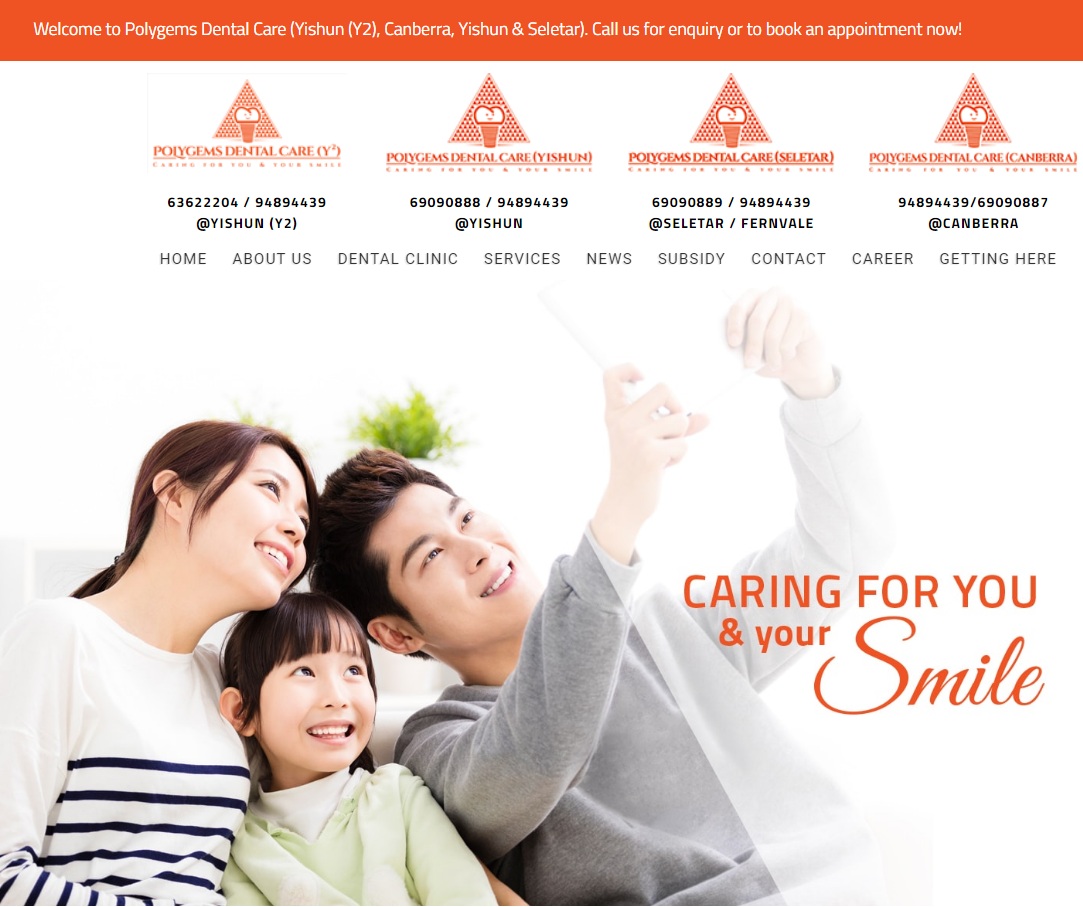 BEST FOR

Wide range of dental services

SERVICES

Dental Implant, Metal Braces, Wisdom Tooth, Smile Makeover

WEBSITE

http://www.polygemsdentalcare.com.sg/

 

ADDRESS

Blk 675 Yishun Ave 4 #01-04 Singapore 760675

Blk 507 Yishun Avenue 4 #01-06 Singapore 760507

Blk 417 Fernvale Link #01-04, Singapore 790417

Blk 105 Canberra Street #02-02 , Singapore 750105

CONTACT DETAILS

@Yishun

69090888 / 94894439

@Yishun (Y2)

63622204 / 94894439

@Canberra

94894439/69090887

@Seletar / Fernvale

69090889 / 94894439
Tolerate toothache no more because Polygems Dental Care Pte Ltd got you all covered. They have a wide array of dental services that are guaranteed to be safe and sound.
The clinic has four locations across Singapore, all of which has state-of-art facilities. From simple regular cleaning to wisdom tooth removal, the clinic makes sure to always make yourself comfortable while undergoing procedures.
Polygems Dental Care Pte Ltd also uses the most up-to-date tools and techniques in conducting dental procedures and surgeries so you know that you are in the safe hands when you choose to avail the clinic's dental services.
Highlights
Multiple locations

Highly-qualified dental surgeon

Comprehensive dental solutions
Customer Reviews
Here's one of the reviews for the clinic.
"Dr Chua is definitely one dentist you need to meet. He is very detailed in his explanation, guides you through the 3 processes, ensures that you are prepared for what's coming up and he does it with a great sense of humour. A very friendly dentist, he relates well with his patients. Highly recommended for people who are afraid of going to the dentist! Great job!"
5.  DoctorsxDentist

BEST FOR 
Healthcare Online Platform
SERVICES
Crowns and Bridges Fixing, Complete or Partial Dentures Fixing, Dental Implant Fixing, Tooth Extraction and Dental X-ray
WEBSITE
https://www.doctorxdentist.com
ADDRESS
111, #07-07 Somerset Rd, TripleOne Somerset, Singapore 238874
CONTACT DETAILS
[email protected]
+65 8444 9163
OPERATING HOURS
9:00 AM to 10:00 PM
DxD is a certified Health-on-the-Web platform. Ever since its establishment in 2016, it has dedicated itself to providing readers with accurate, up-to-date information about health and medical conditions.
Through this website, doctors and dentists of varying specialisations are able to actively communicate with people seeking their advice. They are able to address these readers' needs either through posting educational health articles, or by answering the questions of those concerned.
If you have any inquiries regarding your physical state, or about the field of medicine, drop by their site. They will ensure that none of your personal information is leaked into the public, all while providing you with all the answers you need.
Highlights
Health and Wellness Website
Education Website
Customer Reviews 
Here are some reviews from a satisfied client:
"I am a private specialist nephrologist working in Singapore who was kindly invited recently to join the panel of doctors of DoctorXDentist. I have answered few questions and enjoyed that process very much, knowing that I am helping others with disease awareness and giving some recommendations, hopefully, to improve their understanding of their disease and to implement better diagnostic, therapeutic or preventive strategies together with their healthcare providers. I thank DoctorXDentist for this great opportunity. I have read answers from many of my colleagues (mainly the ones related to my fields: kidney, diabetes, weight loss & health promotion; and I have noticed dedication and professionalism in their answers while giving kind and sound advice in different aspects of medicine. So, i would recommend this platform to patients and the general public having medical queries, concerns and worries. It is a loable task by DoctorXDentist and their affiliated healthcare providers, and i feel honoured to be part of it."
And that's the end of our list of the best dental clinics in Punggol! We guarantee that any of these dental clinics can provide a solution, whatever your dental concern is.
Have you had past experiences with dental clinics on the island? If so, share it with us by commenting below!
If you're also interested in searching for dental clinics outside Punggul, you may want to check out our list of the best dental clinics in Singapore. Gone are the days of being shy because you don't have the perfect set of teeth!