The 5 Best Critical Illness Insurance in Singapore
Paying for hospitalisation, medicine, & after-care treatment can surely drain our financial resources, especially if we're dealing with a critical illness. It's a good thing that there are insurance providers out there that offer the best critical illness insurance in Singapore.
Of course, you should take your time in deciding which is the best critical illness insurance in Singapore for you. After all, it's your health that's on the line.
Fortunately for you, we've made that easier by presenting you with some of the insurers for the best critical illness insurance in Singapore.
Check them out one by one below.
1. Singlife Insurance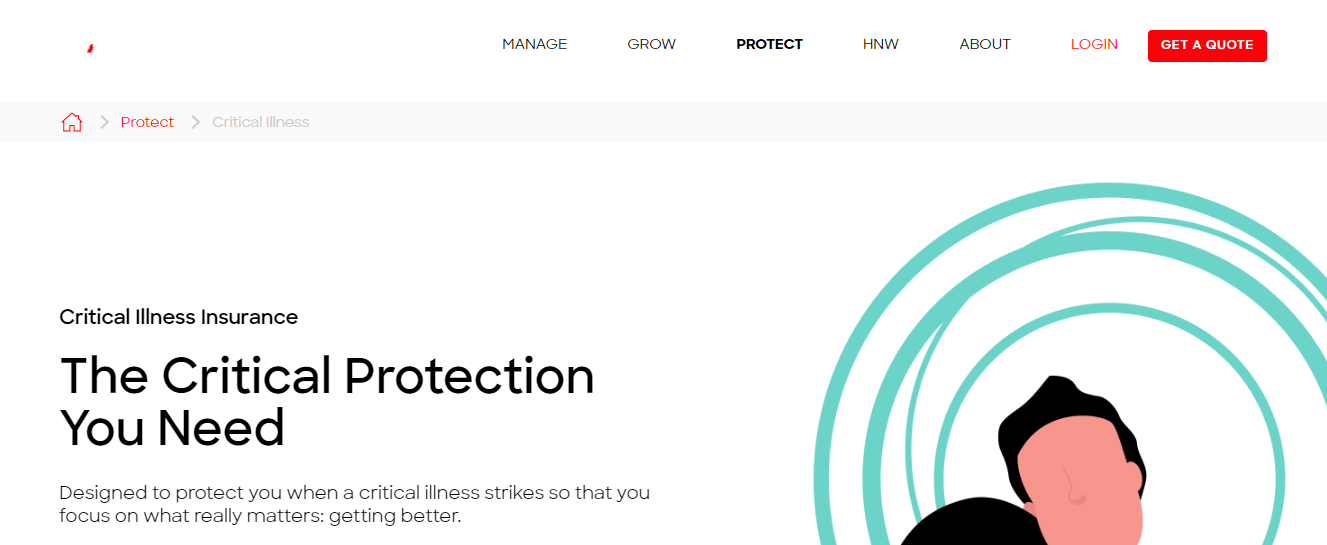 With Singlife's critical illness insurance plan, you can be protected against various illnesses while receiving support during recovery. It's one of the few insurance plans that remove the burden of paying for hospitalisation.
You may choose between Singlife's three tiered critical illness packages, namely the Critical Illness Plan, the Multi-claim Critical Illness Plan, and the Step-up Critical Illness Plan. All of these cover death and more than 36 late-stage critical illnesses.
Some of the illnesses covered are cancer, heart attack, stroke, and kidney failure. What's more, these plans are highly customisable to cater to your budget and medical needs.
Highlights
Customisable plan
Financial assistance
36 illnesses covered
2. AIA Insurance

Beyond Critical Care remains one of AIA's most in-demand critical illness insurance packages for its comprehensive medical benefits.
It's also among the few critical packages that cover not only one's physical wellbeing but their mental health as well, which is why we consider it one of the best critical illness insurance in Singapore. What's more, it ensures that people are given personalised medical care in case of an emergency.
Some of the benefits of the Beyond Critical Care are 200% coverage for 43 major critical illnesses, and death and compassionate sum. You also have the choice to widen the coverage for further protection and peace of mind.
Highlights
Mental health benefit
43 illnesses coverage
3. Manulife Insurance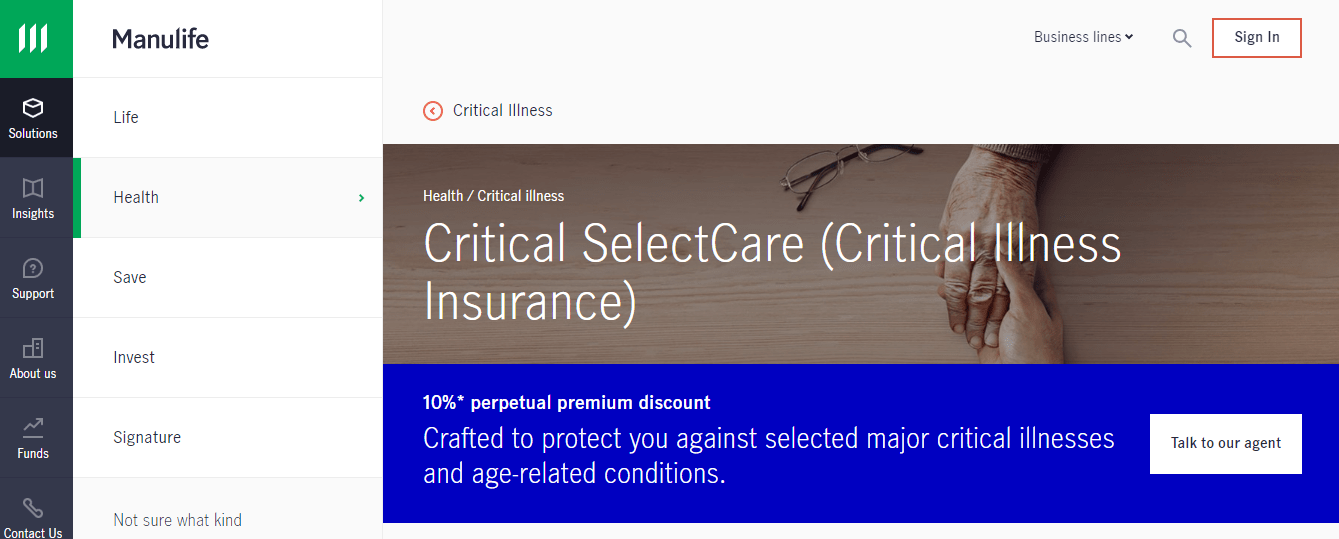 If you're looking for an insurance package that isn't hard to purchase, then look no further than Manulife's Critical SelectCare plan! There's no need for medical check-ups — just answer 3 simple questions, and you can be protected by this amazing insurance package.
It's designed to protect you from various critical illnesses that come with old age, so it's ideal to start paying for it while you're young.
Some of the illnesses covered are heart attack, stroke, major cancers, Parkinson's disease, Alzheimer's disease, among others.
It's also available to those who already have pre-existing conditions such as high blood sugar and diabetes. And that's just few reasons why we deem it one of the best critical illness insurance in Singapore.
Highlights
No claims payout
Open to everyone
4. PRUdential
PRUdential's PRUTriple Protect is ideal for people who have been recently diagnosed with cancer and those who are currently undergoing treatment.
Besides hospitalisation expenses, it also covers children's education, utility bills, and housing loans. That's because PRUdential knows that being diagnosed with cancer can disrupt your stable source of money.
What's more, you can remain protected even after making a claim for a major illness. You can still claim up to 300% of your basic cover amount, so rest assured that you will be protected for a long time.
Highlights
Comprehensive coverage
Benefits for cancer patients
5. Money Owl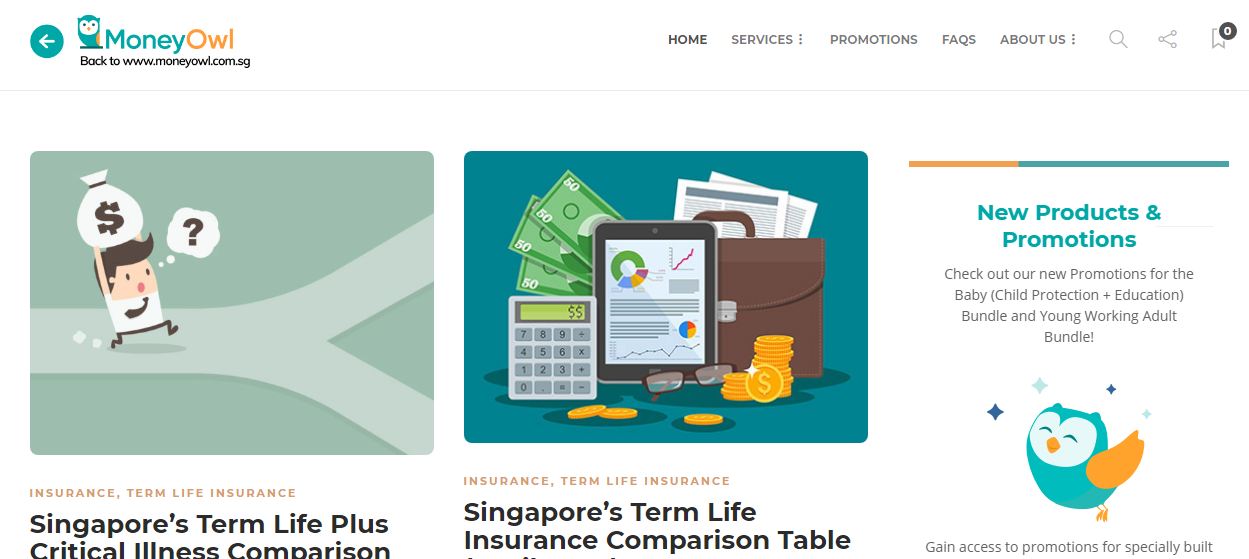 This is more of a bonus as it's not exactly a provider for critical illness insurance plans. However, they are a superb service if you need to find the best critical illness in Singapore!
For a more comprehensive study on which insurance plan to take, Money Owl provides a comparison table of all critical illness insurance plans on the island. From looking at their comparisons, you can have a better grasp of your possible options.
They state an accurate list of coverage plans as well as detailed explanations of each plan. Keep in mind that while they don't offer critical illness insurance, they accept an inquiry to buy a certain plan from partnered insurance companies and will give a 50% commission rebate!
Highlights
Inclusive financial advice and fund management services
Partnered with leading insurance companies
Customer Reviews
MoneyOwl has received nothing but praise from the clients who mentioned their responsive service, clear explanations, and excellent consultations. A client shared this experience:
"Prompt response to queries, clear and precise explanations. Eddy's the reason I bought – He's an excellent advisor and he recommended suitable plans. Strive on."
And that's a wrap for our list of the best critical illness insurance in Singapore. If we missed out on other insurers that provide reliable insurance packages, let's know of their names and why you loved their insurance plans.
By the way, if you want to further protect yourself on top of any of these options, then you should read our list of the best health insurance in Singapore.
You will never have to worry about coming up when it's time to pay for hospital bills and treatments with these dependable insurance packages!