By Michaela Koh
Do you want to have a defined chin to enhance the overall balance of your facial features? Then you should go look for the leading aesthetic clinics that provide the best chin fillers in Singapore.
This treatment brings volume and proportion to the lower face part so it can blend in with your natural features. It might be just what you need for your ideal look!
There are countless clinics that offer this kind of treatment. To help you search for the best chin fillers in Singapore, we've come up with our inclusive list of the most well-known and most recommended aesthetic clinics on the island.
Note: This list is strictly not in order.
1.

The Clifford Clinic
BEST FOR 
Quality Noninvasive Treatments
WEBSITE
https://www.singaporeaestheticpractice.com/fillers
ADDRESS
24, #01-04 Raffles Place, Singapore 048621
CONTACT DETAILS
3129 2550
OPERATING HOURS
Mon to Fri: 10am to 8pm
Sat: 10 am to 5pm
Sun: Closed
Closed on Sundays and Public Holidays
The Clifford Clinic is an excellent choice for facial filler treatments. Undergoing filler treatments in The Clifford Clinic can help clients achieve better-looking skin.
Dr. Gerard Ee, their head dermatologist, works with his team of expert aesthetic doctors in delivering the best services. With his interest in minimally invasive surgery and aesthetic medicine, you can rest assured that any treatment you undergo in Singapore Aesthetic Practice will go well.
Highlights
Minimal Downtime
Minimal Scarring
Safe Procedure
Accurate Treatment
2. The Belle Clinic

The Belle Clinic prides itself on being a boutique clinic that addresses its client's concerns effectively. The clinic's team achieves such a feat by keeping in mind that no two concerns are the same, which is why they work to offer personalised services to all of their clients.
The Belle Clinic's work is some of the best, considering that the clinic only uses FDA and HSA approved products and medical-grade lasers. Any person who avails their services can rest easy knowing that the work being done on them is effective, backed up by extensive clinical research and top-notch medical equipment.
Highlights
Daily Vanity Award receipient
Tailored services to fit the individual
3. S Aesthetics Clinic

BEST FOR
Face fillers
SERVICES
Popular Treatments, Face Treatments, Skin Treatments, Eye Area Treatments, Hair Aesthetics Treatments, Body Treatments
WEBSITE
https://saestheticsclinic.com/
ADDRESS
9 Scotts Road #07-07
Scotts Medical Centre (Pacific Plaza)
Singapore 228210
CONTACT DETAILS
Email: [email protected]
Telephone: +65 6235 0338
WhatsApp: +65 90207234
OPERATING HOURS
Mon-Fri: 10am – 8pm
Sat: 10am – 6pm
Sun & Public Holidays: Closed
When it comes to filler treatments, you might want to consider S Aesthetics Clinic. They're known for offering a wide variety of face and body treatments that are both excellent and pain-free.
Their expert staff uses only the latest equipment in administering their filler treatments. To minimize pain and discomfort, they use numbing cream and ice packs in the procedure.
You can expect the results to last for at least 6 months to 2 years, as long as it is maintained properly.
Highlights
Expert aestheticians
Great customer service
High quality equipment and materials
Customer Reviews
Check out some reviews left by S Aesthetics Clinic on Google review:
"Hands-down the best doctors I have ever seen.
Dr. Sii and Dr. Kwan really took the time and listened to my situation with patience to really understand what is best for solving the issue. I was having some allergic reactions from a lip filler, which I got from a different clinic a couple months ago. My lips were very swollen when I walked into S Aesthetics. I was in a middle of a business trip, so you can imagine, I was under great pressure and stress with the situation.
They explained to me in a logical and calm manner each step of the way, so I had little fear during the dissolving process.
I am so appreciative of their work and my situations have immediately gotten better.
Please keep up the wonderful things you are doing because the world needs doctors like you.
Thank you."
4. Lux Aesthetic Clinic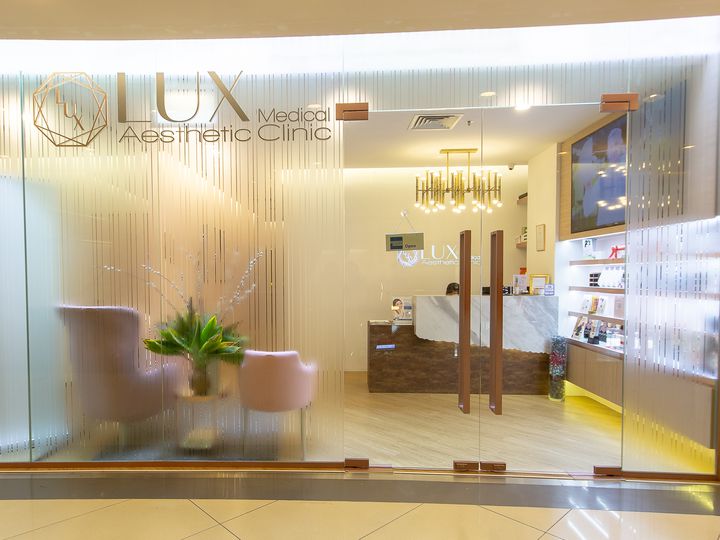 BEST FOR 
Signature facial enhancements
PRICING
Rates
WEBSITE
https://luxaestheticclinic.com/
ADDRESS
The Cathay, 2 Handy Road #02-09 Singapore 229233
CONTACT DETAILS
+65 6815 9922
OPERATING HOURS
Monday – Friday: 10:30AM – 8:00PM

Saturday: 10:30AM – 4:00PM

Sunday: By Appointment Only
Lux Medical Aesthetic Clinics can make your face slimmer with their best chin fillers in Singapore. They'll make a V-shaped contour, giving you your desired look.
Their non-surgical chin enhancement procedure can lengthen or bring your chin forward to make your facial features proportional too.
The process is a quick one with minimal downtime. So, there'll be no hassle when it comes to recovery.
It usually lasts anywhere from 6 to 24 months and their price range starts from $500 for one session.
Highlights
Signature treatments
Face and body contouring
5.  Prive Clinic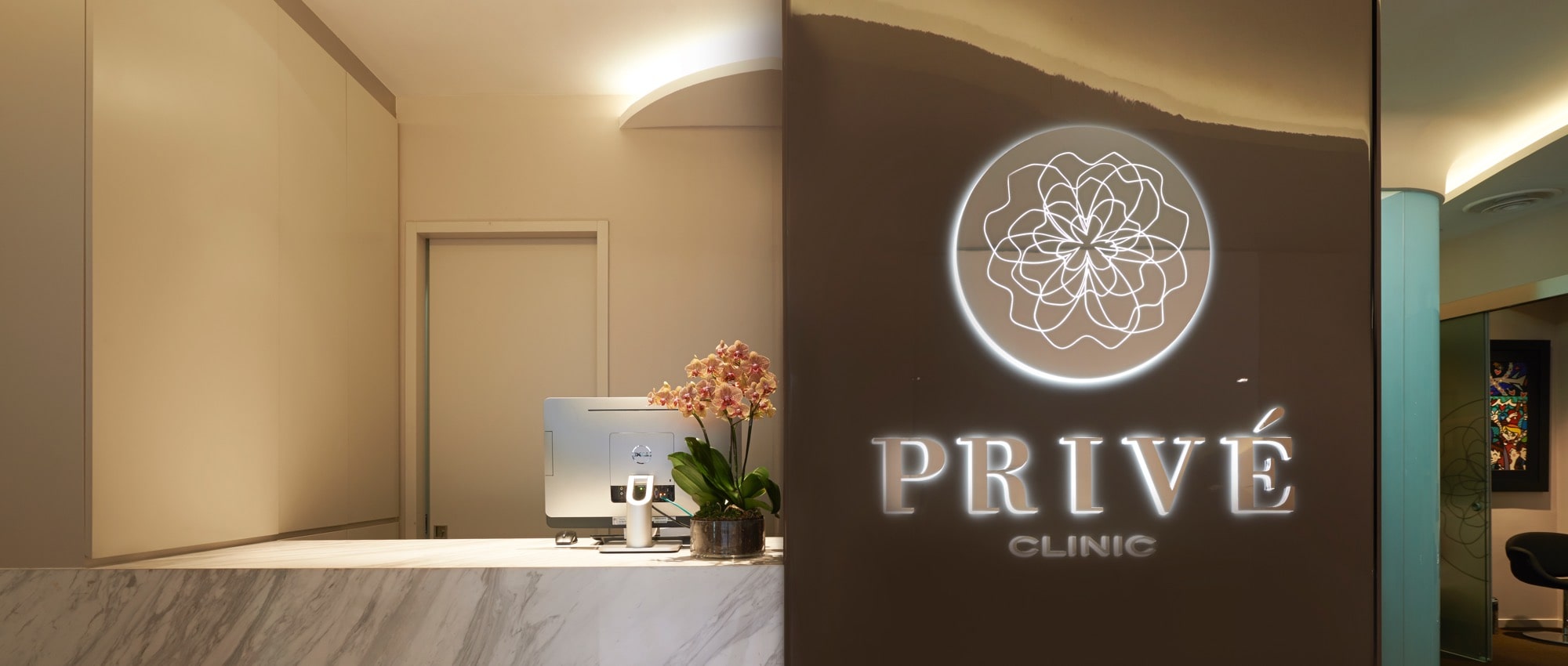 Prive Clinic offers a variety of facial contouring treatments, including derma fillers for chin enhancement. Their best chin filler in Singapore will reshape your face, making it sharper and more defined.
Their procedure can also help prevent wrinkles in certain areas such as chin, lips, nose bridge, forehead, and cheeks. It's almost painless, has minimal downtime, and can last for up to 18 months.
Highlights
Skin tightening treatment
Signature skincare products
6. Edwin Lim Medical Aesthetic Clinic Pte. Ltd 

One of the highly rated aesthetic procedures of Edwin Lim Medical Aesthetic Clinic Pte. Ltd is their V-Shaped Face or Jaw Slimming Treatment which they conduct using two types of procedures: Jaw Reduction with Neurotoxins and Chin Fillers.
These fillers last between 9 and 18 months and the kind that Dr. Edwin Lim uses is Lyft or Juvederm Voluma especially the chin as it shows the best results especially for minimal swelling and broadening.
Highlights
Premium quality fillers

minimal discomfort and downtime procedures
7.  Halley Medical Aesthetics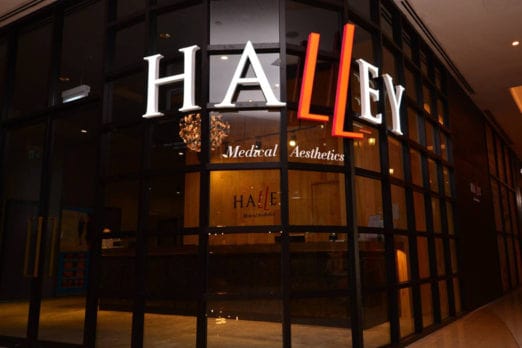 | | |
| --- | --- |
| BEST FOR  |  Korean-inspired look |
| PRICING | Rates |
| WEBSITE | https://www.halley.com.sg/ |
| ADDRESS | 277 Orchard Road #03-15 Orchard Gateway Singapore 238858 |
| CONTACT DETAILS | 6737 8233 |
| OPERATING HOURS | Daily, 10am – 9pm |
Halley Medical Aesthetics provides different kinds of facial contouring treatments and this includes one of the best chin fillers in Singapore, which they use to create a slimmer jawline, sharper chin, and of course, a V-shaped face.
Their derma fillers are also paired with thread lifts and Ultherapy to achieve a healthier, stronger, and natural-looking skin. It also aims to follow the sculpted look that's made famous by Korean pop culture.
Highlights
Treatment package
Signature treatments
8.  Angeline Yong Dermatology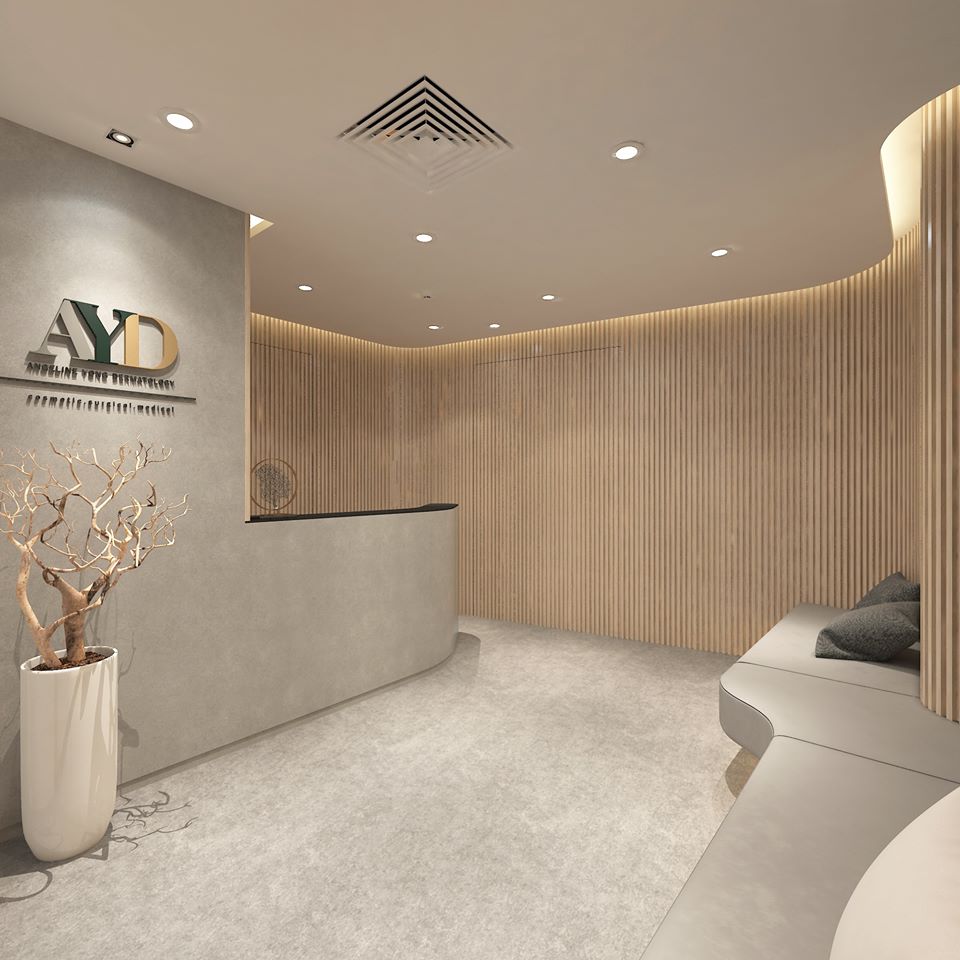 BEST FOR 
Advanced chin fillers
WEBSITE
https://ayd.com.sg/
ADDRESS
6 Napier Road, #03-02 Gleneagles Medical Centre Singapore 258499
CONTACT DETAILS
+65 6592 1311
OPERATING HOURS
Weekdays: 8:30am – 5:30pm

Saturday: 8:30am – 12:30pm
Angeline Yong Dermatology offers several types of fillers and each is designed to enhance a certain facial feature. They have denser fillers, lighter fillers, and more.
Their best chin fillers in Singapore use the latest products, providing more visible and faster results. Their treatment can also last up to 12 months, though it varies depending on the kind of filler used and the location.
Highlights
Signature skincare range
Medical-grade facials
9. NU.U Aesthetics & Wellness Clinic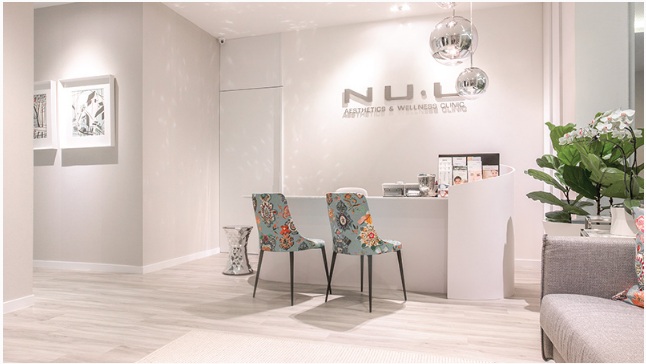 BEST FOR

High quality dermal fillers

PRICING

Treatments

WEBSITE

https://www.nuuclinic.com/filler-lift-versus-threadlift/

ADDRESS

290 Orchard Road Paragon Medical Suites #09-18/19 Singapore 238859 Access from Lobby E or F

CONTACT DETAILS

(65) 6732 9989

OPERATING HOURS

Monday to Friday

10am-1pm

2pm-7pm

Saturday: 10am-2pm

Closed on Sundays and Public Holidays
NU.U Aesthetics & Wellness Clinic has been delivering first-class aesthetic treatments since 2004 and since its inception, it has been one of the go-to clinics of the people in Singapore especially when it comes to chin fillers.
The clinic specializes in using high quality fillers, combined with their specialists excellent procedures, thus the promising results that their clients give 100% satisfaction rating to.
This non-surgical chin filler procedure only takes 30 minutes which already includes the 20-mins of waiting for the topical anesthetic to work.
Highlights
Treatments for all skin types

Highly qualified specialists

Transparent and competitive rates
Customer Reviews
"First time visited the place due to recommendation. NU U's gave me an experience I never had and it was tremendous!! I have been to tons of other facial treatment and either they hurt a lot ,or result is mediocre.
One treatment with them , you will notice a great difference in your skin. Treatment is not very painful and most importantly , the price is very affordable. If you are looking for professionals to take care of your skin at affordable price , try NU U.  Great job!"
10. Astique Clinic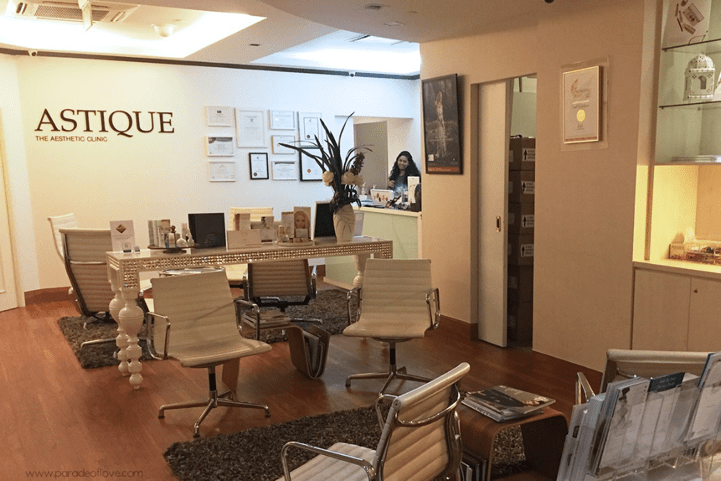 BEST FOR 
Wide range of facial treatments
WEBSITE
https://www.astiqueclinic.com.sg/
ADDRESS
350 Orchard Road, #08-00 Shaw House Singapore 238868
CONTACT DETAILS
+65 6732 3801
OPERATING HOURS
Mondays & Fridays : 11:00 am to 08:00 pm

Tuesday – Thursday : 09:00 am to 08:00 pm

Saturdays: 11:00 am to 04:00 pm
For small and subtle chins, you can rely on the treatment of Astique Clinic, which is also known for offering one of the best chin fillers in Singapore. It'll give more volume, creating a fuller and well-defined chin.
They also offer fillers for nose, cheek, laugh lines, and tear troughs. Their other treatments include face slimming and lifting as well as body contouring.
Highlights
Facial and body treatments
Signature skincare and healthcare products
11. Bio Aesthetic Laser Clinic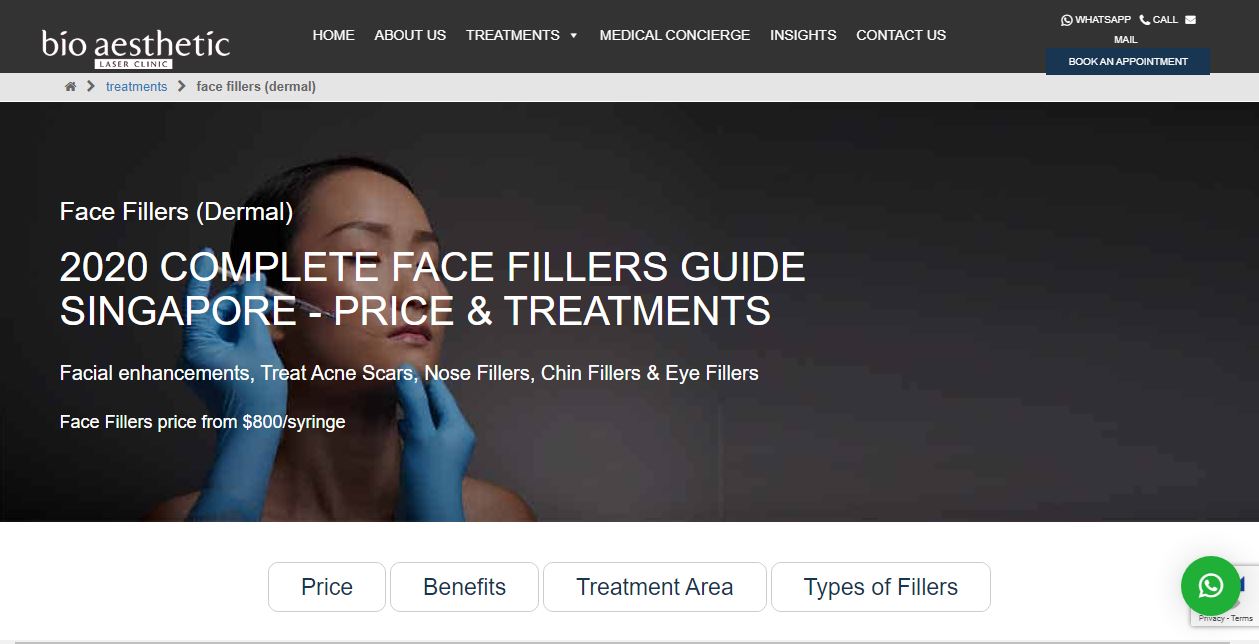 BEST FOR

Minimal pain and no downtime for each treatment

WEBSITE

https://baclinic.sg/treatments/face-fillers-singapore-dermal/

 

ADDRESS

Palais Renaissance 390 Orchard Road #03-01 Singapore 238871

Tampines 1 Mall 10 Tampines Central 1 #04-35 Singapore 529536

CONTACT DETAILS

Orchard Branch

Phone: +65 6333 4566/Whatsapp: +65 83218613

Tampines Branch

Phone: +65 6782 2777/Whatsapp: +65 83218613

OPERATING HOURS

Orchard Branch

Mon- Fri :11am to 8.30pm

Saturday: 10.00 am – 6.00pm

Closed on Sunday and Public Holidays

Tampines Branch

Mon- Fri :10am to 9pm

Saturday & Sunday: 10.00 am – 7.00pm

Closed on Public Holidays
Bio Aesthetic Laser Clinic provides natural yet technological solutions to your beauty problems. This means that the clinic offers non-surgical procedures to their clients to meet their needs. Thus, you can go to them if you're anxious about getting an operation for your skin or face issues.
One of the facial enhancement services that they offer is chin fillers. They recommend various products depending on which part of your face you would like to inject the fillers.
These products do not only enhance but also help you to maintain or rejuvenate your skin. You can go to their website if you want to know more about their beauty items. 
Highlights
Medically Administered Treatment

Guaranteed Results From 1st Session

Minimal To No Downtime
And that's a wrap for our list of the best chin fillers in Singapore! If you'd like to recommend more clinics, you may also share them with us!
For more options, you may want to look at these best aesthetic clinics in Singapore. They also provide chin fillers and other facial enhancement services that'll leave you with a well-defined and youthful look!