The 6 Best Bintan Resorts You Should Check Out
Are you planning to have a summer vacation in Indonesia next year? If so, today must be your lucky day, because we're looking at the best Bintan resorts every traveller should check out.
Bintan remains one of the best summer destinations for Singaporeans because it's just an hour away via ferry. On top of that, it's filled with friendly and approachable locals willing to help every visitor.
Anyway, here are our picks for the best Bintan resorts that every Singaporean should visit at least once in their lives!
1. Club Med Bintan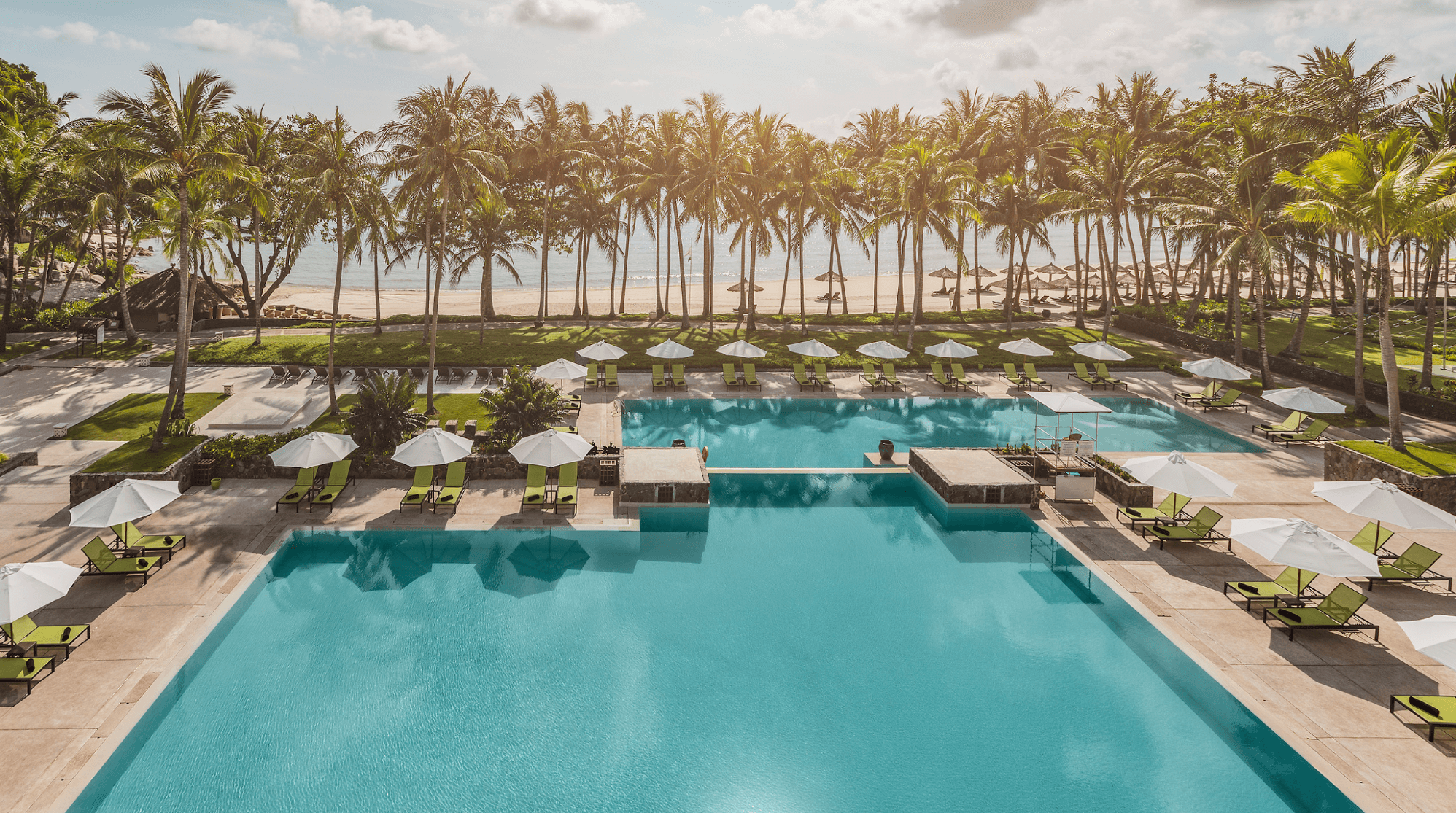 | | |
| --- | --- |
| BEST FOR | All-inclusive Stay |
| BOOKING WEBSITE | https://www.clubmed.asia/ |
| ADDRESS | Jalan Perigi Raya Lot A11 Lagoi Bintan Utara, Sebong Lagoi, Tlk. Sebong, Kabupaten Bintan, Kepulauan Riau 12920, Indonesia |
| CONTACT DETAILS | +62 770 692801 |
If you're looking for the best Bintan resorts ideal for family vacations, then look no further than Club Med Bintan! It's one of the most in-demand and packed resorts in Bintan, so early reservations are highly recommended.
It comes with family-friendly activities such as windsurfing, snorkeling, flying trapeze, kayaking, and even yoga! Choosing to stay at Club Med Bintan means that you and your family will never run out of activities to do!
Beyond activities, Club Med Bintan offers a picturesque view of clear ocean and beautiful beaches that most people only dream of seeing.
Highlights
Buffet every day
Unlimited beer and wine
Fun activities for families
Customer Reviews
Here are some of the comments posted on Google Reviews by previous visitors:
"The atmosphere was so friendly. Everyone, from the house keepers to the senior management always greeted us with a smile and always made a special effort with the kids. On top of all of this – the food was outstanding with magnificent variety. Our room had a great balcony outlook over the gardens and beach with an interleading door to the kid's room."
"Nice place to hangout and spend the holiday with your family. Expensive but worth it. There were all physical activities for kids and adults. Outside of resorts you can't find anything. The beaches are too good. They will offer unlimited food and drink all the time."
2. Natra Bintan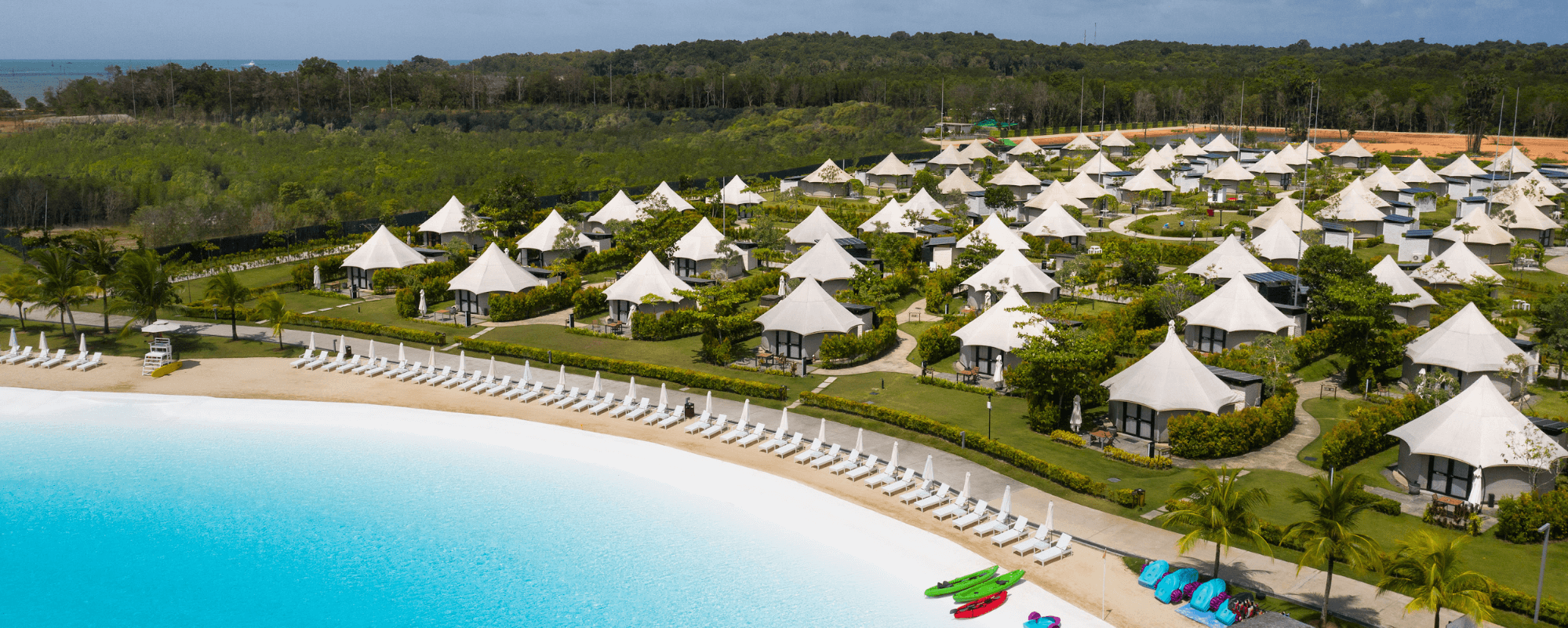 | | |
| --- | --- |
| BEST FOR | Spacious Rooms |
| BOOKING WEBSITE | https://www.marriott.com/ |
| ADDRESS | Treasure Bay Bintan, Jl. Raya Haji No.Km 1, Sebong Lagoi, Teluk Sebong, Bintan Island, Riau Islands 29152, Indonesia |
| CONTACT DETAILS | +62 770 692252 |
Considered one of the hottest and best Bintan resorts, Natra Bintan is known for its spacious and relaxing rooms that can fit a family of 5. It's the ideal option if you're looking forward to escaping the stress caused by the city life back in Singapore.
Instead of hotel rooms, visitors will be staying in large safari tent suites equipped with Internet, smart television, and a private garden. Natra Bintan surely will put a twist on your usual summer vacation!
Natra Bintan also offers fun and exhilarating activities that people of all ages will definitely enjoy! Some of these activities include wakeboarding, kayaking, canoeing, and paddle boarding.
Highlights
Safari-themed rooms
Fun activities
3. Angsana Bintan
| | |
| --- | --- |
| BEST FOR | Resort Spa |
| BOOKING WEBSITE | https://www.angsana.com/en/ |
| ADDRESS | Laguna Bintan Resort, Jalan Teluk Berembang, Sebong Lagoi, Tlk. Sebong, Kabupaten Bintan, Kepulauan Riau 29155, Indonesia |
| CONTACT DETAILS | +62 770 693111 |
With only 110 rooms and suites, Angsana Bintan isn't the biggest resort in Bintan, but it can definitely provide visitors with an experience that they will never forget. It even offers rooms that come with a view of the South China Sea!
If you like playing golf, then you will definitely love staying at Angsana Bintan. It's among the few resorts in the area with an 18-hole championship golf course — which is why we consider it one of the best Bintan resorts ever!
What's more, Angsana Bintan is famous for its spa packages that come free with some room accommodations. There's really no better way to spend your vacation than being in a quiet resort with free spa and massage sessions.
Highlights
Free spa and massage
Night activities
View of the South China Sea
4. Nirwana Gardens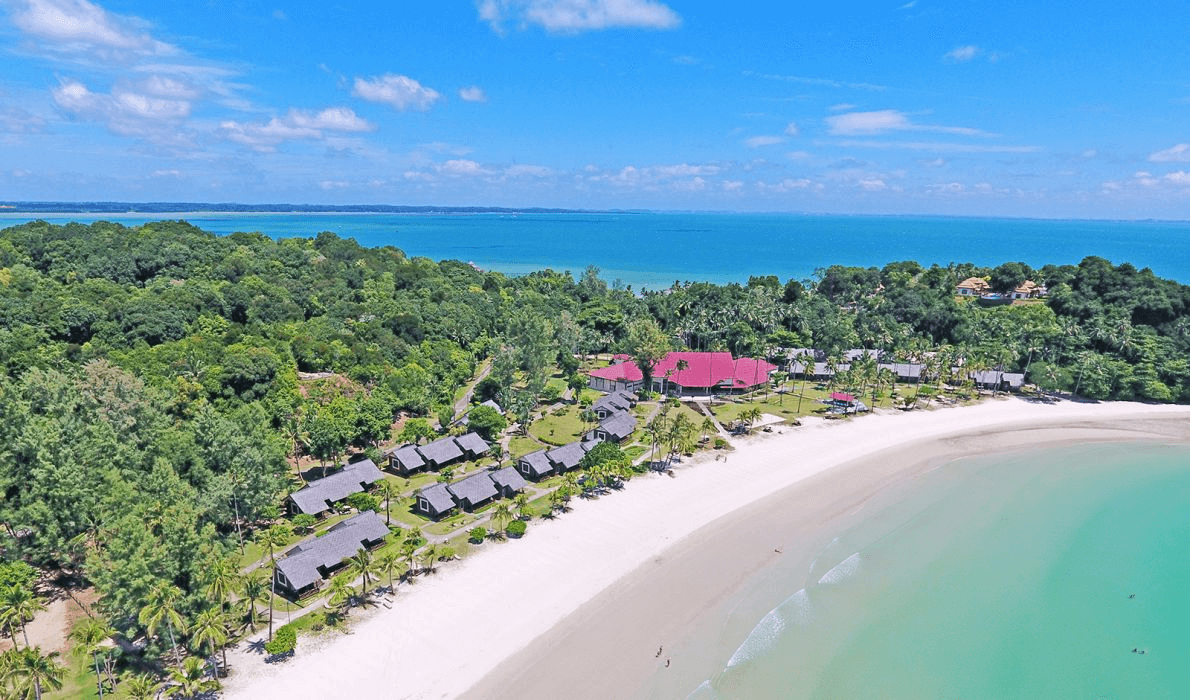 | | |
| --- | --- |
| BEST FOR | Serene Environment |
| BOOKING WEBSITE | https://www.nirwanagardens.com/ |
| ADDRESS | Jalan Panglima Pantar, Lagoi, Bintan Resorts, Lagoi, Riau 29155, Indonesia |
| CONTACT DETAILS | +62 770 692505 |
If you're just thinking about chilling at the beach without doing much, then you might want to check out Nirwana Gardens. It's one of the best Bintan resorts for people who want some alone time because it's kind of secluded and only has a few visitors, except during peak seasons.
More than that, Nirwana Gardens offers different types of rooms to cater to a wide range of budgets. Some rooms are ideal for one person only while there are rooms perfect for families on vacation.
If you want to maximise your alone time, you might want to go for a larger room with its own garden, swimming pool, courtyard, and even kitchen facilities.
Highlights
Wide range of rooms
Semi-secluded location
Customer Reviews
Take a look at what past visitors had to say about their stay at Nirwana Gardens:
"A beautiful location. We were here out of season so we obtained a good deal on the room rate. Very friendly and attentive staff who go out of their way to make you welcome and assist you. A small problem with occasional tar deposits on the beach which has beautiful, white sands. Food and drinks are quite expensive and up there with northern european countries. Just here for a few days and enjoyed it."
"There are a couple of restaurants inside the Gardens. The Kelong Restaurant that mainly offers live seafood (please boycott animal cruelty) and the Spice Restaurant (that offers both Indonesian and Indian cuisine) are the ones we tried. There are about 8 other eateries spread across the vast area. There are also a lot of sports/activities available at the Gardens: archery, rifle shooting, horse riding, ATV rides, Jetski, banana-boat rides, snorkeling and many other water sports/activities."
5. DBambooKamp Desa Wisata Ekang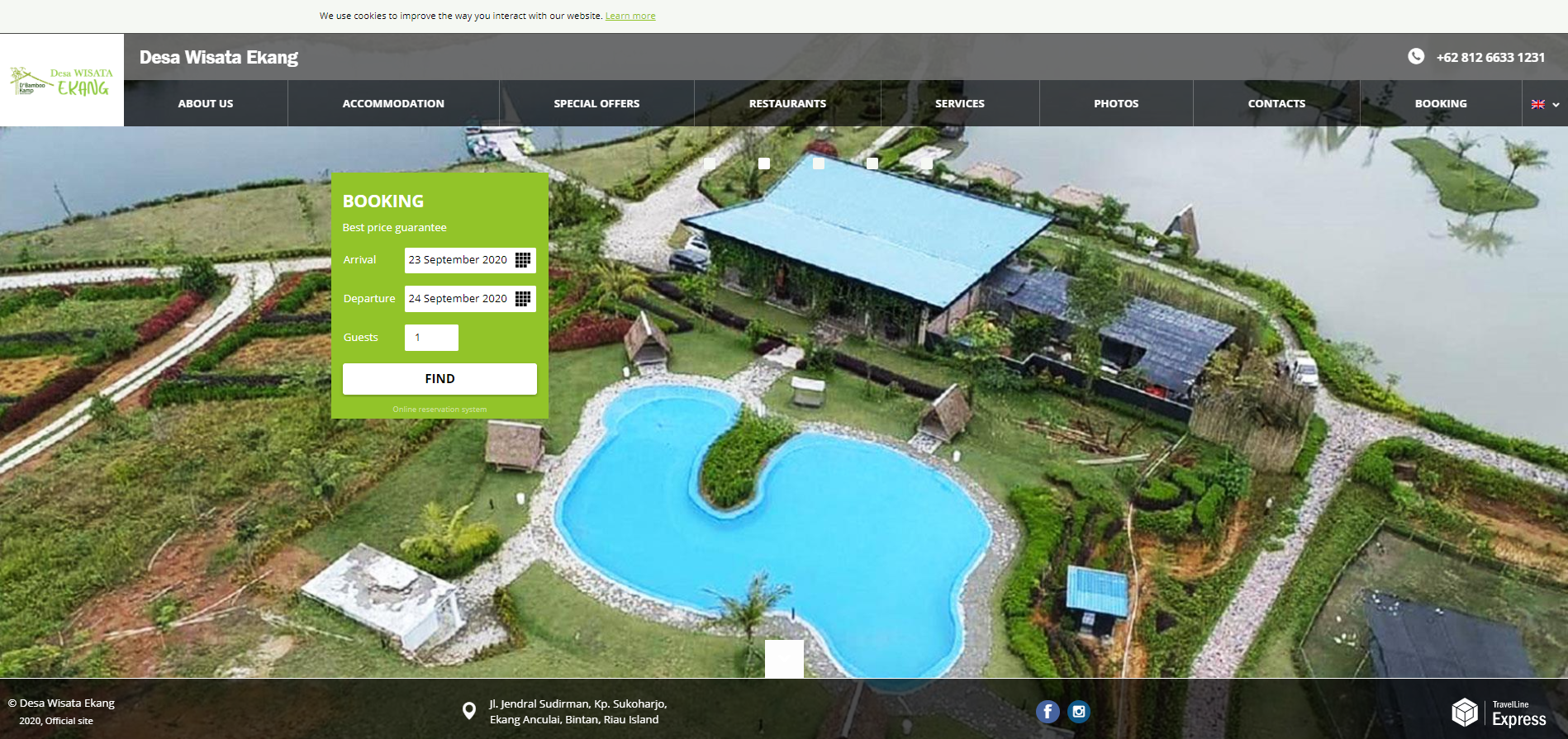 DBambooKamp Desa Wisata Ekang is the best spot for sightseeing and relaxing in Bintan Island. They're one of the best when it comes to services and amenities.
Besides its complete facilities, they also offer various outdoor activities for you to enjoy. DBambooKamp Desa Wisata Ekang is an excellent vacation spot, one that carries the charm and comfort of Bintan Island.
Highlights
Rooms have a selection of amenities
Various outdoor activities available
6. LooLa Eco Adventure

Loola offers the best nature getaway, from refreshing environments to fun outdoor activities. They have an extensive range of accommodation options for every person.
Their numerous rewards speak for the quality of their services. Best of all, they also offer eco-tours for those interested, and you do not have to wait for COVID to finish: you can book an amazing eco journey right now: Go E-travel and do good – without leaving home!
Highlights
Hassle-free
Fully customisable
Safety-audited
And with that, we conclude our list of the best Bintan resorts that every Singaporean should visit at least once! If you've been to any of these resorts before, share with us what you liked most about staying with them.
If you're looking for more options for accommodations in Indonesia, we recommend checking out our list of the best Bali villas with private pools too. Should you be going with your family, any of those villas are perfect because of their spacious rooms!