By Lindsey Tan
Have you been suffering from severe toothache these past few days? Think maybe you've got a tooth decay or an infection? To know the cause, you should consult with the best dental clinics in Bedok.
If you're currently residing around or near the city, you must know they've got a lot of great dental clinics that offer various treatments and remedies for any kind of tooth-related concern.
We've explored all the dental clinics in the area and ended up with this list of the best dental clinics in Bedok. See our picks below to find out more about their overall services and specialities.
(Note: This list is in no particular order.)
1.  Greenlife Dental Clinic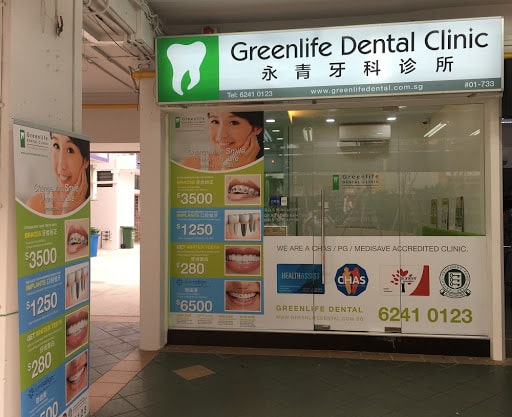 BEST FOR 
Braces dental services
PRICING
http://www.greenlifedental.com.sg/
WEBSITE
Blk 210 New Upper Changi Road #01-733 Singapore 460210 (Near to Bedok MRT station)
ADDRESS
6241 0123
CONTACT DETAILS
Mon – Fri: 9am – 9pm

Sat – Sun: 9am – 5pm

PH: Closed

OPERATING HOURS
Wide range of orthopaedic surgeries
As one of the longest-running and best dental clinics in Bedok, Greenlife Dental Clinic has proven their services to be highly efficient and effective. With their modern equipment and skilled specialists, they're able to provide tooth coloured fillings, wisdom tooth extraction, bone grafting, smile reconstruction, braces, teeth whitening and more.
They also perform major procedures such as porcelain veneers, root canal therapy, dental implants, full mouth rehabilitation, as well as child dentistry. Aside from their Bedok branch, they're also located in other cities, making their services accessible.
Highlights
Full range of dental services
Medisave approved
Customer Reviews
Most customers were very satisfied with the services of Greenlife Dental Clinic, particularly, on their braces services. They said that the procedures, specialists, and staff are all great.
A customer from Google Reviews recommended this clinic and posted this review:
"Excellent service from Dr Lee Bingwen and the staff. Had my braces done here by Dr Lee, an extremely friendly and proficient dentist. Besides, the staff are very much helpful with monthly appointments Worth mentioning that the price of braces is reasonably priced, highly recommend people who are interested in getting braces!"
2.  Alda Dental Surgery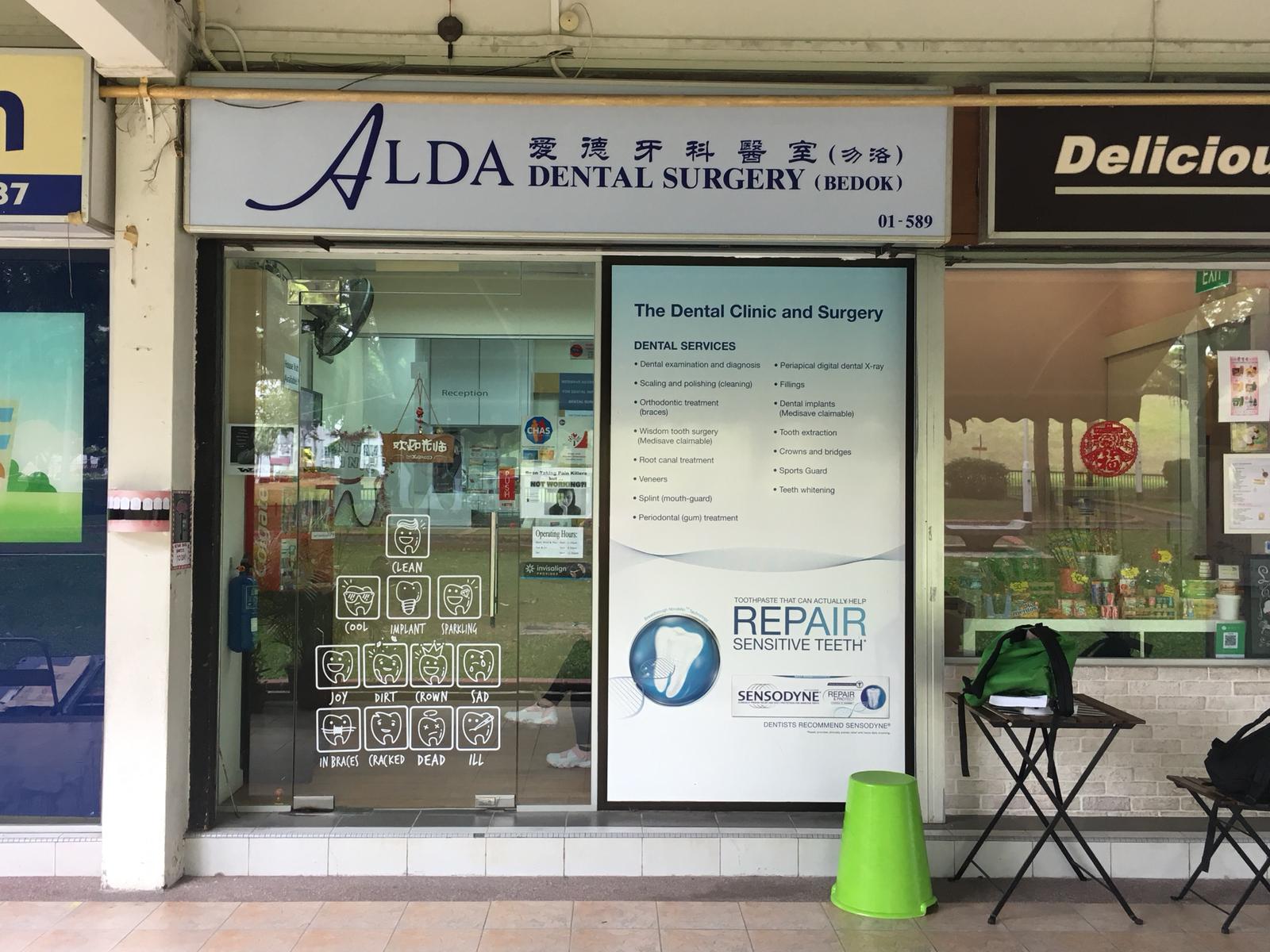 BEST FOR 
Home visits for elderly dental services
WEBSITE
https://www.aldadental.com.sg/
ADDRESS
Block 158, Bedok South Avenue 3, #01-589, Singapore 460158
CONTACT DETAILS
+65 6445 6038
OPERATING HOURS
Monday, Wednesday, Thursday: 09.00am – 05:30pm

Tuesday, Friday: 09:00am – 08:30pm

Saturday: 09:00am – 1:00pm
Alda Dental Surgery provides a full range of dental services and this includes their treatments for gum disease problems and even child dentistry. From basic up to the most advanced procedures, you can be sure that they're truly one of the best dental clinics in Bedok.
Full and partial dentures, splint, sports guard, & dental veneers are some of their most competent services. Aside from this, they also do home visits for the elderly in case your parents or grandparents can't physically visit the clinic.
Highlights
Extensive financial options
Home visits for elderly
Customer Reviews
Alda Dental Surgery has earned a lot of high-rated feedback from the customers saying that the treatments are excellent and the staff are friendly and accommodating as well. A customer shared this story on Google Reviews:
"Alda Bedok dental office is my favourite dental office that I have ever visited. I used to fear dental appointment, but the friendly staff, the cosy environment, the affordable price have made my dental appointment a lot less terrifying. Dr. Ma did a thorough check on my teeth and gave me advises on how to take better care of my teeth. She is also very gentle in dealing with my sensitive teeth and I am very satisfied with my experience. Overall, I would highly recommend her service to anyone."
3.  Nuffield Dental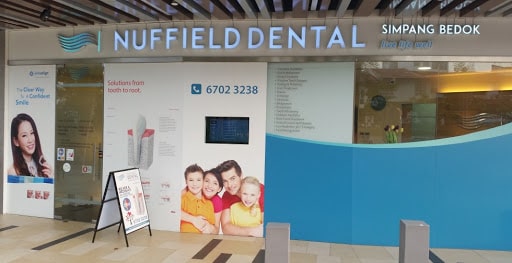 BEST FOR 
Cosmetic dentistry, Signature services
WEBSITE
https://www.nuffielddental.com.sg/
ADDRESS
430 Upper Changi Road #01-63, East Village, Singapore 487048
CONTACT DETAILS
6702 3238
OPERATING HOURS
Weekdays: 9:00 am – 9:00 pm

Weekends: 9:00 am – 6:00 pm
If you're searching for a dental clinic that focuses on visual enhancements of teeth, then Nuffield Dental might be the right place for you. They specialise in providing veneers, crowns and bridges, teeth whitening, Invisalign, dental implants and many more.
Smile makeovers, tongue tie surgery, and gum recession treatment are few of their signature services, as well as other complex dentistry treatments. These innovative treatments have made them one of the best dental clinics in Bedok.
Highlights
Emergency dental services
Visual enhancements for the teeth
Customer Reviews
Customers were extremely impressed with the overall services of Nuffield Dental. They mentioned the professionalism of the staff and the excellent treatments that gave them wonderful results.
A customer posted these praises on Google Reviews:
"I had a great experience at this clinic.I did my Invisalign.. Dr Faisal was extremely professional pleasant and proficient. He made the whole experience comforting and gave me the peace of mind that I was in excellent hand. Initially I thought the package was quite pricey but I would go back again n convince my friends and family to go as their service is beyond my expectation. The whole team was genuine, friendly, very consistent and make me feel safe in their hands and of course the clinic is very very clean. Thumbs up to the team! I really love them!"
4.  Advanced Dental Clinic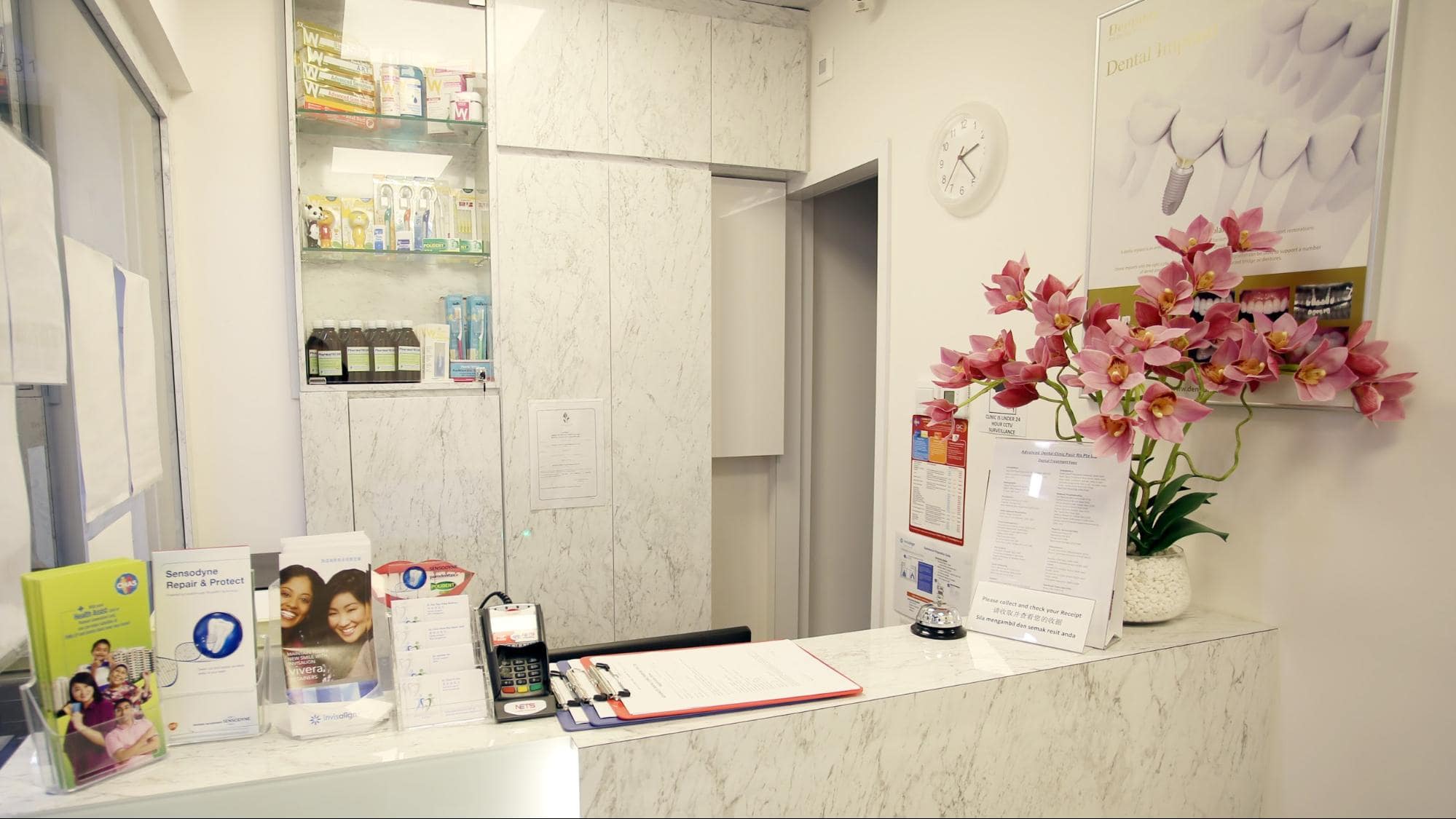 BEST FOR 
Flexible payment plans
PRICING
Rates
WEBSITE
https://www.advanceddental.com.sg/
ADDRESS
Blk 56 New Upper Changi Road #01-1294 S(461056)
CONTACT DETAILS
+65 8684 1000
OPERATING HOURS
Monday to Friday: 9am-9pm

Saturday and Sunday: 9am-5pm

PH: Closed
Advanced Dental Clinic has several branches all over the island including their clinic in Bedok where they offer general dentistry, aesthetic dentistry, dental pain management, teeth replacement, oral surgery, and more.
Children's dentistry is also a part of their services. They're partnered with different financial assistance options and accreditations, lessening the pressure of the treatment costs.
Highlights
Health insurance options
Gum treatment and surgery
Customer Reviews
Advanced Dental Clinic is well-loved by many customers who said that they indeed offer ideal solutions for certain teeth conditions. This is why most locals consider them to be the best dental clinic in Bedok.
A customer wrote this story on Google Reviews:
"I have both implants and gum treatment done at Advanced Dental Clinic (Bedok branch) by Dr. Simon Chua (Senior Dr.) as well as past consultation with Dr. Jennifer Jin. So far I am happy with the work/procedures done on my teeth and gum. Doctors and nurses are affable/friendly, but most important of all, they are reasonably priced and do not recommend unnecessary treatment. Furthermore, Doctors do care for the patient as they confer within themselves to advise or recommend the best solutions for your oral hygiene."
5.  Manchester Dental Care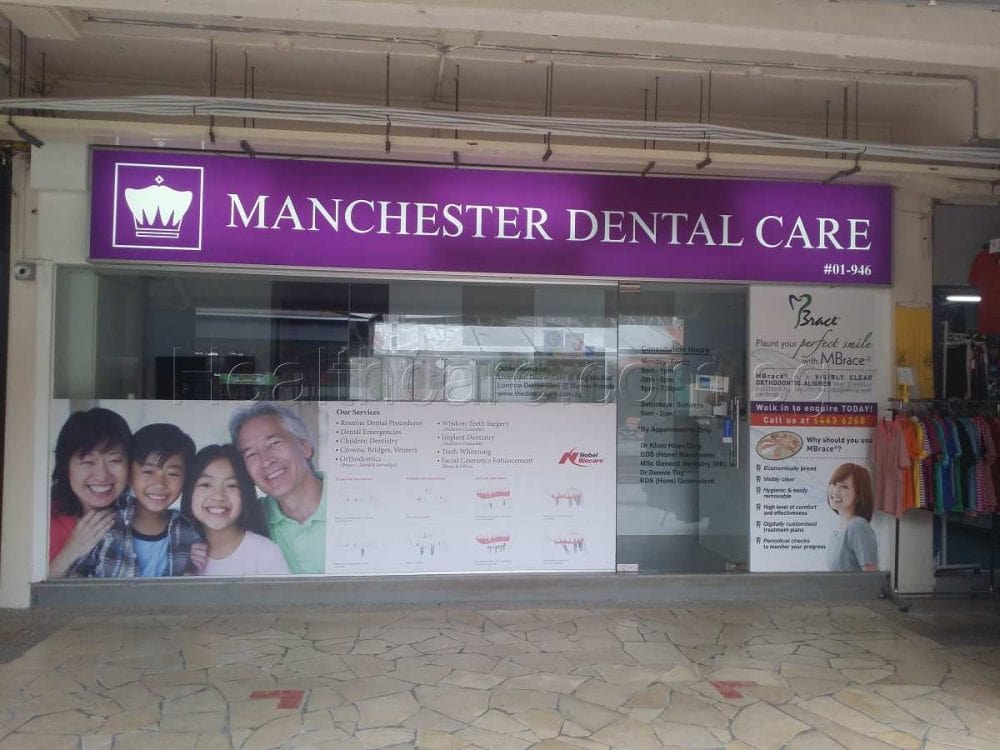 BEST FOR 
Innovative and latest dental techniques
WEBSITE
https://thedentalcare.com.sg/manchester-dental-care/
ADDRESS
Blk 631 Bedok Reservoir Road #01-946 Singapore 470631
CONTACT DETAILS
6443 6268
OPERATING HOURS
Weekdays: 9:30 am – 7:30 pm

Weekends: 10:00 am –3:00 pm
Manchester Dental Care takes pride in their internationally-trained team of specialists who perform general and cosmetic dentistry, orthodontics, dental implants, wisdom tooth surgery, kids dentistry, and even facial esthetics.
Apart from their dental services, they also offer facial treatments. With this range, they've truly become a part of the best dental clinics in Bedok.
Highlights
Facial treatments
Neighbourhood locations
Customer Reviews
Customers praised the inclusive consultations and treatments offered at Manchester Dental Care. A customer left this review on Google Reviews:
"Dr Dennis is very professional. knowledgeable and skilful. He treats his patients with utmost care and gives valuable advices and tips on dental care. Never had a time that I did not enjoy my biannual Dentist session with him. Most cheerful and caring Dentist I have met."
6. Neo Smiles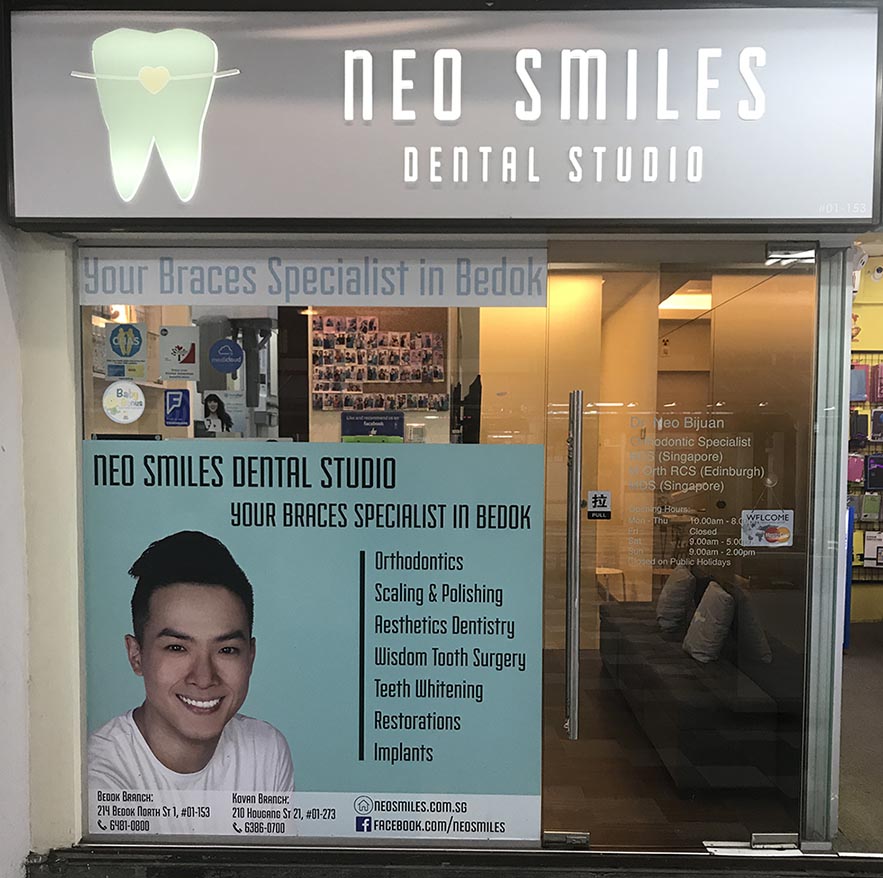 BEST FOR

Specialist braces and Invisalign treatment

WEBSITE

https://neosmiles.com.sg/

ADDRESS

Bedok branch: 214 Bedok North St 1, #01-153 Singapore 460214

Kovan branch: 210 Hougang St 21, #01-273 Singapore 530210

CONTACT DETAILS

6386-0700 | 9669-0789 (Whatsapp)/ 6481-0800 | 9669-0789 (Whatsapp)

OPERATING HOURS
Bedok Branch 

Monday – Thursday: 10:00 am to 8:00 pm 

Saturday: 9:00 am to 5:00 pm

Sunday: 9:00 am to 2:00 pm 

Kovan: 

Tuesday – Friday: 10:00 am to 8:00 pm 

Saturday: 9:00 am to 5:00 pm 

Sunday: 9:00 am to 2:00 pm
Founded in 2015, Neo Smiles Dental Studio is a relatively new dental clinic in the city. Nonetheless, it has already garnered loyal clients. This is because of their prompt and excellent service provided to their patients. 
This clinic was established because the founder, Dr Neo Bijuan, found that there was a need for specialist braces dentistry in the heartlands. Thus, she placed Neo Smiles Dental Studio in the heartlands and neighbourhoods where everyone can easily access. As braces take a long time to complete, she saw the need to make her clinic more reachable to individuals
Highlights
Accessible location

Specialized braces dentistry

Affordable cost
Customer Reviews
Excellent service coupled with reasonable price made the clinic to be known in the locality. Here are some of the testimonies of their clients: 
I did invisalign braces with Dr. Neo at Bedok last December. The treatment lasted a year. She and her team is always friendly and offer good services. The price of invisalign treatment is slightly pricier but the quality is great! – Yi Tong Tan
Great place.  Especially good for kids.  The dentist is very caring and extremely patient with mine.  My kids have always been very fearful of a dental visit, and I have been trying out many dental clinics for the last several years.  Finally settled on Neo Smiles. They really one-up everyone else with their friendly setting and caring staff. Kudos to Dr Neo and her team! – Derek Tong
7. Eastwood DentalCare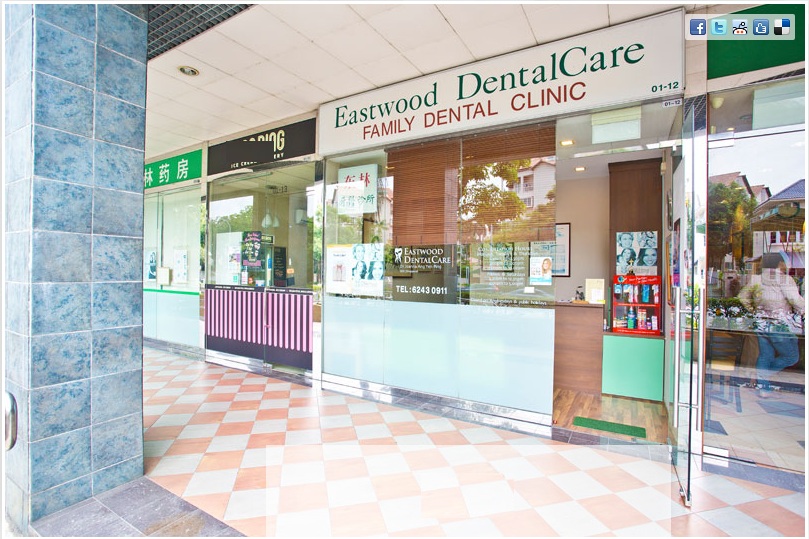 Eastwood DentalCare offers both General Dentistry and Aesthetic Dentistry with guaranteed high level of service and most up-to-date solutions. The clinic is headed by Dr Joanna Ang who is extremely dedicated to providing you with excellent yet comfortable dentistry experience.
The clinic attends to all age groups with varying concerns. Whether you need some regular teeth cleaning or or as complex as wisdom tooth surgery, Eastwood DentalCare promises to make everything at ease for you with guaranteed best results.
Highlights
Advanced dental techniques and technology

Wide array of dental services

Highly-qualified specialist
Customer Reviews
Whether it is their first time or not at the clinic, the patients of Eastwood Dentalcare are always amazed with how the team carefully attends to each of their patient's dental needs.
"Brought my 6 year old who was terrified of Dentist and Lo and Behold, she went through her first dental cleaning with ZERO drama and tears. The dentist was so gentle and patient with my daughter, and even motivated to brush her teeth daily. She looks forward to her next visit in 6 months. Will highly recommend!"
8. Happy Tooth Dental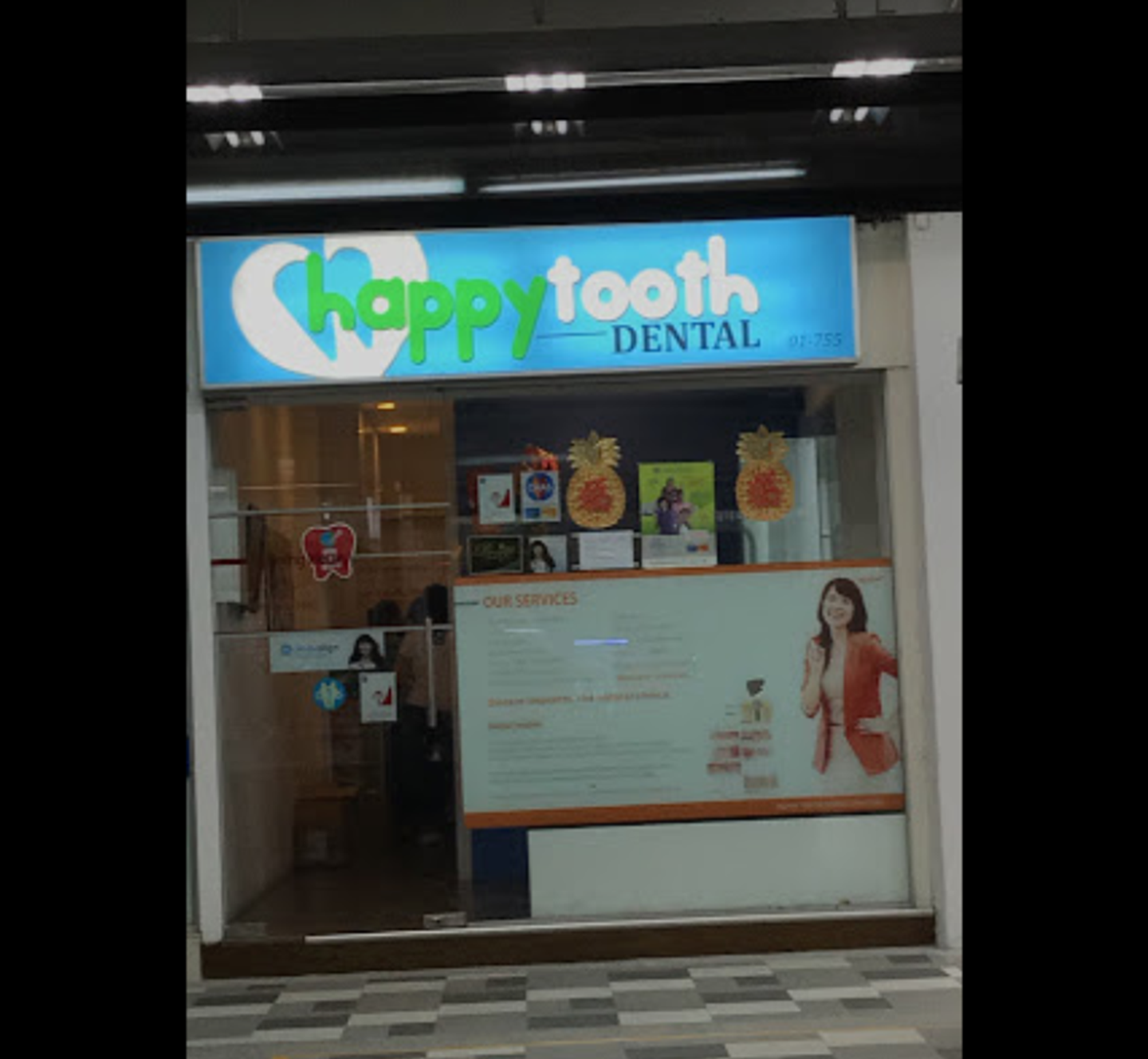 BEST FOR
Urgent dental care
WEBSITE
https://www.happytoothdental.com.sg/
ADDRESS
Blk 211 New Upper Changi Road #01-755 S460211
CONTACT DETAILS
6441 1882
OPERATING HOURS
Mon – Fri: 9am – 9pm
Sat – Sun: 9am – 5pm
Happy Tooth Dental has been offering great dental care and services ever since they were established in 2011. They guarantee customer satisfaction and little to no wait times, even when it comes to walk-ins. They maximise the use of their abilities to ensure that you experience a comfortable and pain-free process, through employing only the best and highly skilled dentists in all of Bedok.
They offer a wide range of services from all areas of dentistry in their clinic, which includes but are not limited to, scaling and polishing, tooth fillings, surgery, dental implants, and teeth whitening.
Aside from their experienced and professional dentists, they also use high-end, modern technology that helps them administer services more quickly. They also use Digital 3D X-ray, if ever your assessment is in need of detailed pictures of your teeth and gums.
Highlights
Compassionate & Honest Staff
Convenient Location
Comfortable Environment
Customer Reviews
Happy Tooth Dental's overall service is nothing short of spectacular, as their dental works are top notch and offered at a very reasonable price. Check out what a previous customer had to say about them on Google Review:
"Pleasant, professional and friendly service. Have been with them since 2014. I first did my wisdom tooth surgery with them, as the pain was unbearable. The extraction was smooth and it was alight. So I have been going their for my regular scaling and polishing sessions ever since. The prices are reasonable too.
Do note that it's best to call to book a timeslot."
That's it for our list of the best dental clinics in Singapore. Have you already chosen a clinic to visit? Let us know all about it!
If you'd like to know more clinics located in other cities, see these best 24-hour dentists in Singapore. So in case of an emergency, you can immediately go to the clinic and have your condition checked and treated.