The 6 Best Bali Villas with Private Pools
Bali remains one of the top vacation spots during warmer seasons because it's filled with beautiful beaches. If you want to make your Bali vacation a memorable one, then we highly recommend getting an accommodation at some of the best Bali villas with private pools.
Now, if you have no idea where to find the best Bali villas with private pools, then you've come to the right place. We found ones that are not only huge but that offer breathtaking views as well.
So, without further ado, here's our list of the best Bali villas with private pools.
1. Koenokoeni Villa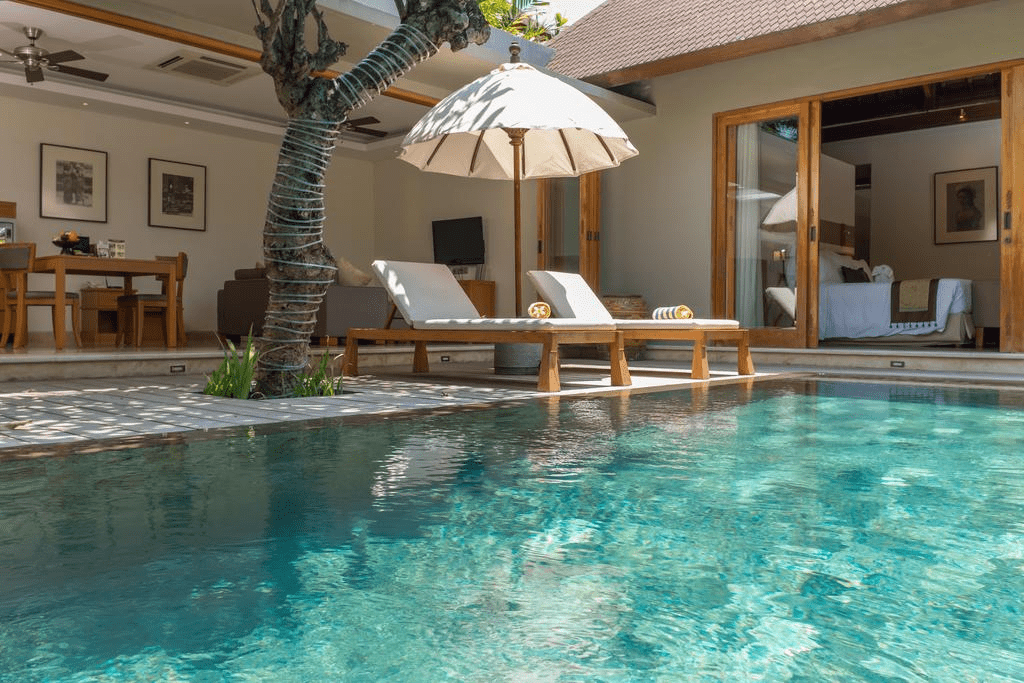 | | |
| --- | --- |
| BEST FOR | Proximity to Tourist Attractions |
| BOOKING WEBSITE | https://koenokoenivilla.id-indonesia.com/ |
| ADDRESS | Jalan Telaga Waja, Petitenget – Seminyak, 80361 Seminyak, Indonesia |
| CONTACT DETAILS | +62 361 8465100 |
It's no secret that KoenoKoeni Villa is among the most in-demand private villas in Bali, booked by tourists from all over the world all year round. If you manage to book an accommodation, your vacation in Bali will definitely be a lot more exciting!
One of the reasons it's considered one of the best Bali villas with private pools is that it's a 20-minute drive away from Legian and Kuta beach, two of the best beaches in Bali. It's also close to a number of tourist attractions that can make your vacation worthwhile.
KoenoKoeni Villa also comes with free WiFi to keep you connected with friends throughout vacation. There's also a restaurant that offers Indonesian and international cuisine, so you won't go hungry while staying in this beautiful private villa.
Highlights
Luxurious interiors
Free WiFi
Close to the beaches
Car rental and room service
Customer Reviews
Here's what previous guests have to say about KoenoKoeni Villa:
"Clean rooms and the staff are absolutely amazing – they really care about each customer and make each person feel welcome. They even delivered me a cake on my birthday and decorated our villa. The extra details and care is much appreciated. I would highly recommend these Villas."
"The airport transport and also the complimentary shuttle to surrounding areas. The friendliness and service of the staff.. The sheets were not clean the first night and subsequent changes, the sheets had a damp smell. The towels look old and need to be changed."
2. Ametis Villa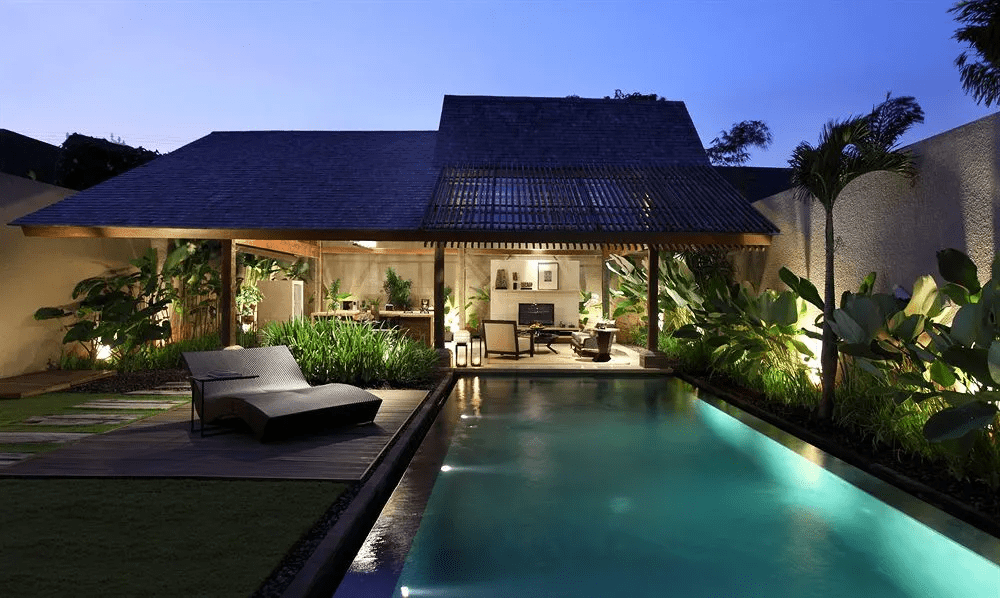 If you're planning to go to Bali with your significant other, then Ametis Villa would be the perfect accommodation for the both for you! It also doubles as a honeymoon villa because it provides a peaceful and quiet retreat away from stressful urban life, making it one of the best Bali villas with private pools for couples.
What's more, Ametis Villa boasts contemporary yet luxurious interiors that make it seem like you're living the life of royalty even just for a few days. It also comes with a separate living room with a gourmet kitchen from which the pools can be seen.
So, after having your lunch or breakfast, you can go straight to the pool to have a quick dip before exploring Bali.
Highlights
Gourmet kitchen
Fancy interiors
Home Cooked cuisines
3. Javana Royal Villas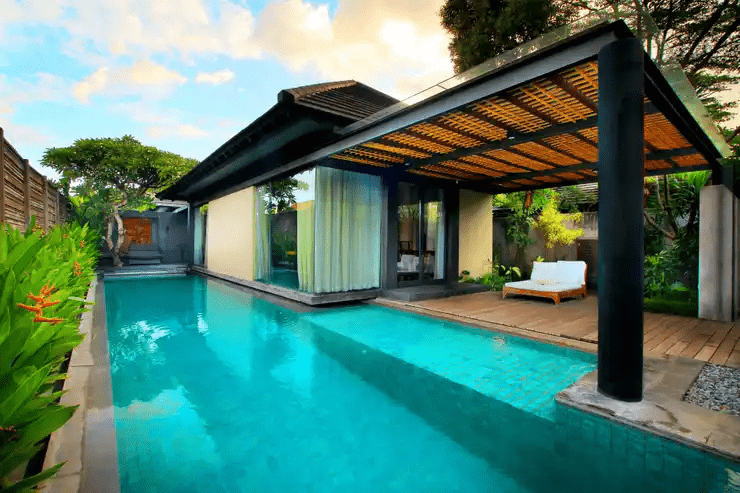 Located at the outskirts of Seminyak, Javana Royal Villas has long been considered one of the best Bali villas with private pools for the quiet, romantic, and peaceful vibe it offers to all its guests.
It has two types of private pool villas: the bedroom pool villa and the bedroom royal pool villa, both of which can be a perfect site for relaxation.
What's more, Javana Royal Villas is quite famous for its floating breakfast, which can be enjoyed while having a dip in the pool. It also comes with a romantic, candlelight dinner if you're planning to stay with your partner.
Javana Royal Villas also provides transportation to make your tour around Bali easier and more convenient.
Highlights
City tours
Floating breakfast
Friendly and approachable staff
4. Maviba Villas & Resorts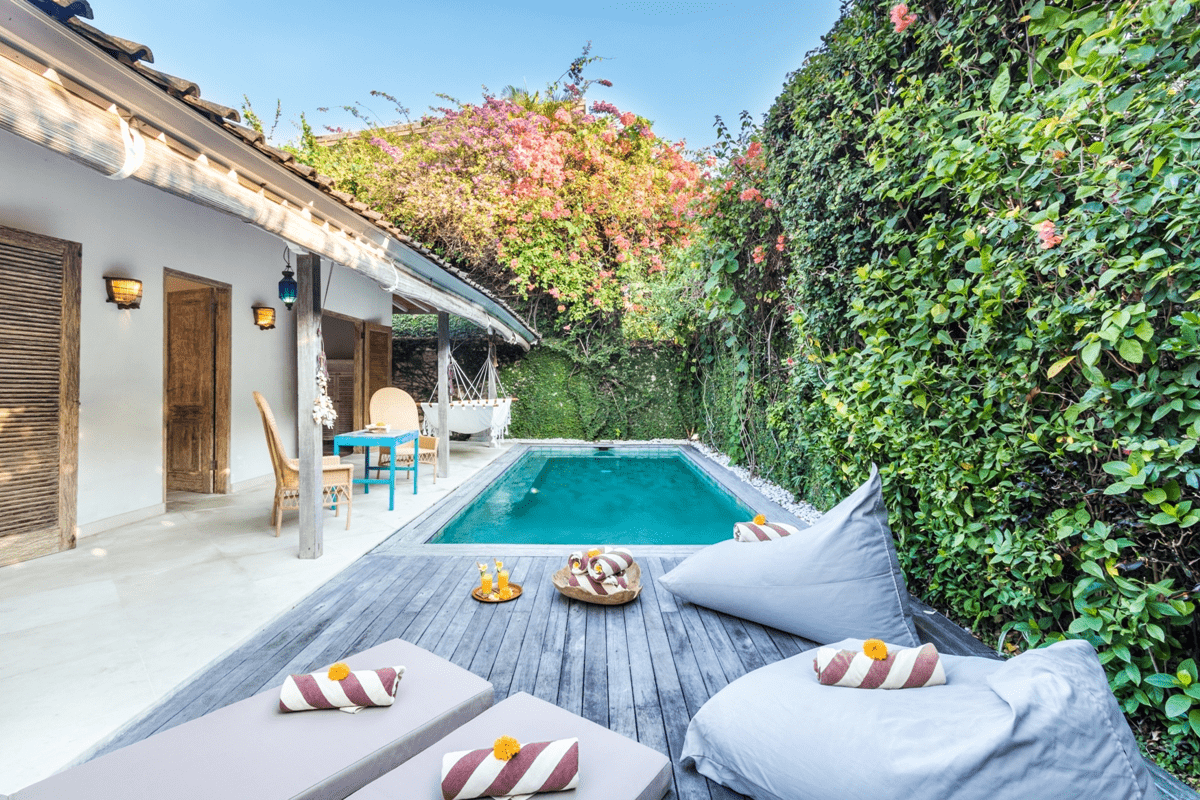 BEST FOR
Boho-themed Villas
BOOKING WEBSITE
https://mavibalirentals.com/
ADDRESS
Jl. Batu Belig Gg. Gelatik, Seminyak, Kec. Kuta Utara, Kabupaten Badung, Bali 80361, Indonesia
CONTACT DETAILS
+62 (361) 847 5 669 |

[email protected]
Let's be honest: the best Bali villas with private pools don't always come cheap, but consider Maviba Villas & Resorts different. It's priced for only USD150 a night, much cheaper than the rates of other private villas in the area — so, this one's definitely a huge steal!
What's more, it's a boho-themed 2-bedroom private villa with cute decor perfect for family vacations. It's also equipped with a high ceiling, modern interiors, gorgeous lighting, and a clean private pool!
It's also pretty close to a number of tourist spots and beaches in Singapore, so navigating the area won't be much trouble for tourists like you.
Since it's pretty famous and always fully booked, you have to make sure to pre-book weeks ahead before your vacation.
Highlights
High ceiling
Clean private pool
2 bedrooms
5. Sejuk Beach Villas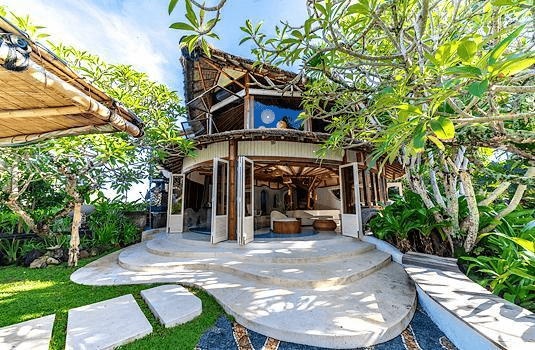 | | |
| --- | --- |
| BEST FOR | Accessible Location |
| BOOKING WEBSITE | https://www.sejukbeachvillas.com/ |
| ADDRESS | Jl. Pantai Seseh, Munggu, Kec. Mengwi, Kabupaten Badung, Bali 80391, Indonesia |
| CONTACT DETAILS | +62 81 238 872 420 |
If you're searching for the best Bali villas with private pools that can house your entire family, then Sejuk Beach Villas might be the perfect option for you! It has a 4-bedroom villa with a private pool that can accommodate more than 6 people, making it perfect for huge families.
Sejuk Beach Villas is also located between Seseh's beautiful black beach and a gorgeous rice field, so rest assured that its location is peaceful and quiet, away from the stress of the city. Its villas also come with a modern kitchen and a private pool with a view of the Indian ocean.
On top of that, Sejuk Beach Villas is also known for its gorgeous architecture and warm customer service from the staff.
Highlights
Excellent customer service
Gorgeous architecture
Access to the beach
6. Taman Sari Villa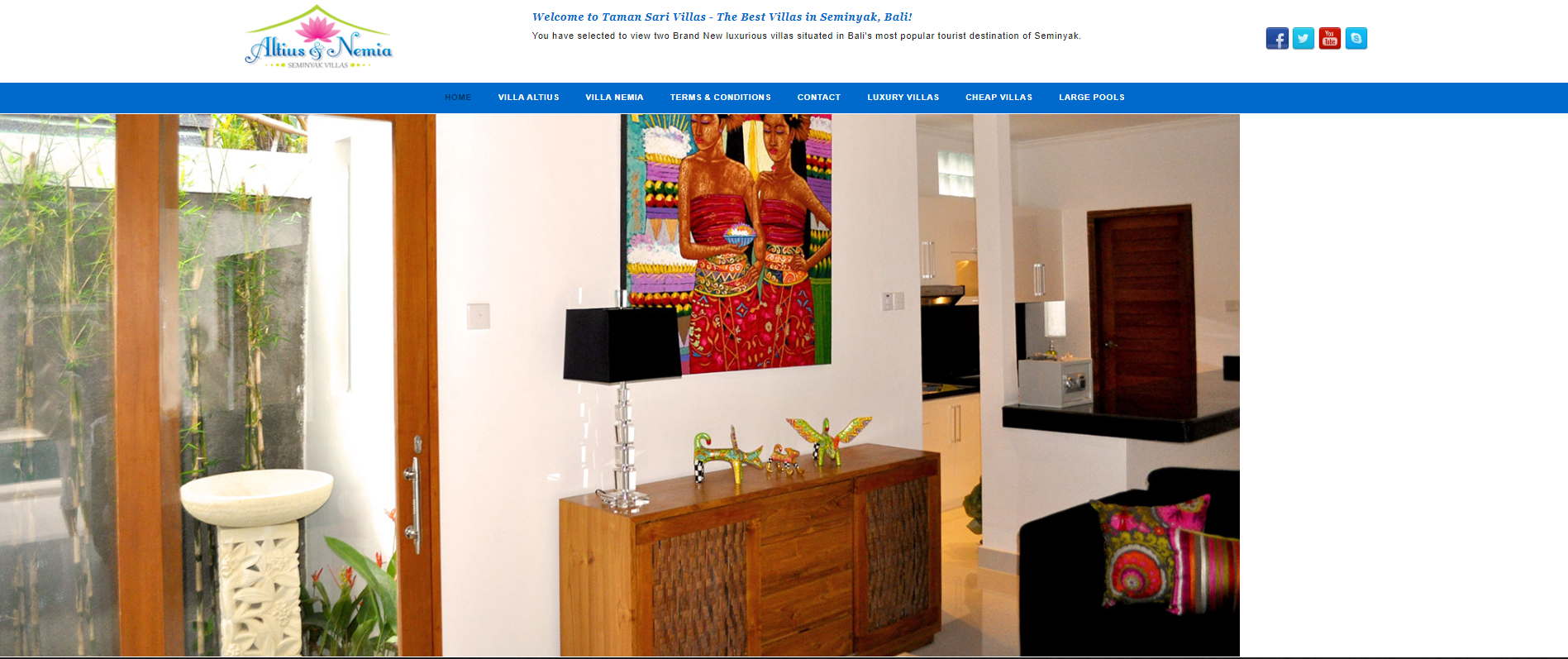 In September 2010, the Villa Altius and Villa Nemia were completed. The villas are situated in Seminyak, in a peaceful tropical enclave where the people can feel total relaxation.
If you're yearning for a luxurious Bali holiday, the villas they offer have been exquisitely decorated and offers the very best in luxury accommodation. You can relax by their large tropical pool, or stroll to the nearby Seminyak beach.
Their villas are also in a very nice location, which is right in the heart of Seminyak. You can explore the nearby markets, boutiques, and restaurants– or experience an exciting nightlife, just a few steps away.
Highlights
Friendly Staffs
Nice and Comfortable Place
Easy to Book Services
Perfect Location
And that's it for our list of the best Bali villas with private pools! Any of these private villas can make you feel it's your home away from home!
If you know of other Bali villas with private pools, don't hesitate to share their names and we'll check if we can add them to our list.
Anyway, if you also know someone looking for cheap yet great accommodation in Singapore, you might want to direct them to our list of the best boutique hotels in Singapore. These hotels are the perfect spots if you want a nice accommodation but don't want to hurt your bank account!