Top 6 Options for the Best Ant Control in Singapore
To maintain a healthy environment at home, you need to make sure that it's fully cleaned and safe from insects/pests. To help you with that, we'll show you where to find reliable and skilled professionals who specialise in providing the best ant control in Singapore.
As we all know, insecticides can only be used as a temporary solution to keep the ants away, and then they'll eventually return after a few days. That's why it's wise to acquire an ant control service to eliminate the ants permanently.
These services will help eliminate all existing ants and other insects/pests at your home permanently, keeping your whole family protected against health risks. So see our list below to know where to find the best ant control in Singapore.
1. Top Pest Control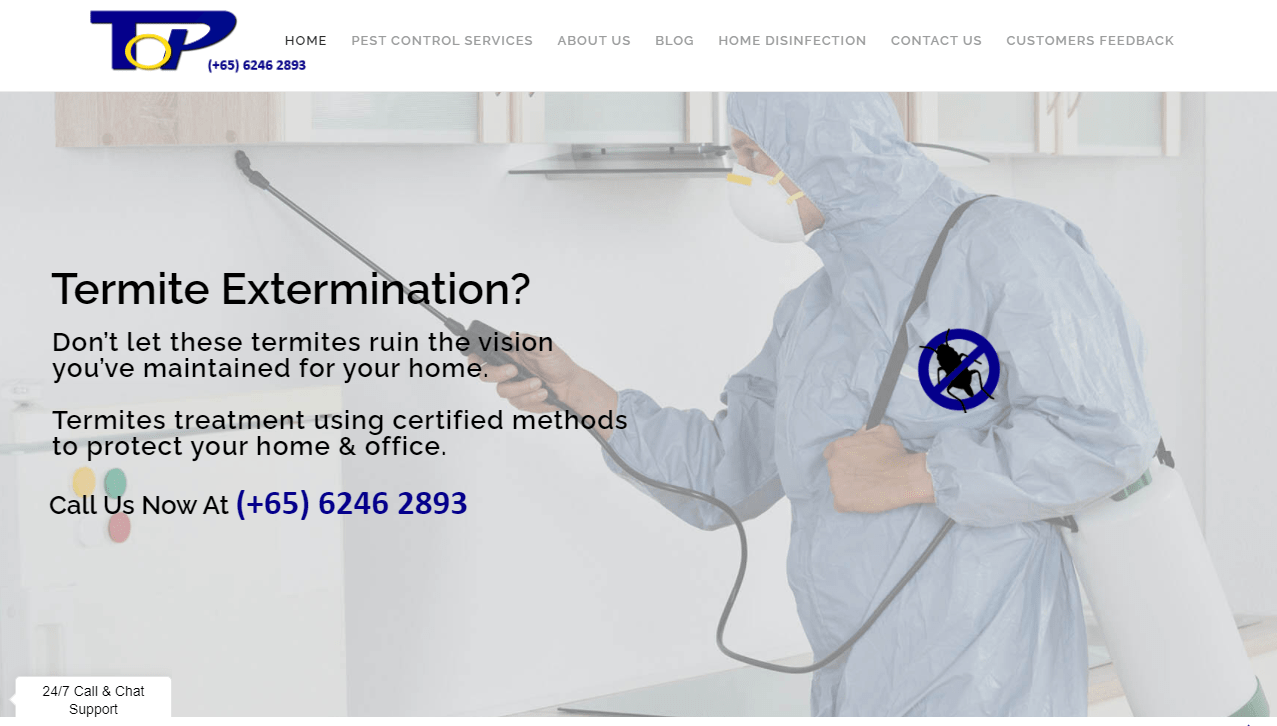 Top Pest Control performs thorough pest inspection at home and uses proven methods to provide long-lasting ant control.
With their years of technical training and experience, they've been able to design a specialised program that aims to offer excellent on-site pest treatment for both residential and commercial properties.
Their team is highly knowledgeable in exterminating all types of ants with the most effective solutions. They're well-versed in ant behaviour, so they can target certain characteristics of the ants to ensure that they'll never come back again.
Aside from this, they also provide advice on how to maintain an ant-free environment at home.
Highlights
One-off treatments
Emergency services
Regular maintenance
100% chemical-free solutions
Delivering services
Customer Reviews
Many customers praise Top Pest Control because of the highly trusted technicians and quality workmanship. They say that the team has indeed cleared out all the pests hiding in their places and did proper disinfection.
This is why Top Pest Control has become known for their best ant control in Singapore. A customer gave this feedback:
"Contacted Top Pest Control via their website form and got a reply via text message within the hour. And that was at night, way past office hours as well. Shawn from Top Pest Control was very patient, answered my queries, gave me a very reasonable quote (much more affordable than 2 other more well marketed pest control companies I inquired with prior) and arranged for my place to be fogged for mozzie control the next day! Amazing service and value for money"
2. Killem Pest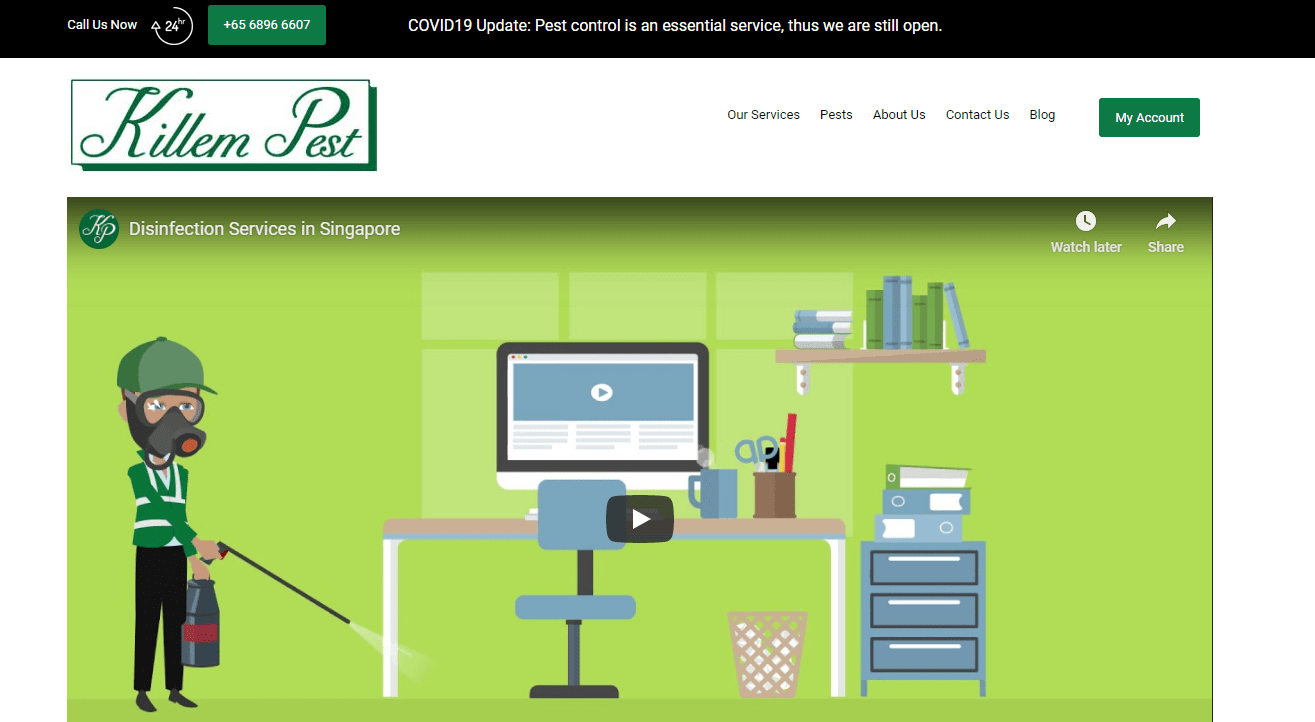 | | |
| --- | --- |
| BEST FOR | Residential, commercial, government services, Largest service contracts |
| WEBSITE | https://killem.com.sg/ |
| ADDRESS | Killem Pest Pte Ltd 48 Toh Guan Road East, #04-99 Enterprise Hub, Singapore 608586 |
| CONTACT DETAILS | +65 6896 6607 |
| OPERATING HOURS | Open 24 hours |
Killem Pest is one of the oldest providers of pest management services here, and they use advanced solutions for all types of pest problems. This includes their best ant control in Singapore.
All of their pest operators have received strict training when it comes to handling all kinds of ants. Through their home assessment, they use environment-friendly chemicals with low toxicity to ensure health safety.
Their schedule of services is also flexible, as they'll come to your home or work office at any time that's convenient for you.
For the business owners, they can conduct a survey at construction, plantation, or manufacturing sites and perform professional ant removal services.
Highlights
Full coverage services
On-site inspections
Latest equipment and chemicals
Customer Reviews
Killem Pest has earned a lot of good feedback from clients saying that the team was able to do full coverage on multiple sites for enhanced business operations.A client posted this review:
"Thank you so much for the impeccable service carried out at my home. The service technicians are very professional and well trained. Not only was the service carried out in a very orderly manner, the technicians highlighted some concerns and have provided me with very valuable advice. Heartfelt gratitude, many thanks."
3. Maximum Pest Management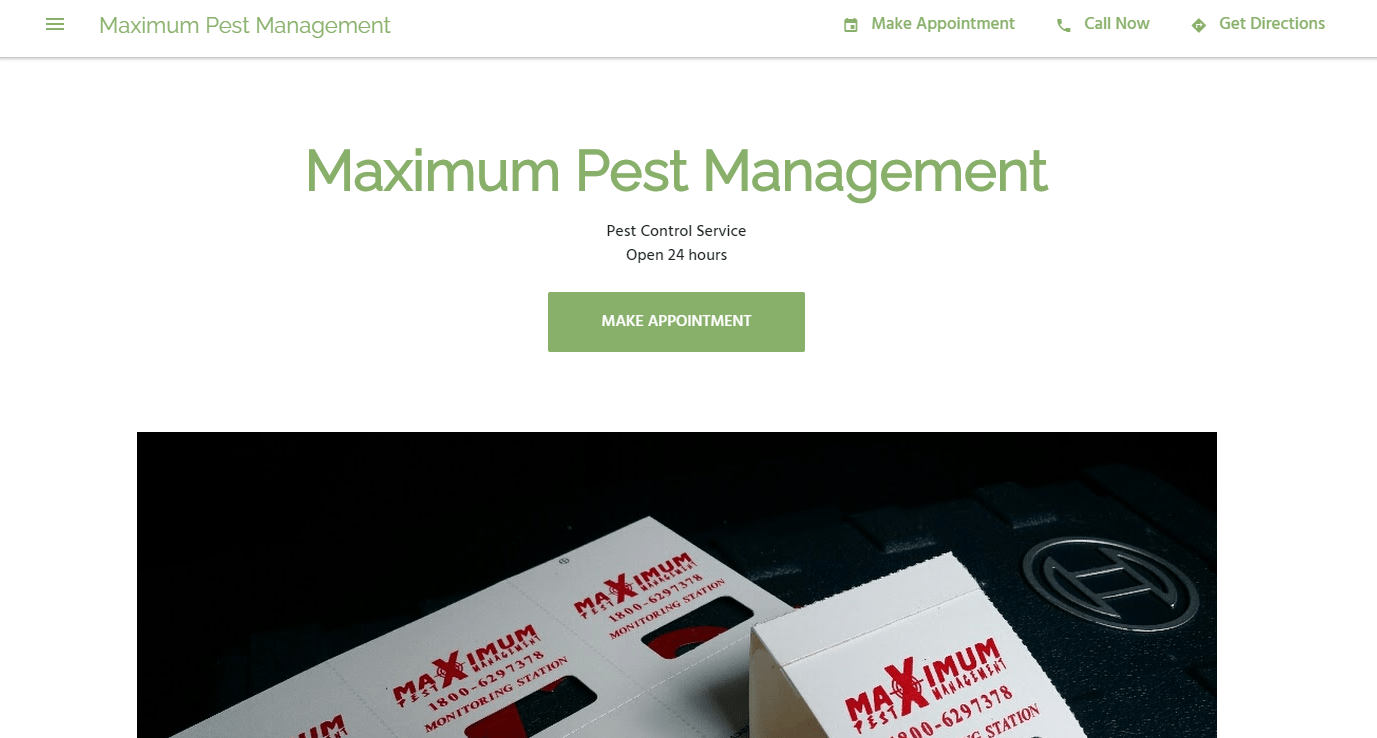 | | |
| --- | --- |
| BEST FOR | Environment-friendly solutions |
| WEBSITE | https://maximumpest.business.site/ |
| ADDRESS | 54 Maude Road #02-06 Singapore 208346 |
| CONTACT DETAILS | 6292 0515 , 1800 629 7378 |
| OPERATING HOURS | Open 24 hours |
Maximum Pest Management might only have a few years of service in the industry, but their technicians have a decade of experience when it comes to handling pest infestations.
Most of the products they use are water-based instead of gas-based, which is much safer for the environment. That's another consideration that may come into play when you look for ant control services.
They offer their best ant control in Singapore for both commercial and residential areas. Apart from ants, they also provide solutions for bedbugs, termites, cockroaches, bees, hornets, and other pests.
Highlights
Free site visit
24/7 emergency services
Customer Reviews
Many clients have recommended the services of Maximum Pest Management, and praised the customer-centric approaches of the team. A customer gave this feedback:
"I would like to Thank Maximum Pest Management for the professional service they recently provided to us. I would highly recommend them for all pest control requirements they are 100% local and service was friendly and helpful"
4. Innovative Pest Control
| | |
| --- | --- |
| BEST FOR | Customised services, Ant control management for industry properties |
| WEBSITE | https://innovativepest.sg/ |
| ADDRESS | 192 Pandan Loop, #05-24 Pantech Business Hub, Singapore 128381 |
| CONTACT DETAILS | +65 6100 5266 |
| OPERATING HOURS | Open 24 hours |
Innovative Pest Control provides customised pest management for every home/business owner. They choose and use the eco-friendly products and methods suitable for the current condition of your home.
Along with this, they offer a regular maintenance pest program to control any returning ants and eliminate health risks. They also offer a wide range of service packages where every treatment comes at affordable rates!
Whether it's for your home, office, school, restaurant or even a vessel, they can fix pest issues.
Highlights
Fast response
Home dysfunctions
Pre-move in pest control service j
Fair quote estimation
Customer Reviews
Being an award-winning service provider, Innovative Pest Control has indeed proven that they provide the best ant control in Singapore. Most of their clients were impressed by how they managed to apply permanent solutions.
A client wrote this review:
"Thank you for the excellent service. Innovative pest services are always punctual every month. They follow up consistently & diligently & super reliable. The people are really friendly, happy & its a joy to work with them! No matter your pest problems, they will do your best to advise you accordingly & they have done a great job for us for the past 1 year plus! (: Thank you Innovative Pest! i will recommend them for pest control problems because they are really genuine & professional. Keep up the amazing services!!"
5. Pesticon Pest and Sanitary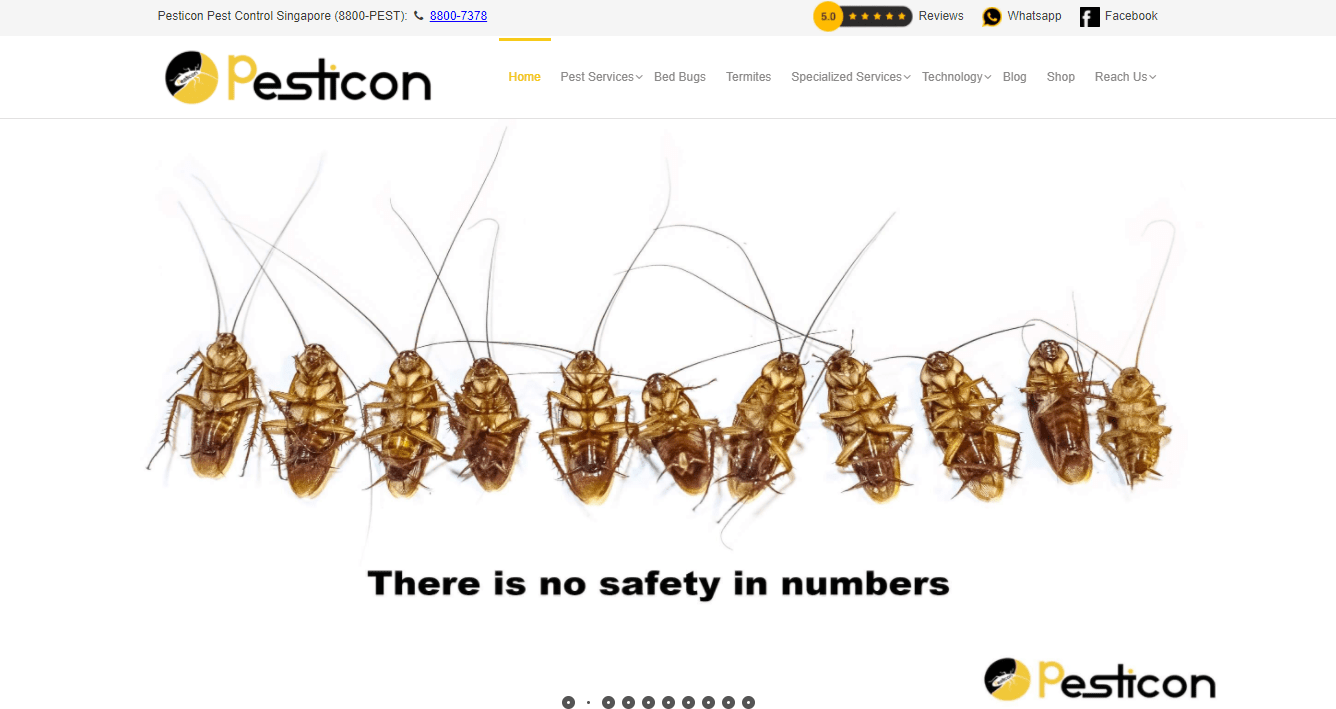 | | |
| --- | --- |
| BEST FOR | Various ant control methods |
| WEBSITE | https://pesticon.sg/ |
| ADDRESS | 59 New Upper Changi Rd, #01-1274, Singapore 461059 |
| CONTACT DETAILS | +65 8800 7378 |
| OPERATING HOURS | Weekdays and Saturday: 8am–8pm |
At Pesticon Pest and Sanitary, they use effective pesticides with lasting periods of potency, making sure that it'll permanently eliminate the pests. Their products come from trusted pharmaceutical companies too.
Among all the existing methods, they use baiting as their best ant control in Singapore. This is due to the slow poisoning that'll affect and get rid of the traces of the ants.
Aside from baiting, they apply non-repellant based residual spray to control the ants that crawl along the edges of the wall or door frames.
Highlights
Pre and posttreatment
On-demand request services
home and office inspection services
wood protection
Online shop for quality equipment
6. Proserv Pest

Founded in 2008, Proserv Pest is a company that has more than 30 pest control professionals who are service-oriented and passionate about what they do. Not only that, but they're NEA certified, too.
The main reason why Proserv Pest is on this list is their quality of service. The team at Proserv Pest dedicates itself to being the best pest control team in the entire island.
They're thorough in their work, ensuring that no pest is left alive on your property once they have completed their services.
Another great thing about Proserv Pest is that the company is environmentally conscious. The team makes use of products that aren't harmful to the environment to minimise the hazards.
Highlights
NEA certified technicians
Services residential and commercial properties
Offers control and prevention services
Provides support in all related aspects of health & safety, housekeeping and proactive prevention measures
And that's it for our list of the best ant control in Singapore! If you've got more options in mind, let us know!
And you might also want to see these places that offer the best termite control in Singapore. They also take charge of removing all types of pests from your home or office!