Our 6 Top Options for Abortion Clinics in Singapore
Gathering up the courage to undergo an abortion is a difficult and painful process, whether it's because of financial stability or health complications. As this is a major procedure, you'd certainly want to search for the best abortion in Singapore and make sure that you're in good hands.
First of all, you must know that you can have an option between medical and surgical abortion. Both have their own specifications, so pick one that'll be more suitable for your condition.
So to know more about these procedures and you may read our list of the best abortion clinics in Singapore. We've selected the ones with experienced specialists, accommodating staff, and affordable costs.
(Note: The list is in no particular order.)
Women's Clinic of Singapore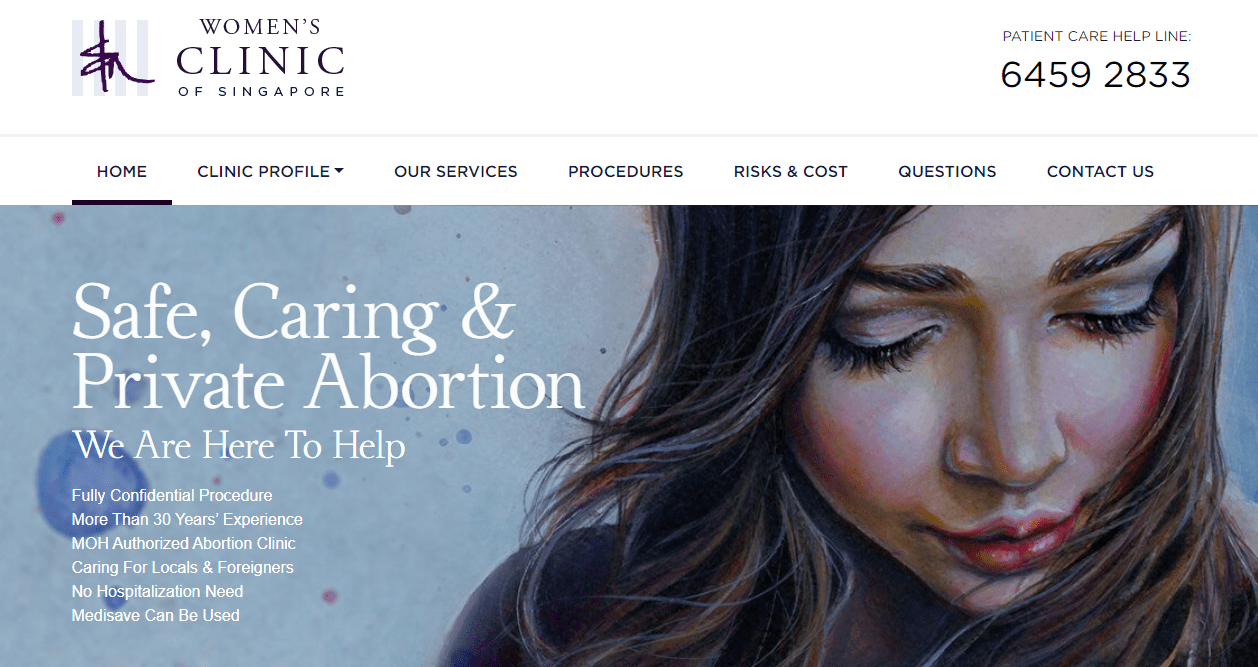 BEST FOR
Treatment plans
PRICING
Costs
WEBSITE
https://www.womensclinicofsingapore.com/
ADDRESS
Blk 721 Ang Mo Kio Ave 8 #01-2813 Singapore 560721 (Next to "Eye Clinic" & "Family Medicare Clinic")
CONTACT DETAILS
6459 2833
OPERATING HOURS
Mon – Fri: 9:30 am – 5:30 pm

Wed: Closed (Afternoon)

Sat & Wed: 9:30 am – 1 pm

Night Clinic on Tuesday: 7 pm – 9 pm
With their decades of experience, you can be sure that you'll receive a safe abortion at Women's Clinic of Singapore. They offer confidential and detailed solutions so you can make well-informed decisions.
They're MOH-accredited and they're licensed to perform services for pregnancies up to 24 months. They're also equipped with approved facilities for a pain-free abortion surgery with faster recovery, making them one of the best abortion clinics in Singapore.
Highlights
MOH-accredited
Same-day procedure
Medisave accreditation
Lien Clinic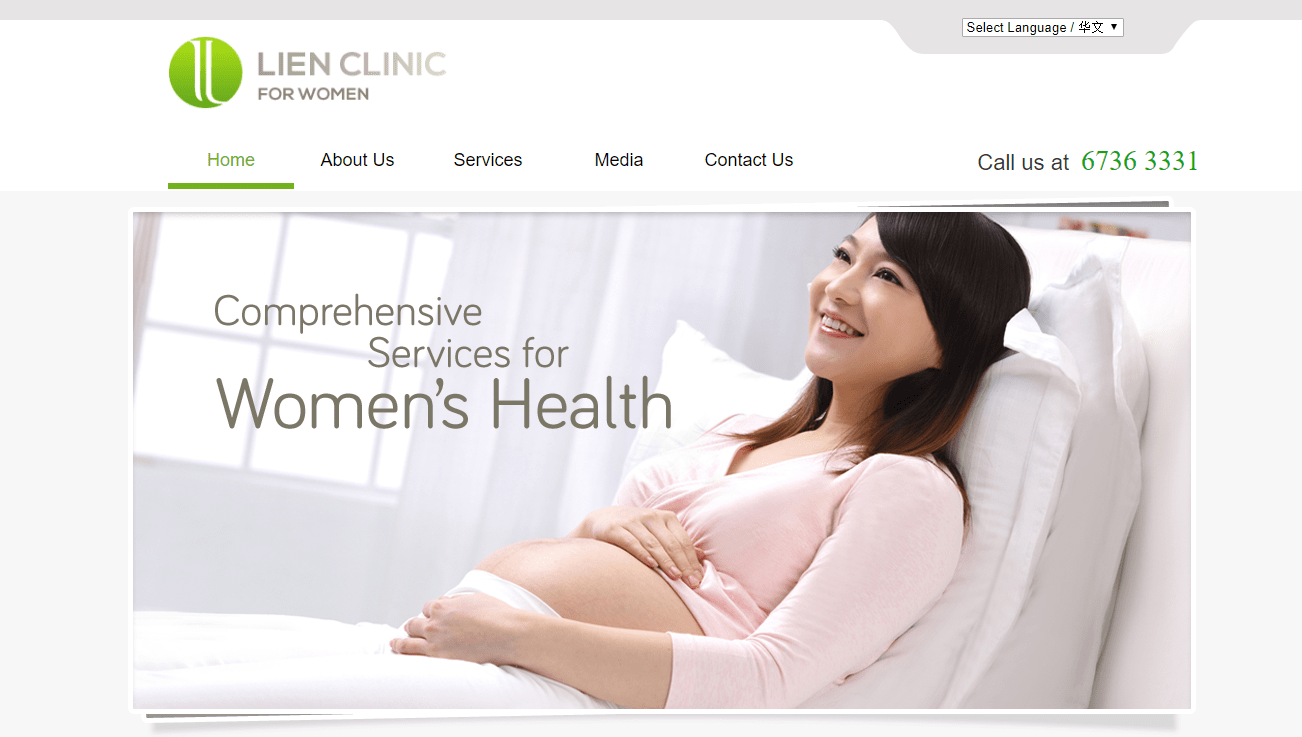 BEST FOR
Extensive range of abortion methods
WEBSITE
https://www.lienclinic.sg/
ADDRESS
Mount Elizabeth Medical Centre (Orchard) 3 Mount Elizabeth #05-03 (Level 5), Singapore 228510
CONTACT DETAILS
(65) 6736 3331
OPERATING HOURS
Mon – Fri: 9.00am – 1.00pm, 2.00pm – 5.00pm

Sat: 9.00am – 12.00pm
Located at Mount Elizabeth Medical Centre, one of the largest and most respected hospitals in Singapore, Lien Clinic is licensed to perform safe and painless abortion procedure that'll only take up to 30 minutes and a maximum of 2 hours recovery.
They provide different types of abortion that include both medications and surgical procedures, which is why they're one of the best abortion clinics in Singapore. They also have various contraceptive methods so you can prevent unplanned pregnancy.
Highlights
Licensed clinic
Different types of abortion
Medisave accreditation
Obgyn Centre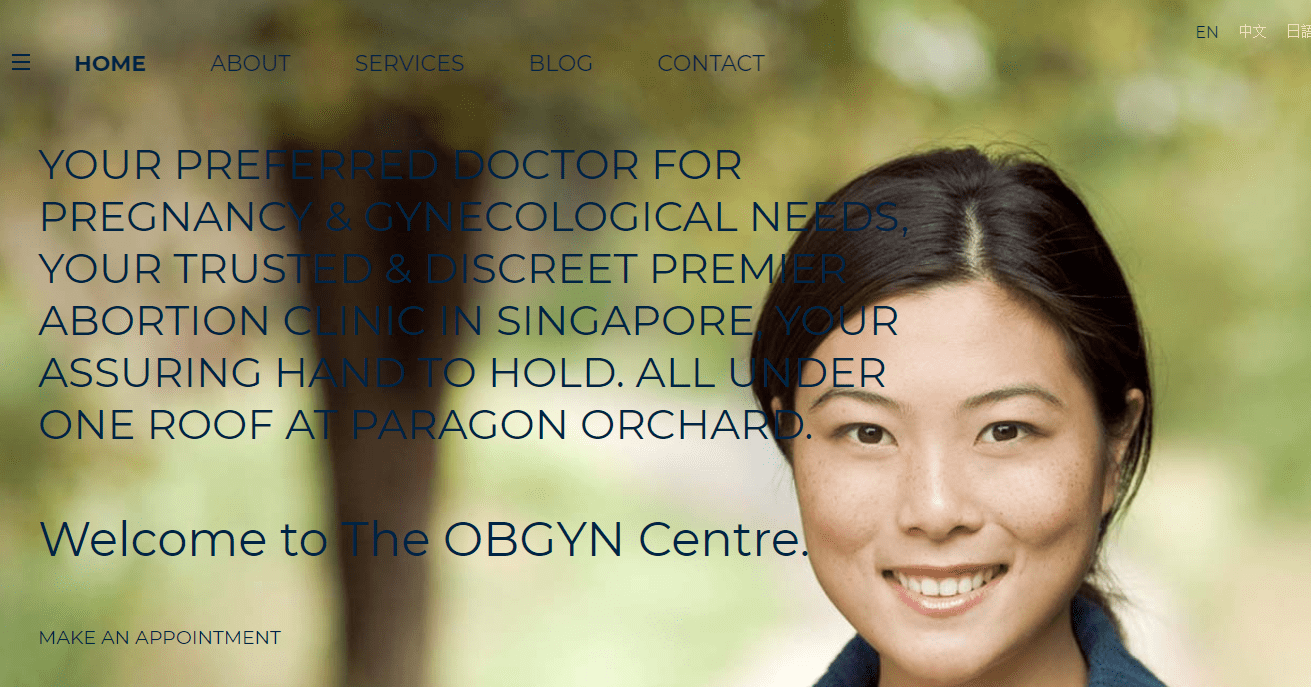 BEST FOR
Exclusive and personalised treatment
WEBSITE
https://obgyncentre.sg/
ADDRESS
#11-07 Paragon Medical Suites 290 Orchard Road Singapore 238859
CONTACT DETAILS
+65 6235 4188 / +65 9100 3874
OPERATING HOURS
Monday to Friday — 9:00am-5:00pm

Saturday — 9:00am–1:00pm

Closed Public Holidays and Sundays
Obgyn Centre focuses on providing necessary treatments for women's health. When it comes to their abortion procedure, they're one of the fully certified and best abortion clinics to perform legal pregnancy termination.
They also have a private surgicenter and day surgery centre to give you personal space and rest before the procedure. They use modern equipment and provide great facilities with soothing recovery rooms so you can be more comfortable throughout the process.
Highlights
Counselling services
Private surgicenter
Sidek Clinic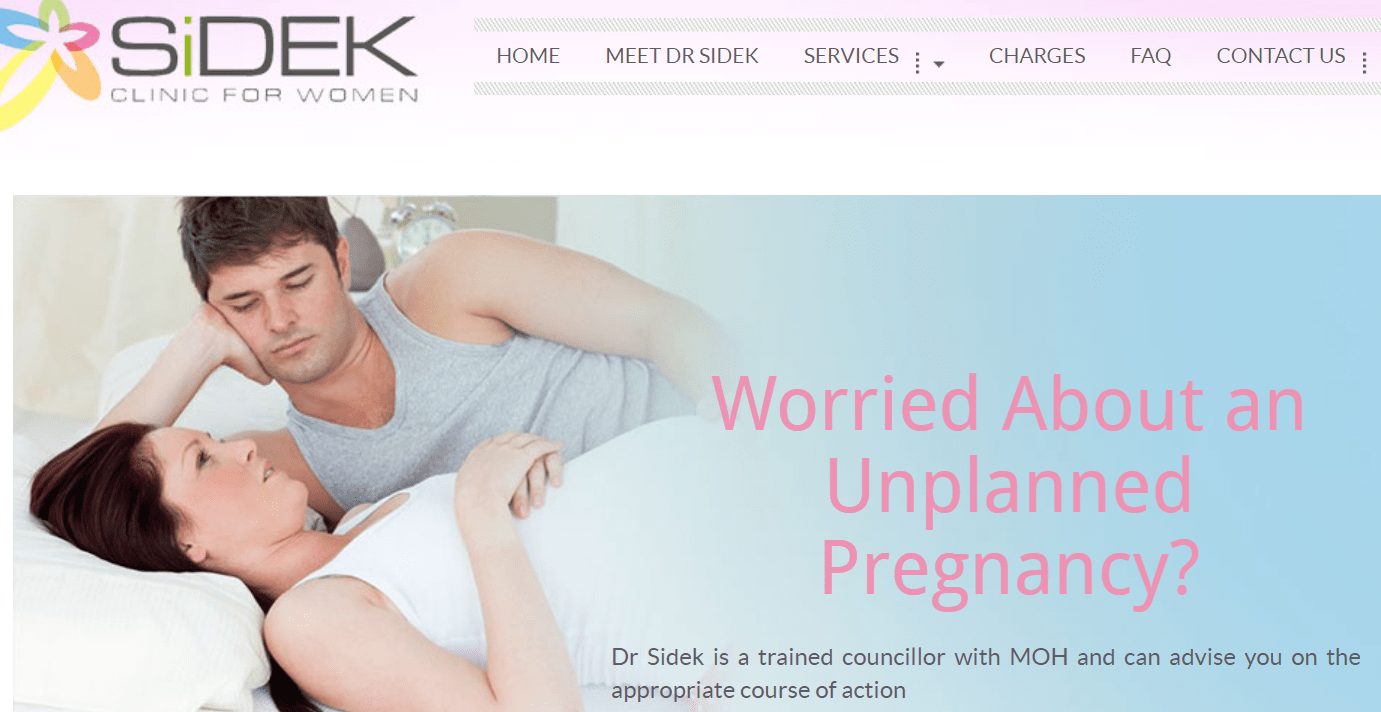 BEST FOR
Pre- and post-abortion counselling
PRICING
Costs
WEBSITE
http://www.sidekclinic.com/
ADDRESS
8 Sinaran Drive #06-03 Novena Specialist Center Singapore 307470
CONTACT DETAILS
+65 6787 8863
OPERATING HOURS
Weekdays: 9am–5:30pm

Saturday: 9am–1pm
Sidek Clinic offers outpatient abortion procedures for up to 12-week pregnancies. They also provide pre- and post-abortion counselling before and after the surgery to make sure that everything's all right with their patients.
After a week, they'll also require you to come in for a review and check your overall condition. This is just so they can make sure that your post-op care is provided for and you're recovering nicely.
With these quality services, they've become one the best abortion clinics in Singapore for many locals. They care enough to follow up on all of their abortion patients, after all.
Highlights
Abortions for those up to 12 weeks pregnant
Medisave accreditation
Dr Jen Shek Wei Clinic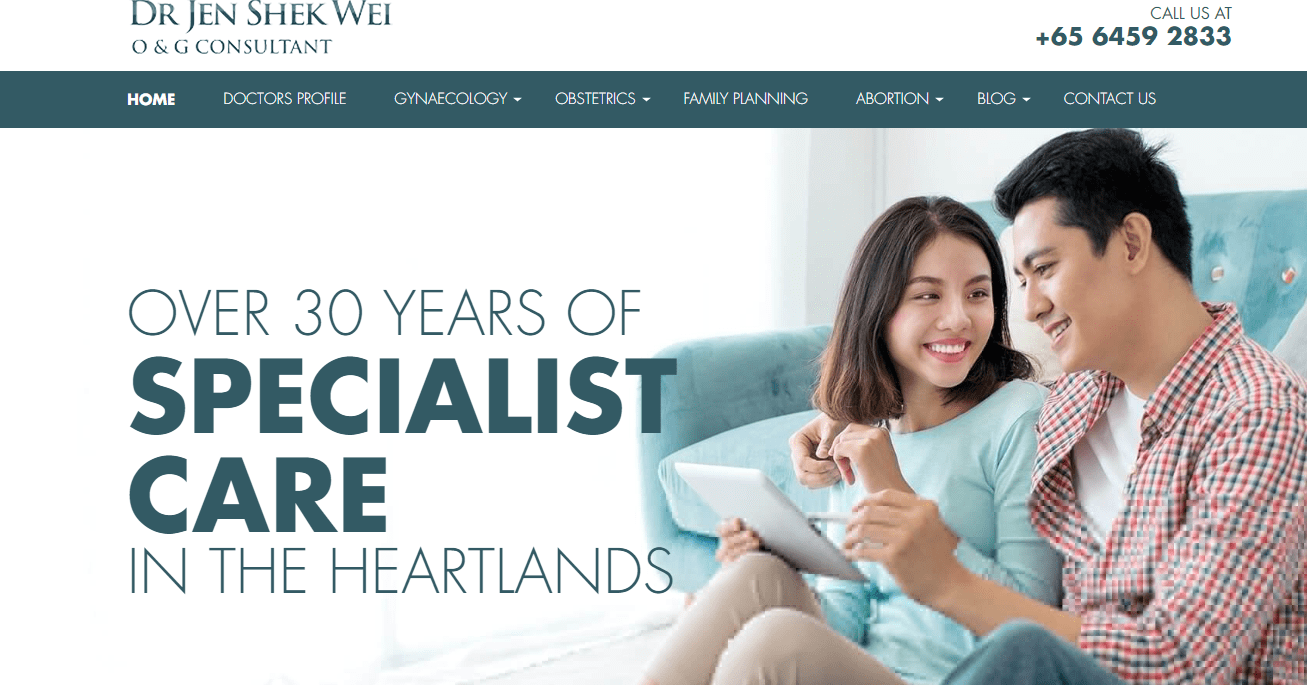 BEST FOR
Local and foreigners service
WEBSITE
https://www.swjen.com.sg/
ADDRESS
Blk 721 Ang Mo Kio Ave 8 #01-2813 Singapore 560721
CONTACT DETAILS
+65 6459 2833
OPERATING HOURS
Monday 9:30am–5:30pm

Tuesday 9:30am–5:30pm, 7–9pm

Wednesday 9:30am–1pm

Thursday 9:30am–5:30pm, 7–9pm

Friday 9:30am–5:30pm

Saturday 9:30am–1pm
Dr Jen Shek Wei Clinic is known for its broad range of gynaecology and obstetrics services. This includes abortion procedure — and they perform the process for up to 24-week pregnancies.
They're also MOH-accredited and conduct outpatient procedures with attentive post-procedural care, making sure that you're having a positive and progressive healing process.
Highlights
Specialists with decades of experience
Inclusive aftercare
Seng's OG Practice
| | |
| --- | --- |
| BEST FOR | Fertility Programmes |
| WEBSITE | http://sengclinic.com/ |
| ADDRESS | 6 Napier Road Suite #03-18 Gleneagles Medical Centre, Singapore 258499 |
| CONTACT DETAILS | (65) 6472 7988 or [email protected] |
| OPERATING HOURS | Weekdays (1pm-5:30pm) and Saturday (9am-1:00pm) |
Seng's OG Practice is led by Dr. Seng Shay Way, an obstetrician, reproductive, and gynecology specialist in Singapore who has been committed to the health care of women for over 15 years. Driven by the passion of helping couples expand their families, he established the clinic to further help and educate people about fertility.
The clinic's main focus is to provide their clients the best fertility, obstetrics and gynecological care and help them fulfill their dream of expanding their family. Their fertility programmes are designed to address each couple's unique medical, emotional and financial needs.
You can rest assured that through each step of your care, they will provide state of the art treatment under the safest and most professional conditions– it's your safety that they value the most.
Highlights
State of the Art Treatment
Fertility Programmes
And that's our list of the best abortion clinics in Singapore. If you've already figured out which clinic you'd like to have a consultation with, let us know about your experience with them afterwards.
If you'd like to see more options, see these best women's clinics in Singapore. These clinics have a full range of medical specialities for women's health and some also offer abortion or medical consultation for that.