Our 6 Favourite 24-Hour Dental Clinics in Singapore
Most of the time, dental clinics only operate for 10-12 hours a day. Rarely do they exceed those working hours… but did you know that there are a few dental clinics with the best 24-hour dentists in Singapore?
Dental clinics that are open for 24 hours are perfect for emergency services, especially in the wee hours of the night. Rather than enduring the pain until the nearest dental clinics open, you can just drive to the closest one with the best 24-hour dentists in Singapore to be treated immediately.
If you're not aware of the dental clinics that have this set-up, we're here to help out with their names. Check them out below to know which one is closest to your area.
(Note: This list is in no particular order.)
Night Dental Singapore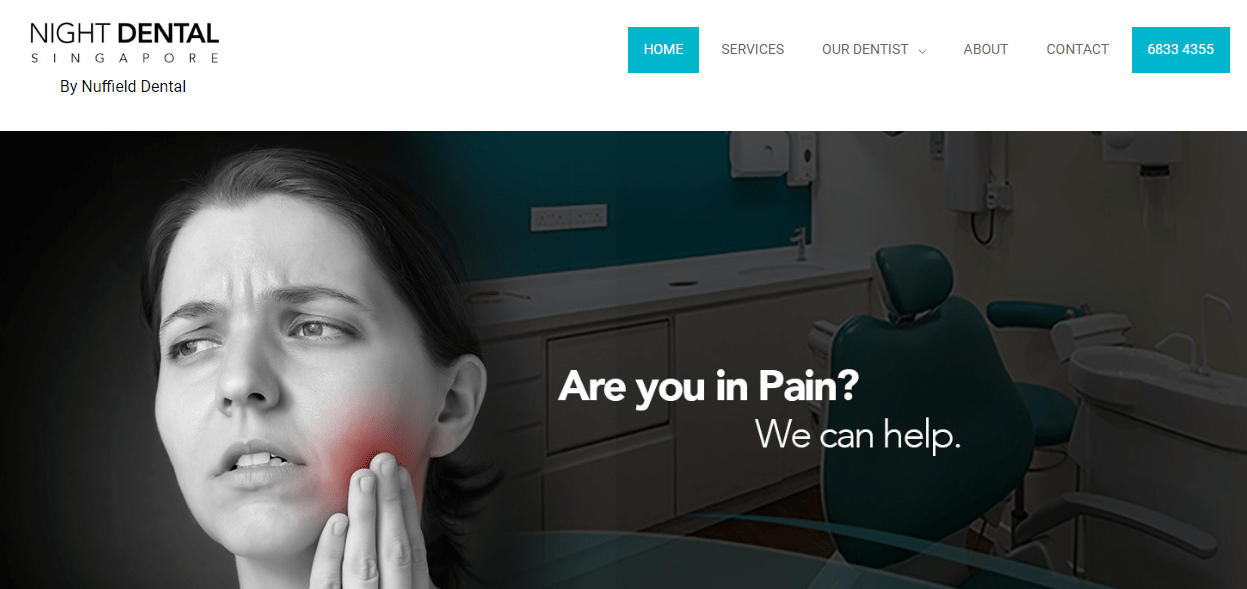 BEST FOR
Same-Day Dental Service
SERVICES
Broken Tooth, Wisdom Tooth Extraction, Knocked Out Tooth, Loose Fillings, and Broken Crown
WEBSITE
https://www.nightdental.com.sg/
ADDRESS
1 Seletar Road #01-07/08, Greenwich V., Singapore 807011

430 Upper Changi Road #01-63, East Village, Singapore 487048

CONTACT DETAILS
6833 4355
OPERATING HOURS
Open 24 hours
If you're looking for a dental clinic that accepts all types of emergency any time of the day, then look no further than Night Dental Singapore. We included it in our list because it's a dental clinic that's designed to accommodate dental emergencies while other dentists are sleeping soundly.
So, if you've got a dental emergency that can no longer wait until the day, make sure that you drop by Night Dental Singapore. Its team is made up of experienced dentists who can deal with all kinds of dental emergencies, and can definitely work under pressure.
On top of that, booking its services has never been this easy — just go to its website and pick a desired date and time. If it's an emergency, you can simply drop by without making any appointment.
Highlights
Affordable out of hours services
Experienced dentists
National Dental Centre Singapore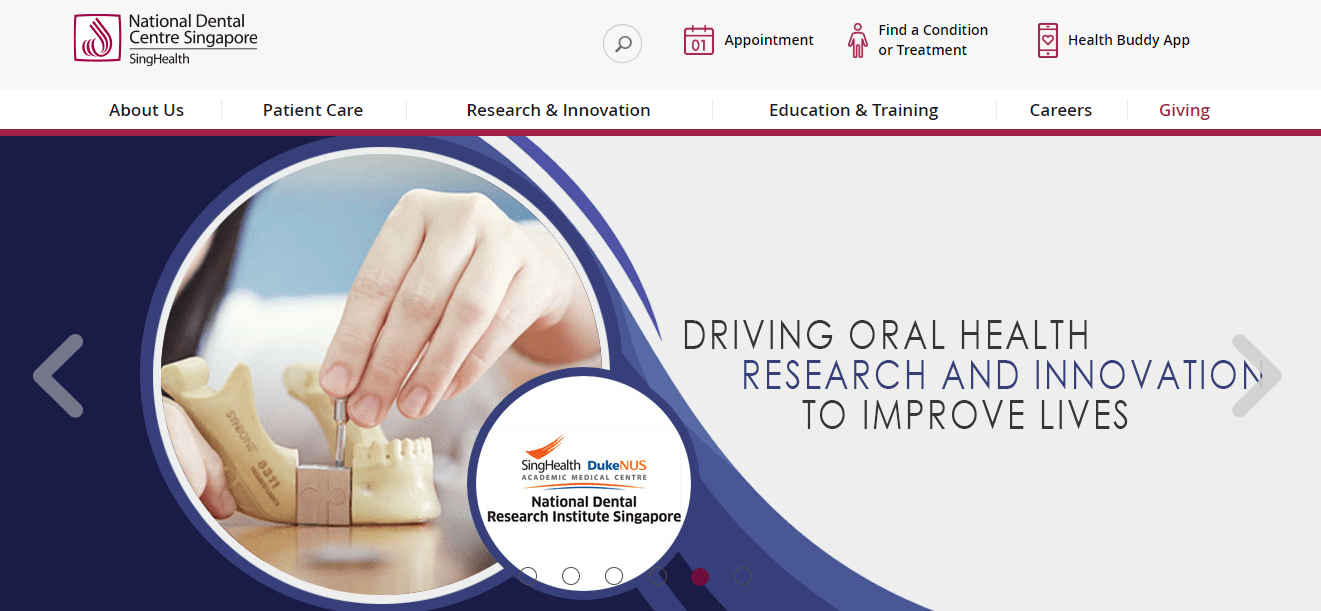 | | |
| --- | --- |
| BEST FOR | General Dentistry |
| SERVICES | Oral Surgery, Endodontics, Prosthodontics, Paediatric Dentistry, and Aesthetic Dentistry |
| WEBSITE | https://www.ndcs.com.sg/ |
| ADDRESS | 5 Second Hospital Ave, Singapore 168938 |
| CONTACT DETAILS | +65 6324 8802 |
| OPERATING HOURS | Monday – Friday, 8:00 AM – 5:30 PM (24 hours for emergency services) |
National Dentist Centre Singapore is considered one of the leading dental clinics in Singapore in terms of dental innovations and technologies. On top of this, it's also a reliable source of help in case you have a dental emergency outside working hours.
NDCS prioritises patients with more serious and critical dental emergencies, but this doesn't mean that minimal emergencies won't be attended to beyond working hours.
What's more, its dental facility is equipped with the best equipment and people around the clock, so there's nothing to worry about.
Among the emergencies it accommodates are severe tooth pain, uncontrolled bleeding, facial swelling, and traumatic injuries. As long as your emergency falls among these, you can go to its office any time of the day.
Highlights
Advanced dental equipment
Comfortable facility
Experienced dentists and nurses
Ashford Dental Centre

BEST FOR 
Eco-friendly Equipment
SERVICES
General Dentistry, Dental Crowns, Dental Veneers, Dental Implants, Wisdom Tooth Surgery, Gum Dentistry, and Emergency Dentistry
WEBSITE
https://ashforddentalcentre.com.sg/
ADDRESS
215 Upper Thomson Rd, Singapore 574349
CONTACT DETAILS
+65 6690 4691

 

+65 9239 4638

OPERATING HOURS
Open 24 hours
With over 10 years of experience, Ashford Dental Centre has managed to collect a huge pool of customers who swears by its excellent dental treatments. It was only recently that it started operating beyond working hours to accommodate patients with dental emergencies.
It's known for providing customers with world-class and high-quality services with the help of state-of-the-art dental equipment, any day and any time.  What's more, its staff is trained to deal with all types of dental emergencies, and provide clients with comfortable and safe dental procedures.
Of course, its emergency services are no different from its daytime operations. You can expect a dentist who's on call even during the night, ready to work in case a patient barges in with an emergency.
Highlights
10 years of experience
Highly trained dentists
Affordable services
AJ Warren Dental Clinic
| | |
| --- | --- |
| BEST FOR | Comfortable Environment |
| SERVICES | Essential Dental Care, Aesthetic Dentistry, and Surgical Care |
| WEBSITE | https://www.ajwarrendental.com/ |
| ADDRESS | 218 Pasir Panjang Rd, #02-11, Singapore 118579 |
| CONTACT DETAILS | |
| OPERATING HOURS | Open 24 hours |
AJ Warren Dental Clinic is among the few dental clinics that operate for 24 hours, accepting patients with emergency services during the wee hours of the night. It aims to be a dental clinic that offers quality dental treatments that cater to people across different age brackets.
What's more, it's famous for being a dental clinic that can remove all your fears and anxieties. With its comfortable and cosy environment, you will be at ease throughout your dental treatment.
That's just one reason we consider it one of the top dental clinics with the best 24-hour dentists in Singapore.
Among its services are dental implants, tooth whitening, wisdom tooth extraction, root canal treatment, and a whole lot more. However, for its 24-hour services, it can only accept patients with serious emergencies such as broken teeth and wisdom tooth extraction.
Highlights
Quality consultation stage
Professional staff
Safe and cosy environment
NoFrills Dental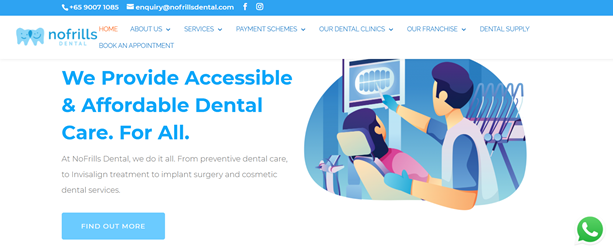 No matter how late your dental emergency may be, or how severe the damages are, rest assured that NoFrills Dental has got you covered.
Offering an accessible means of providing top-quality dental services, NoFrills is the place to be if you want to be handled only by the best dentists in the country. They deliver a holistic dental experience for all ages, at a very affordable price.
Materials and technology used in the clinic are unmatched, proving just how amazing NoFrills is.
The clinic is open 24 hours for emergencies and offers a comprehensive range of services for you to acquire, making them a one-stop solution for any of your dental needs.
Highlights
Accessible locations
Affordable dental services
Highly skilled dentists
Dental insurances are accepted
Nuffield Dental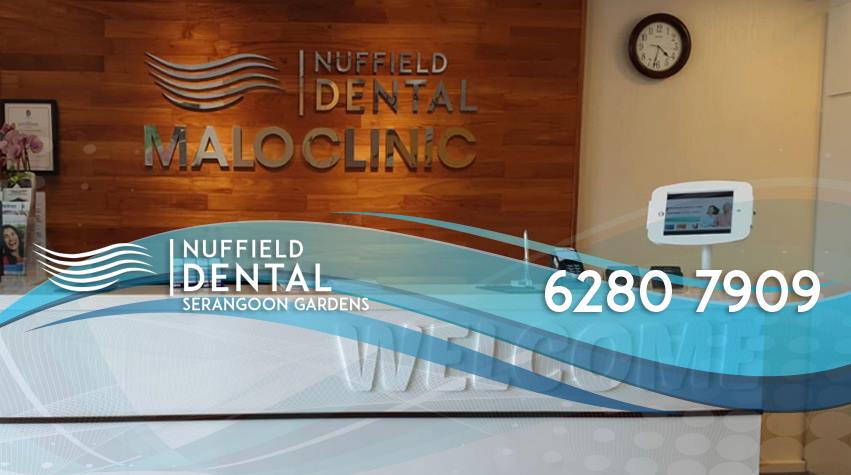 BEST FOR 
Signature services
WEBSITE
https://www.nuffielddental.com.sg/
ADDRESS
Nuffield Dental Serangoon Gardens 57 Serangoon Garden Way Serangoon Garden Estate, Singapore 555953
CONTACT DETAILS
6280 7909
OPERATING HOURS
Weekdays: 9:00 am – 9:00 pm
Weekends: 9:00 am – 6:00 pm
Nuffield Dental is also one of the leading and largest dental groups in Singapore. They specialise in a broad range of services and the most impressive among them are their signature services for implants, tooth whitening, gum treatments, tongue tie surgery, and more.
They also offer cosmetic and children's dentistry as well as facial rejuvenation. Emergency treatments are also provided in case you need urgent surgery, which is why many have named it the best dental clinic in Serangoon.
Highlights
CHAS- and Medisave-accredited
Emergency dental services
And that's it for our list of the dental clinics with the best 24-hour dentists in Singapore. Any of these dental clinics can accommodate your emergencies efficiently even during the wee hours of the night.
Do you know other dental clinics that operate for 24 hours that weren't part of our list? If so, share their names, and we may add them to our roster.
For more dental clinic options, you may want to check out our list of the best dental clinics in Singapore. Say goodbye to dental problems with these reliable dental clinics!